Tuesday, May 16, 2017 by
Bianca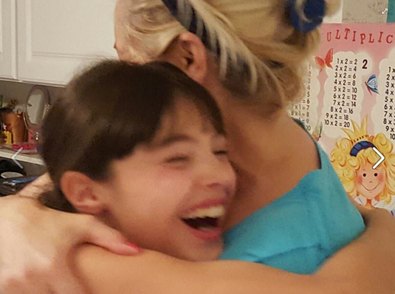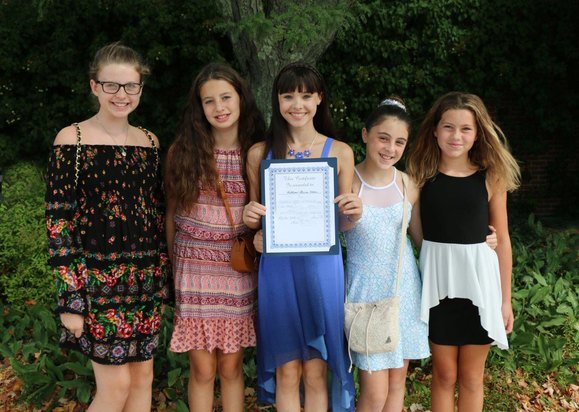 Our 11-year-old earned her 1st Literary Award in a competition she entered months ago. She submitted a mini version of her 1st novella. It's the 38th year of this competition & is open worldwide.
When Phillip read us the letter aloud, she jumped with pure delight feeling the fruits of her accomplishment after having spent months writing. We are so happy for her and very proud of her!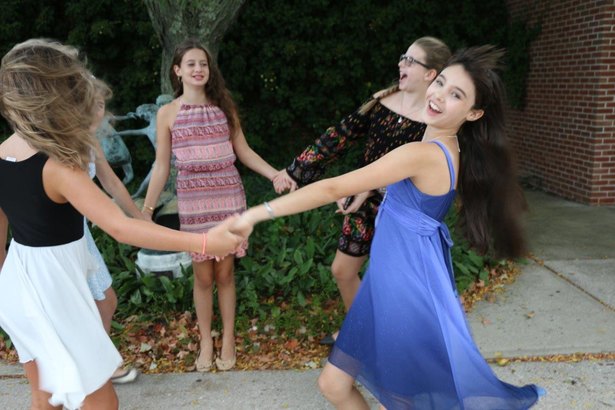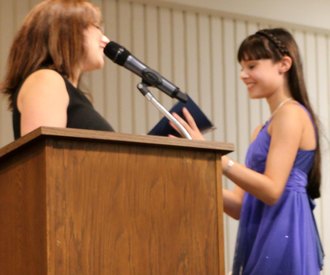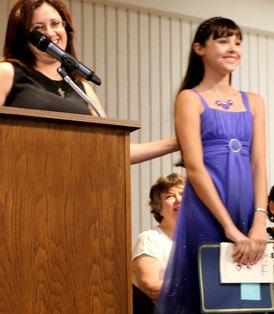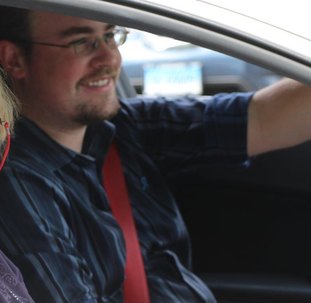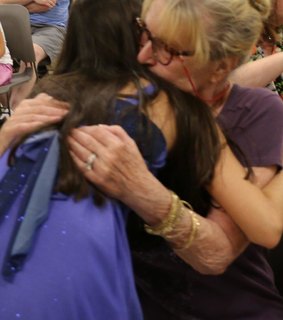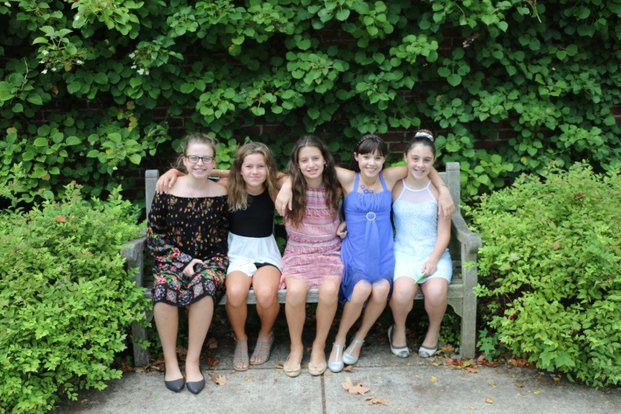 Reading & writing are so important to Darling, a passion we saw at a very young age and have continued to fuel. While in England this May, we visited Oxford as C.S. Lewis & Philip Pullman are two of our daughter's favorite authors,
click
:
Oxford
.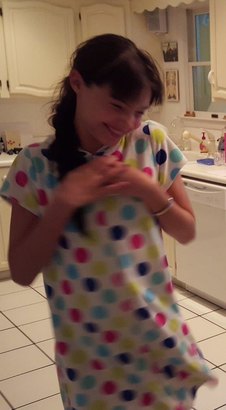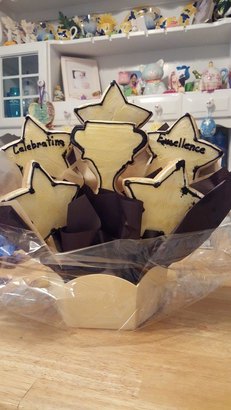 Three teachers, Mrs. DZ, Mrs. SZ & Mrs. C have had such a significant impact on furthering her creative juices and honing her technical skills. Marvelous, nurturing, kind teachers ~ we are so grateful to have had this
Dynamic Trio
educate our daughter! Thank you, Mrs. DZ, for the amazing surprise cookie bouquet!!! Loved it!!!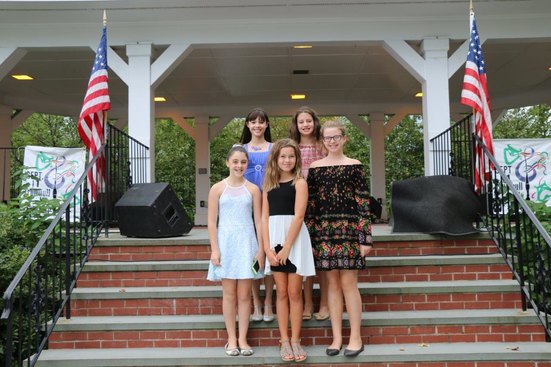 In her congratulatory card was a letter trimmed in gold with a very special message: Pack your bags & your wand, Hogwarts Castle awaits!!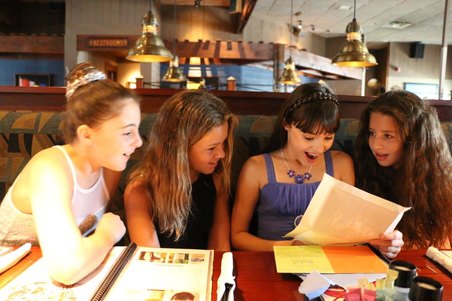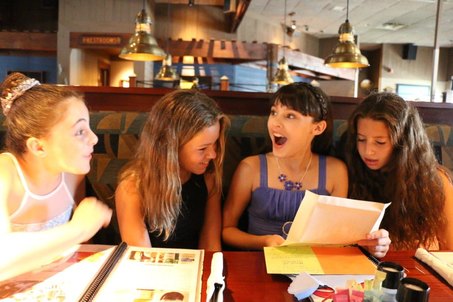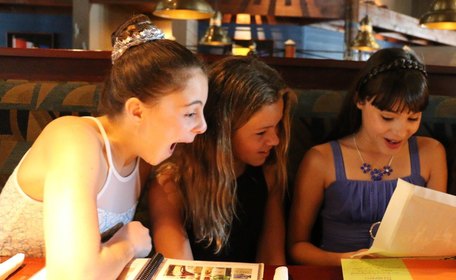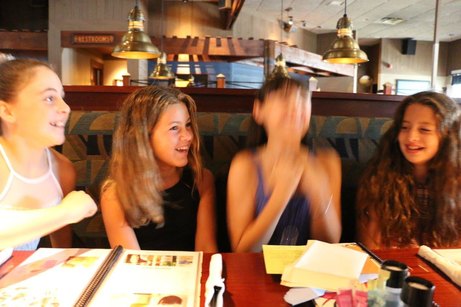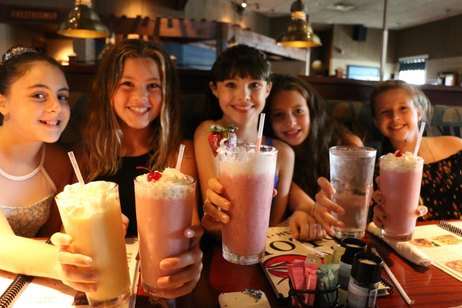 Cheers with smoothies & an afternoon of play, the day could not have ended any better!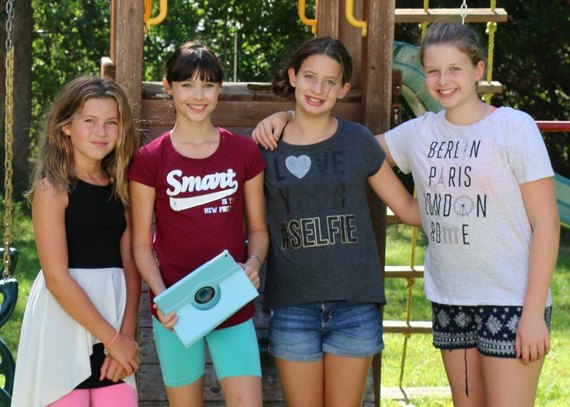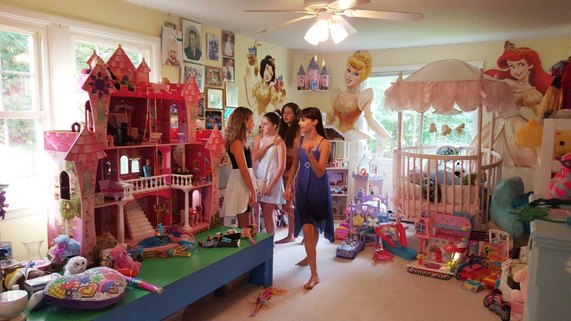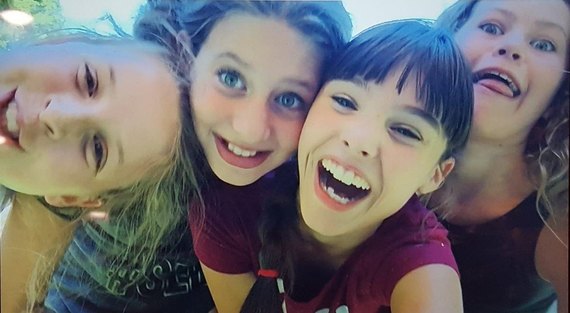 The Bright Spot
– Her award! Her friends! Her magical destination created by her favorite female author, J.K. Rowling,
click
:
Wizarding World
to see one of the most fun stories I've had the pleasure to write!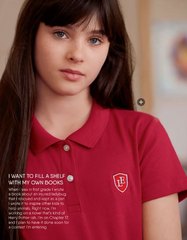 She was photographed for this Land's End ad in Spring for the Autumn 2016 polo collection. They interviewed her and used this quote on the ad: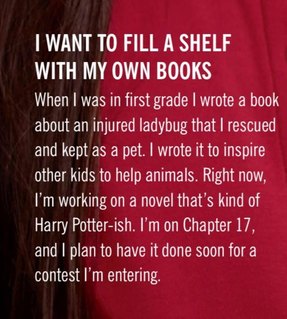 Darling, you are well on your way!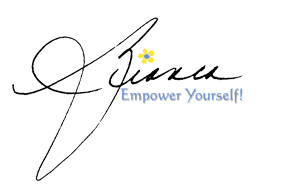 Wednesday, June 8, 2016 by
Bianca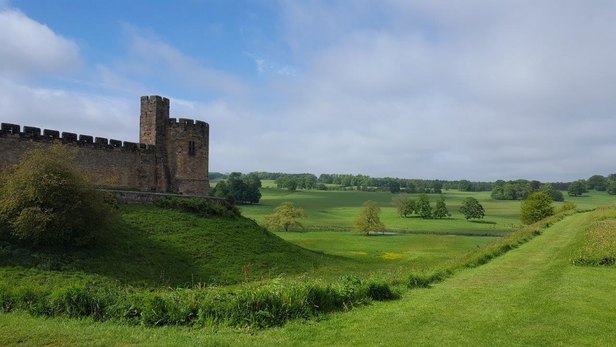 This gorgeous English countryside was captured on my cell phone! Breathtaking. Lush. So British.
During our 2-week trip to Europe to visit family, we went with some good friends to Northumberland.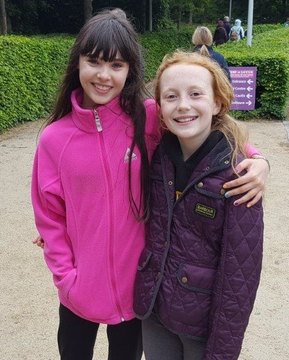 The girls loved that parts of Downton Abbey and Harry Potter were filmed here at Alnwick Castle.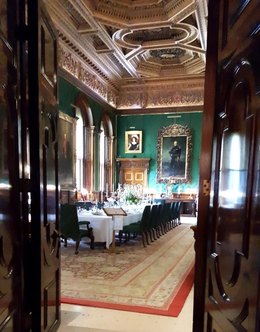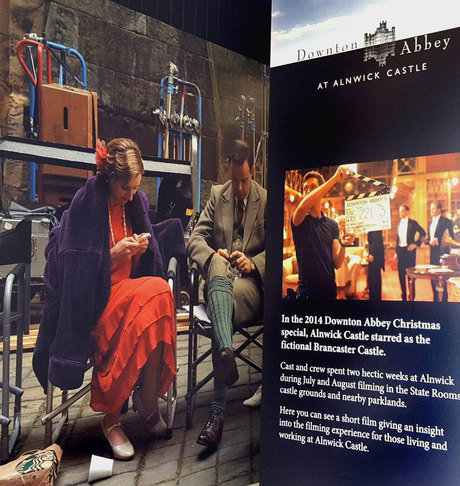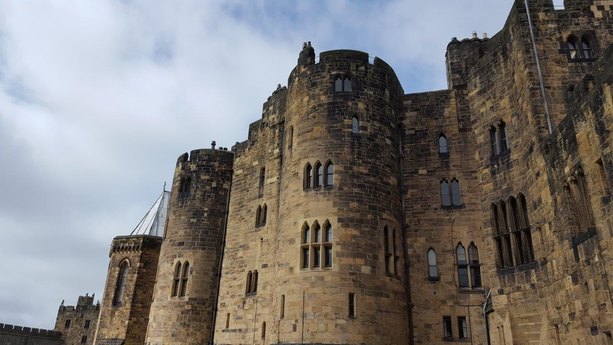 Lots to do here including bamboo mazes, ventures through the magic fairy gardens, the famous Poison Garden and, of course, flying broomstick classes!!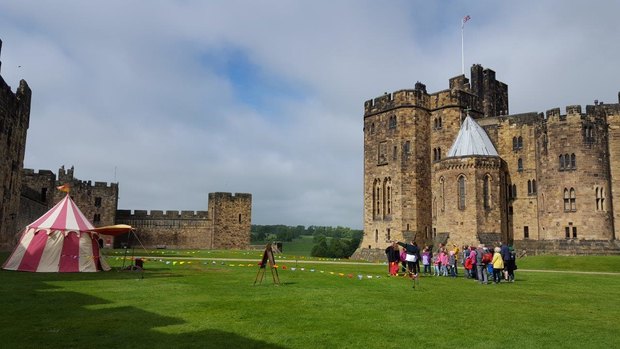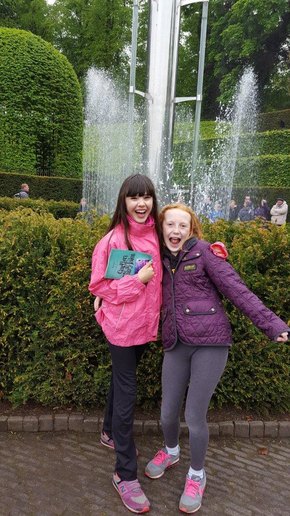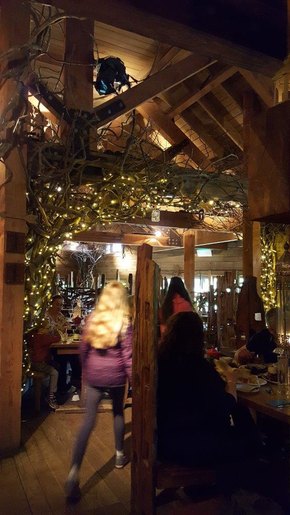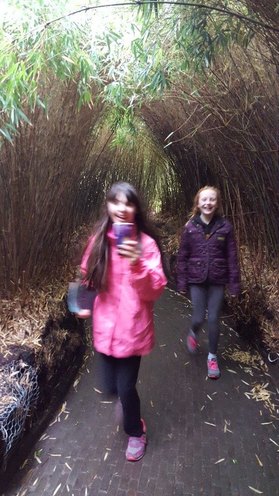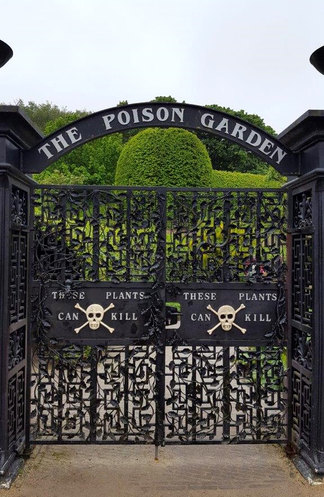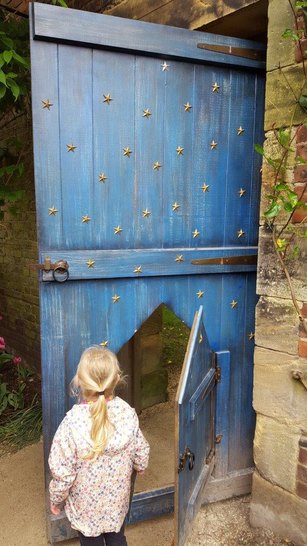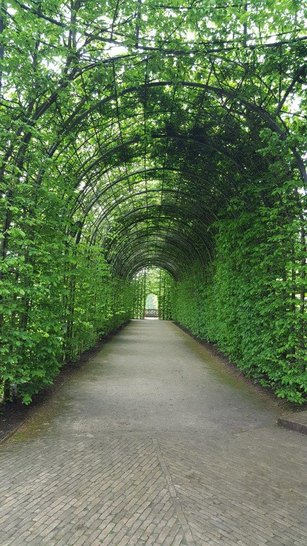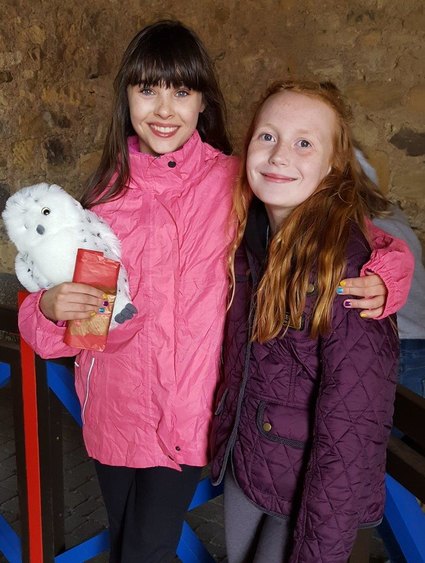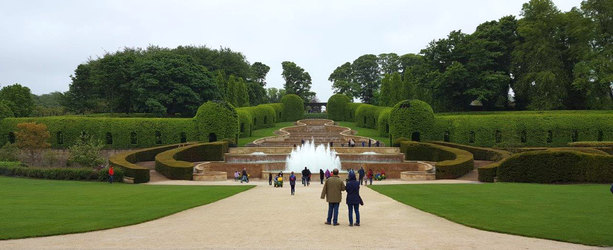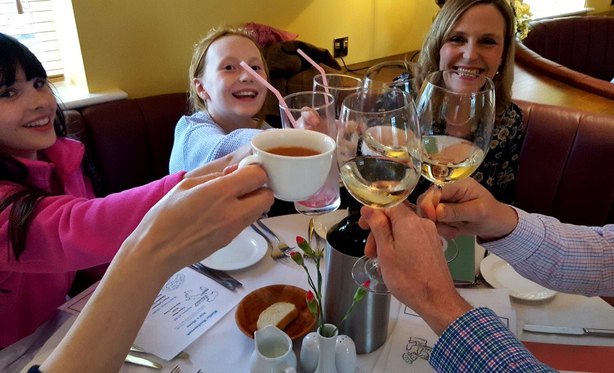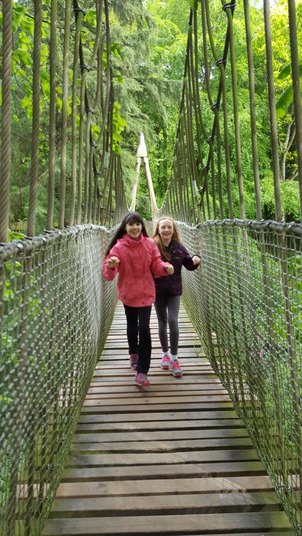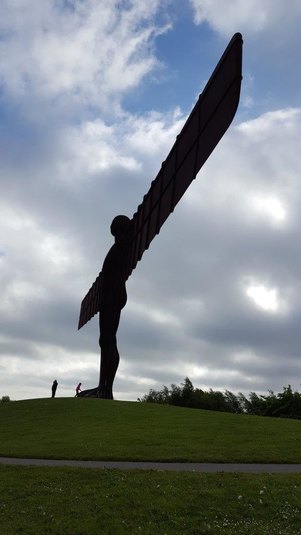 On our way back to Grandma's, we pulled off the highway to see the Angel of the North, a massive copper & steel statue in Newcastle Gateshead, believed to be the largest angel sculpture on the planet. The wingspan reaches wider than a jumbo jet and the angel stands 65 feet high, more than 4 double-decker buses! We've seen her on the hillside from the highway for over 15 years. This ride home, we actually pulled off the exit and made time to visit. Those are the life-changing things we have found we do facing this awful journey of cancer, click: Kicking Cancer!
Yes, actually seizing the day and doing what we wish at a moment's notice because no one knows how many moments we all have.  More than 150,000 people visit each year. This year, we're one of those people.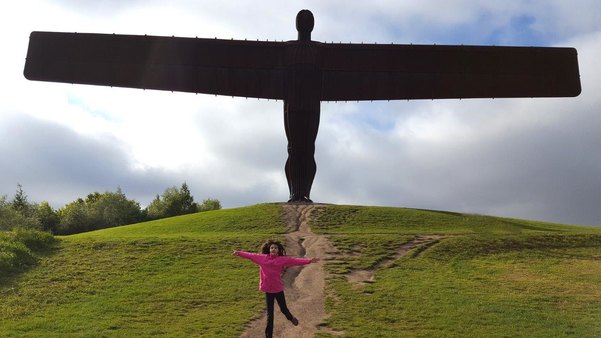 The Bright Spot – Visiting family & friends…and pulling off the highway to really seize the day!!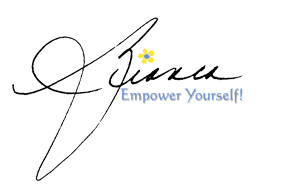 Saturday, April 18, 2015 by
Bianca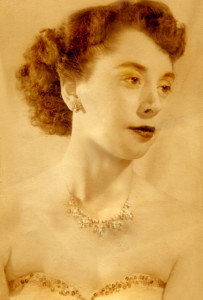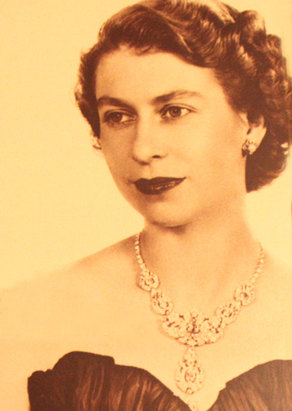 Blessed with lovely skin & timeless English beauty, my mother-in-law, Grace, and the Queen have always borne a striking resemblance. A woman ahead of her time, Grace, always gave new things a shot.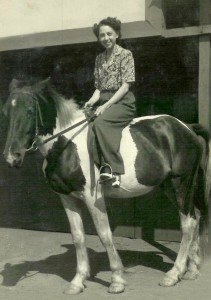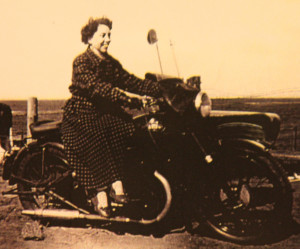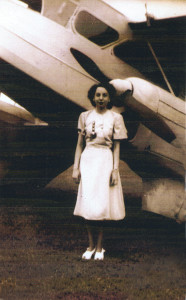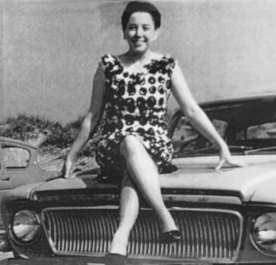 And nothing slows her down! Approaching 90, she has a personal trainer at the gym, Skypes us every Saturday without fail, uploads her digital images to her hard drive and e-mails family nearly every day.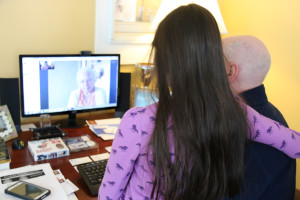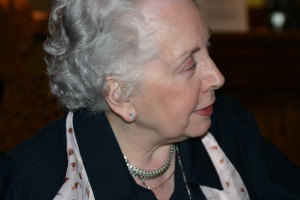 The epitome of Englishness, she is gracious, discreet and always polite. During tough or sad times, Grace keeps a stiff upper lip and her chin up.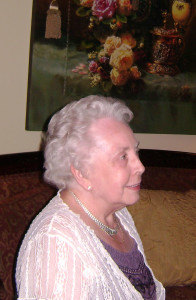 Her mainstay, of course, is proper English tea. It must steep in a         silver pot and the teacup must have a white interior.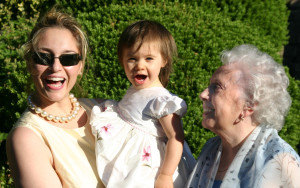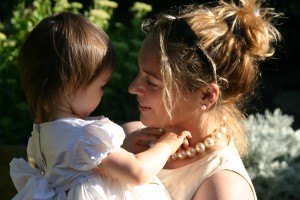 She keeps her gardener busy and has redecorated parts of her home four times in the past 10 years.
In Grandma's Gardens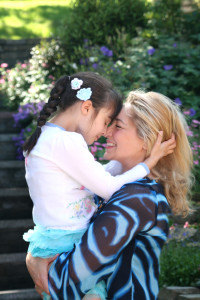 :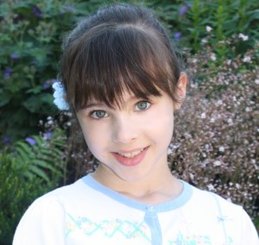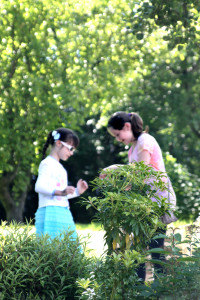 Young Grace: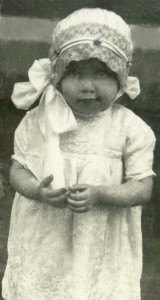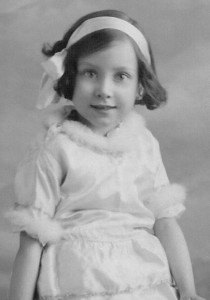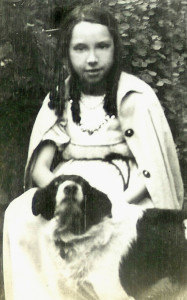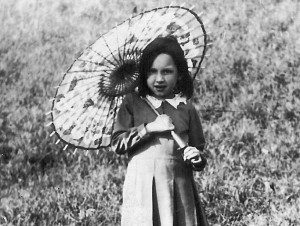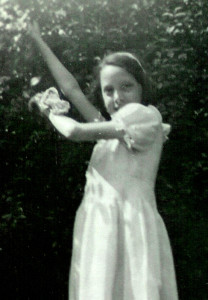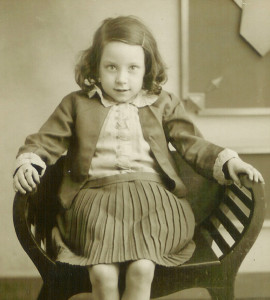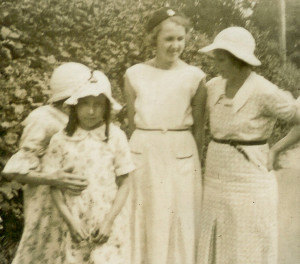 Grace is an avid reader & animal lover. She enjoyed many years dancing with her dashing husband, Geoff, whom she misses very much.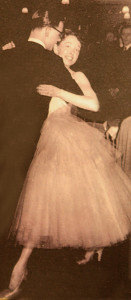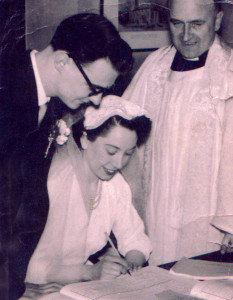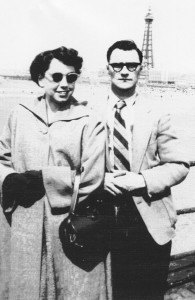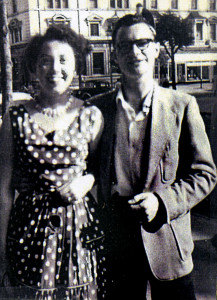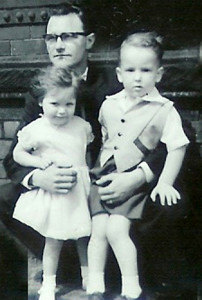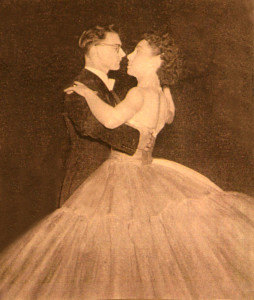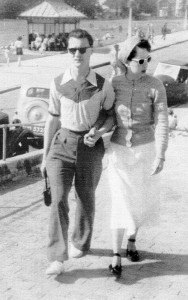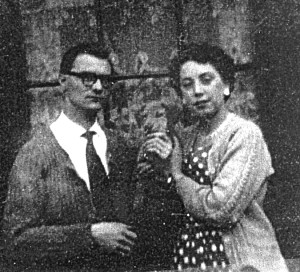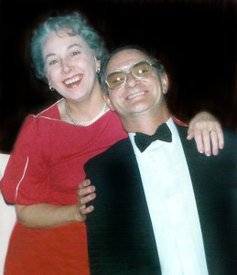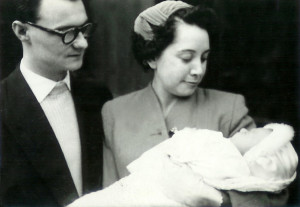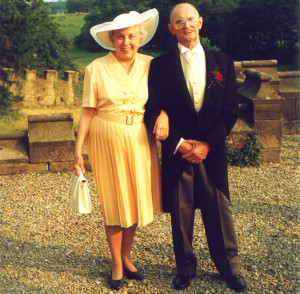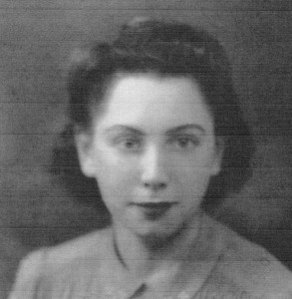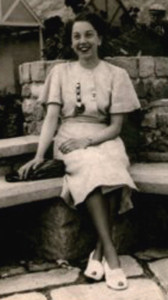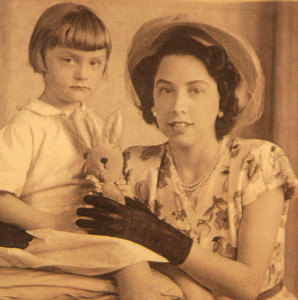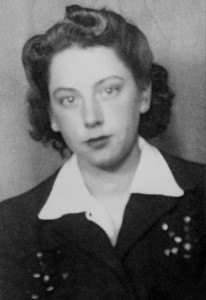 I've learned lots of things from my mother-in-law over the years, from baby tips and awesome authors to food advice, fabric care and beauty tips.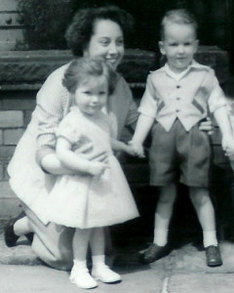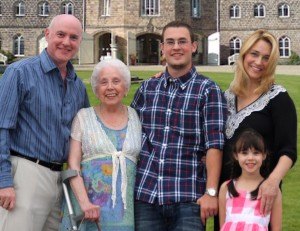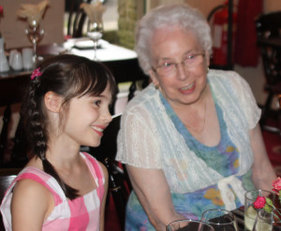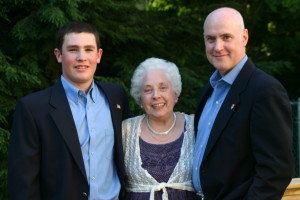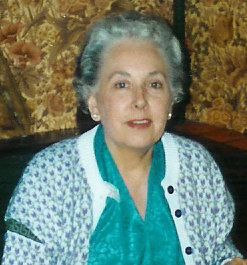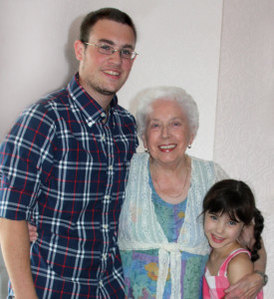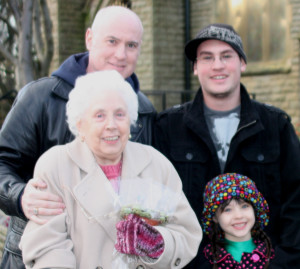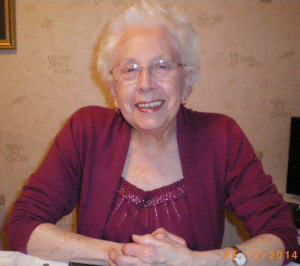 One of my favorite gifts from my mother-in-law was this beautiful statue sent from England shortly before I gave birth to our daughter.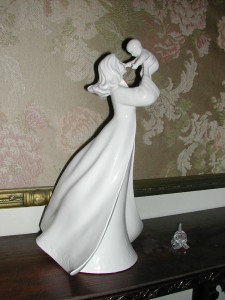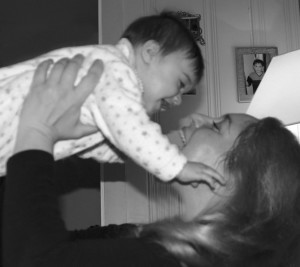 A few months old (above)            4 years old (below)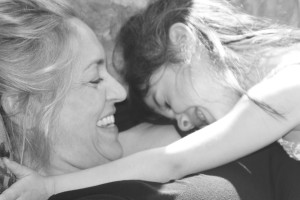 To avoid arthritis in her hands, Grace knits and knits and knits. Beautiful sweaters and hats and any request our little one desires.
I mean any! Like the day our 7-year-old said, "Grandma, can you please knit me a cuttlefish & grimpoteuthis?" And in short order, the beautiful cuddly sea creatures arrived in the gift package made with grandmother's loving hands. A whole array of knitted marine life: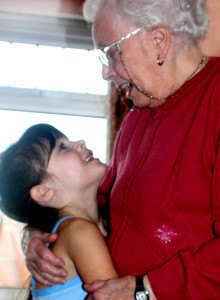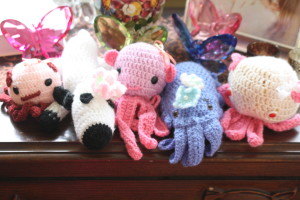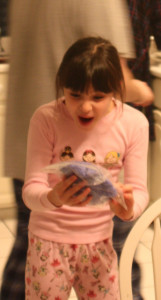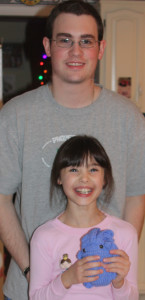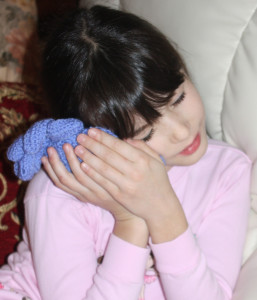 Knitted headbands & sweaters, ballerina shrugs and ponytail hats!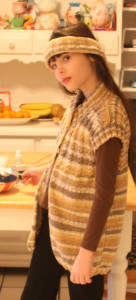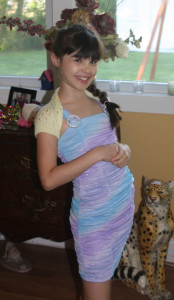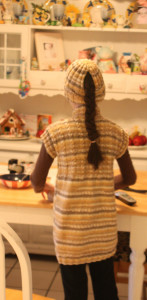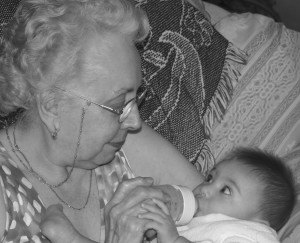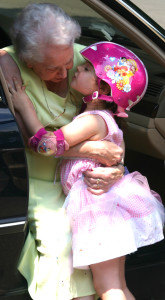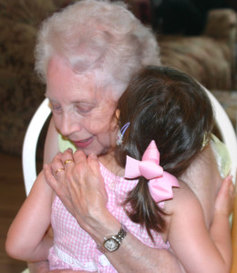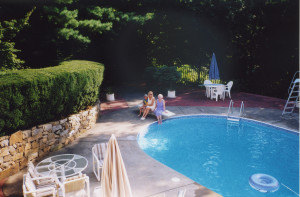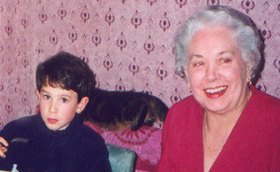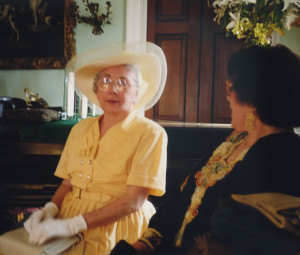 The loss of her beloved husband took a toll on her but did not stop Grace from living life. She hopped on a plane to surprise my husband for his birthday and stayed for Christmas that year.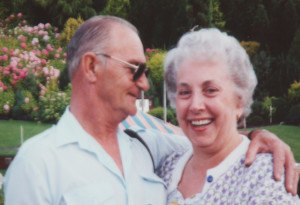 Grace flew over every summer to stay with us. In 2001, my Mom took Grace and me to Mohegan Sun, the big casino upstate for a grand shebang before my mother-in-law headed back to England. It was the 1st time she visited a casino. My husband warned, "My mother may weary, don't stay out late."
Honestly, nothing wearied her the past 8 decades… so when I arrived home at 4 AM with two happy grandmas, my husband was speechless. Not only did his mother have a marvelous time, she even won!
A few hours later, the towers came down and the world changed forever. Flights were canceled that week and Grace stayed with us longer that year. Phillip worked by the towers and felt the 2nd building crash to the ground. It took hours and hours and hours for him to get out of the City and back home. It was a mother's nightmare and
a wife's torment. Late that night, he finally made it home. We were grateful to be together as a family again, safe and sound.

The Bright SpotTM – A Grandma's love. Every visit with Grace has been memorable. The stories she tells, reminiscing the history of the family and her great love of Britain; she is a treasure in our lives and all who know her.
My mother-in-law and the Queen were born the same year…Grace is our very own queen xoxo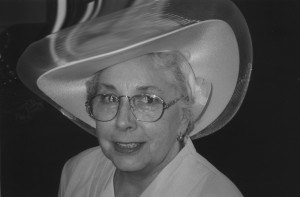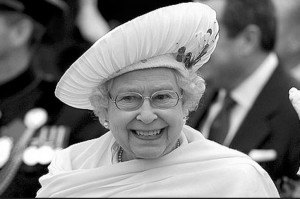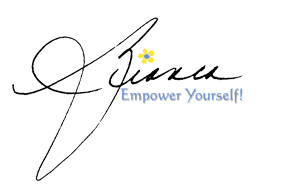 Tuesday, November 26, 2013 by
Bianca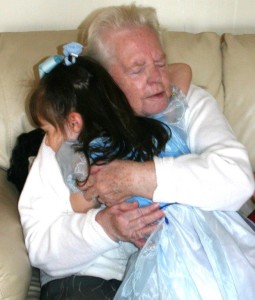 It was a long 2 years without Grandma but she came calling for Granddad in his dreams this week.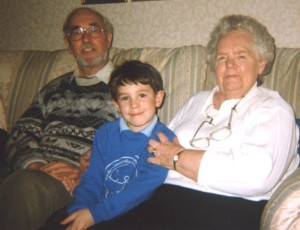 He      He became deaf, and she turned blind just a few years ago, but they always sat beside one another for 60 years, and when she was gone, he lived in silence beside an empty chair in the den. Click here: Is This The End?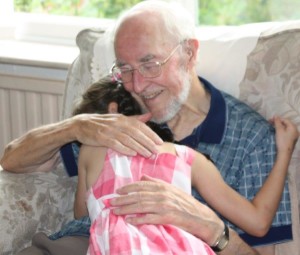 Granddad fell in love with Grandma instantly. She was engaged, but that didn't deter him. He knew she was his only one and promised to love her till the end of her life. They married and he fulfilled that promise day after day.
He was determined like that. He fibbed about his age to defend his country in World War II saying he was 18 when he was really 16.
He was stationed in France, and worked as a specialist sending morse code messages when his communication's truck was hit by a mortar and his arm was blown off.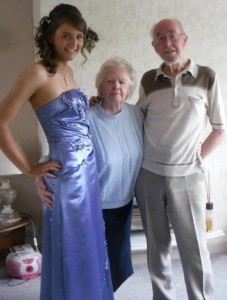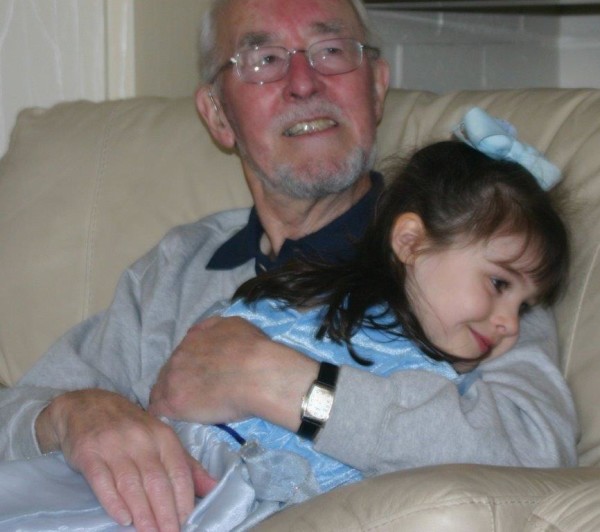 A female physician – rare to have a female doctor in the war zone in France at that time – sewed it back on…it functioned perfectly!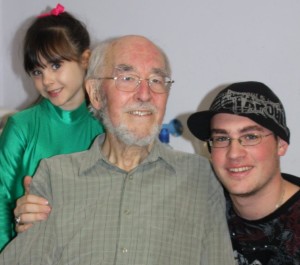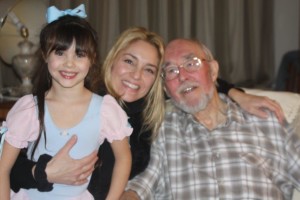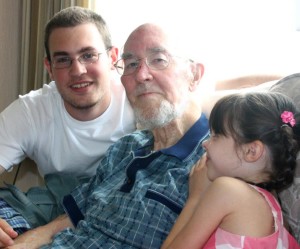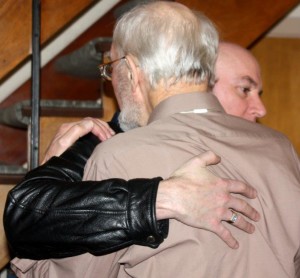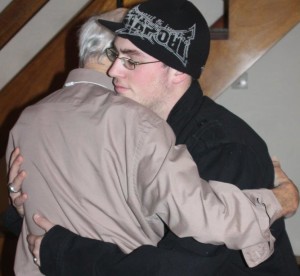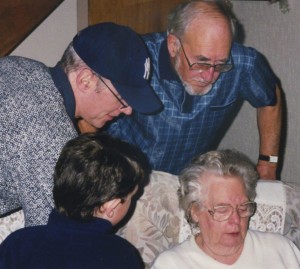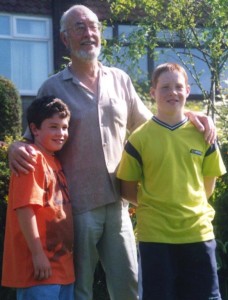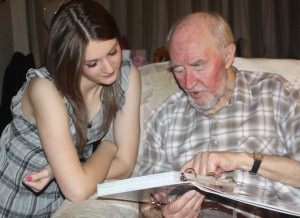 Granddad was sharp as a tack with very dry humor. Once, he was in the hospital for a respiratory illness that required a chest x-ray. The doctor came into his room looking shocked. "I don't know how to tell you this," he said, "but you only have 1 lung and it appears where your other lung should be is a black mark that could be a tumor." "Oh, that other lung shriveled up years ago," Granddad answered matter-of-factly, "forgot to tell you."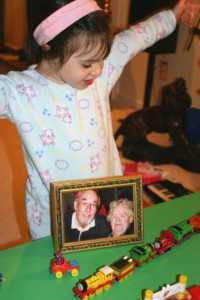 Grandma & Granddad gave our little one Tidmouth Sheds for her train table. I put a photograph of them next to it so she could link that the gift was from them. I do that with many special presents so the kids know from whom it came.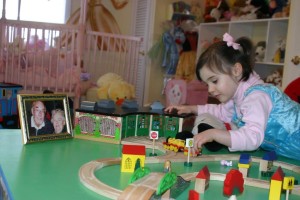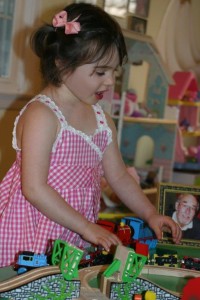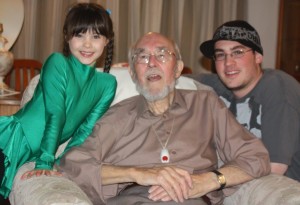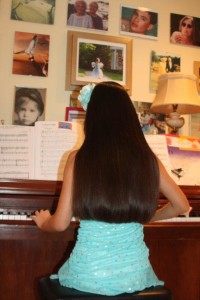 Our daughter said she will never give up her piano from Granddad even if she plans for a grand piano in her future. "It will go somewhere special in my house and I will keep it forever!"
Just as Granddads do, he was the explainer of all things.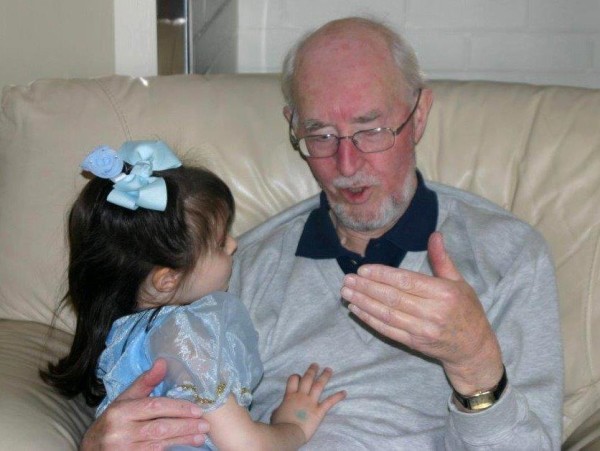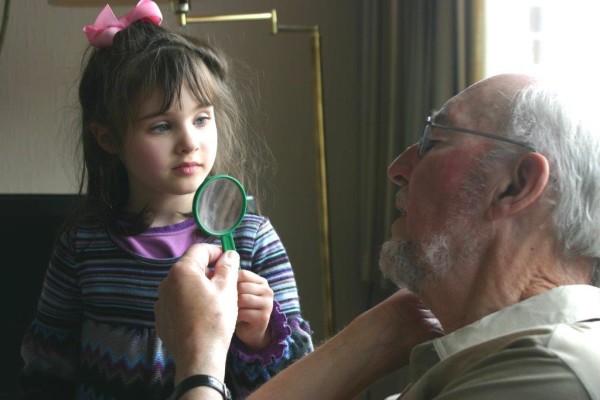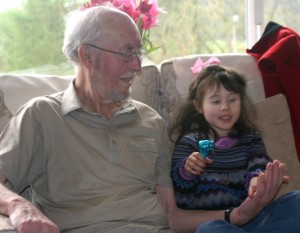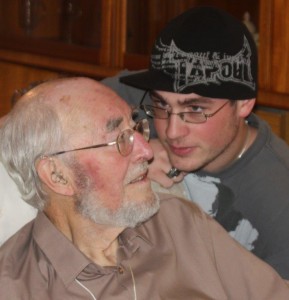 No place was better than on Granddad's knee…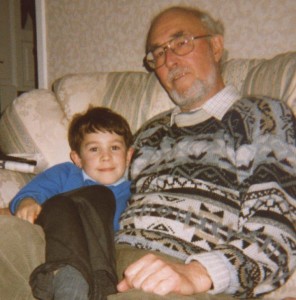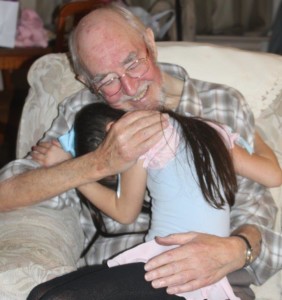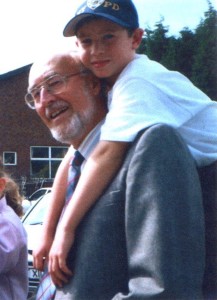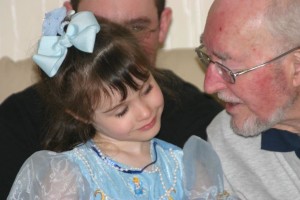 …& on his back!
Or hanging out grabbing a drink at the pub.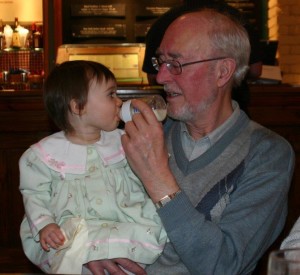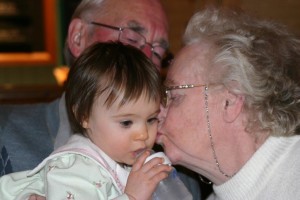 Granddad slowly went deaf in his late years. Soon he could only hear female voices. Later, on the phone, he could only hear mine – high-pitched & loud, I'm told. But then came the day when even my voice was inaudible.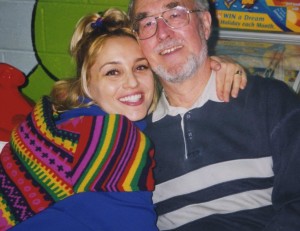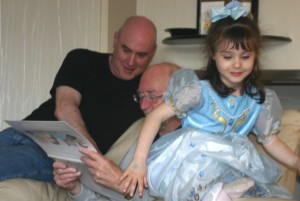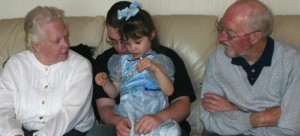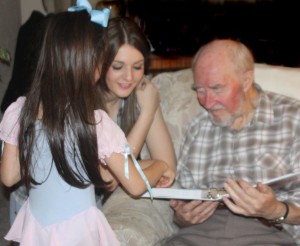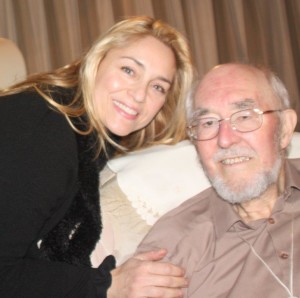 It was crushing for me because I like family to stay connected especially because we are so far away.
Granddad was 88 years old. He wasn't on a computer. I immediately printed out this website and Phillip had it bound and we sent these 300 pages of family stories and photos to Granddad in book form so he could read them over time at his leisure and keep up with family news he could no longer hear.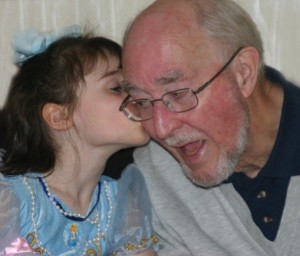 He was kind and sweet and dear and loving. He will be deeply missed by the family. But he's in his beloved's arms once again and that gives us great solace.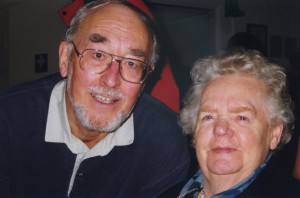 The Bright Spot TM –

 We did not lose Granddad, for someone is only lost if their memories aren't kept alive. We're a picture-snapping, video-taking, storytelling family, so Granddad lives on. Thank you for sharing his story.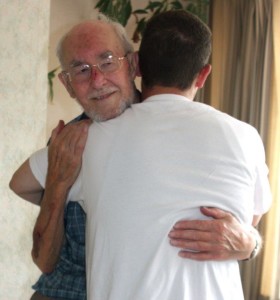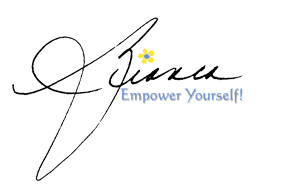 Sunday, April 29, 2012 by
Bianca

 God created them. My parents fashioned them. Dr. Kornstein perfected them!
After Lasik, the first thing I could see the next morning was the time on the cable box across our bedroom. Prior to that, all I could see was a neon green fuzz-blob hovering over a 56″ TV. I couldn't even see the big cable box!
I headed to the bathroom and saw my eyes for the 1st time without contacts. Naked. Pure. Not covered by tiny plastic discs or lenses & frames. Just big, green, clear eyes. I was free. I was amazed. It was like looking at myself for the 1st time and really seeing myself. 20/15 vision for years now, all thanks to Dr. Howard S. Kornstein.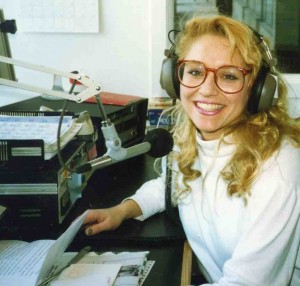 (radio in the 80s)
For 30 years I wore glasses. Big, small, dark, light, wire frames, colors, patterned, corner decals, you name it, I tried it.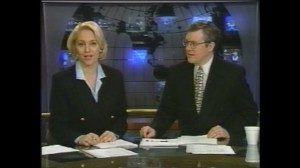 By 8th grade, I tried contacts but from Day 1,             I always had a problem with them. Didn't matter the brand, they were dry and irritating and with a career in television, I'd slip in my contacts for   on-air and rip them out between newcasts.
When I was on the TV show, The Morning Mix, Jeff Lamb often raved about his laser surgery.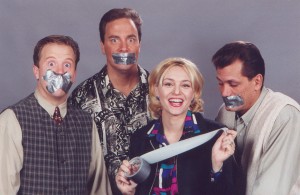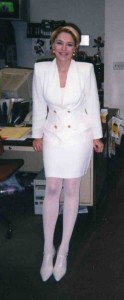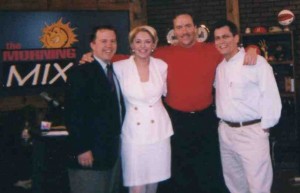 Morning Mix memories:
No way could I go through an eye surgery, I thought. Surgery
awake
– no way! Cutting an eyeball,
eeewwww! 
Doctors even offered to do the surgery for free if I talked about the results on the air, but I just didn't have the courage.
Then, years later, I heard about bladeless surgery with Lasik and thought I can do this! Bladeless? I'm in!
So my husband & I met with Dr. Kornstein. Calm, gentle and very self-assured, he guided us through the initial consultation. He made me feel very comfortable so he and his team proceded to tell us about the procedure. "And then the flap…" The what!  Flap started to come in & out of the conversation describing the cornea at certain stages. Wait a minute – I thought he was just going to beam some red light in my eye.
That's when I started to feel queasy & woozy. "Please don't use the F word again," I warned as I started to feel myself wimping out. "I trust everything you're going to do, please don't tell me any more." But they had to inform me about the procedure so I pointed to my husband, "He's my other half, tell him," and plugged my ears.
Sure, call me a baby, but that's where I was at with my eyeballs and so be it! There were several visits to the doctor's office for check ups before the surgery and each time we went I'd warn the staff & remind the doctor – no dreaded F word.
The day of the procedure I was very nervous and needed to talk to Dr. Kornstein but he was already in surgery. Pacing a while, I finally walked up to the receptionist and asked if anyone had ever walked out of the waiting room at this point. "No. You'd be the first."
I headed to the elevator and pushed the button. My husband hugged me tightly and convinced me to get out of the elevator and go back into the waiting room. "I'll see if I can get the doctor." Dr. Kornstein came out to talk to me, "You've come this far, at any point you want me to stop before the procedure, I will." You know, that's all I needed to hear. I knew I was in good hands and started to relax.
There are several more check points before surgery and at each stage I told the staff, "Please don't use the F word." Everyone would chuckle and it lightened the mood.
When I was finally on the table, Dr. Kornstein gave me the option to leave. He was kind & confident and I said I would stay. A wonderful nurse stroked my arm through the whole procedure; she never stopped till it was over! I quietly hummed some odd tone the entire time, like a yoga ohm that wouldn't stop. I spent so much time wondering if it bothered the doctor that it took my mind off what he was doing. I just couldn't stop "ohming," weird! And then before I knew it, it was done.
Dr. Kornstein was a miracle worker. I couldn't go anywhere without my glasses or contacts for 30 years and for the last 8 years, I have this beautiful vision I never take for granted. And when our darling Grandma went blind, it hit home even more: Why I Love You & Is This The End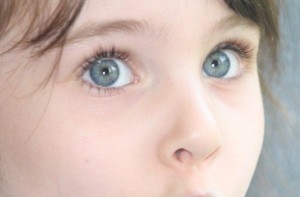 Our 7 year old had an emergency this week and he saw her straight away. He's a Dad 1st and made our little one feel at ease in that oversized chair with the big googly-eyed equipment and stinging drops. All's well, thank God, and thank you, Dr. Kornstein.
The Bright SpotTM

 – The EYES have it!
Dr. Howard S. Kornstein, New York City or Westchester: 914 – 948 – 5157                                 Look at the left-hand column of this site for a link to Dr. Kornstein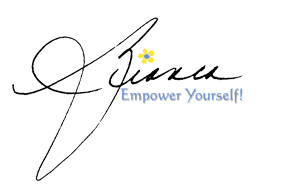 Friday, March 30, 2012 by
Bianca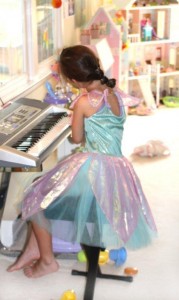 Our daughter just turned 7. For years, she's always had an amazing ability to hear a tune on the stereo or radio & walk over to her keyboard, working out the song while she hums softly to herself.
The other day my dulcimer sprung to mind. Tucked away for years, I thought what better gift than to pass along this cherished and beautiful rosewood & mahogany instrument ~ custom made for me to every delicate specification. Sure enough, within 15 minutes she figured out Twinkle Twinkle Little Star on her own.
Here is a quick 2-minute video of me playing the dulcimer years back…then the video transitions into just the other day when our daughter opened the case for the 1st time. We play Twinkle together that 1st hour with Dad proudly videotaping & at the end of this clip, she is playing the dulcimer for Grandma in England via Skype delighted with her special gift. Yes, very exciting for Mama, indeed. Thanks for sharing!  xo~b