Wednesday, January 5, 2011 by
Bianca
We received the dreaded call on New Year's Eve. The children's Grandmother had a few days to live and the hospital now moved her to the nearby hospice.
Happily married for 60 years this year, Granddad looked at his daughter with deep, sad eyes and asked, "Is this the end?" when she drove him there that afternoon instead of the hospital.
Every day he sat next to her, held her hand, read her the newspaper,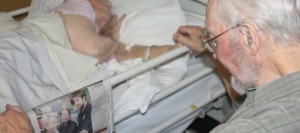 or stood over her…everyday he must have thought will this be the last day I gaze on my bride.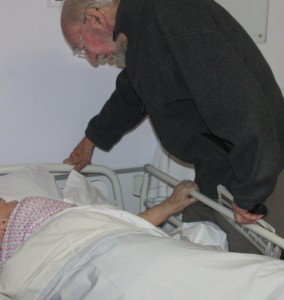 Blind for the last 2 years, Grandma looked forward to hearing Granddad read to her.
We are proud of our son's great strength and love of his grandparents.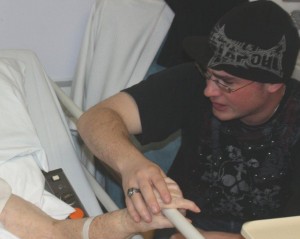 Our daughter could stand for hours and just lovingly adore her grandmother.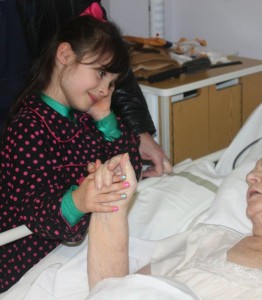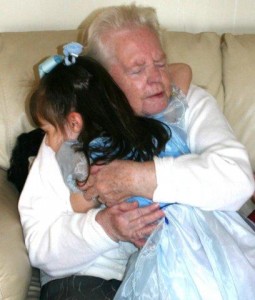 (This photo was taken 2 years ago)
We've explained to our 5-year-old that Grandma is growing her angel wings for her flight to Heaven.
She understands that when Grandma's an angel, she would get her sight back and then she can fly into her playroom or room and watch over her as she has fun or sleeps. She would be the children's special Guardian Angel. She could see us but we couldn't see her. That gave our little one great comfort.
As these days grew longer with sorrow and Grandma's breaths grew shorter with life, our little one would ask, "Is Grandma an angel today?"
With a very, very, very heavy heart and cheeks stained with burning tears, I write this late hour with the hopes of healing my aching heart…….Grandma took flight early today.
The Bright Spot

 – Good God, unbelievably, I have a Bright Spot even in this darkest hour…I was able to tell her again, just 45 precious minutes before her passing, what an extraordinary, wonderful, incredible mother, mother-in-law and grandmother she was and how much I loved her, adored her, looked up to her, and how blessed I was to have her in my life, to model my marriage after hers, and to raise my children with the love she showed us. I was able to say good-bye.
(**Please see the next 2 stories, as a favor to me tonight, about love and time.** They are important to this story and, hopefully, important to you in your life.)
Oh, my heart grieves for Granddad. They shared every moment together for 60 years; Grandma's cozy chair beside his in the den is now empty.