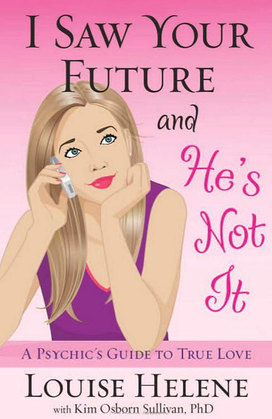 Why won't he commit?
Is he "The One?" 
How does he really feel about our relationship?
Is there another woman?
If these questions ever entered your head…or heart, wonder no more!
For over 30 years, 2nd-generation psychic & spiritual adviser Louise Helene has answered these questions through thousands of readings.
She shares stories of heartbreaks and misunderstandings and teaches readers how to navigate tough relationship problems by using your intuition.
Louise is a recurrent guest on our Life & Love segments on "Let's Talk!" and explains why it was love at first sight when I met Phillip and why we had no doubts getting married even though we had only been in each other's company 46 days prior to saying "I do."
All shows are archived on this site. Upcoming shows with Louise: November 10, 2015, December 15, 2015, February 23, 2016, April 5, 2016. If you have any questions for her, please send them to: Bianca@TheLetsTalkMom.com. Can be on any topic – life, love, finances, family, etc.

The Bright Spot – Find your special someone or find strength to end a bad relationship. Louise will help empower you to take control of your love life!
Find Louise's book on Amazon.com & Barnes&Noble.com, recommended on GoodReads.com, available for your Kindle or in paperback. To contact Louise directly for a personal reading, click: LouiseHeleneThePsychic@gmail.com