Thursday, May 8, 2014 by
Bianca
Many of our parenting shows leave me feeling profoundly grateful – visits by WishKids from the Make-a-Wish Foundation or interviews with the volunteers of orphaned children in hosting programs. Some shows make me feel enlightened by our expert guests on the subjects of hypnobirthing, equine-assisted therapy for children, boomerang kids, and conscious parenting.
After more than 400 interviews during our 15 seasons on-air, I can honestly say I get in the car on the way home from the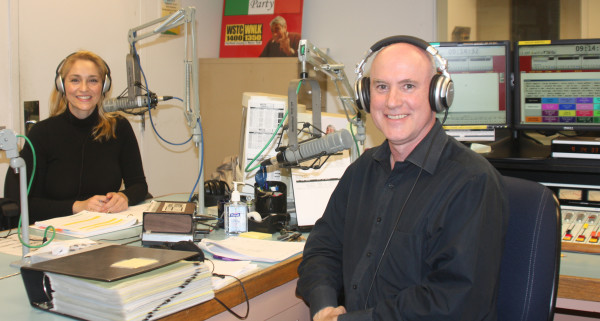 radio station with a mix of emotions and I hope that our program affects our listeners the same way (after airing, the "Let's Talk!" shows are archived on this site).
One guest, in particular, struck a chord with me. Busy working mom of three, Julie Zeff, MSW, CPCC, author of Vivid Living for Busy Moms: Coach Yourself to an Extraordinary Life, uses yoga and sensations in the body in her work as a life coach for the past 14 years. According to Julie, "she teaches her clients to access the wisdom of their body and mind to help them transform their lives." She teaches about heart truths and ogres. Heart truths – what you truly desire; ogres – negativity replaying in your mind/burdens/negative patterns or should have's/would have's/must do's!
Everyone knows what it's like to feel the burden of the should have's and must do's, but Julie says everything is a choice. We either deal with those things with positive energy or a burden of responsibility. What you truly and absolutely love or wish to do is your heart truth. Your body knows it, your gut feels it, and yet so many of us, particularly the busy moms I know, stuff away what we really wish we could do in lieu of everything else we think we have to do.
So when I left the show the day of Julie's interview, I listened to my body and felt the regular sensations of the day-to-day responsibilities I needed to get done: household tasks, family & school obligations, you know the drill.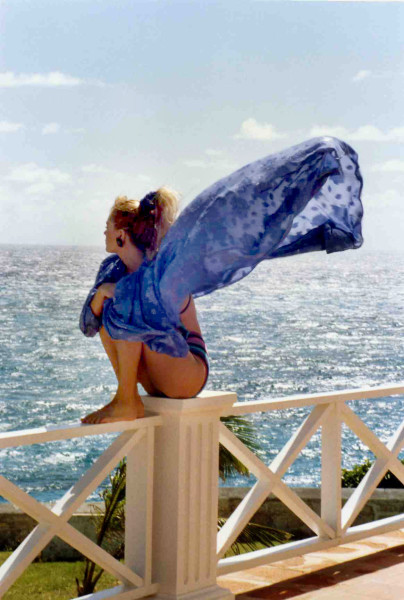 But Julie suggested our listeners think about what they really love to do and then feel the difference in the body. I love to write. And when I thought about it, it made my heart beat a little faster and swell with joy. And yet it's usually the first thing that I put on the back burner as I greet each day and my tidy list of things to do. I wanted my "Mom Super Cape" to soar ever higher; it was starting to feel dampened by mortgages & meetings, lighting bills & laundry. It needed airing & fluffing!
So I decided for my own personal growth it would be wise to spend time with Julie off air and see how her guidance and expertise would lead me to a continued vivid and extraordinary life – just on a higher level.
From Julie's website: "Live a balanced, present, and passionate life on your terms at work, with your family and with friends. 
• Know who you are at your core 
• Uncover your life purpose
• Leap over self-sabotaging tangles
• Trust the unique wisdom of your body 
• See clearly where your life is in or out of balance
• Bring on the "me time"
• Know what to do to transform your life into one you love
The Bright SpotTM

 – Julie spent an hour and a half with me and can with you, too, her details are below. When I hung up the phone with her, I felt such a renewed sense of excitement that I started working on a chapter of a manuscript I shelved a while back. Because there lies my heart truth for work & having spent time this morning with Julie, I know it is time for that book to come to fruition.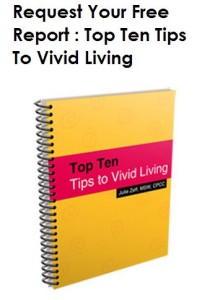 Julie Zeff, MSW, CPCC, www.vividliving.net, julie@vividliving.net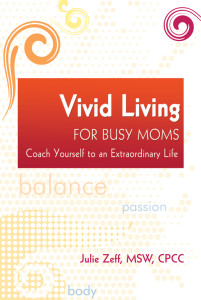 Helping stressed/tired moms live vivid lives they love!
FREE Report Top 10 Tips to Vivid Living at: http://www.vividliving.net
Vivid Living for Busy Moms: Coach Yourself to an Extraordinary Life – https://www.createspace.com/3581207