Wednesday, May 4, 2016 by
Bianca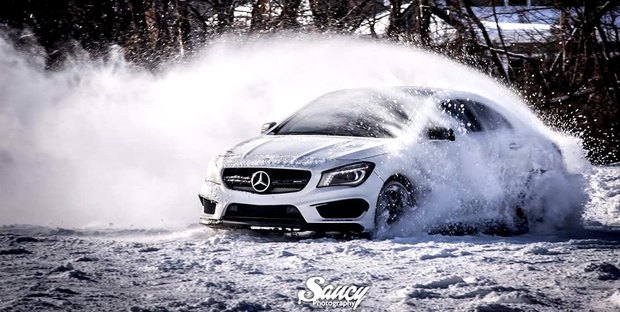 Our son loves his car! L-o-v-e-s! Yup, that's him playing in the snow.
He worked hard for it and earned it completely on his own. It used to be black.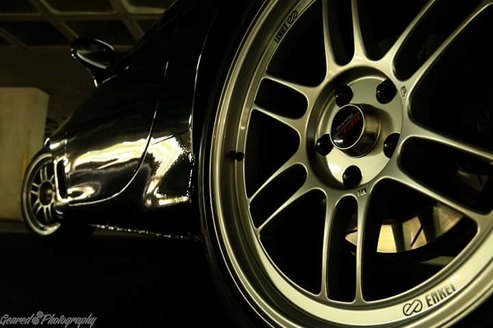 Last year, this high performance baby came home white ~ satin pearl matte wrap. That all sounds lovely but what I think is really neat is his appreciation for the fine craftsmanship of this Mercedes-Benz AMG.
AMGs are hand built by one specialty engineer. It's known as the "One Man – One Engine" philosophy. When our son saw his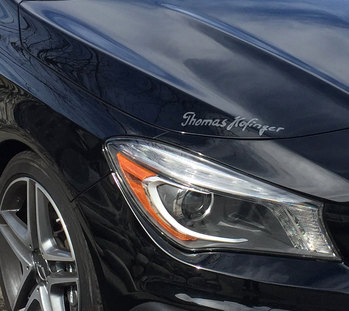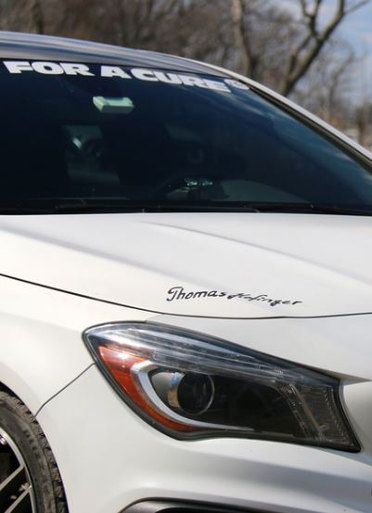 engine was signed by Thomas Hofinger, he had the signature made into a slate grey adhesive that proudly – yet subtly – adorned the corner of his black hood. He had the signature remade when he changed the car to white.
One day, a father who was at an event we attended started a conversation with my husband who was wearing a baseball cap with the Mercedes logo on it. They started talking about cars when the man told him he worked for Mercedes. My husband said our family has enjoyed the brand for decades and showed him a photo our son took of his car with the signature. "Oh, nice to see how much he loves his car, why don't you give me your address, I'll send him something." We thought a cool Merc key chain or pen would be a nice surprise for our son especially after all his hard work.
Time passed and life continued its routine. Then about a month later, a large cardboard envelope arrived in the mailbox. We all nearly fell over! A letter & photo of Thomas Hofinger saying he was "honored and stoked" to see his name on the hood of our son's beautiful AMG!! It was just so cool!! And so unexpected!! It made the car come to life even more. "Let her roar and soar!"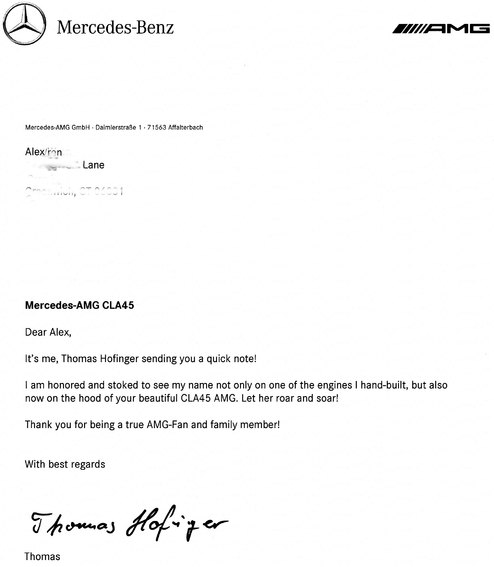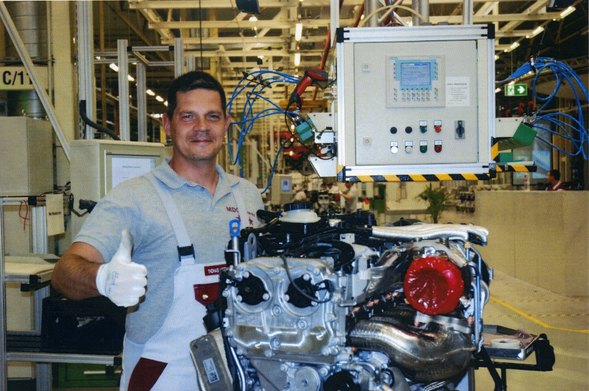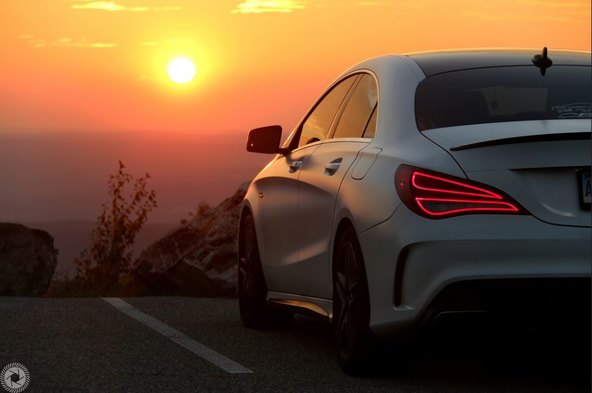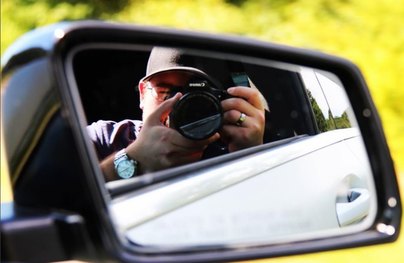 In my story, "Encourage & They Will Excel" (click: Excel), I explain my husband's & my belief in not "pushing" our children, but rather encouraging them with an array of opportunities & unconditional support. When our son, an Operations Director at a national company headquartered in NY, said he wanted to start a photography business, we were excited for him. He invested in a great camera, lenses, Flickr, and we supplied accessories, tripod, URL, etc.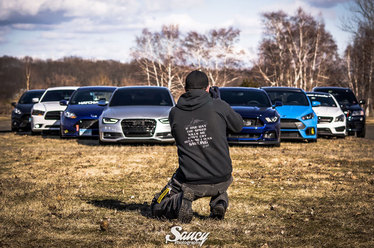 He has a passion for cars and wanted to center his photo art on that industry traveling weekends to car shows and enjoying time with his car buddies. Our son named his company Geared Photography – decidedly apropos.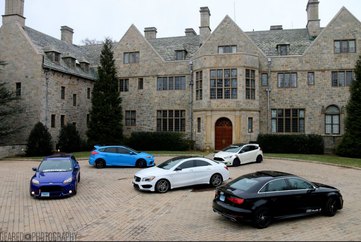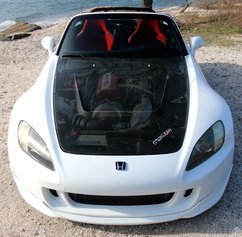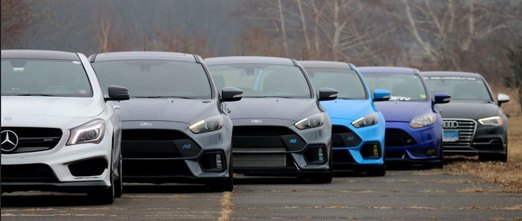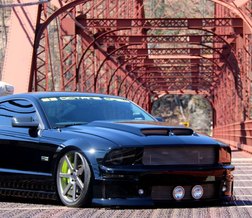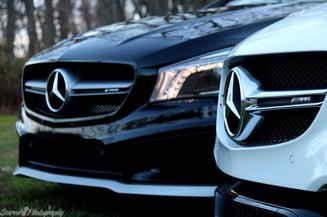 Fast forward a few years of hard work and his pics have been seen in lots of cool places including DriveTribe, the new website for The Grand Tour.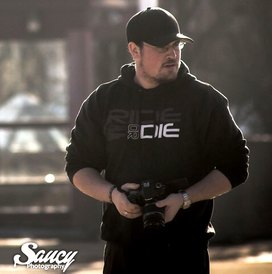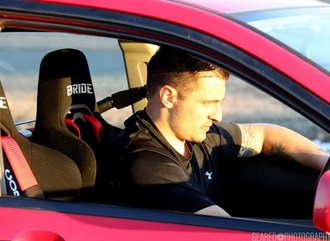 To see some more photos, click: Geared Photography. (Please note: A friend of our son's is nicknamed Saucy – he's a fellow photographer & car buff, too, and the 3 photos he took of our son are watermarked accordingly.)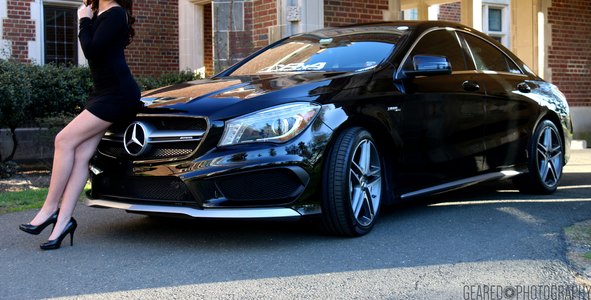 The Bright Spot – Watching your kids grow up doing what they love!
Our love for Mercedes runs deep ~ my father in his cherished Adenauer long ago. He'd be very proud of our son's diligence. Miss you, Daddy.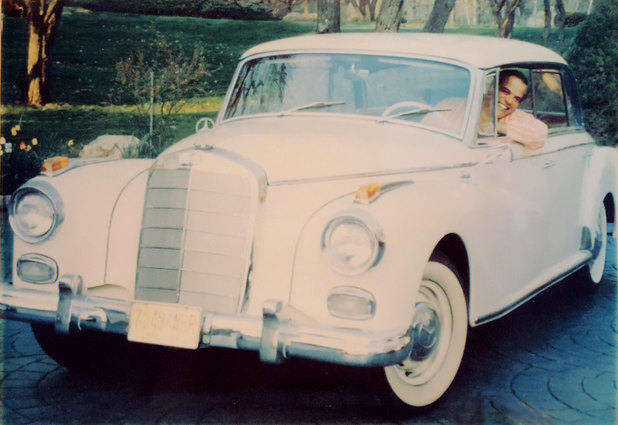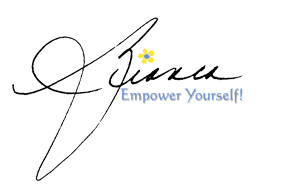 Sunday, March 17, 2013 by
Bianca
Today the world celebrates St. Patrick's Day. I love the festivities, I love being in parades,

 I love Ireland having studied at Trinity College in Dublin, and I love that even though I'm not Irish, everyone can be Irish for the day. But there is a special reason for a few of us to celebrate: 7 years ago today our son helped save the life of his schoolmate. They were 14 years old.
It had snowed a few days earlier and a bunch of boys went sledding at school. But part of the steep hill had iced over during the night. His friend's sled flew across the ice and he lost control slamming his head into a brick wall.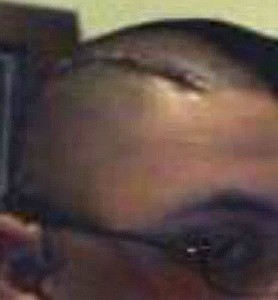 The boys didn't want to get into trouble at school and panicked. They thought it best to get their buddy inside without telling anyone. Our son stood up and said no. He ordered one kid to run and get adult help. He told another to call 911. He ripped off his coat and wrapped it around his friend who was in shock. He told the rest of the boys to not move him at all. His friend received a plate & 37 metal staples in his head. The doctors at the hospital where he was airlifted said had he been moved, he would have died. The immediate actions to get help, warmth and stay calm saved his life.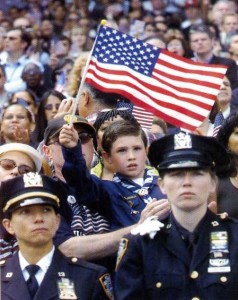 Our son had learned emergency care in Scouts. He knew it was right to risk reprimand from the school administrators rather than risk someone's life.
The Bright SpotTM

– Both boys are 21 now. We are so proud of them ~ fine young boys grown into fine young men.
More about our son: http://www.theletstalkmom.com/tea-talk-momversations/the-making-of-a-superhero/
Credit: Associated Press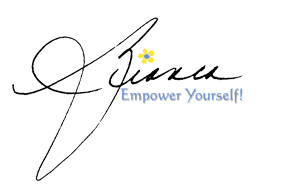 Sunday, October 30, 2011 by
Bianca
Okay, what's up with that surprise Autumn Nor'easter that pelted New England this weekend! Heavy wet snow, no power, no water, no heat, I could go on but really just click here & read http://theletstalkmom.com/tea-talk-momversations/hurricane-irene-pushes-my-bright-spot/ – then insert FLIPPIN' FREEZING at the end of that story!!
I was at a bridal shower when the lights went out. It was pretty watching the snow flutter past the picture windows as we toasted the bride-to-be by candlelight.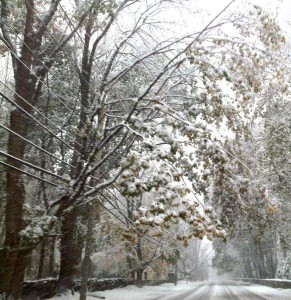 But the ride home wasn't pretty at all.
Trees still full with colorful Autumn leaves were heavy with snow and easily snapped over power lines and across roadways.
Yes, crazy me snapped photos so I could blog it for you.
It was daunting and awesome at the same time.
I was thankful when I finally got home. Our road looked very beautiful.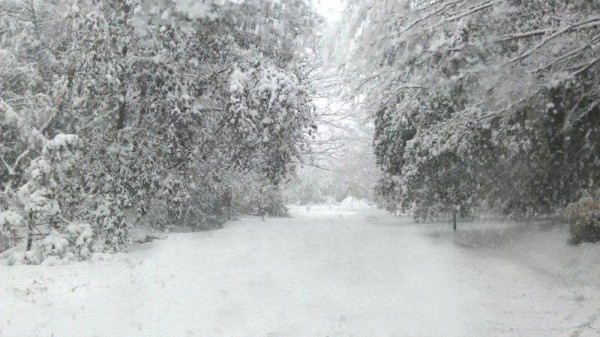 A Winter Wonderland in October…that doesn't even sound right. Didn't look right either with pumpkins under snow, it wasn't even Halloween yet. Bright red Autumn leaves dripping in glistening ice, flowers covered in a blanket of snow.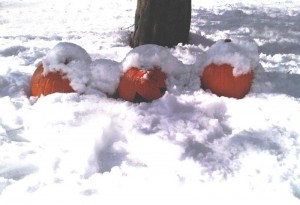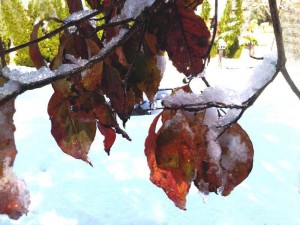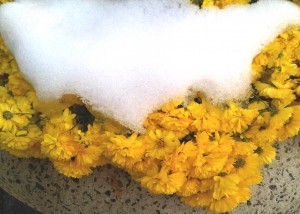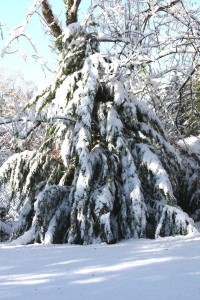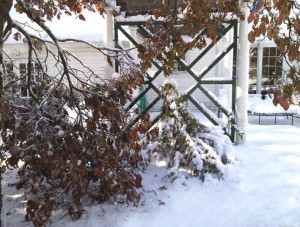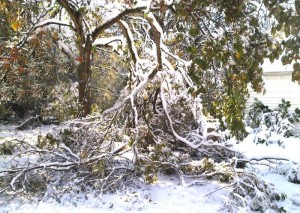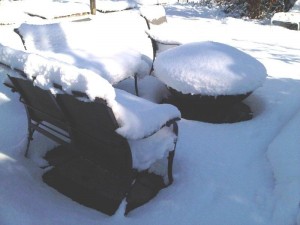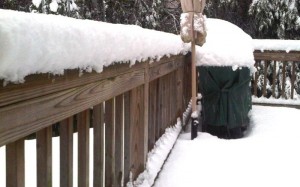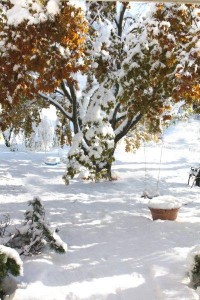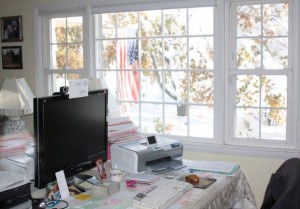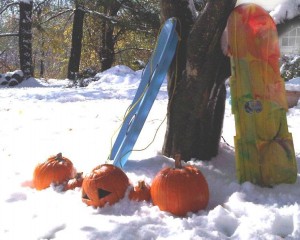 The Bright SpotTM

 – The power is now back on, thank God. Since I enjoy the snow (not the power cuts!), sledding is always fun with the kids. My window where I write is pretty to look out of, we had friends over during the outage who brought wine & cheese, apples and dips, we ate dinner out each night and we did a lot of extra snuggling to stay warm. 😉 b