Tuesday, May 16, 2017 by
Bianca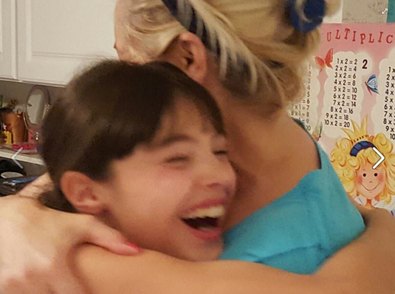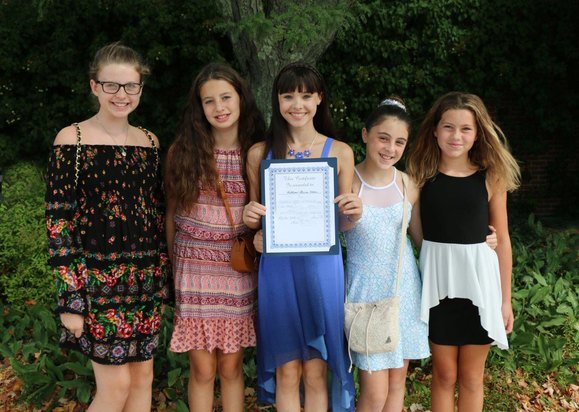 Our 11-year-old earned her 1st Literary Award in a competition she entered months ago. She submitted a mini version of her 1st novella. It's the 38th year of this competition & is open worldwide.
When Phillip read us the letter aloud, she jumped with pure delight feeling the fruits of her accomplishment after having spent months writing. We are so happy for her and very proud of her!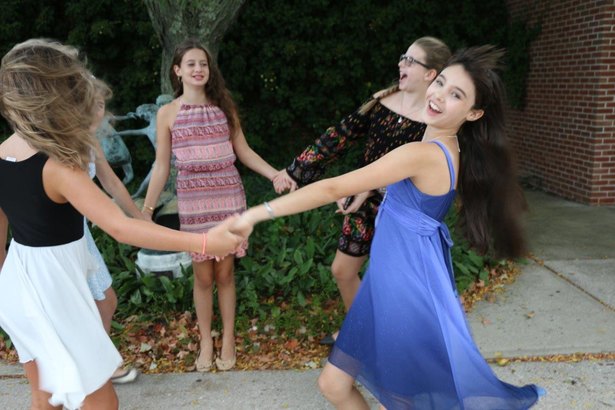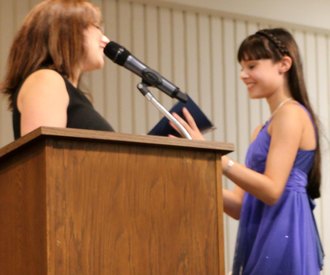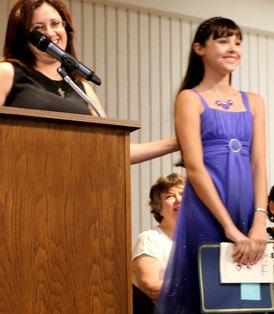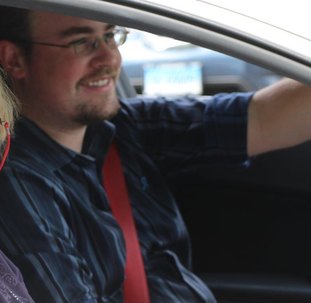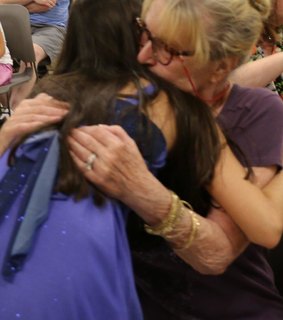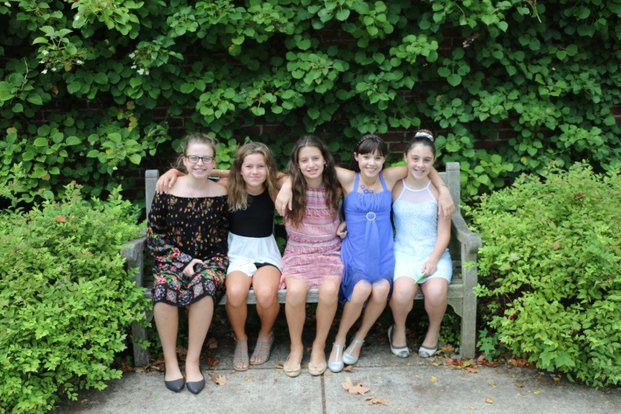 Reading & writing are so important to Darling, a passion we saw at a very young age and have continued to fuel. While in England this May, we visited Oxford as C.S. Lewis & Philip Pullman are two of our daughter's favorite authors,
click
:
Oxford
.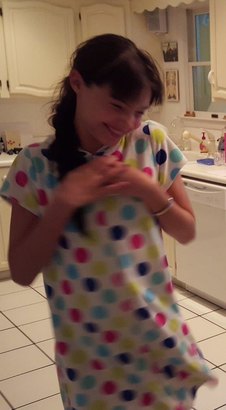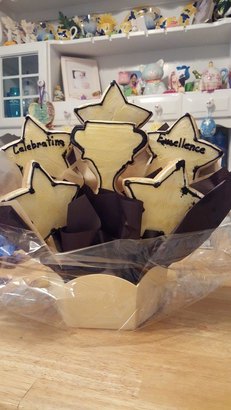 Three teachers, Mrs. DZ, Mrs. SZ & Mrs. C have had such a significant impact on furthering her creative juices and honing her technical skills. Marvelous, nurturing, kind teachers ~ we are so grateful to have had this
Dynamic Trio
educate our daughter! Thank you, Mrs. DZ, for the amazing surprise cookie bouquet!!! Loved it!!!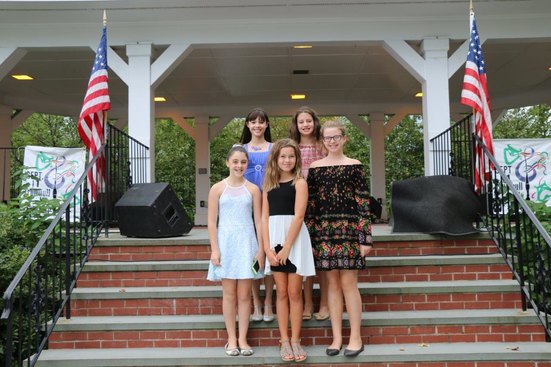 In her congratulatory card was a letter trimmed in gold with a very special message: Pack your bags & your wand, Hogwarts Castle awaits!!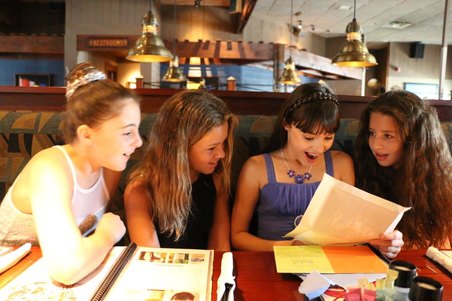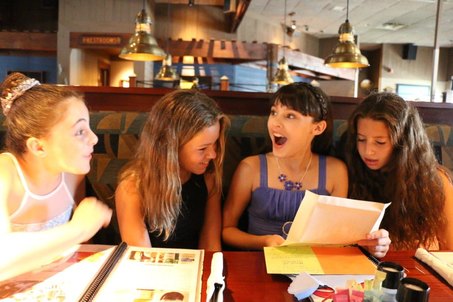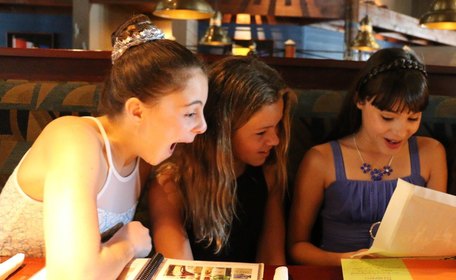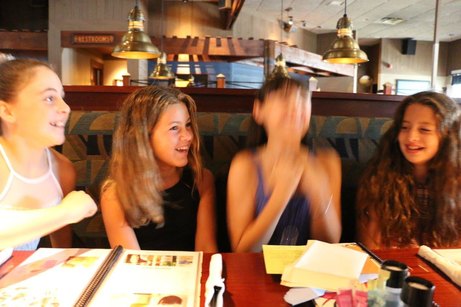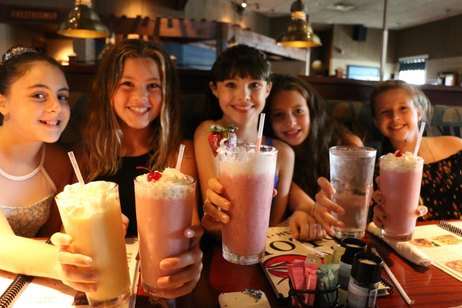 Cheers with smoothies & an afternoon of play, the day could not have ended any better!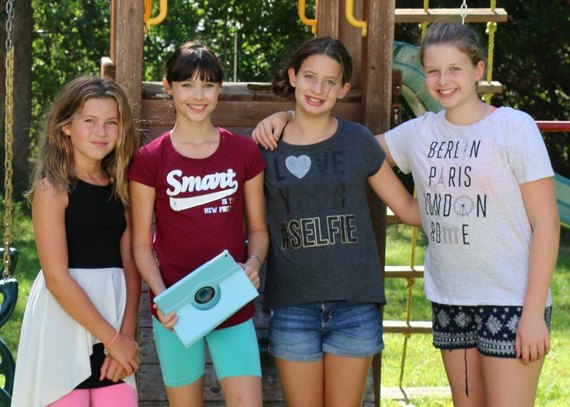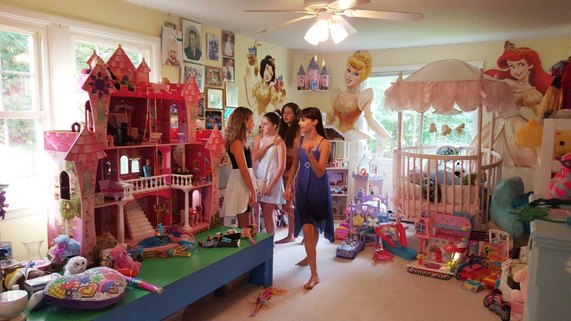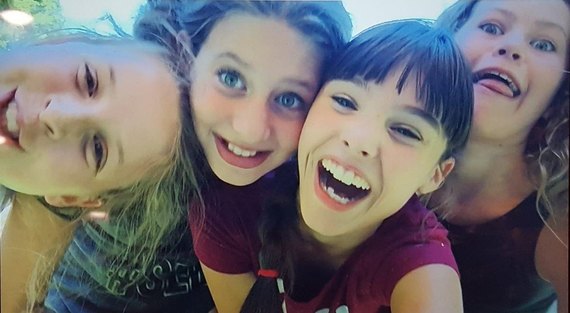 The Bright Spot
– Her award! Her friends! Her magical destination created by her favorite female author, J.K. Rowling,
click
:
Wizarding World
to see one of the most fun stories I've had the pleasure to write!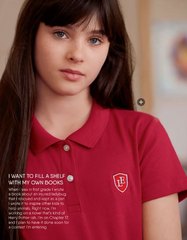 She was photographed for this Land's End ad in Spring for the Autumn 2016 polo collection. They interviewed her and used this quote on the ad: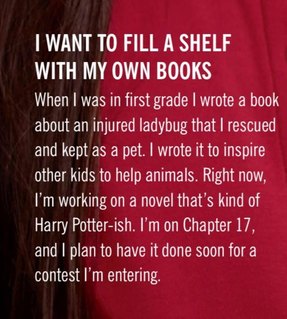 Darling, you are well on your way!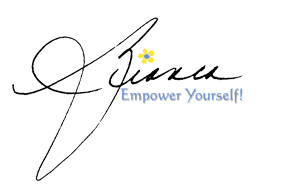 Wednesday, May 4, 2016 by
Bianca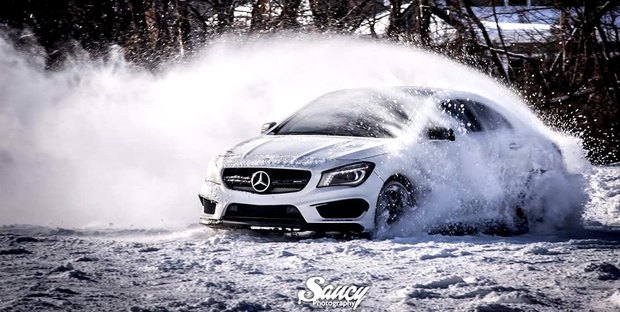 Our son loves his car! L-o-v-e-s! Yup, that's him playing in the snow.
He worked hard for it and earned it completely on his own. It used to be black.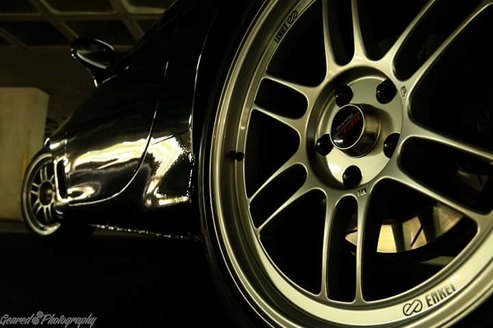 Last year, this high performance baby came home white ~ satin pearl matte wrap. That all sounds lovely but what I think is really neat is his appreciation for the fine craftsmanship of this Mercedes-Benz AMG.
AMGs are hand built by one specialty engineer. It's known as the "One Man – One Engine" philosophy. When our son saw his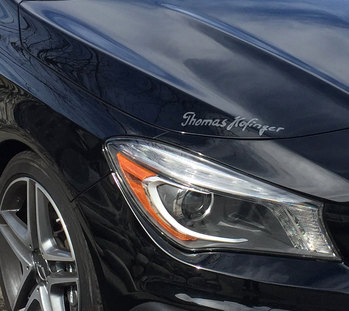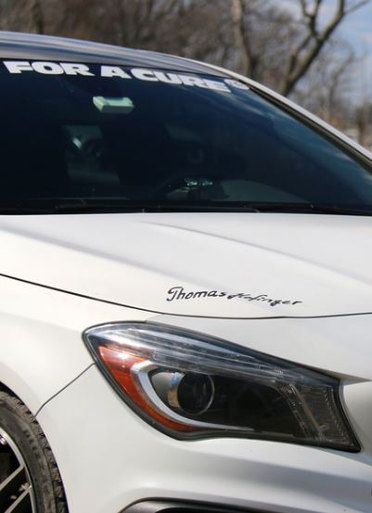 engine was signed by Thomas Hofinger, he had the signature made into a slate grey adhesive that proudly – yet subtly – adorned the corner of his black hood. He had the signature remade when he changed the car to white.
One day, a father who was at an event we attended started a conversation with my husband who was wearing a baseball cap with the Mercedes logo on it. They started talking about cars when the man told him he worked for Mercedes. My husband said our family has enjoyed the brand for decades and showed him a photo our son took of his car with the signature. "Oh, nice to see how much he loves his car, why don't you give me your address, I'll send him something." We thought a cool Merc key chain or pen would be a nice surprise for our son especially after all his hard work.
Time passed and life continued its routine. Then about a month later, a large cardboard envelope arrived in the mailbox. We all nearly fell over! A letter & photo of Thomas Hofinger saying he was "honored and stoked" to see his name on the hood of our son's beautiful AMG!! It was just so cool!! And so unexpected!! It made the car come to life even more. "Let her roar and soar!"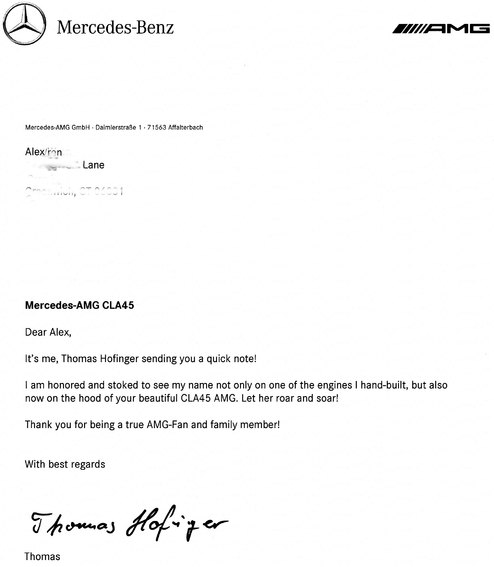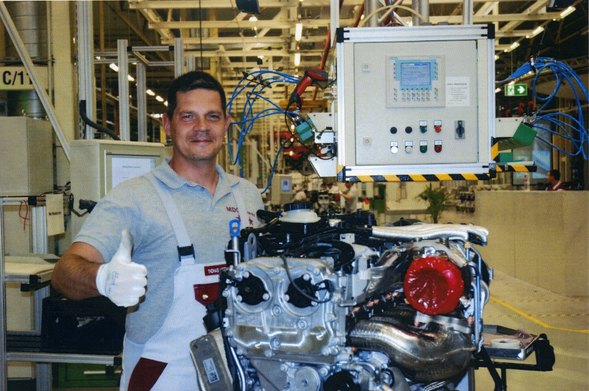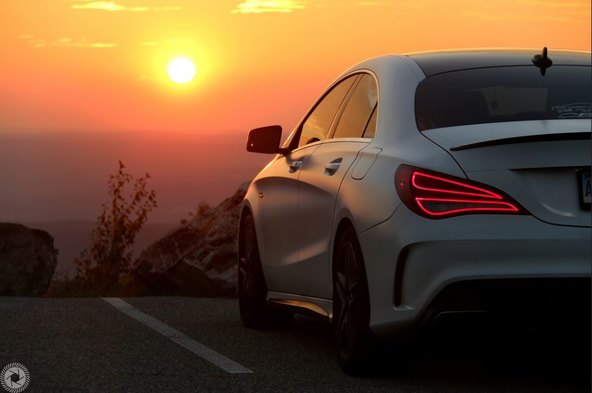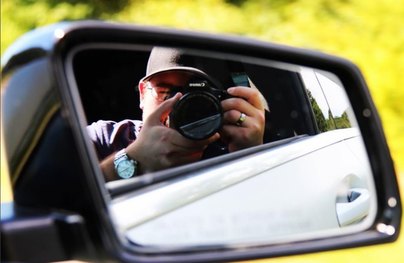 In my story, "Encourage & They Will Excel" (click: Excel), I explain my husband's & my belief in not "pushing" our children, but rather encouraging them with an array of opportunities & unconditional support. When our son, an Operations Director at a national company headquartered in NY, said he wanted to start a photography business, we were excited for him. He invested in a great camera, lenses, Flickr, and we supplied accessories, tripod, URL, etc.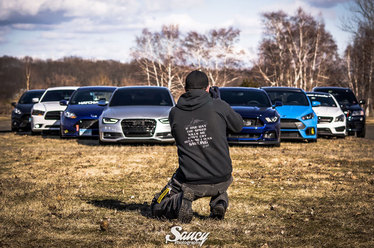 He has a passion for cars and wanted to center his photo art on that industry traveling weekends to car shows and enjoying time with his car buddies. Our son named his company Geared Photography – decidedly apropos.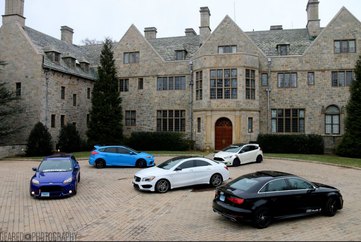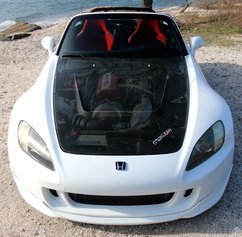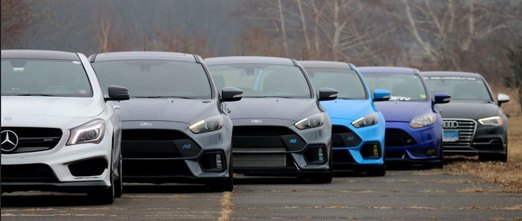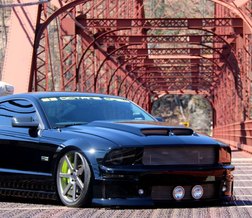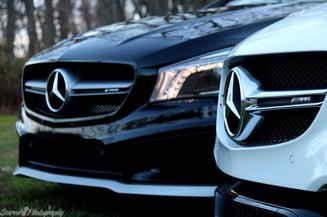 Fast forward a few years of hard work and his pics have been seen in lots of cool places including DriveTribe, the new website for The Grand Tour.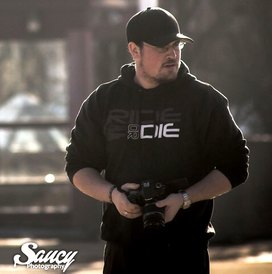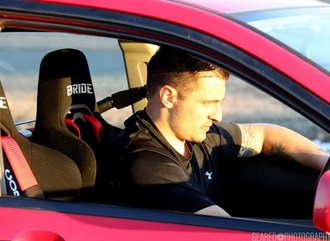 To see some more photos, click: Geared Photography. (Please note: A friend of our son's is nicknamed Saucy – he's a fellow photographer & car buff, too, and the 3 photos he took of our son are watermarked accordingly.)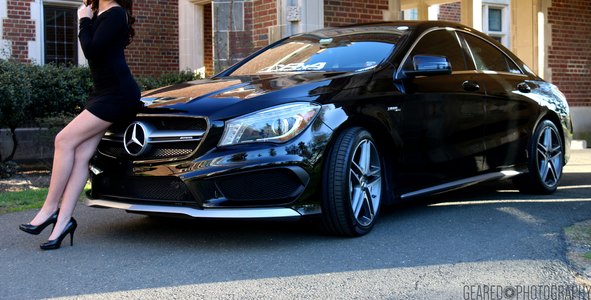 The Bright Spot – Watching your kids grow up doing what they love!
Our love for Mercedes runs deep ~ my father in his cherished Adenauer long ago. He'd be very proud of our son's diligence. Miss you, Daddy.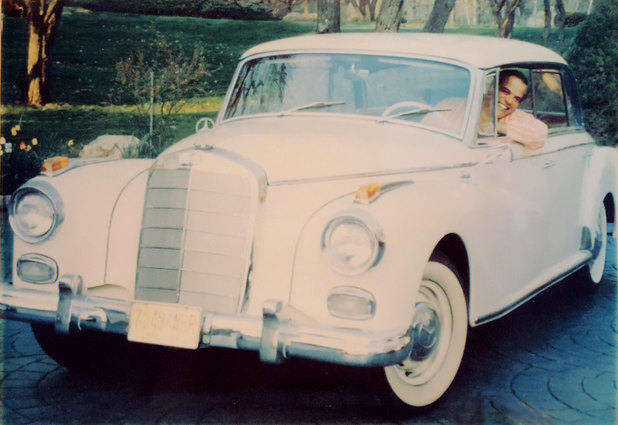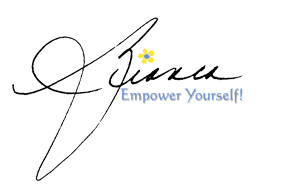 The point of this story need not identify of the owner of the 1-eyed teddy bear, but rather WHO this fellow is made all the difference in saving our son's cuddly animals.
The man actually cannot be identified because he is a secret agent on a very significant level. He is close to our family and we all adore him but we keep conversation limited to family stuff, old friends, or school happenings. He signs his holiday envelopes as James Bond. It's all very cool in a surreptitious kind of way, the "secret" in secret agent makes it sound so hush-hush, and the undercover missions we are never allowed to know about are wrapped in clandestine mystery. All very exciting, so what does this have to do with stuffed animals?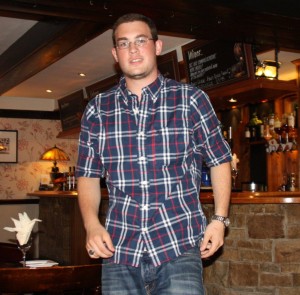 Our eldest is a strapping 24-year-old dude with beer posters in his room and a steady girlfriend at the helm.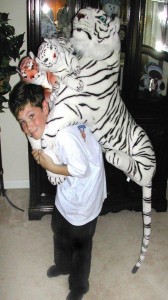 Rewind about 14 years and here was a kid with a ton of stuffed animals, some from babyhood, others won at the amusement park, many from the big glass box with the grabber handle thingie at the diner. An admirer of big cats, one of his favorite was a huge white tiger with sharp blue eyes.
For a long time, my husband felt our son needed to unload his cuddly animals. I'd protest seeing the quiet sadness in our child's eyes. The subject came up at significant milestones, like award ceremonies, moving from elementary to middle school, etc. I understood my husband's point of view: he wanted to make our son grow up, be a man, get tough. I understood my son's point of view: at that time he was still an only child and he wasn't ready.
Then one year we visited Washington, D.C. and James Bond invited us to stay in his hom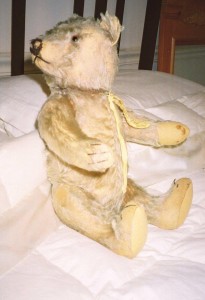 e. He was away, as usual, and he couldn't say where he was, except that he would leave the key for us under the mat. Under the mat?!? He lives with all this enigmatic secrecy but leaves the house key under the mat!
It was very exciting to walk around his home. Medals, awards, Christmas cards from the presidents over the last 20 years, and as we walked upstairs to pick out our rooms for the night, there, in the middle of the master bedroom, sitting proudly atop the big bed, was a 1-eyed Steiff teddy bear with a worn nose, an untied yellow bow & fur so loved-off and cuddled, it was a treasure to behold.
It was also ammunition to ward off any more attempts to clear out stuffed animals from our son's room. "If James Bond can keep his teddy bear, so can I!"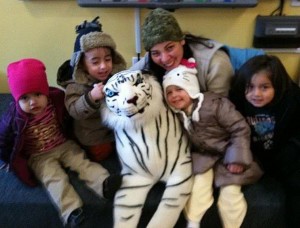 So that was that. More than a decade's passed and on his own, our son has donated his stuffed animals along the way – but that's the important part of this story – it was on his terms, his timing and his choice of where they went. The huge white tiger is now the centerpiece & reading buddy in a fantastic enrichment school.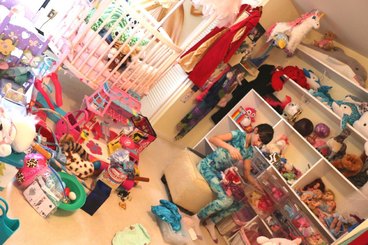 I never take anything from my children without asking them. Together we donate what they choose to give up when they choose to. It teaches them to let go, to give to others and to stay organized. (Little One sorting>>)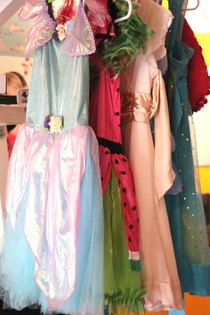 There is a marvelous organization called YoungLives which helps teenage mothers. Every 3rd Wednesday, the young mothers meet at a church in Norwalk, CT to learn about God and their children, plus, they can choose items they need that people have donated.
When our daughter was ready to donate her toys or princess dresses, etc., we would bring them to the church and she would see firsthand the children light up with joy as they picked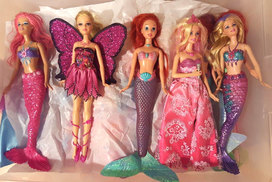 out what they would like. She saw a little     2-year-old boy dive into her Elmo chair exclaiming, "That's mine, I love this chair!" And little girls picking out sparkly dresses. Or Barbies. Or unicorns.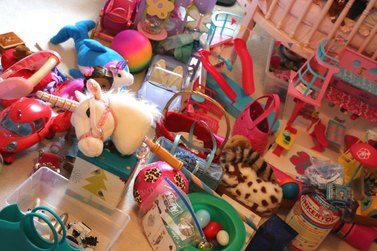 The children were happy and it made our child well up with joy to see the kids' faces light up while new life was instantly breathed into her cherished pieces. It deeply linked giving to pleasure. You can check out organizations in your area like YoungLives, Birthright, Hopeline or any organization that benefits a cause you believe in. We've also donated her crib, baby furniture and Pack-n-Plays.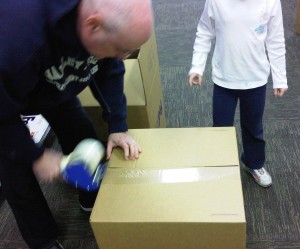 Our daughter has given up lots of her cuddly animals, even packing & sending many huge boxes to Africa.
The Bright SpotTM 

 – The exciting thing about the missionary we shipped her stuffed animals to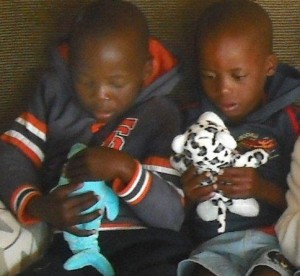 is that they sent back photos of orphan children cuddling her animals! A fine day, indeed. Again, on our children's terms while reinforcing a life skill of giving as a pleasure.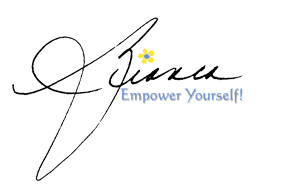 Sunday, June 14, 2015 by
Bianca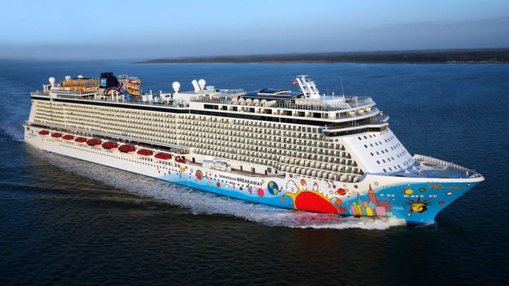 How we kept it a surprise I have no idea! After weeks of planning and several days cruising across the Atlantic on the gorgeous Norwegian Breakaway, we landed at King's Wharf and headed barely after daybreak onshore with our Little One.
"Why are we leaving so early? Where are we going?" Still mum, Phillip & I guided our inquisitive daughter to a huge, weathered wooden door battered by storms but fixed firmly in place by its centuries-old surrounding stonework.
Her eyes grew wide as we knocked loudly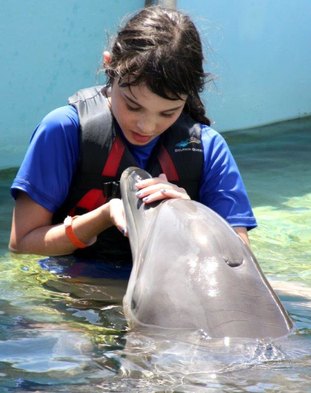 on the door. No one was around but us. A short while later, the door creaked open and we were led into a large courtyard – the National Museum of Bermuda at the Royal Naval Dockyard. It was clear it would not open to the public until later that morning.
We walked through the dockyard until we came to a building where a young woman greeted us. She knew the day had been a surprise for our daughter. When she explained to our Little One that she would be joining her team for a day of dolphin training, the excitement in the room was electric! Then she was handed a Dolphin Quest swim top and felt very official. "Wow!" she whispered under her breathe.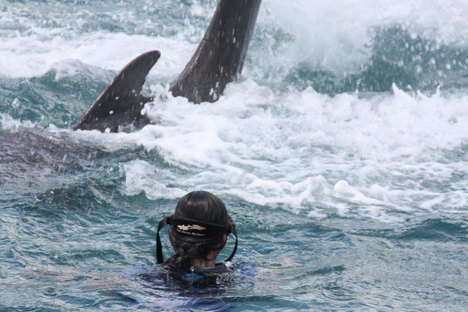 Our daughter's dream of loving, studying, and safeguarding marine life just took another leap forward. Years prior, our family had only swum with the dolphins. Jamaica. Bahamas. Florida. But this was different. It wouldn't be just a 45-minute encounter with a group. When we saw that Dolphin Quest in Bermuda offered a Dolphin Trainer for a Day program, we booked it for our daughter straightaway.
She spent the day with 8 dolphins including 2 baby dolphins just 3 months old ~ talk about over the moon!
Our Little One gained experience in fish preparation, dolphin feeding, gating, hand signaling, dolphin relationship building, swimming, measuring and dolphin training.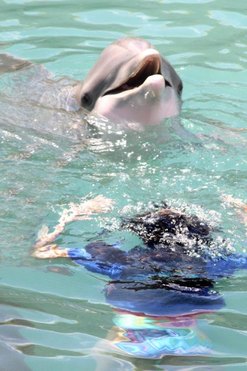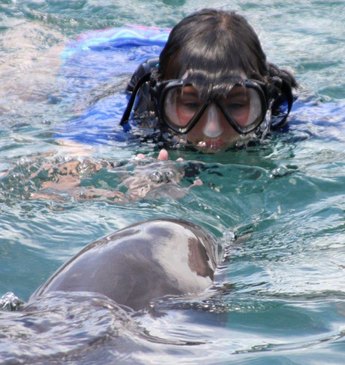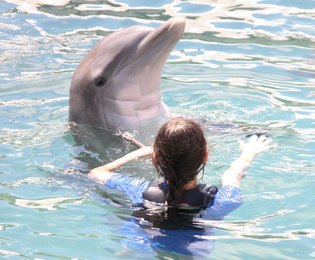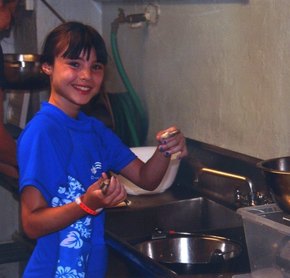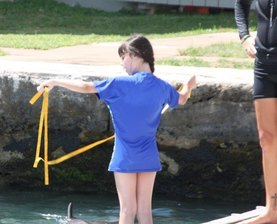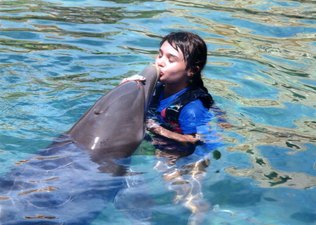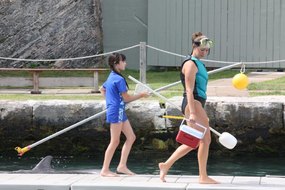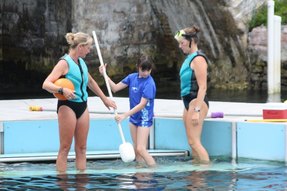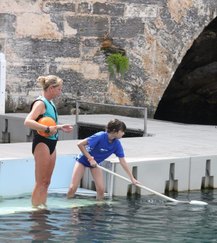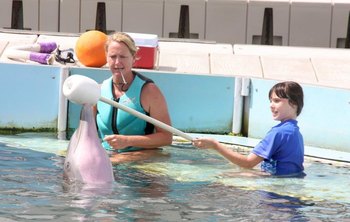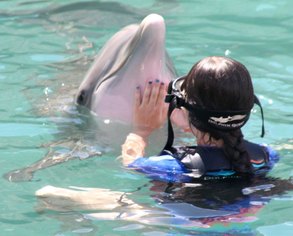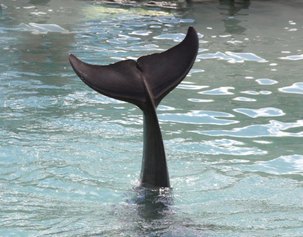 I'm not sure who had more fun, the dolphins or our darling!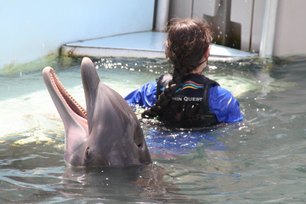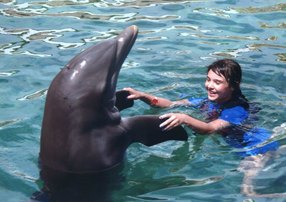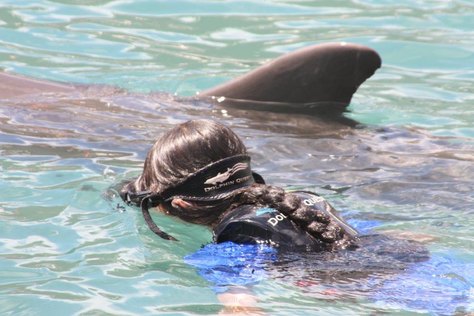 Later that day, she enjoyed lunch with her mentors and when we picked her up at the end of her session, the dolphin trainers said they had never had a person know so much about marine life before and that she was the most excited participant they had ever had in all their years and that she would be a welcome participant for their 5-day training program there or in….Hawaii!! Yeah, looks like that may be the next dolphin destination! I'm ready to pack…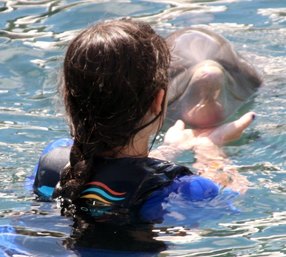 The Bright Spot  – Our daughter has been waiting 5 years to swim with her beloved Beluga, Juno.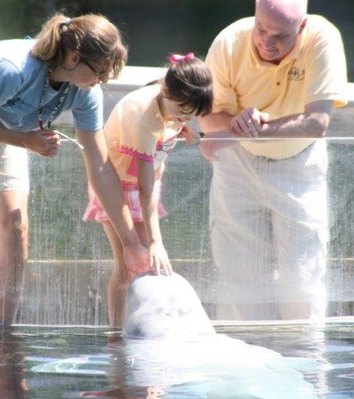 She learned about the program when she was 5 years old but the rules require people to be a minimum of 60 inches to get in the tank with the whale.
So guess who's 59 & 3/4 inches?!?
Yes, I think we are heading to Juno before summer's done! (photo of Little One with Juno left). It's truly a pleasure to empower children's interests.
Click here for the story about Juno at 5: Harmony & Magic
Click here for the Florida dolphin swim at 6: Pixie Dust & Dolphin Kisses
Click here for Dolphins in Jamaica at 7: Paradise for Families
Click here for Winter & Hope at 10: A Dolphin's Tale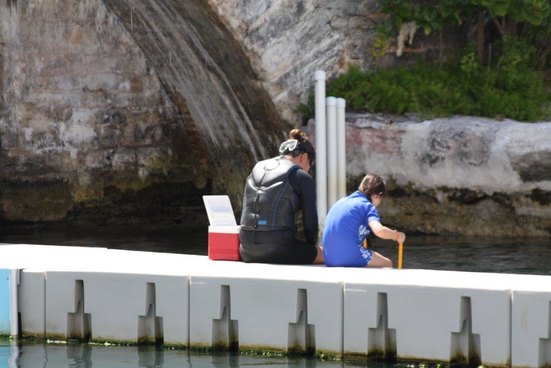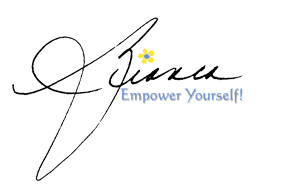 Sunday, May 10, 2015 by
Bianca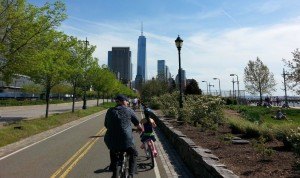 Our 9-year-old led us on a 14-mile bike ride to the Freedom Tower on Mother's Day.
7 miles down Manhattan Island & 7 back along the Henry Hudson River South Waterfront Bike Path in sunny 75 degree weather.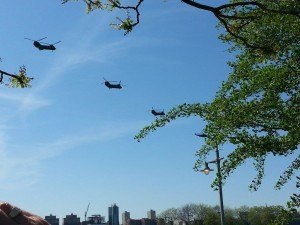 As we rode along New York City's beautiful path, we enjoyed an air display, basketball games, families picnicing at the many parks on the water, the famous ballerina statue, the Intrepid, Concorde & space shuttle, views of the George Washington Bridge & distant Tappan Zee, and best of all…discovering a mama bird feeding her newborns on Mother's Day in a blossoming tree!! Breathtaking!! (precious video below)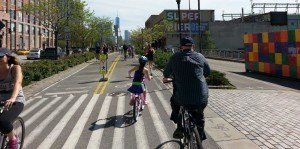 After stopping for ice cream, we enjoyed a lovely dinner and then Phillip gave me one of the most wonderful, thoughtful gifts ever!! Ever!!
To put into perspective how special this Mother's Day gift was to me, may I just say that one year, he surprised me with a beautiful Mercedes convertible in the driveway; another year, matching silver Mercedes' with huge green bows. Yes, those were exciting.
But the gift he gave me this evening made my eyes tear & my heart swell! I'll explain at the end of this story.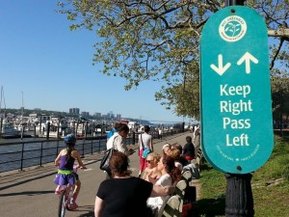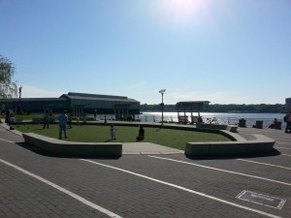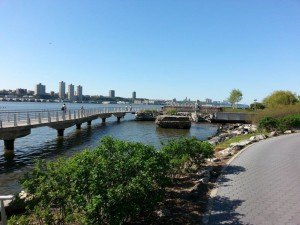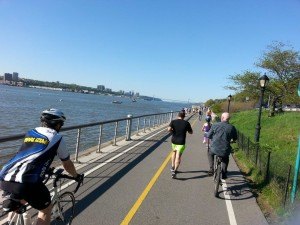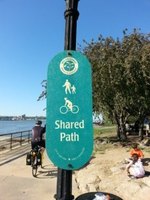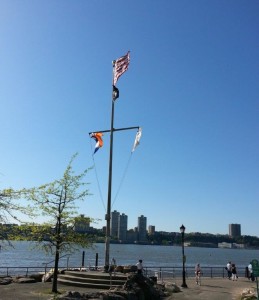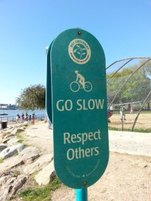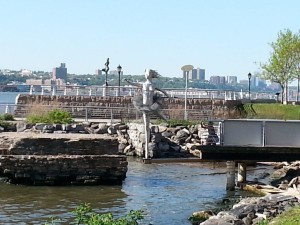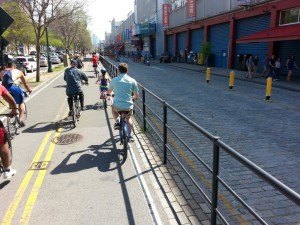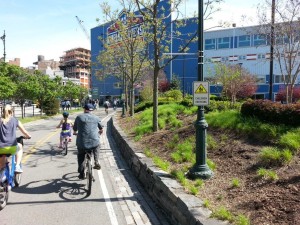 Stopping for ice cream after the 14th mile: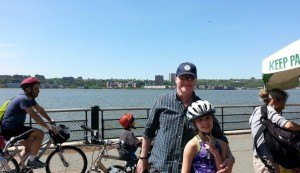 Mama Bird & her babies:
Okay, so this was Phillip's gift. A few days earlier, we saw this sign at Nordstrom's. WOW is exciting for us because it's our daughter's initials. Flipped upside down, it spells MOM.
Phillip carved this WOW~MOM sign for me from a block of wood. A handmade gift is the best gift of all to me and the meaning behind it was heartwarming & made with love and thought.                            
What an amazing husband, I love you, Darling. Thank you!!
Those magenta-orange-pastel-sherbet colors are some of my favorite hues & it will be painted those colors soon.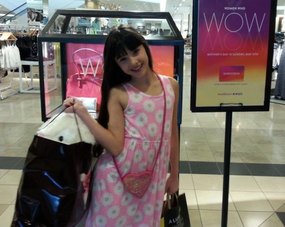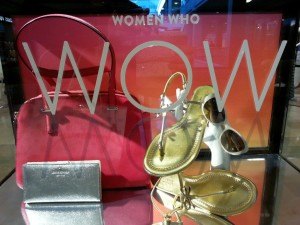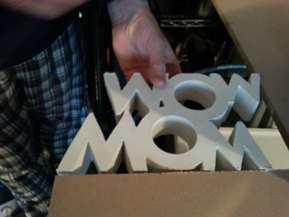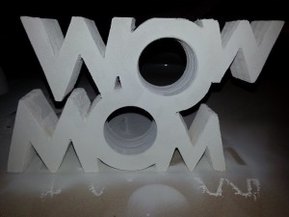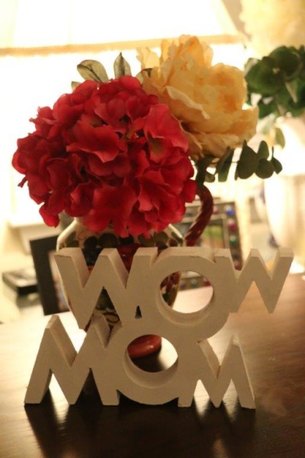 One of the best Mother's Days ever (2014)!!
Today's 2015 Mother's Day was just as delightful!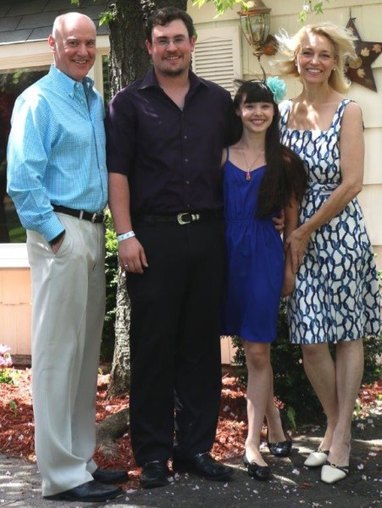 After breakfast & celebrations, we snapped pics under a very significant tree, then Phillip & the kids surprised me with an afternoon of painting together at Pinot Palette in New York, followed by dinner with my Mom.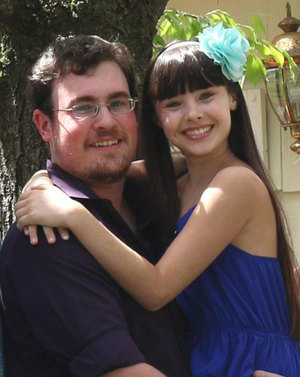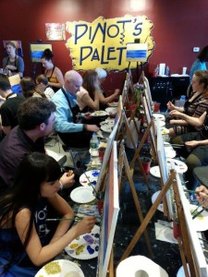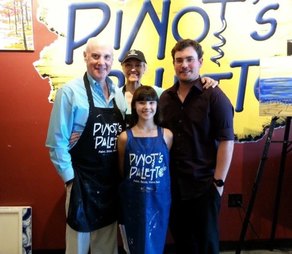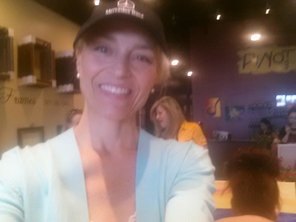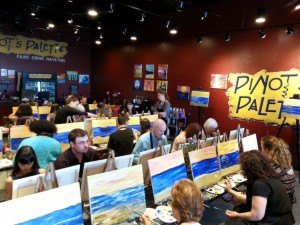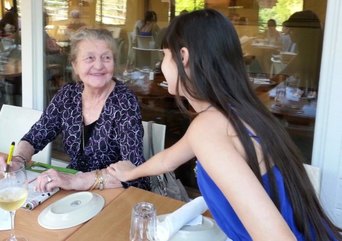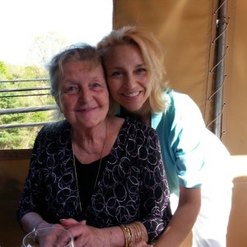 For more on my Mom, just click: Mom
For more on my Mother-in-Law, click: Grace
Thank you for sharing. And thank you to my family, I love you all!!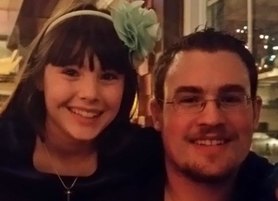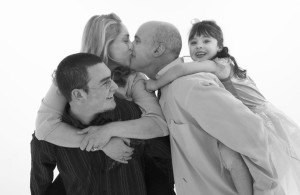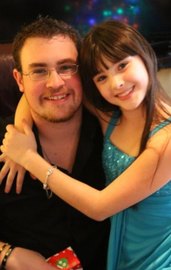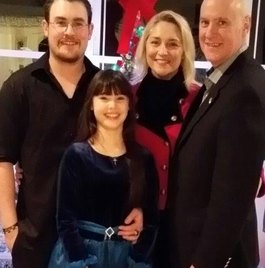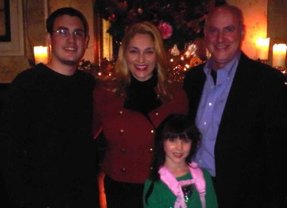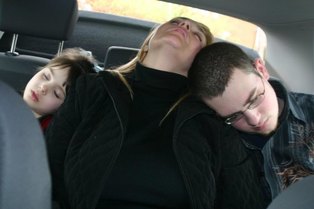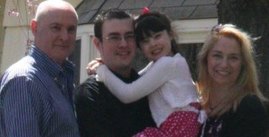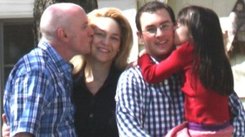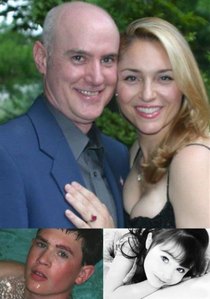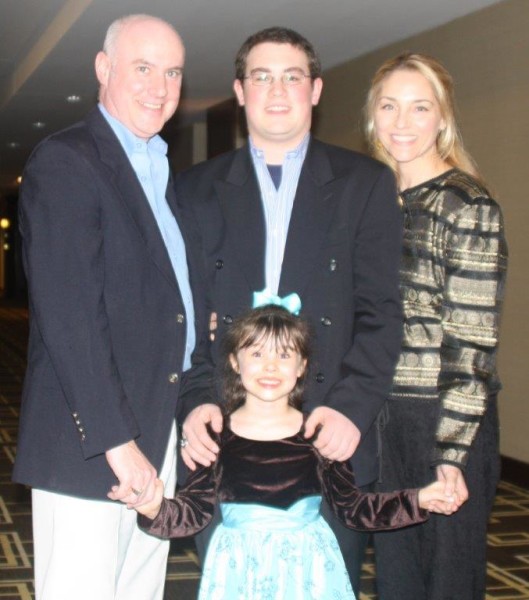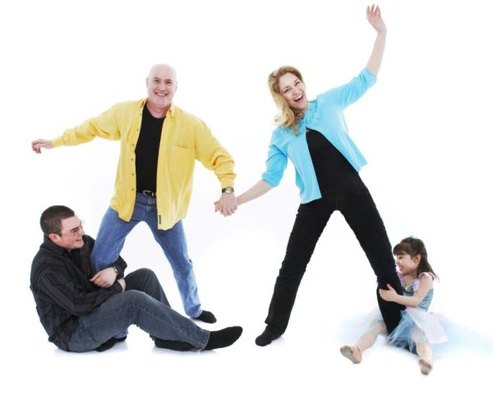 The Bright Spot – Celebrating Moms Everywhere – Happy Mother's Day!!!!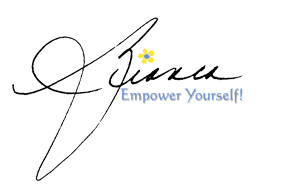 Sunday, February 1, 2015 by
Bianca
Everyone kept asking me what Phillip was planning for my 50th. He's arranged some pretty spectacular things for me over the years so I knew whatever it was I'd be thrilled. Our son captured the moment: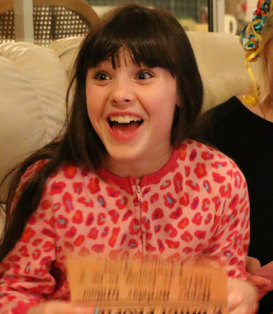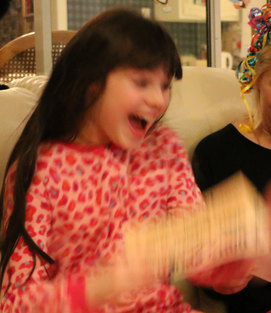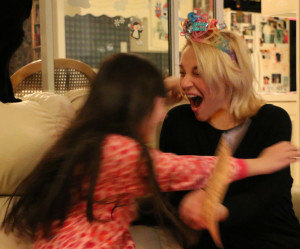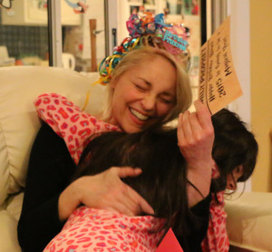 Good Lord! What could it be? Well, prior to opening this envelope, Phillip planned a weekend of delights including dinner at La Panetiere.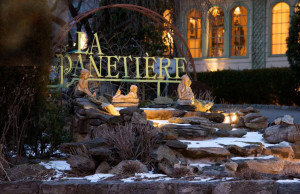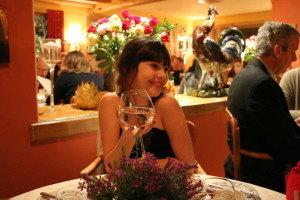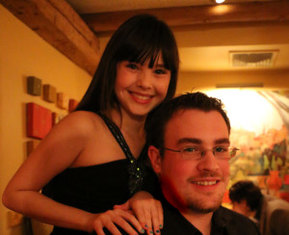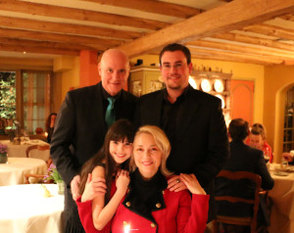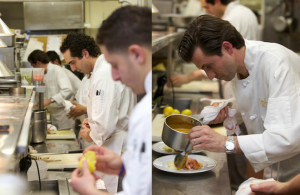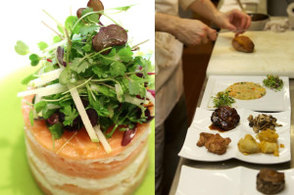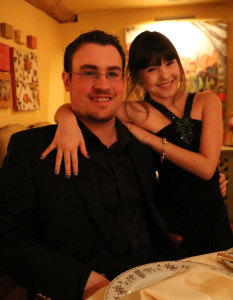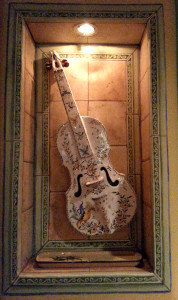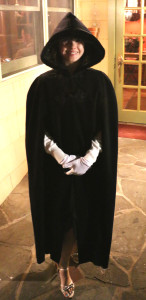 We visited the Cloisters on the northern tip of Manhattan overlooking the Hudson to enjoy the stunning array of more than 5,000 pieces of European Medieval works of art from the 12th – 15th centuries including the famous Unicorn Tapestries. The Cloister's Library contains over 15,000 volumes of books.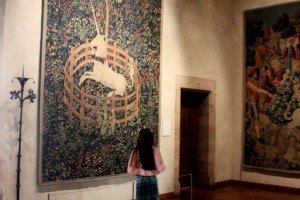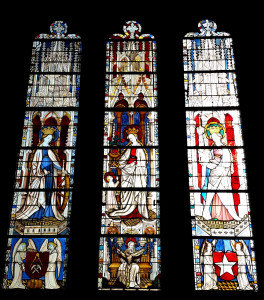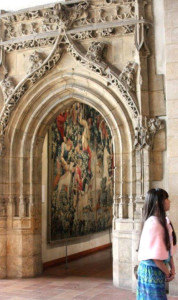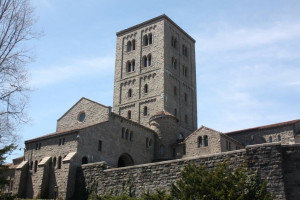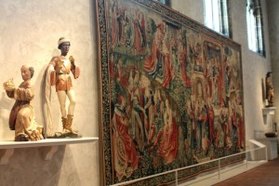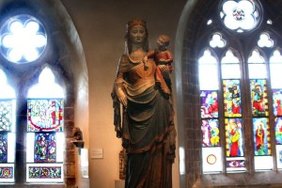 Later, we toured the World of Wings butterfly atrium where I had my 1st opportunity to take photos with my gorgeous new Canon from my son. For the amount of time I invest in my photography, this latest Canon with touchscreen, image sensor & built-in Wi-Fi was the p-e-r-f-e-c-t gift!! Thank you, darling!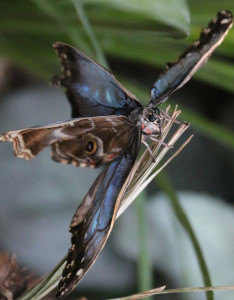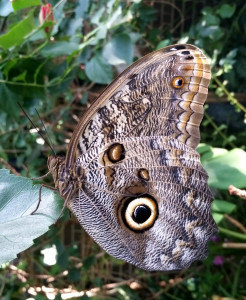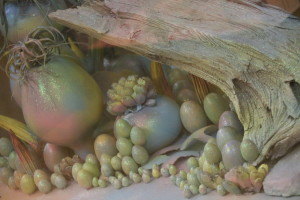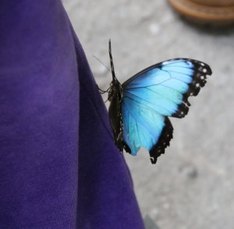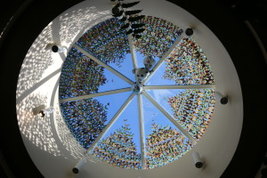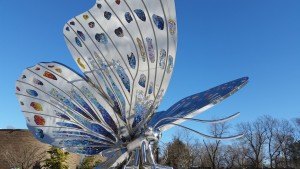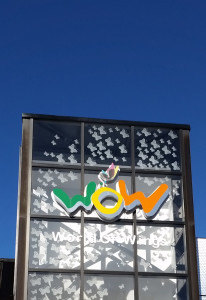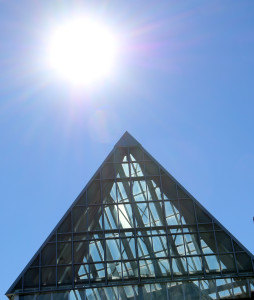 And if anyone knows our family well, you'll know why the logo above is so significant!! 🙂
As you can s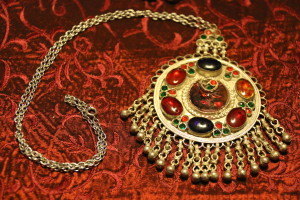 ee, this day was magnificent with brilliant sunshine & deep blue skies. But 50 years ago, there was a blizzard and my mother arrived at the hospital with a police escort. That's one way to make an entrance.
Mom recapped the story over dinner. Then she surprised me with a very special gift…a piece of jewelry I've admired for 45 years. It was given to mother by my father's mother when I was 5.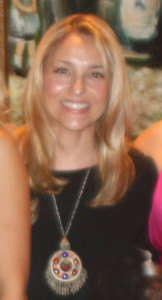 I've worn it in the past with great delight (photo on right), but on this special night, my mother said it was now mine. Overjoyed is an understatement. It means so much to me on many levels.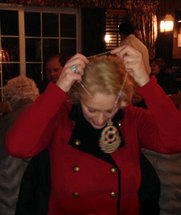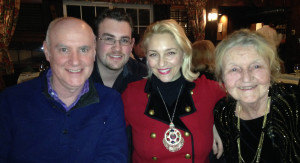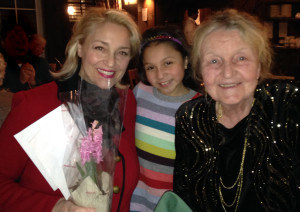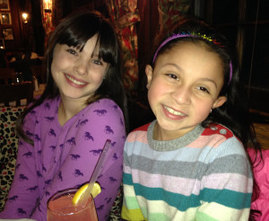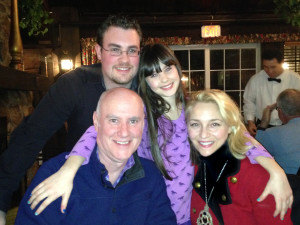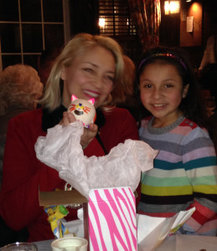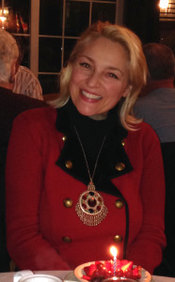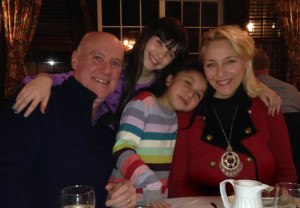 So what was in the envelope in the opening pics? Let me first explain that my greatest gift ~ now & always ~ is being loved by my family & friends. Flowers & cards, emails & posts. All is appreciated. The kindness, the thoughtfulness, the time spent to make my day special. Thank you all!!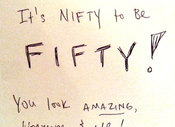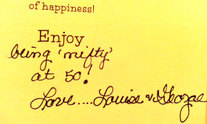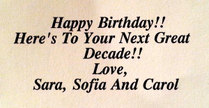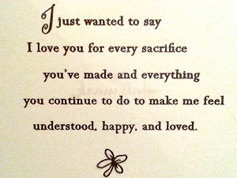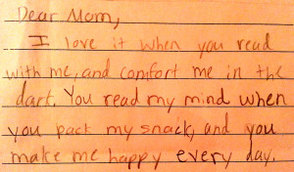 The above cards from my children touched my heart deeply. My son chose a card that says I make him feel understood, happy and loved. Wonderful, wonderful!! And our little one says I make her happy every day…down to even the school snack. What more could any mother want? Happy, thriving kids – this was, by far, the very best gift of all!!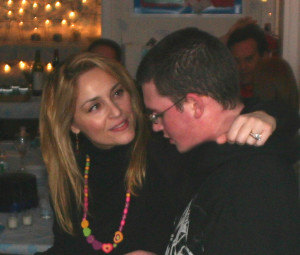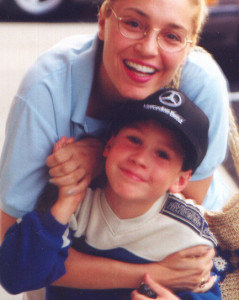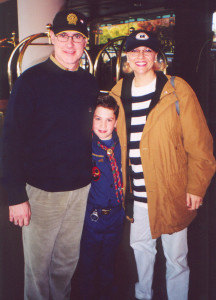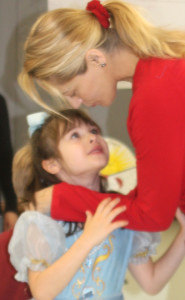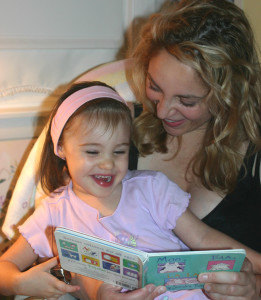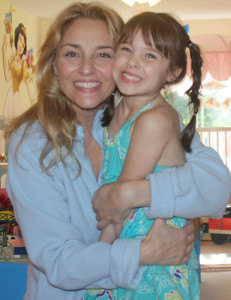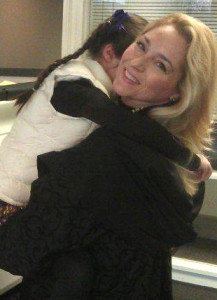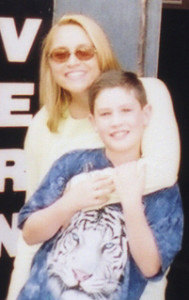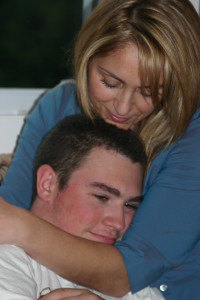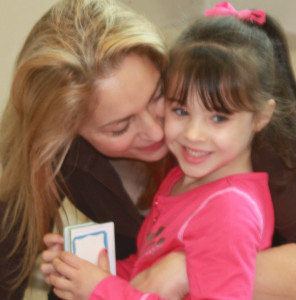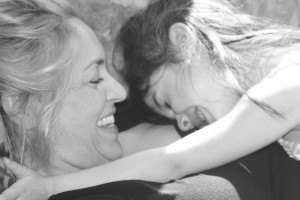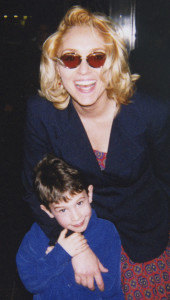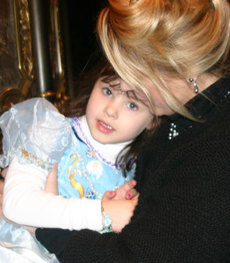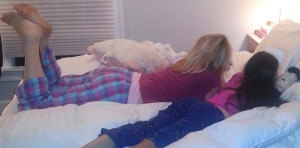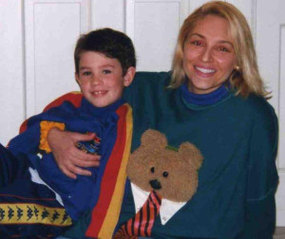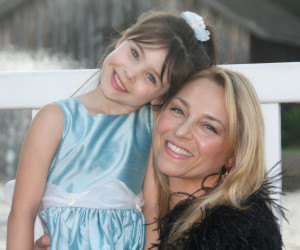 16 years ago, I started the Harry Potter series with our son…reading it in "real time," that is, waiting each year for another book to be published…standing in line at midnight openings with great anticipation for 1st edition hardcovers. We saw the movies, he had the posters, the comforter set, the throw pillows, the robe, Harry's wand, etc. He even had a Harry-esque look to him, especially when he got his glasses.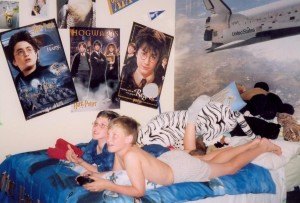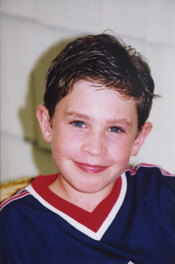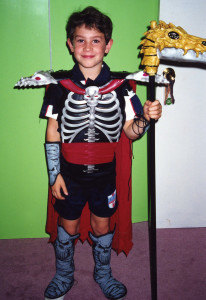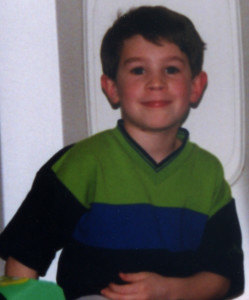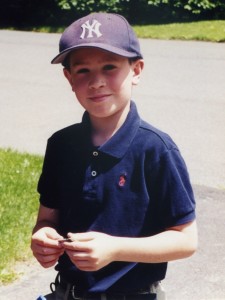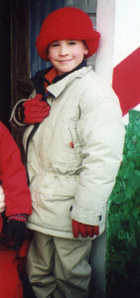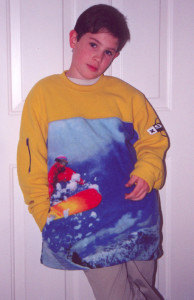 Fast-forward more than a decade and our little daughter & her friends are relishing in the adventures, quoting the spells, whipping up potions and donning the robe. The perfect hardcovers have moved from our son's room to our daughters's bookcase. Over the holiday break, we watched all 8 movies (Yes, 8. The last book was filmed in 2 parts).
My friend, Sara, took one of our daughter's best-est friends (since the girls were infants) to The Wizarding World of Harry Potter last month. The girls are now 9 & 10, the perfect age for the story. Sara posted this video of Platform 9 3/4 on her FB page & that was it!! What more fun could our family have than to venture through the fantastical world of wizards?
Sara said
Universal Studios
did a magnificent re-creation, a trip not to be missed! With the entire storyline under our belts just the previous month, I could not have dreamed of a more fanciful place to go for my birthday present!! In the envelope was a newspaper-like invitation from the
Daily Prophet
along with tickets to the mystical world of Harry Potter and a week's stay at the
CoCo Key
water resort hotel. Simply marvelous, my darling husband, I love love love it!! And so do the kids!! (Well, as you can clearly see from our little one's reaction in the 1st photos above as we opened the envelopes together.)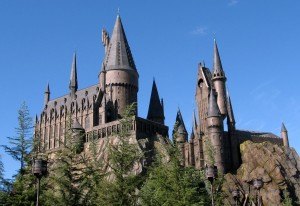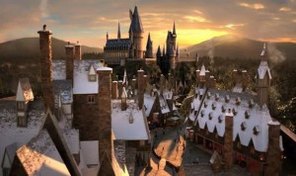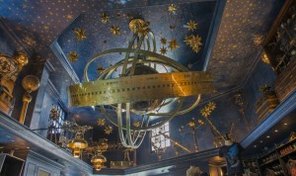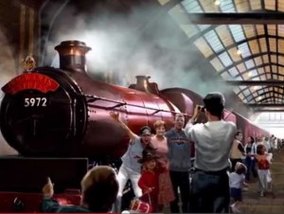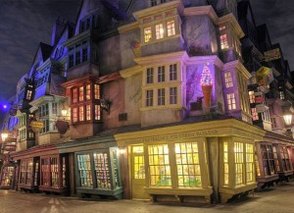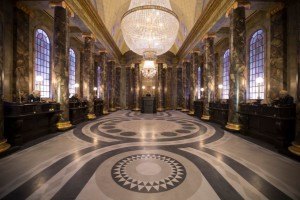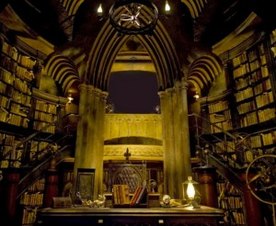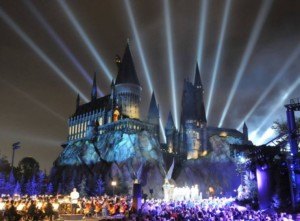 CoCo Key water resort & hotel: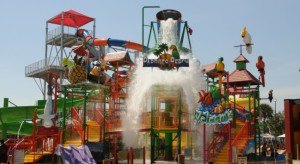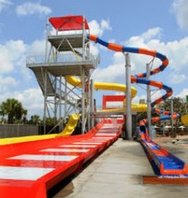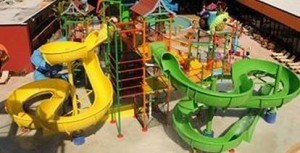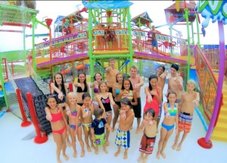 We finished up the weekend celebrations with my favorite movie, The Scarlet Pimpernel, with Jane Seymour & Anthony Andrews. Luscious ~ Dreamy ~ Yum!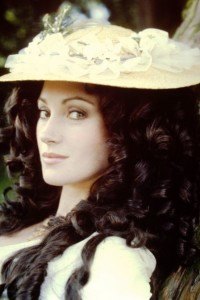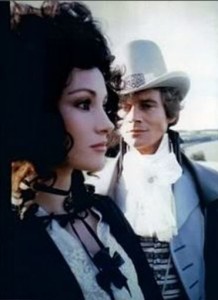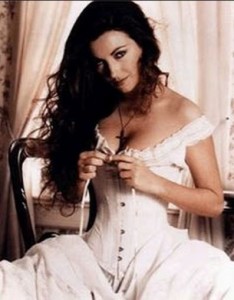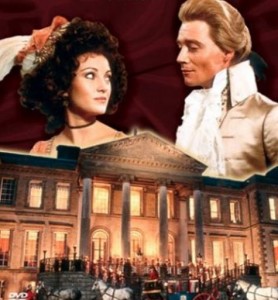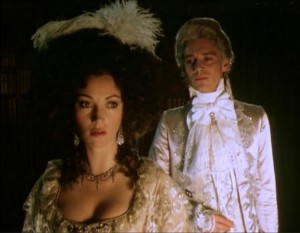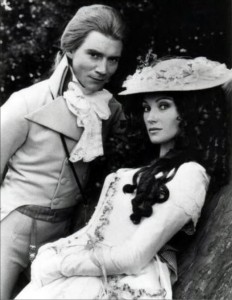 So many other details went into this weekend that I would just like to say thank you to my husband, my whole family and my friends for marking this milestone with great joy.

The Bright SpotTM  – Thankfulness that my mother is feeling better, it's on & off and for my birthday she was really "on!" Even sparkly! And thank you to all who sent wishes for a beautiful birthday weekend. So ready for this next great decade, bring it on!!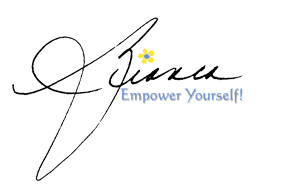 Friday, September 5, 2014 by
Bianca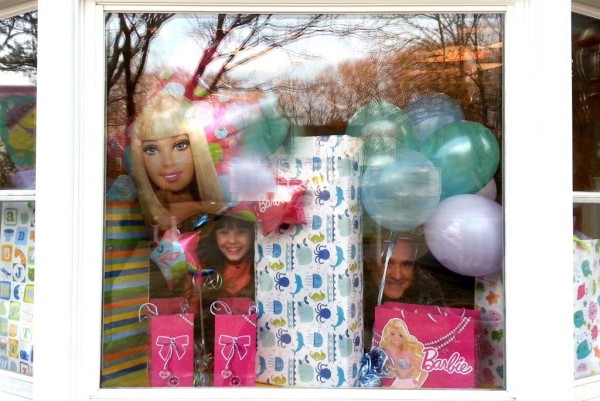 Ahh, to be 9! Our little one wished for a Pearl Princess slumber party and, sure enough, the 3-day birthday festivities kicked off with her friends celebrating her special weekend: the magic garden, hibachi dinner, Barbie mermaids for each child, The Pearl Princess movie, m&m smiley pancakes, a midnight dance party & 3am pillow fight. There were sparkle tattoos, buckets of slime, arts & crafts and a surprise party at the aquarium – a favorite place for our budding marine biologist. Can I be 9 again??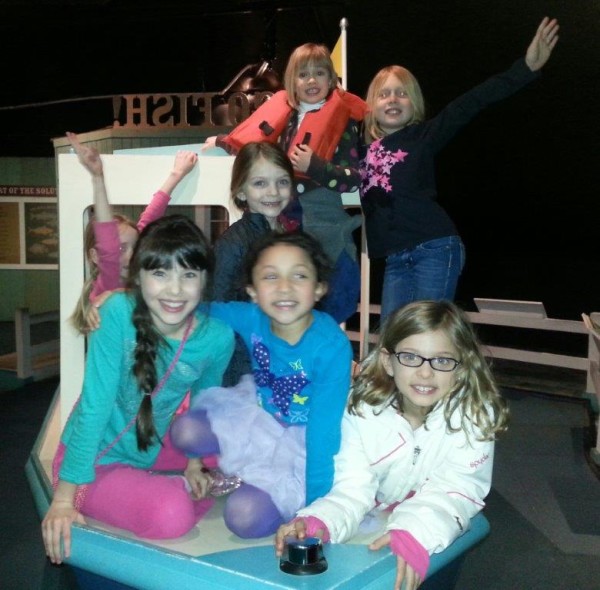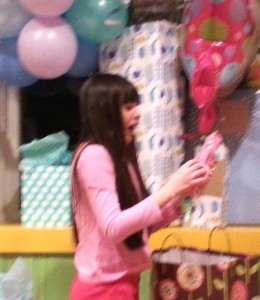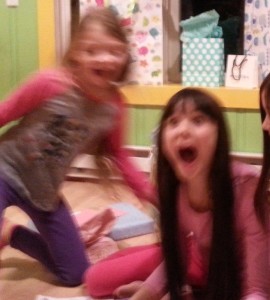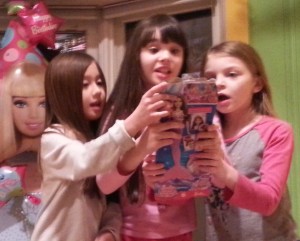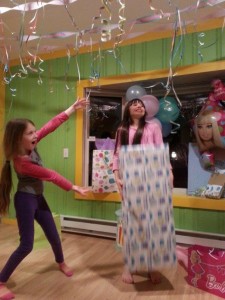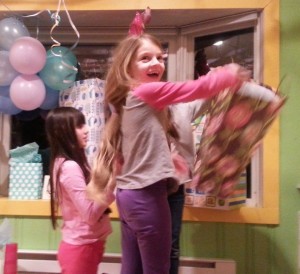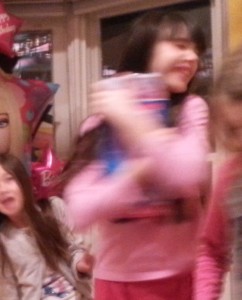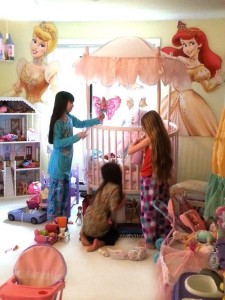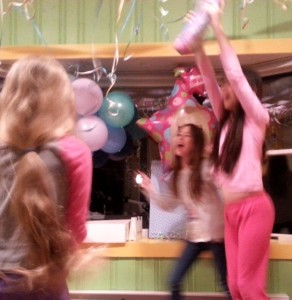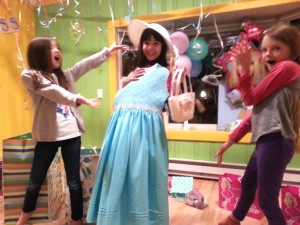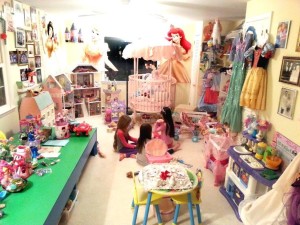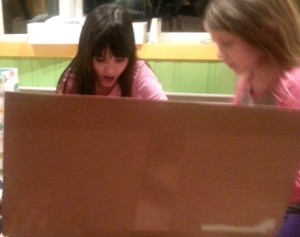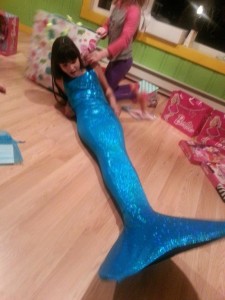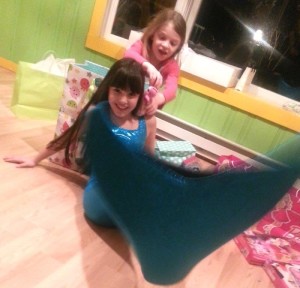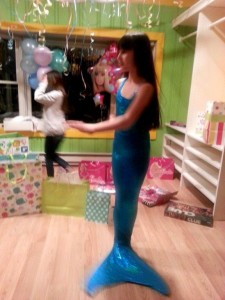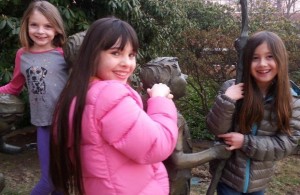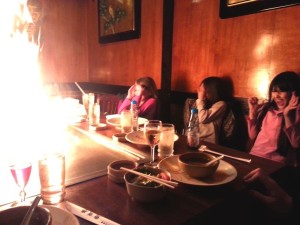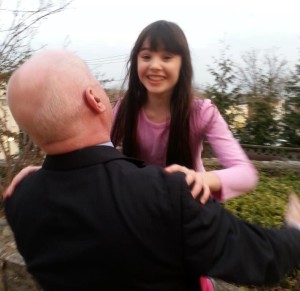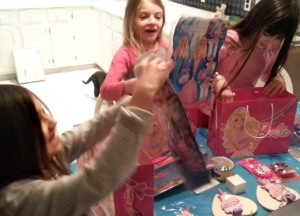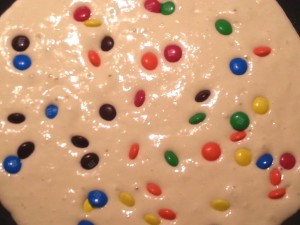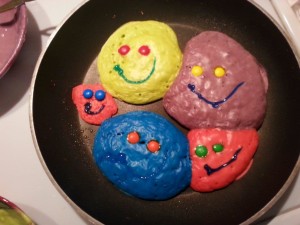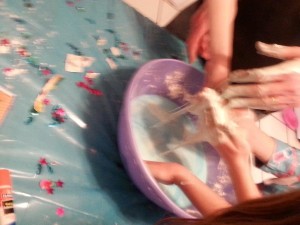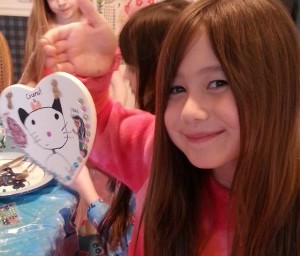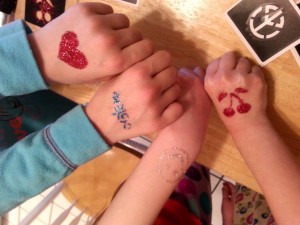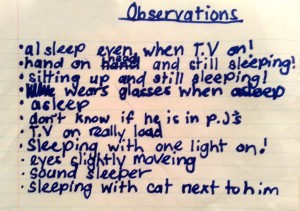 The Bright SpotTM

– The whole birthday party weekend!! I went to sleep just before the 3am pillow fight and left Phillip on the couch asleep with one of our kitty cats. The girls each wrote their "observations" of him. So funny and so 9!!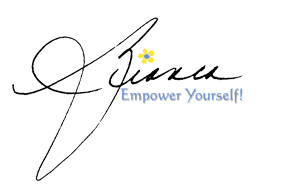 Wednesday, November 6, 2013 by
Bianca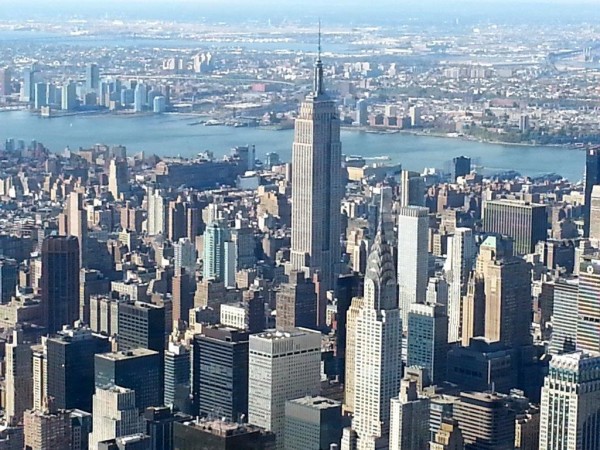 "Wow! Wow! & Wow!" our     8-year-old repeatedly exclaimed in-flight.
That perfectly described our wow-tastic foliage tour of NY state & New York City – compliments of Wings Air Helicopters.
This has been a particularly glorious Autumn! Comfortable temperatures, blazing leaves, plenty of sunshine. Phillip & I took these pics from our cell phones.
Our pilot, Brett, flew our family & 2 of our kids' friends from Westchester airport over the Empire State Building and around Manhattan island.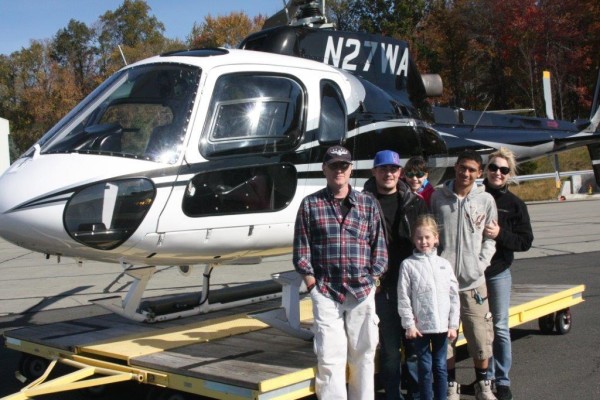 The George Washington Double-The George Washington Bridge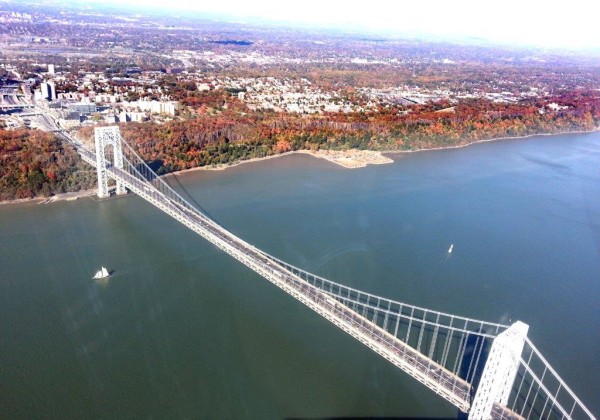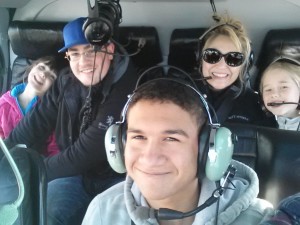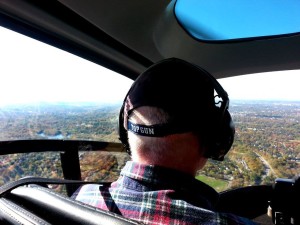 The Freedom Tower & The Statue of Liberty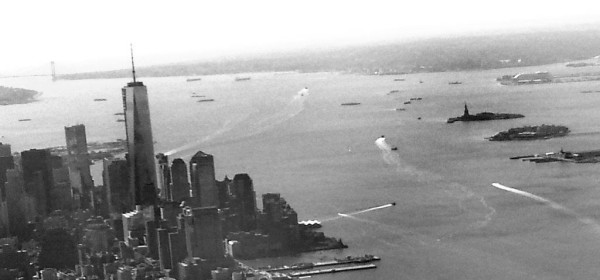 Roosevelt Island, the East River along the FDR & the Queensboro Bridge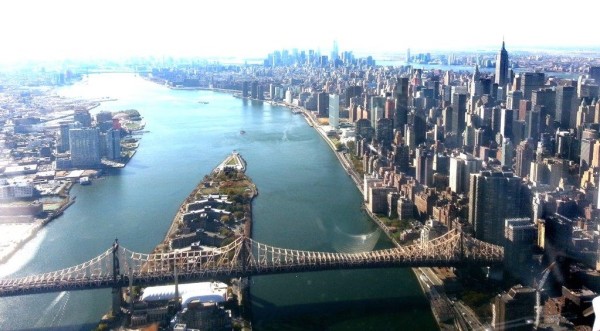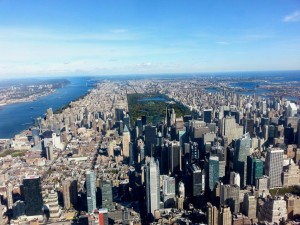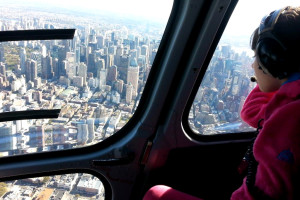 The 840 acres of beautiful Central Park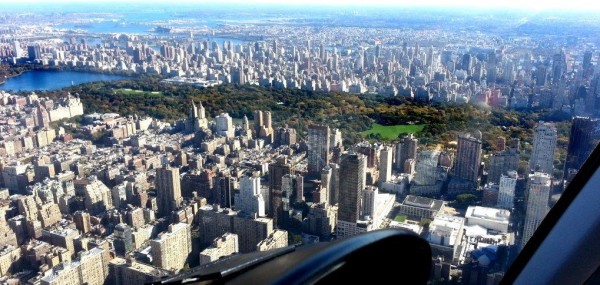 ……………The curved landscape of New York City along the East River & Ward's Island Bridge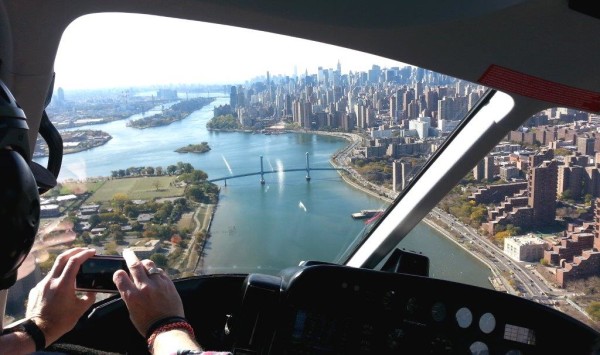 The Henry Hudson River, West Side Highway & Skateboard Park, Baseball & Soccer Fields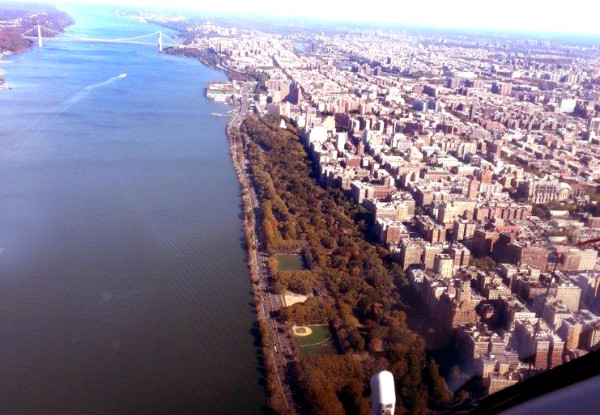 So if you want some bang-waving, ponytail-flying wow! wow! & wow! family fun, take yours on a bird's-eye tour of Manhattan * 7 days a week * from sunrise to sunset!
The Bright SpotTM

 – Wings Air (914) 202 – 3440 also offers helicopter charters, flight training, aerial photography & full-service aerial film production!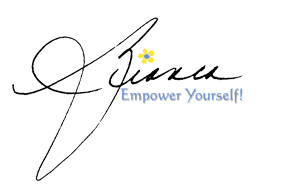 Sunday, May 12, 2013 by
Bianca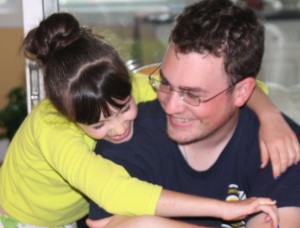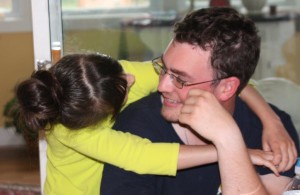 Indeed, the cards, poems, drawings, gifts, flowers, those are all very appreciated, loved & cherished on Mother's Day.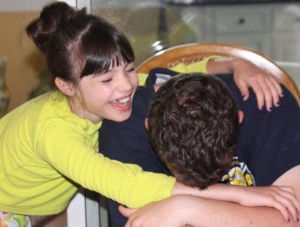 But the best part of the day was not the wonderful breakfast with smoked salmon or our afternoon in New York City, it was watching my children's silliness & laughter wrapped in hugs & snuggles topped by kite flying with my kids in the early evening.
Running, playing, enjoying a gorgeous Spring day with the family.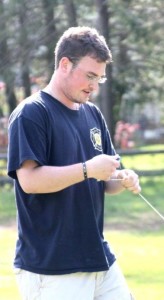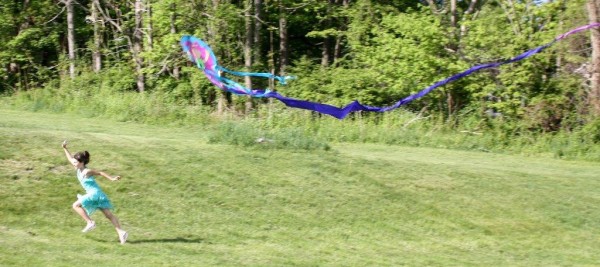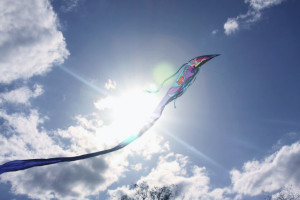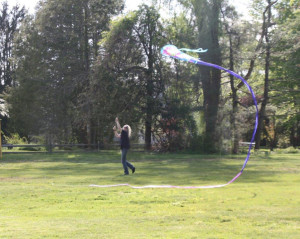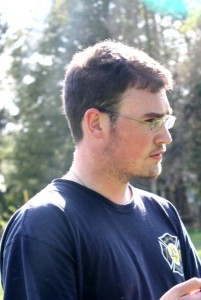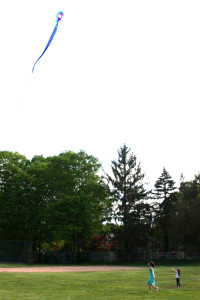 The Bright SpotTM 

– Be present with your kids, they are your future memories, they are what makes Mother's Day possible, they are the gift. Happy Mother's Day, Moms~!!  🙂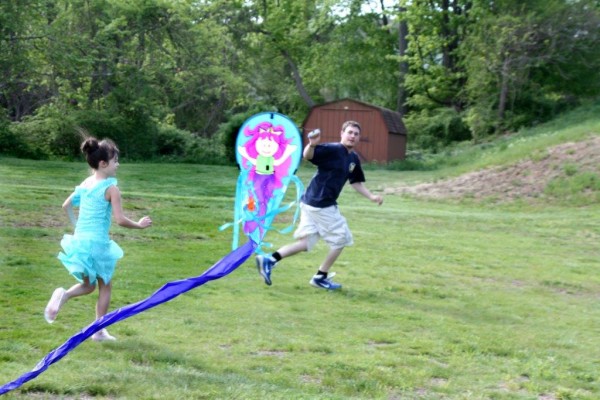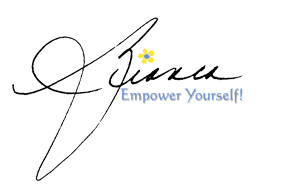 Tuesday, April 2, 2013 by
Bianca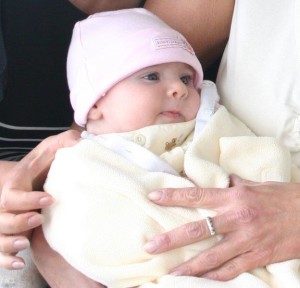 Easter is my favorite holiday.
I love that our daughter was born the day after Easter.
I sometimes call her my Little BunnyChickie.
I love that Spring just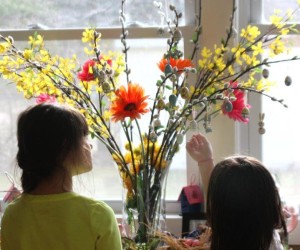 started. Everything awakens from Winter's long freeze & is born anew. The air smells fresh & green baby leaves are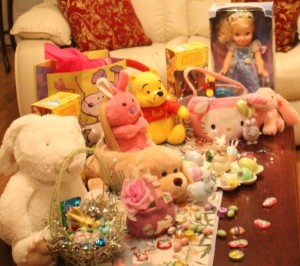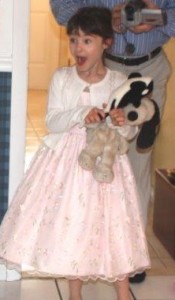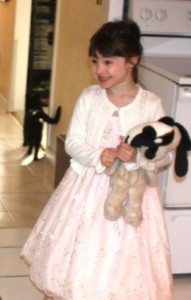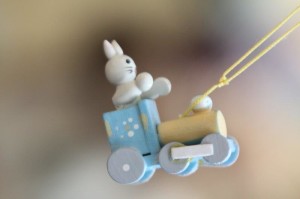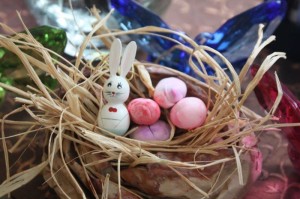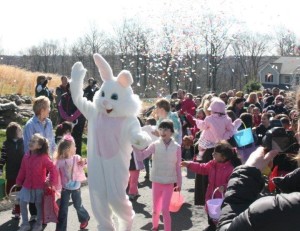 slowly unfurling. I love pussy willows and forsythia, big blossoms and tiny crocuses.
I love the Easter story of Jesus' Resurrection & I love the trumpets at church that glorious, Holy morning when we all celebrate together in song & praise. I love & appreciate the religious traditions of other folks as I am a member of a very large, close-knit, multicultural, multi-religious, multi-international, multi-lingual family.
I love coloring eggs & decorating them with the kids. I love the little 50-year-old, wooden, hand-painted European Easter decorations from my grandparents. I love to mix those decorations with our little one's pretty, handmade decorations from preschool. Old & new crafts together.
I love the Easter Bunny, the delicate, ceramic decorations, fragile Easter eggs, egg-citing hunts & yummy candies.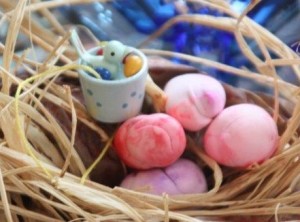 I particularly love pastel M&Ms!! I like all chocolate, but those tiny, pale- colored little chocolate dots of joy always seem to find my lips, hummm… I admit, I will steal bites here & there from my children's baskets in passing. I'll pass a lot – cover those baskets!!
I love the Easter egg hunts at farms, in fields, at church & at friends.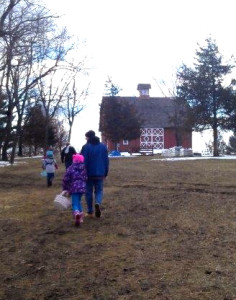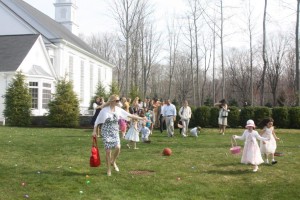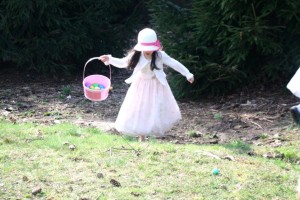 Parties, celebrations, the Easter Bunny arriving on the fire truck!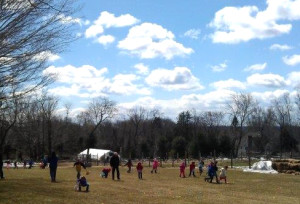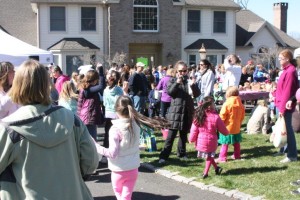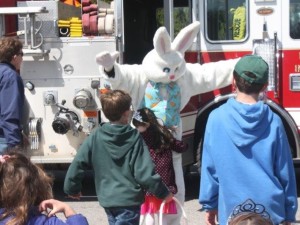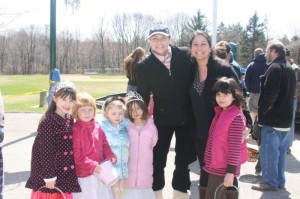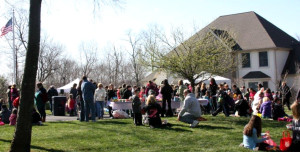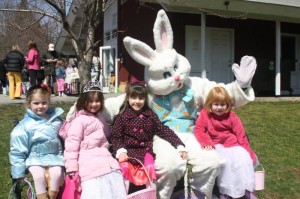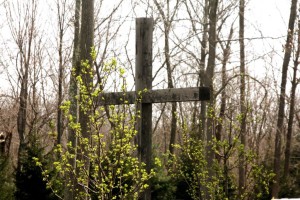 I love Biblical epics on TV at this time of year and was particularly pleased with Mark Burnett's The Bible miniseries ~ simply outstanding!!
The Bright SpotTM 

 – I love Spring & all the cheeriness of the season!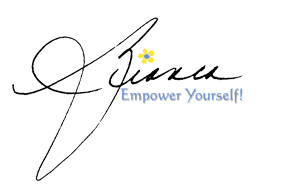 Sunday, March 17, 2013 by
Bianca
Today the world celebrates St. Patrick's Day. I love the festivities, I love being in parades,

 I love Ireland having studied at Trinity College in Dublin, and I love that even though I'm not Irish, everyone can be Irish for the day. But there is a special reason for a few of us to celebrate: 7 years ago today our son helped save the life of his schoolmate. They were 14 years old.
It had snowed a few days earlier and a bunch of boys went sledding at school. But part of the steep hill had iced over during the night. His friend's sled flew across the ice and he lost control slamming his head into a brick wall.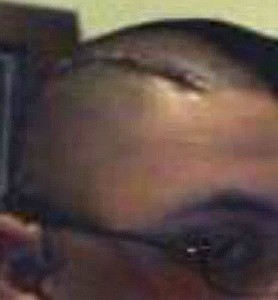 The boys didn't want to get into trouble at school and panicked. They thought it best to get their buddy inside without telling anyone. Our son stood up and said no. He ordered one kid to run and get adult help. He told another to call 911. He ripped off his coat and wrapped it around his friend who was in shock. He told the rest of the boys to not move him at all. His friend received a plate & 37 metal staples in his head. The doctors at the hospital where he was airlifted said had he been moved, he would have died. The immediate actions to get help, warmth and stay calm saved his life.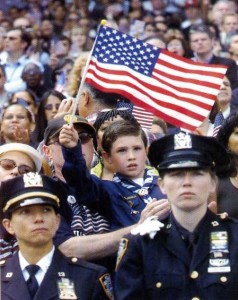 Our son had learned emergency care in Scouts. He knew it was right to risk reprimand from the school administrators rather than risk someone's life.
The Bright SpotTM

– Both boys are 21 now. We are so proud of them ~ fine young boys grown into fine young men.
More about our son: http://www.theletstalkmom.com/tea-talk-momversations/the-making-of-a-superhero/
Credit: Associated Press