Tuesday, May 16, 2017 by
Bianca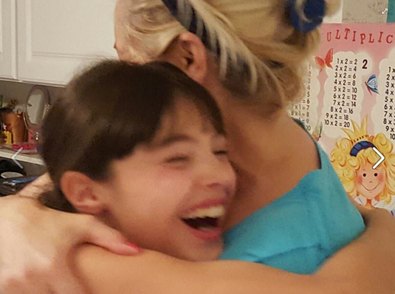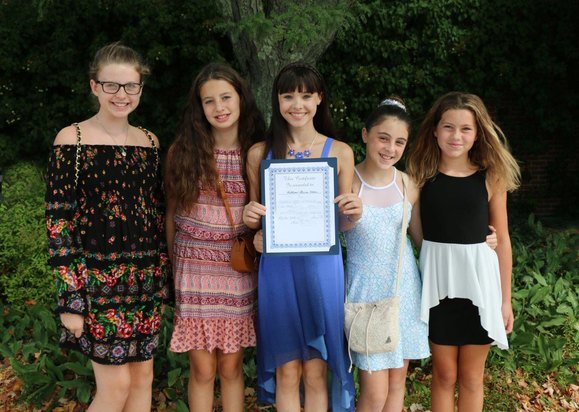 Our 11-year-old earned her 1st Literary Award in a competition she entered months ago. She submitted a mini version of her 1st novella. It's the 38th year of this competition & is open worldwide.
When Phillip read us the letter aloud, she jumped with pure delight feeling the fruits of her accomplishment after having spent months writing. We are so happy for her and very proud of her!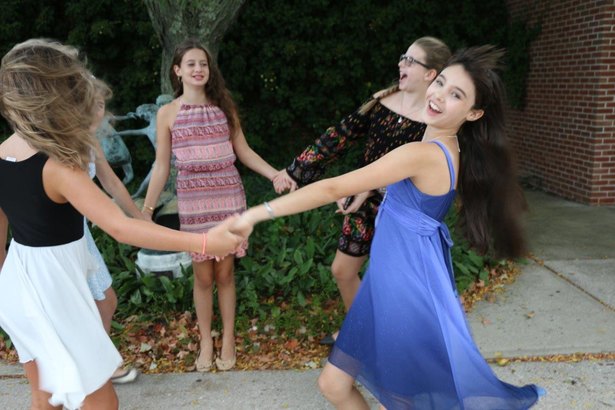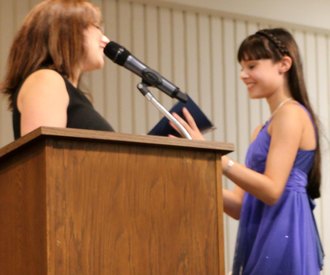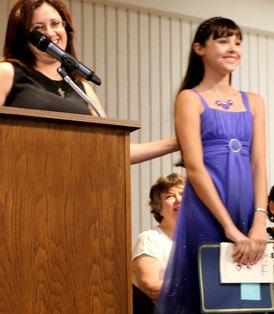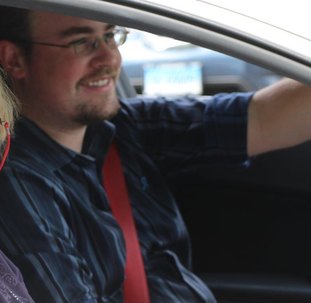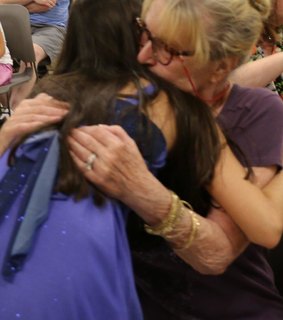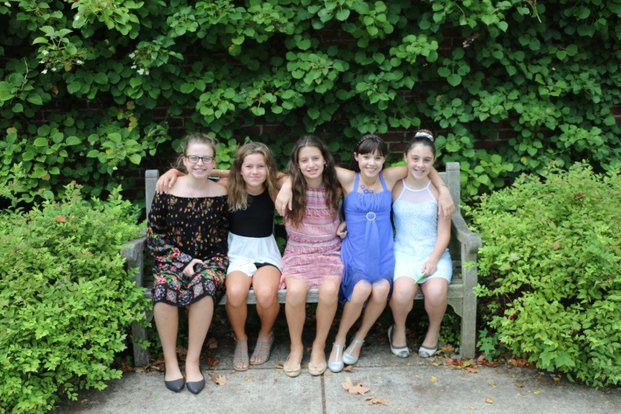 Reading & writing are so important to Darling, a passion we saw at a very young age and have continued to fuel. While in England this May, we visited Oxford as C.S. Lewis & Philip Pullman are two of our daughter's favorite authors,
click
:
Oxford
.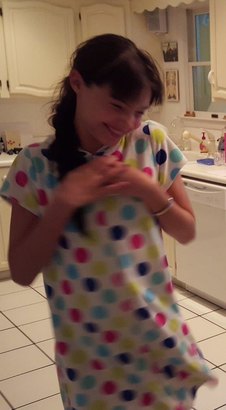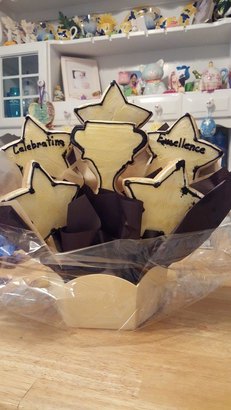 Three teachers, Mrs. DZ, Mrs. SZ & Mrs. C have had such a significant impact on furthering her creative juices and honing her technical skills. Marvelous, nurturing, kind teachers ~ we are so grateful to have had this
Dynamic Trio
educate our daughter! Thank you, Mrs. DZ, for the amazing surprise cookie bouquet!!! Loved it!!!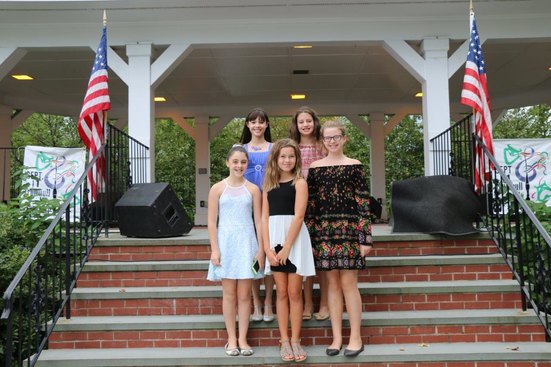 In her congratulatory card was a letter trimmed in gold with a very special message: Pack your bags & your wand, Hogwarts Castle awaits!!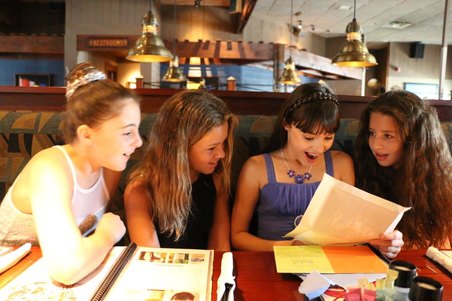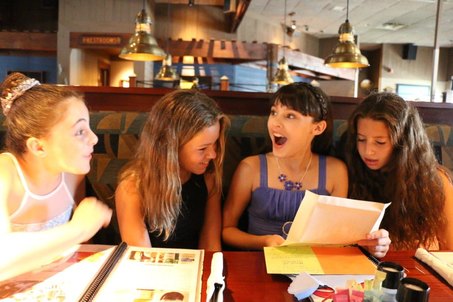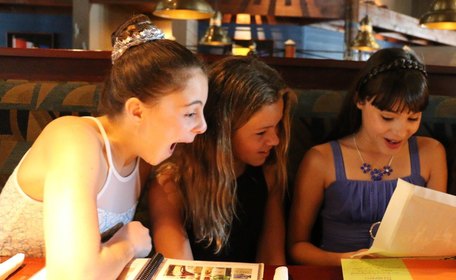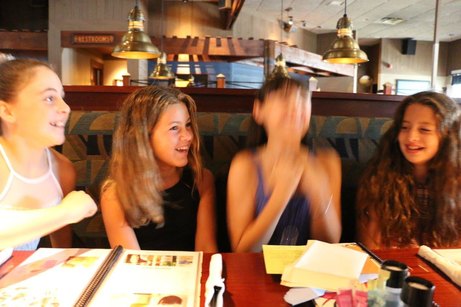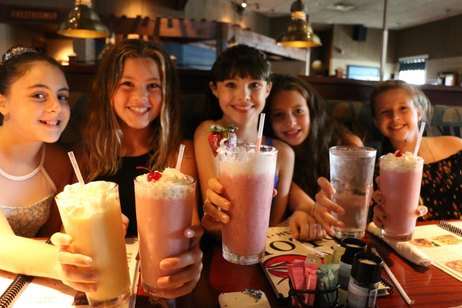 Cheers with smoothies & an afternoon of play, the day could not have ended any better!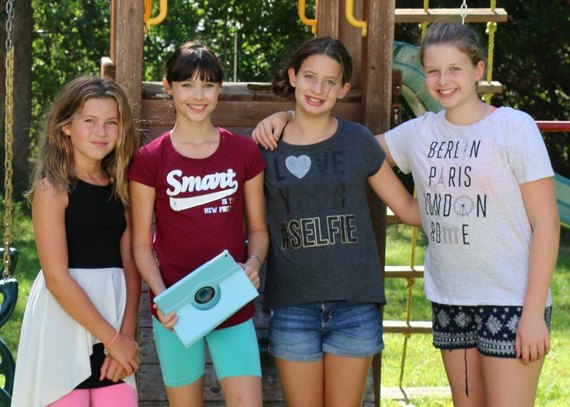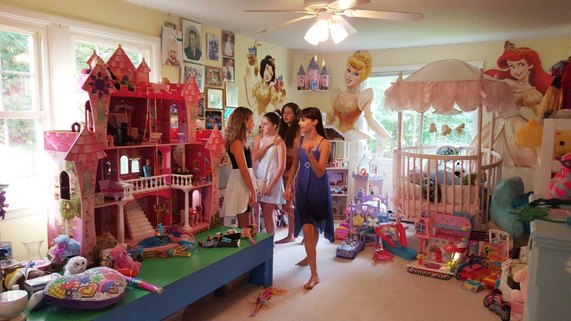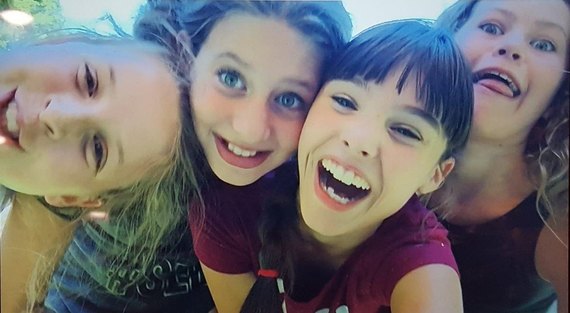 The Bright Spot
– Her award! Her friends! Her magical destination created by her favorite female author, J.K. Rowling,
click
:
Wizarding World
to see one of the most fun stories I've had the pleasure to write!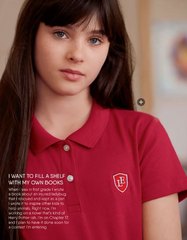 She was photographed for this Land's End ad in Spring for the Autumn 2016 polo collection. They interviewed her and used this quote on the ad: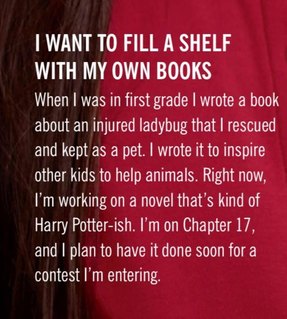 Darling, you are well on your way!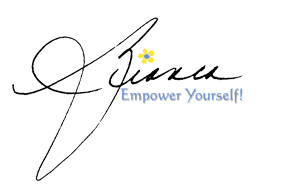 Monday, June 6, 2016 by
Bianca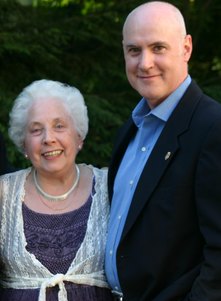 We had a 2-week window between Phillip's last chemical injection and the start of his radiation. It will be 40 rounds of daily radiation from June through August. He wanted to see his Mum. Click: Amazing Grace. Everyone needs their Mum at a time like this!
So we took our little one out of school late May/early June for this family emergency and visited relatives in Europe. Aunts, uncles, cousins, nieces, nephews, Godchildren, close friends, everyone we could see within 2 weeks.
Phillip's mother was overjoyed! Her 89th birthday was in June and she said seeing her son was the best gift ever!
Naturally, everyone we saw wanted to know how treatments were going. We could not rehash the details over and over. Not only is it draining for us but we didn't want these conversations to overwhelm or frighten our youngest. Most of the time, we can shield her from it but when you're traveling from home to home – or pub to pub, as is the case in England – folks want to catch up and we're very sensitive to little ears in range.
Plus, we have striven to reclaim normalcy in the household & beyond for our family. Playing with friends & doing cool things was a mainstay.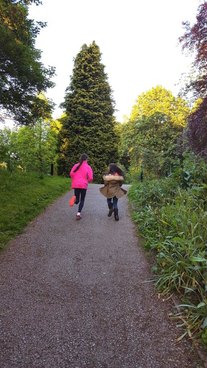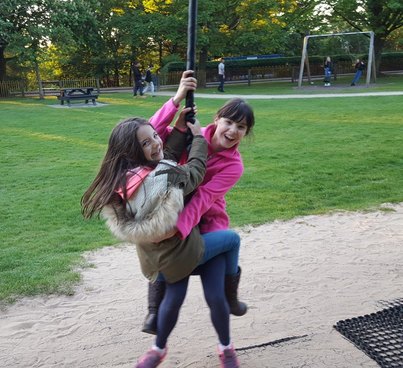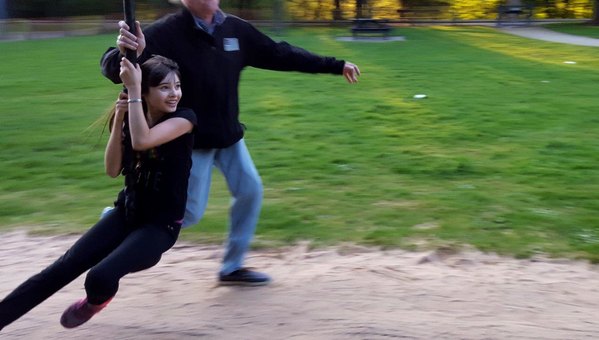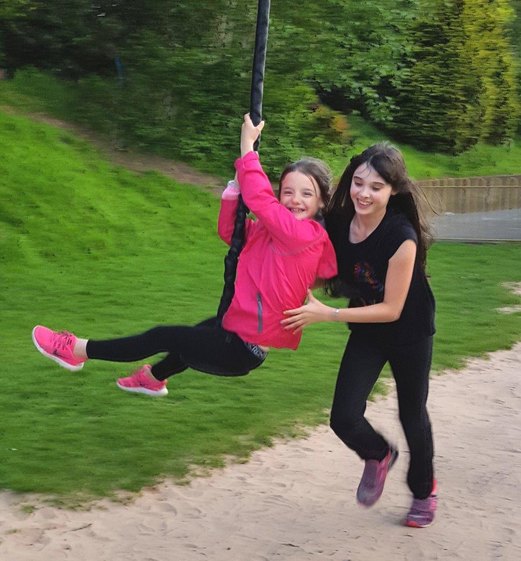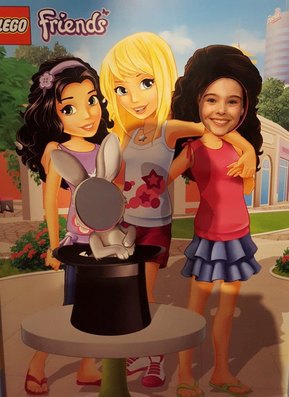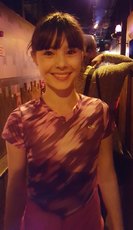 And Legoland was awesome but laying on the grass topped all!! Why? Because there are no ticks or pesticides for ticks at all where Grandma lives and Darling was so happy!! It's the little things, isn't it?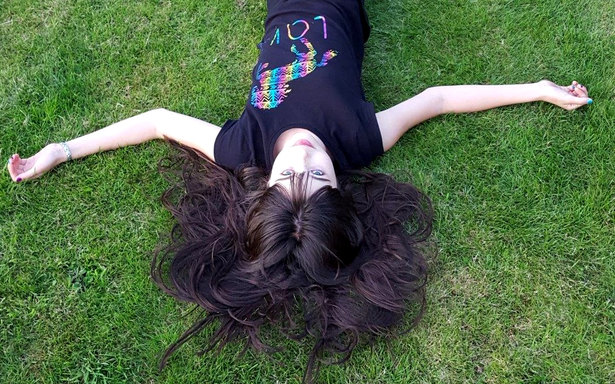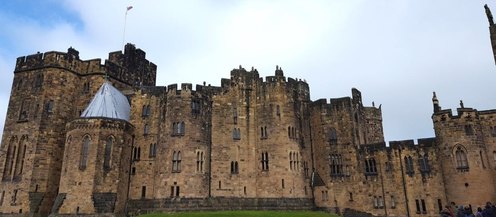 While staying for an overnight with dear friends about a hundred miles south of Scotland, we ventured with the girls to a nearby castle where parts of Harry Potter & Downton Abbey were filmed, click: Castles & Angels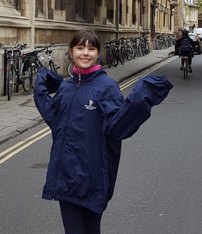 Later, we drove nearly 300 miles south to Oxford to visit the university and delve into the history of this beautiful medieval city, click: Oxford 
And because our budding marine biologist, during these 2 weeks, would unfortunately be missing a highly-anticipated field trip to the beach to explore the biodiversity of the water's ecosystem, we wanted to do something special for her and booked her for Seatrek at what's known as Europe's 1st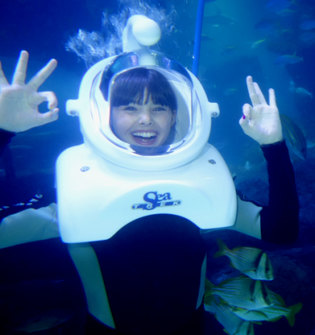 Seabed Walk: SeaTrek
Her 5th grade teacher kindly allowed our daughter to give a full presentation to her class on the 3 adventures above & what made each so special.
And speaking of 5th grade, the Friday we left for the airport was the same day her class was split into just girls/just boys earlier that morning for "The Talk." You know the one. Menstruation, growing bodies…
But unlike the lecture we had in school when I was that age – along with a cartoon movie with dancing flowers depicting our blossoming into young ladies – this talk was not only about girl stuff…but boy stuff, too! Would be shocking, but the school explained that with the advent of the Internet, kids see much more than we did at this age and need to know more material to educate and protect themselves.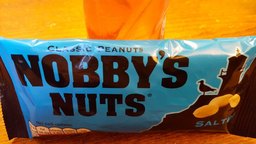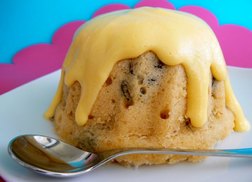 Humm… Still found it shocking. But it certainly made for fits of laughter – of which we need much of these days – and especially with a silly 5th grader! as we passed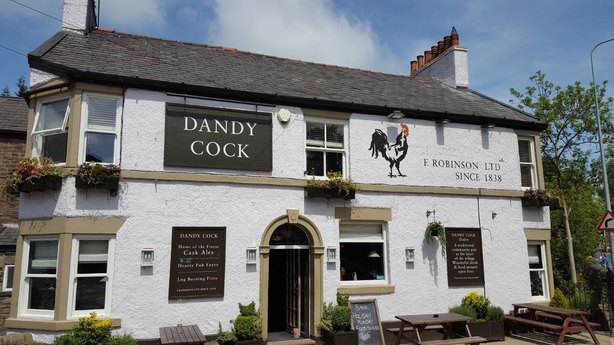 by unassuming pubs like the Dandy Cock, or were served Nobby Nuts (salted peanuts) or when we read Spotted Dick on the menu – a British sponge pudding made with raisins & served with custard – but I mean, seriously, come on!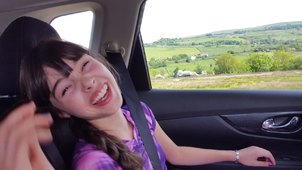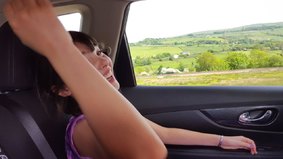 When we all revived in the car from laughing so hard, we arrived at one of Phillip's oldest friend's for a lovely meal. No, not at the Dandy Cock. We walked over buttercup-covered hills and along lakes & clifftops.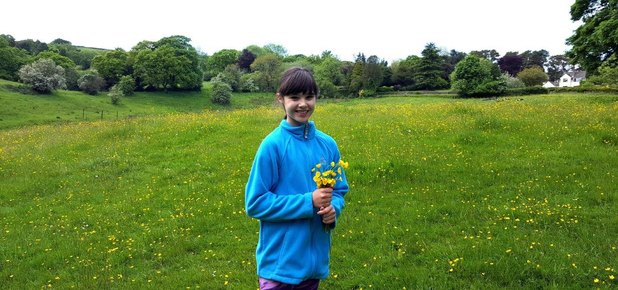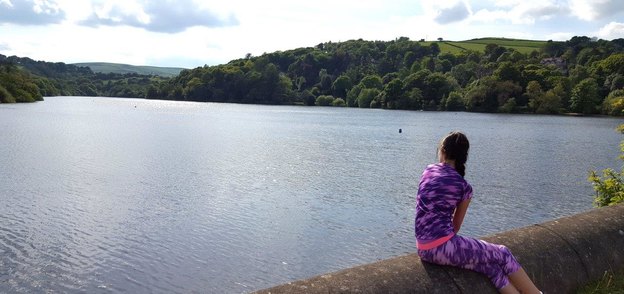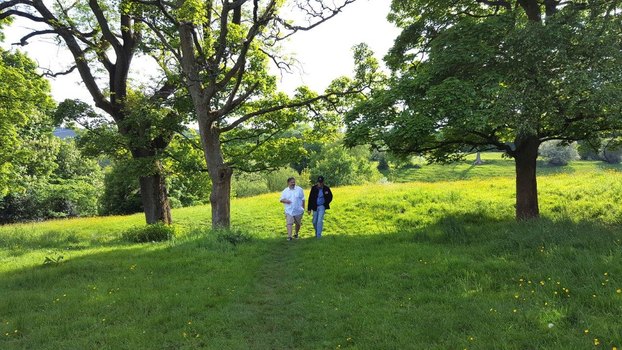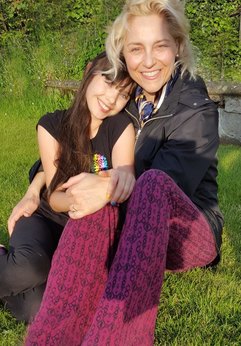 The Bright Spot – finding the hilarious things in life out of the simplest moments! And appreciating the glorious countryside with our loved ones.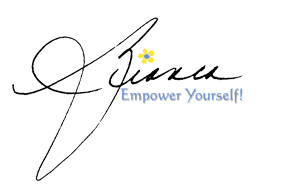 Saturday, June 4, 2016 by
Bianca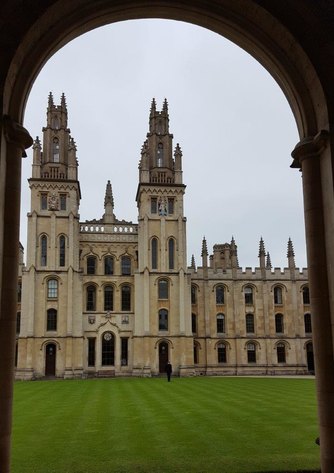 During our 2-week stay in Europe, we visited the medieval city of Oxford, coined the "City of Dreaming Spires" by poet Matthew Arnold.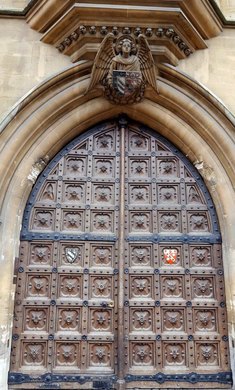 Our 11-year-old daught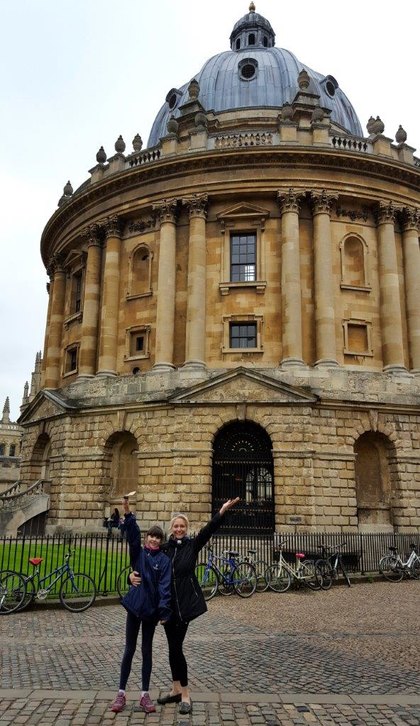 er & I just finished the 7 books by C.S. Lewis, The Chronicles of Narnia, & the epic trilogy, His Dark Materials, by Philip Pullman, both alumni of Oxford University, the oldest university in the English-speaking world, established 1096.
What was completely remarkable was that there was only 1 parking spot available in this bustling college town when we arrived and it just so happened to be in front of the Eagle & Child pub – we were hungry, but we didn't know how significant the place was until we walked in!!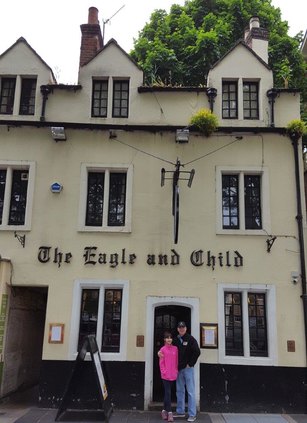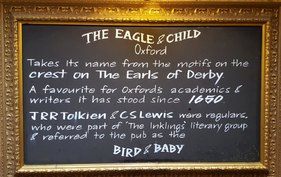 Built in 1650, this favorite watering hole was frequented by Lewis, Pullman, J.R.R. Tolkien and other members of "The Inklings," the famous literary group!
So, of course, that's where we had lunch!
Seriously, out of the whole city, what's the chance of finding that one parking spot!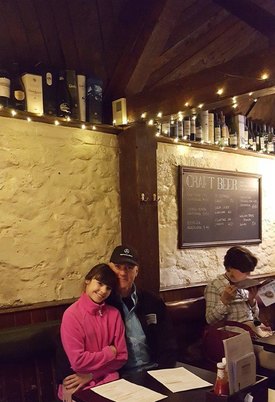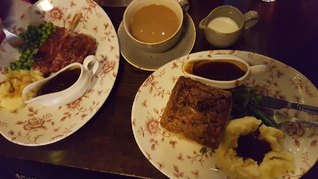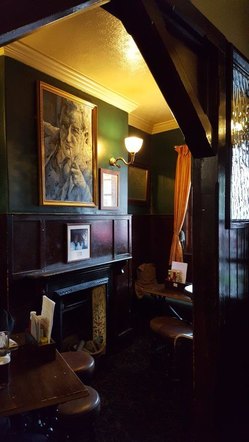 Our daughter, a published author & speaker by age 8 and now a prolific writer working on her 1st novel, felt the wall behind where we sat and breathed, "I'm touching history."
Couldn't be more perfect!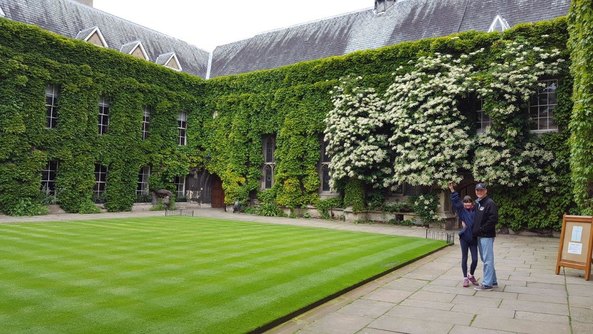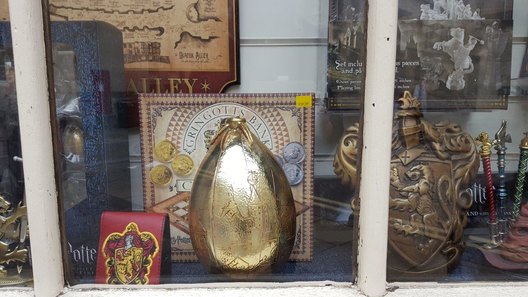 She ogled the Harry Potter Golden Egg in one of the store windows but opted for the snitch.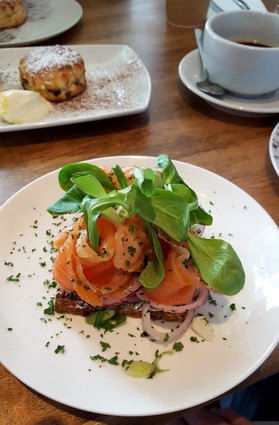 Before leaving historic Oxford, we stopped for tea & scones and some lovely smoked salmon.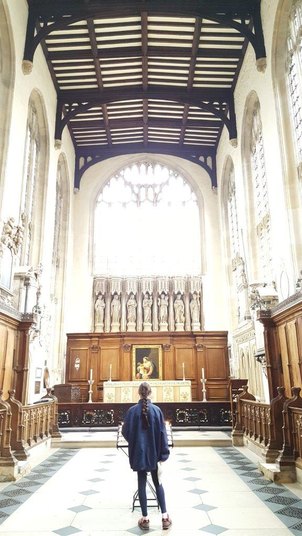 The Bright Spot – Being surrounded by spirituality, architectural magnificence & educational brilliance, it was nourishing for our well-being at this most challenging time: Kicking Cancer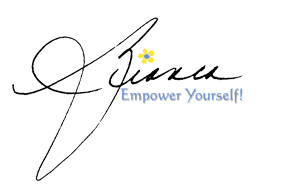 Tuesday, April 12, 2016 by
Bianca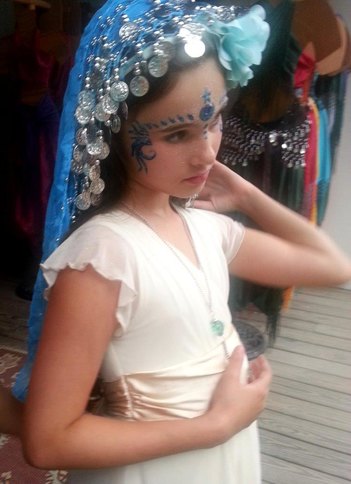 Our darling last year at the renowned     New York Renaissance Faire (left).
For this year's faire, she knew exactly what she was looking for in a gown…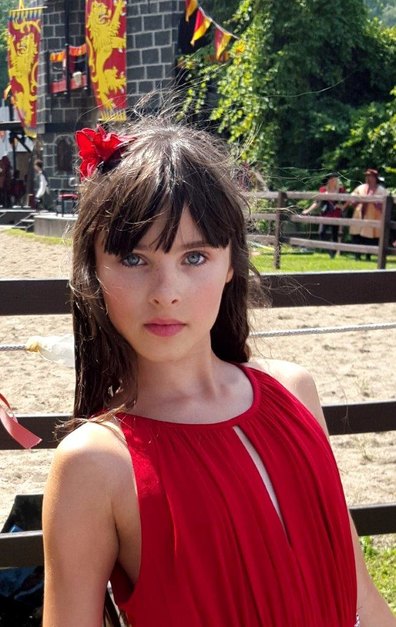 For over 38 years, fairies & fellows, princesses & knights alike have gathered throughout 65 acres of Sterling Forest, Tuxedo, NY to celebrate the Elizabethan era at the Renaissance Faire!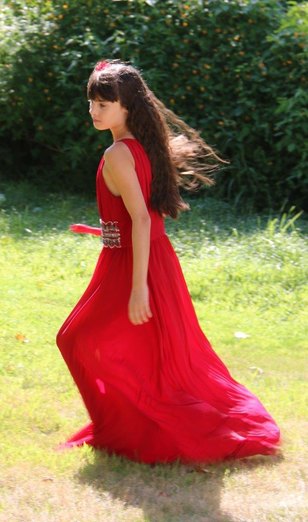 We
We went again this year with family & friends. Our 10-year-old told us this is her favorite summer tradition, now several years running.
From dragon rides…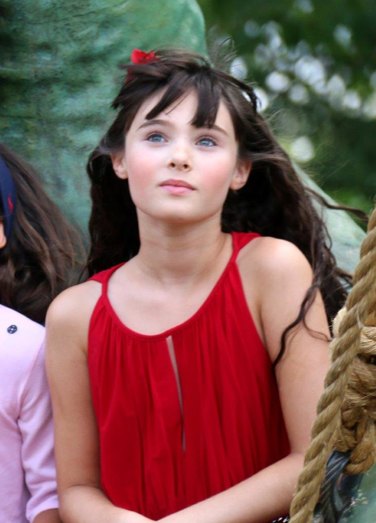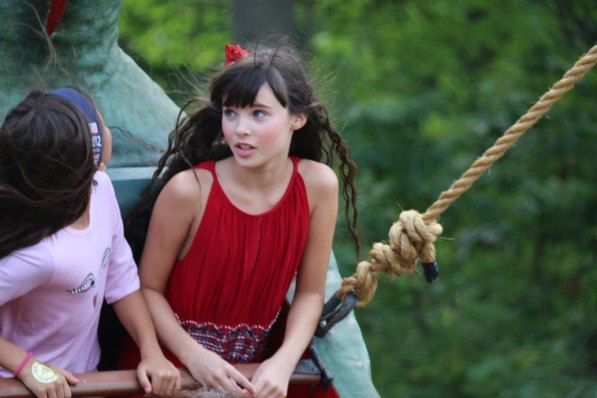 …to cuddling baby dragons, there's an adventure around every corner.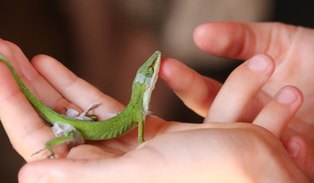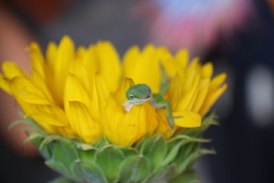 If you love acrobats & magic, sword fights & jousting, this is definitely the place for you.
With 20 stages and over 100 shops, there is something for everyone, young or seasoned.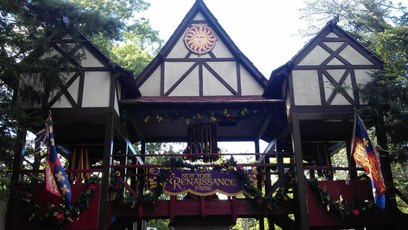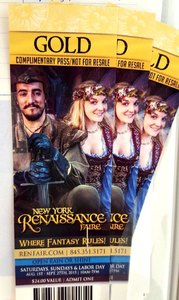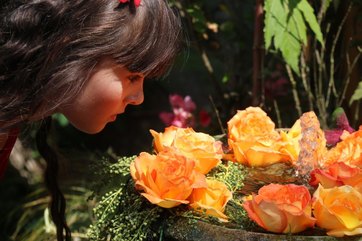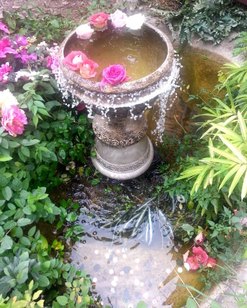 Our Darling played the flute for the Woodland Fairy, the Acorn Fairy, the harpist and the Queen.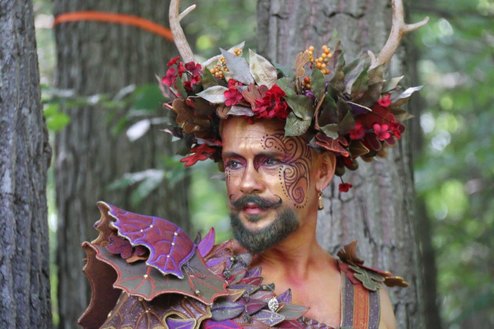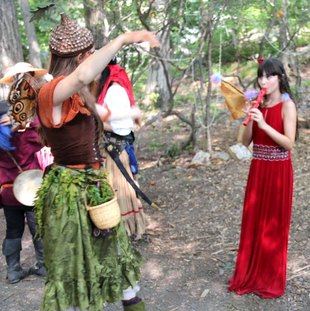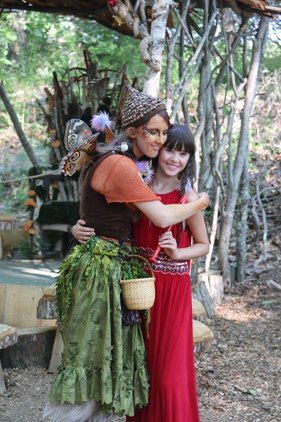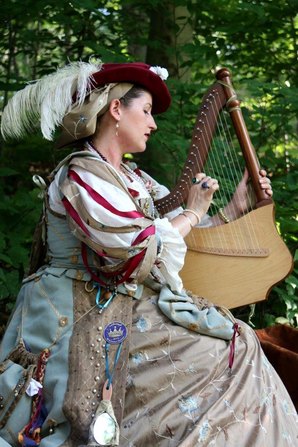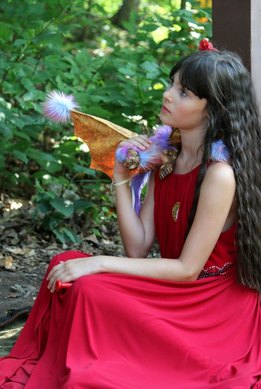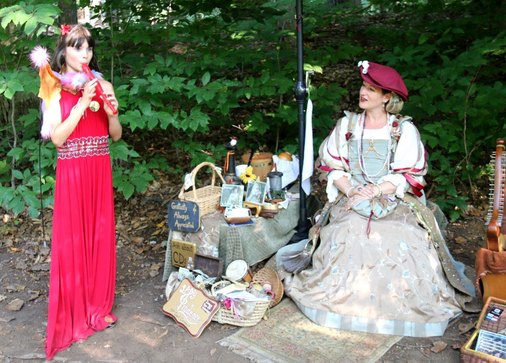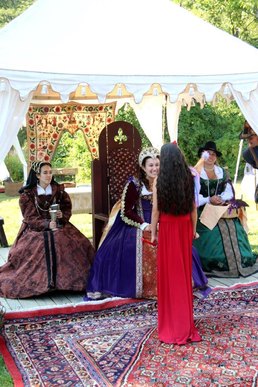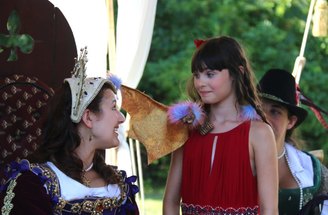 Armor and headdress for every age…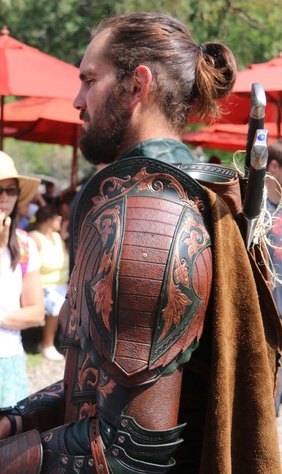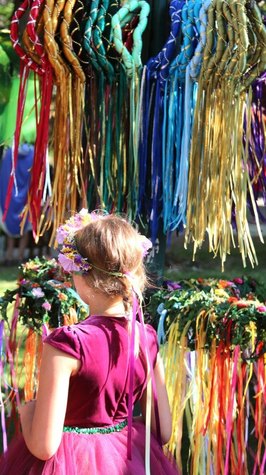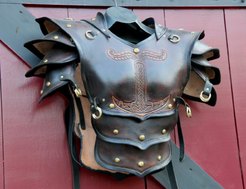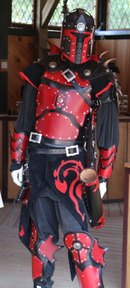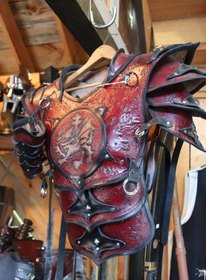 …thundering horses and overflowing … overflowing…well, simply overflowing…!!!…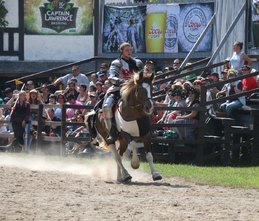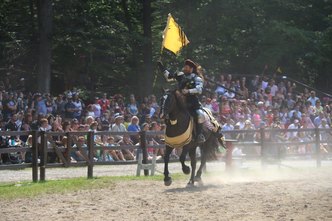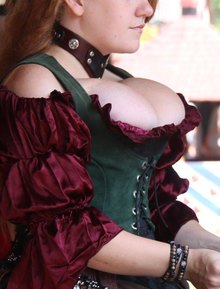 …overflowing attractions from wenches serving mead!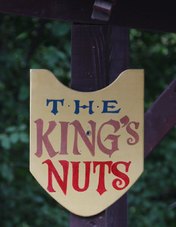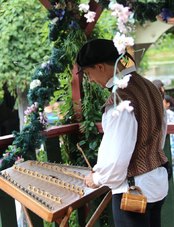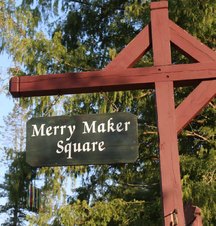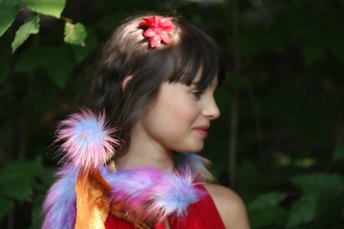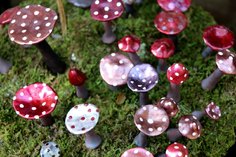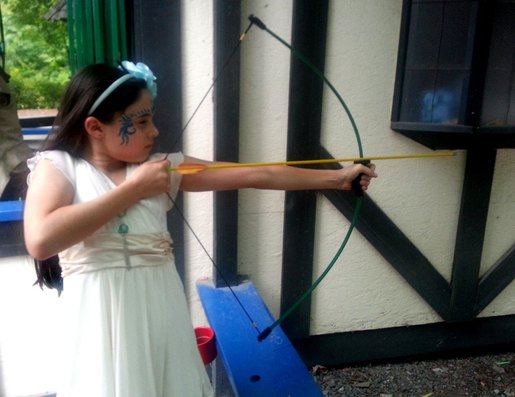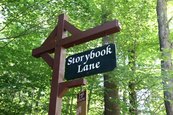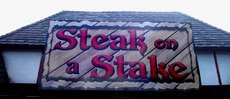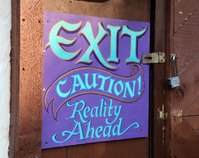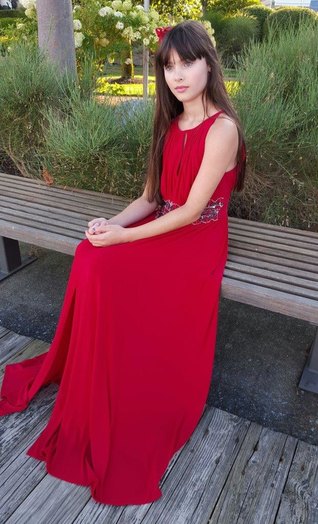 The Bright Spot – For swashbuckling pirates, jousting, boating on the lake or dancing around the Maypole, be sure to visit a Renaissance Faire near you, so magical, indeed!
I'm looking forward to seeing what our Darling picks out for her dress next year.
Sweet Acorn Fairy kisses farewell till then…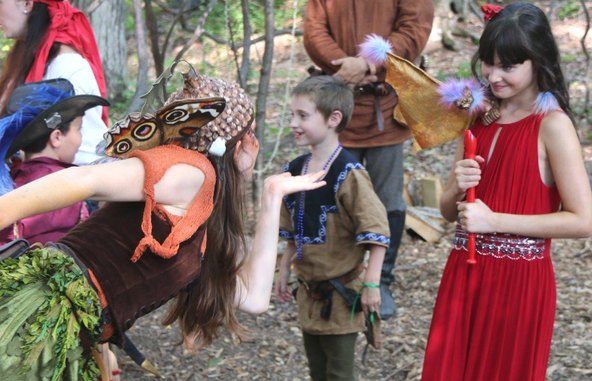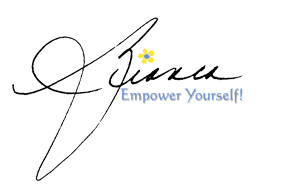 Friday, July 10, 2015 by
Bianca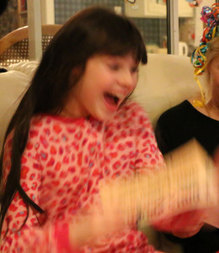 Birthdays are a big deal in our household. Turning double digits?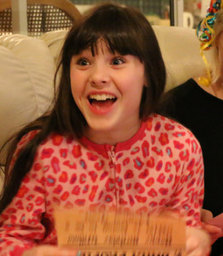 Well, that's just momentous.
These photos are the tickets to an adventure of a lifetime: We took Little One on a Tweendom Extravaganza to The Wizarding World of Harry Potter, Universal Orlando, Disney's Magic Kingdom, Animal Kingdom, Titanic Artifact Exhibit, Disney's Epcot Center, and the Clearwater Marine Aquarium to visit Winter & Hope of Dolphin Tale 1 & 2, CoCo Key Water Resort & Mystic Aquarium.
We walked over 120,000 steps – thank you, pedometer – which translates to 52 miles!
In blue are links to Parts 2 & 3 of this story – yes – so remarkable, they deserve their own posts!
To explore the magical world of wizards & wands, chocolate frogs, Butterbeer & Platform 9 3/4, click Part 2: Harry Potter World
To see Winter, the sweet dolphin who lost her tail when she was only 2 months old, click Part 3: Winter & Hope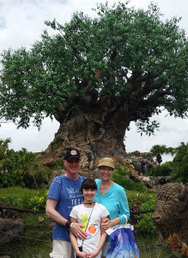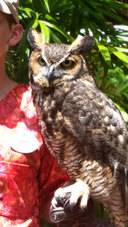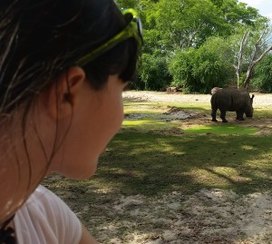 Animal Kingdom, Tree of Life, Rainforest lunch, up close with Little One's favorite bird, Safari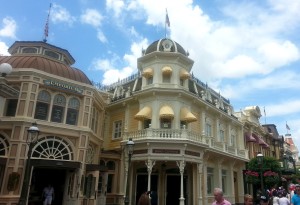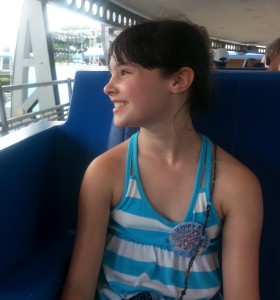 Disney World's beautiful Main Street and big smiles!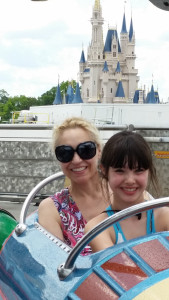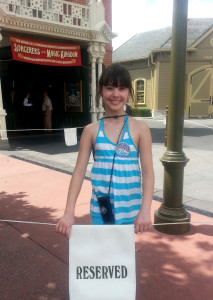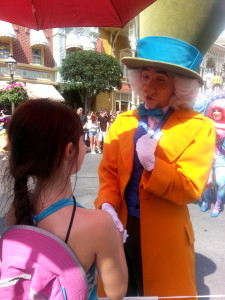 Cinderella's castle, reserved birthday spot to see Disney's Fantasy Parade & meet the characters,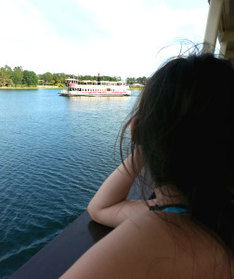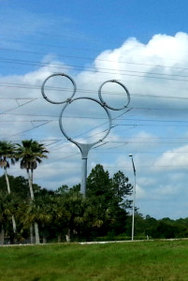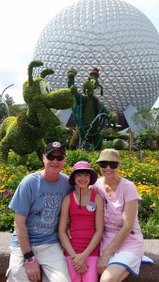 Enjoying Disney's Ferry Boat ride, power lines on the I-4 – cool!! and Epcot Center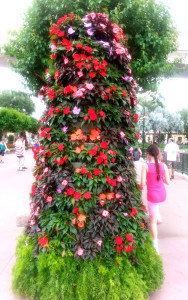 Gorgeous Annual Flower Festival at Epcot, Space Center, coral reef cuddles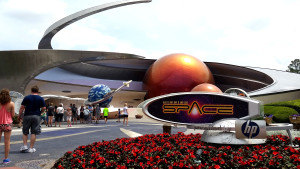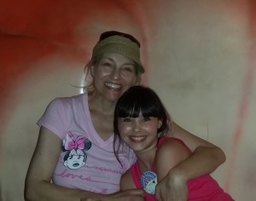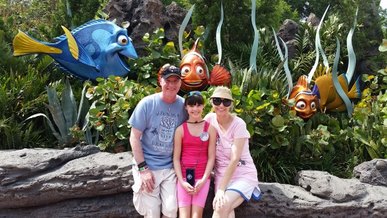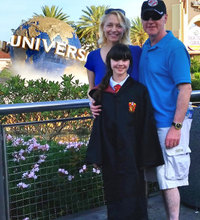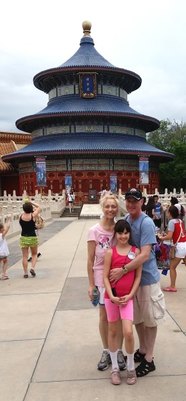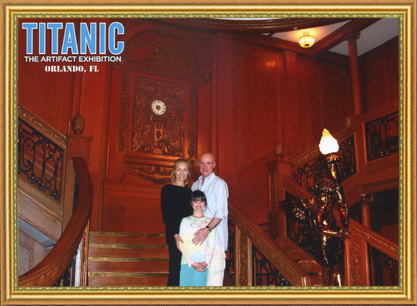 Dad & Little One enjoying the water resort where we stayed. That slide was insane!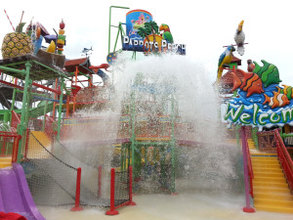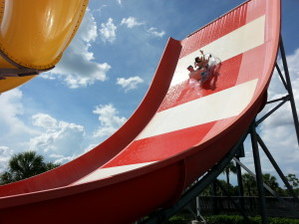 ♥♥♥ And best of all was celebrating at Mystic Aquarium & CoCo Key Water Resort with family & friends. ♥♥♥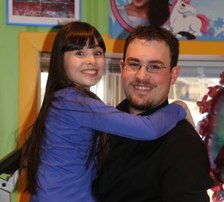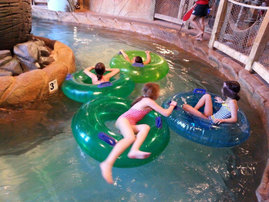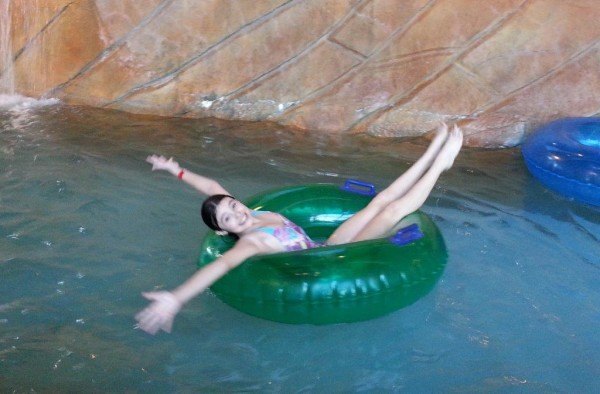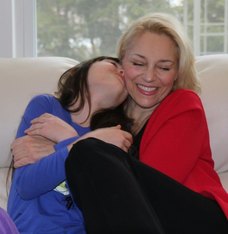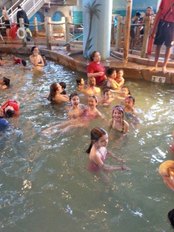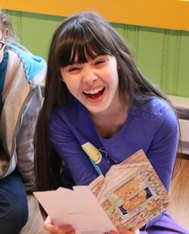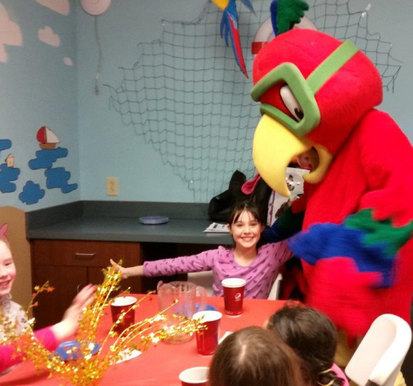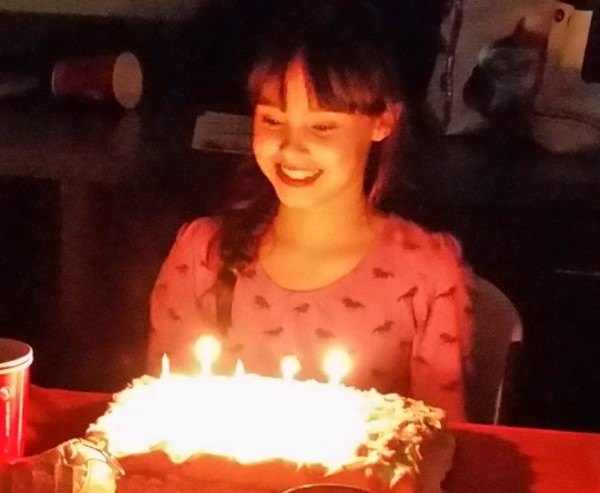 The Bright Spot – Enjoy the stories of Harry Potter World and Winter & Hope by clicking these blue links…or just keep scrolling, they're next. We highly recommend both vacation sites!!  🙂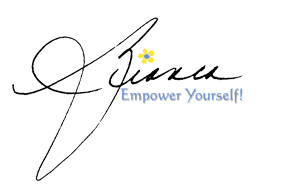 Thursday, July 9, 2015 by
Bianca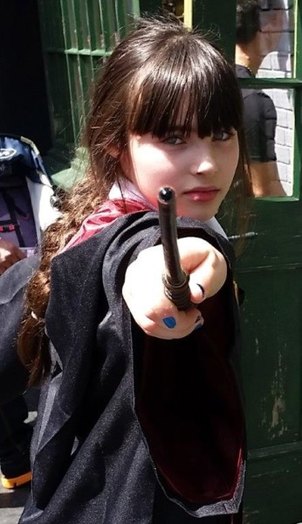 Incantations, frothy Butterbeer, chocolate frogs & interactive wands. Hogsmeade & Diagon Alley, Hogwarts Express & Flight of the Hippogriff…all wizarding wonders our young Harry Potter aficionado enthusiastically embraced.
Humidity & sunny 90 degree weather in a full-length black satin & polylined cloak ~ with a touch of heat exhaustion on the 2nd day ~ could not stop this 10-year-old from soaking in the sights & sounds of Universal's magical adventure.
The conductor at Hogsmeade, spotting her special birthday pin, suddenly stopped the crowd of hundreds in the station to heartily announce the arrival of our birthday darling to which the crowd spontaneously erupted into thunderous applause.
It was a movie moment. A memory to last a lifetime.
Enjoy this 30-second video of Little One going through Platform 9 3/4, the fire-breathing dragon atop the amazing Escape from Gringotts 3-D ride & more.

Harry Potter World Snippets
1st stop –
Ollivanders – Makers of Fine Wands since 382 BC
– to pick up her interactive wand which works throughout the park to make water fly, needles knit, feather pens write, and lots of hands-on spellcasting. It was there that she chose
Dumbledore's Army
scroll case & wand collection as a fine memento – heavy, well-crafted, great quality.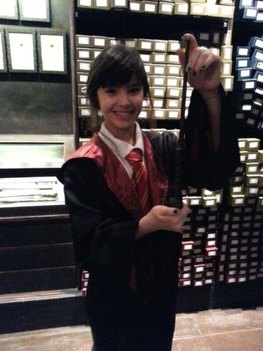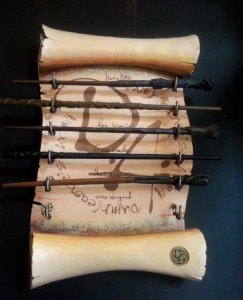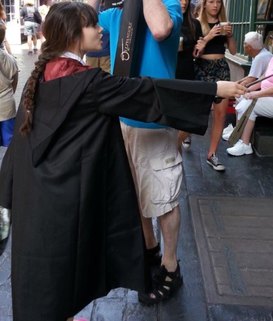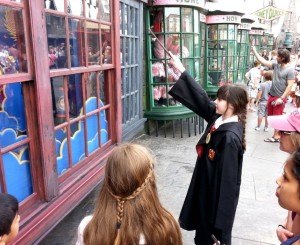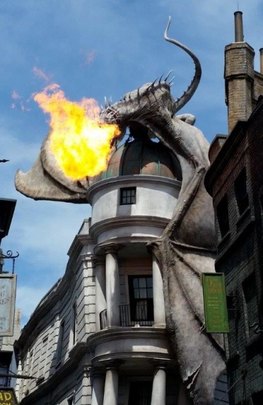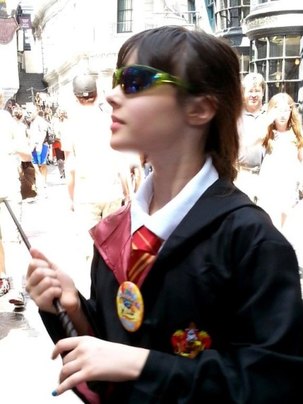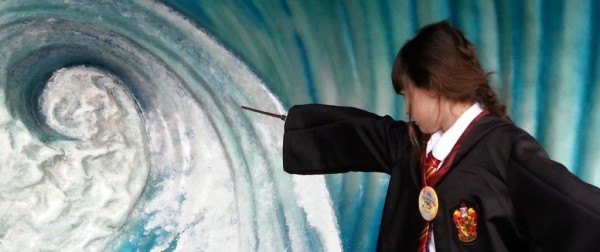 Hogwarts Castle is simultaneously breathtaking & ominous.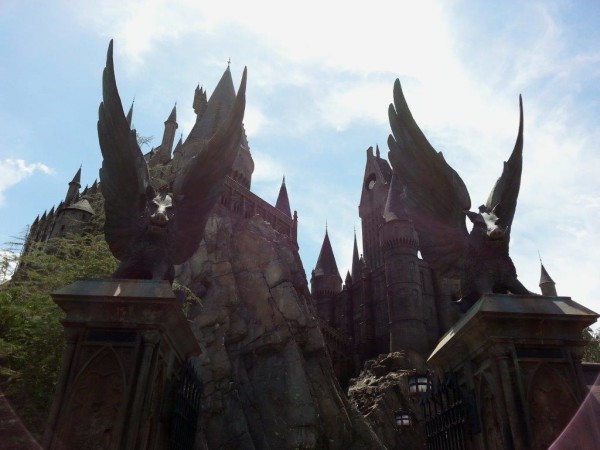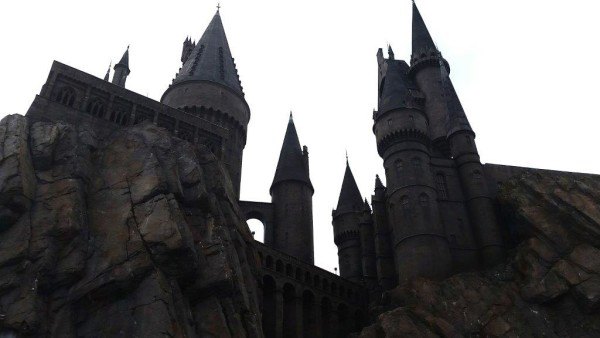 The paintings move & talk just as they do in the movies.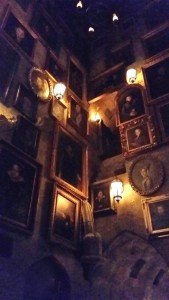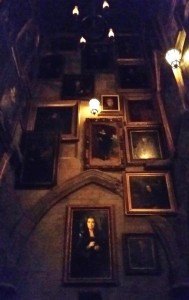 The Birthday Girl enjoyed a special breakfast in the Leaky Cauldron & a Butterbeer toast followed by…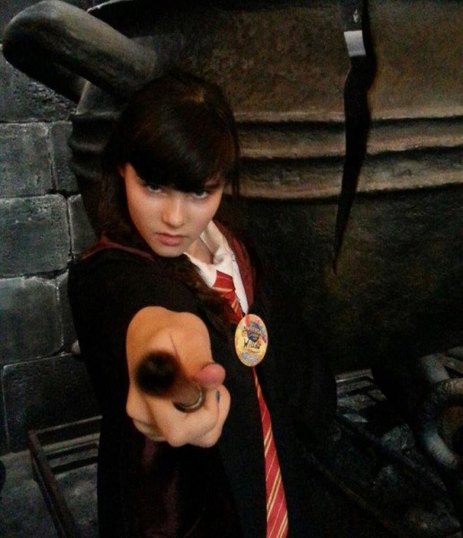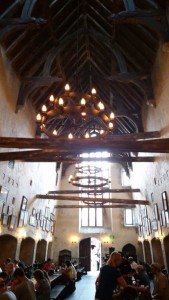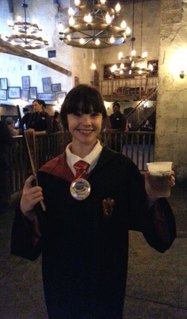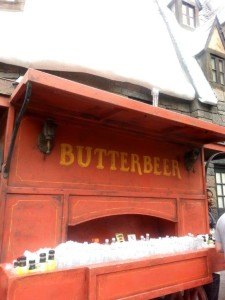 …an adventurous visit to Gringotts.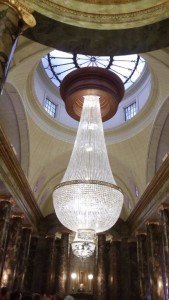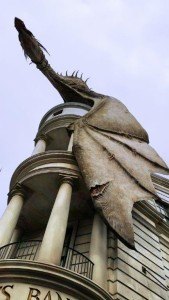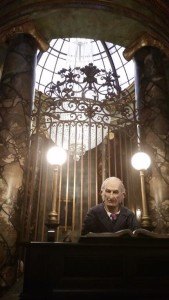 The Hogwarts Express took us on a fascinating journey to Hogsmeade…with Harry, Ron & Hermione!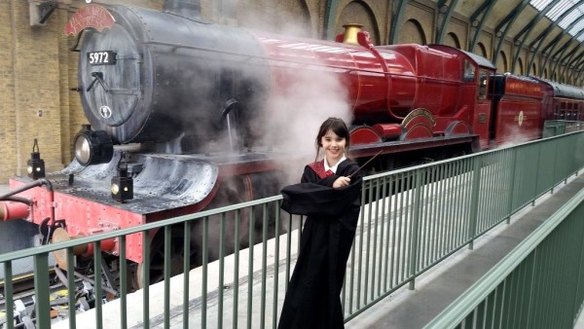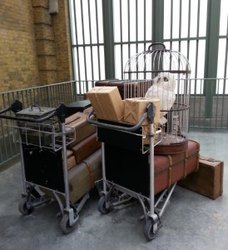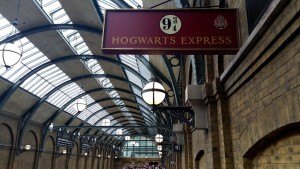 Then lunch at the Three Broomsticks & more spellcasting lessons from a passerby witch.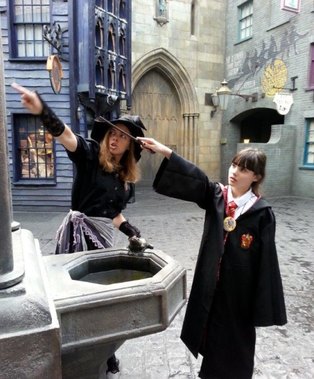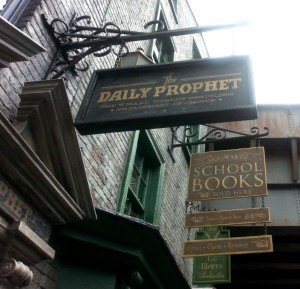 And what would a trip to The Wizarding World of Harry Potter be without a stop in Honeydukes sweet shop or Weasleys' Wizard Wheezes store with Wildfire Whiz-bangs or Every Flavour Beans…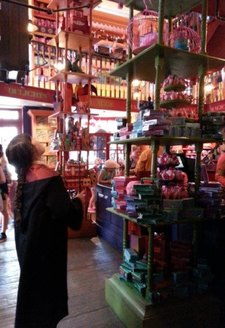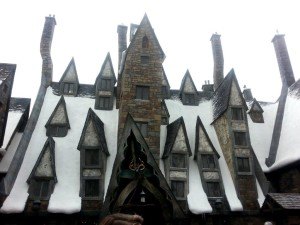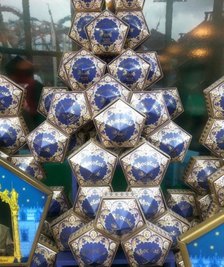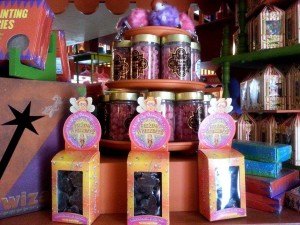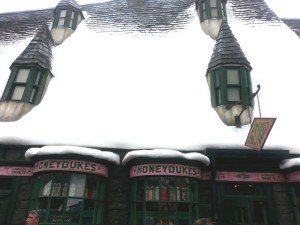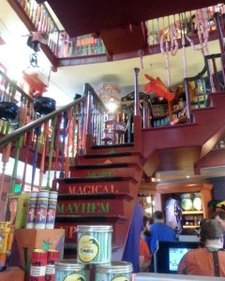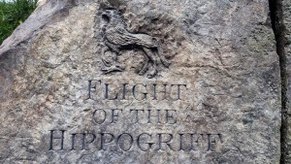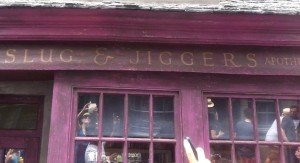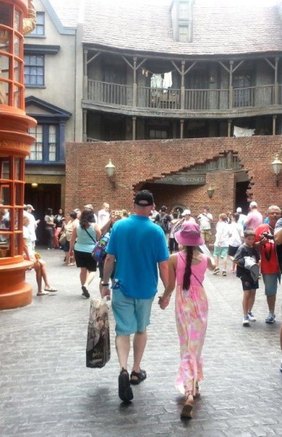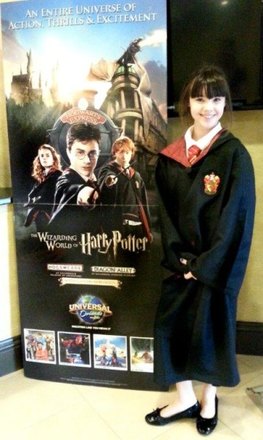 Okay, seriously, how excited is this reader ~ broomstick in hand, all her Potter books have come to life!!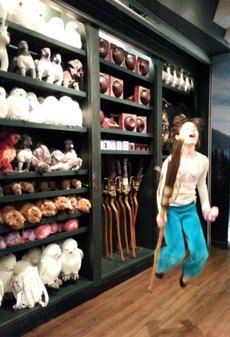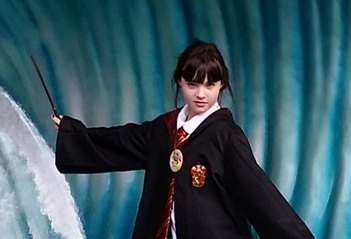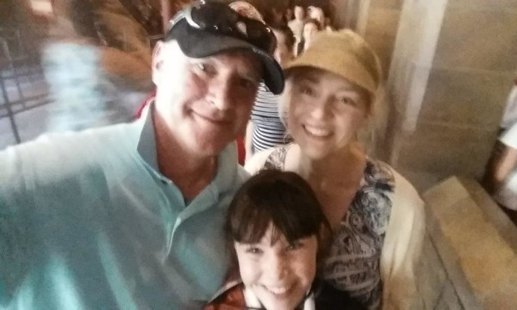 From the Muggles' perspective, Phillip & I were thrilled for our Little One and her magical week!!

The Bright Spot – A wonderful adventure for Harry Potter fans. Highly recommend it!!
To see part 1 & 3 of this story, click Part 1: Double-Digit Extravaganza for Magic Kingdom, Epcot, Titanic & Animal Kingdom.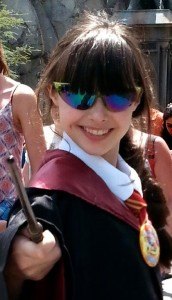 For Part 3, click: Dolphin Tale-Winter & Hope for the Clearwater adventure or just keep scrolling, it's next. 🙂
Thank you for sharing and we hope you enjoy a trip to these family-fun places in the near future.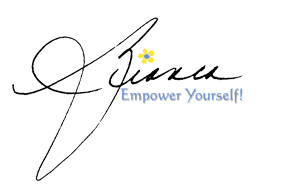 Sunday, May 10, 2015 by
Bianca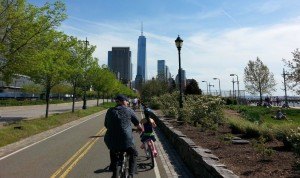 Our 9-year-old led us on a 14-mile bike ride to the Freedom Tower on Mother's Day.
7 miles down Manhattan Island & 7 back along the Henry Hudson River South Waterfront Bike Path in sunny 75 degree weather.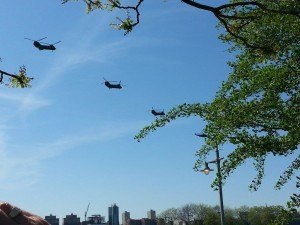 As we rode along New York City's beautiful path, we enjoyed an air display, basketball games, families picnicing at the many parks on the water, the famous ballerina statue, the Intrepid, Concorde & space shuttle, views of the George Washington Bridge & distant Tappan Zee, and best of all…discovering a mama bird feeding her newborns on Mother's Day in a blossoming tree!! Breathtaking!! (precious video below)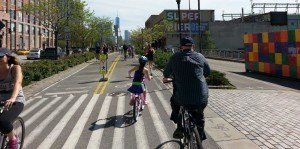 After stopping for ice cream, we enjoyed a lovely dinner and then Phillip gave me one of the most wonderful, thoughtful gifts ever!! Ever!!
To put into perspective how special this Mother's Day gift was to me, may I just say that one year, he surprised me with a beautiful Mercedes convertible in the driveway; another year, matching silver Mercedes' with huge green bows. Yes, those were exciting.
But the gift he gave me this evening made my eyes tear & my heart swell! I'll explain at the end of this story.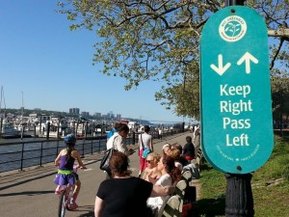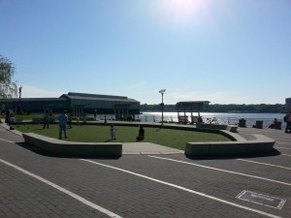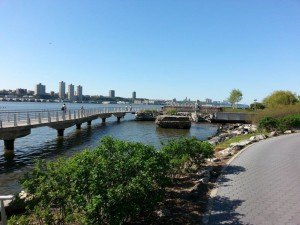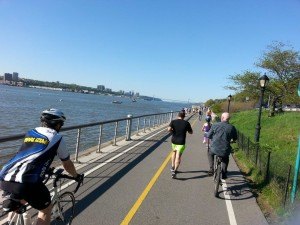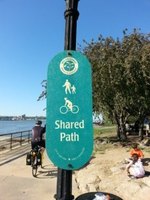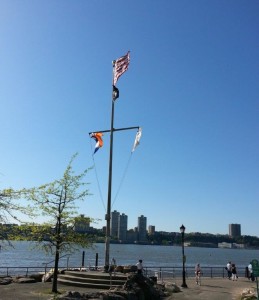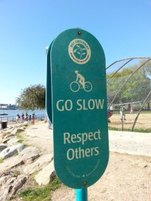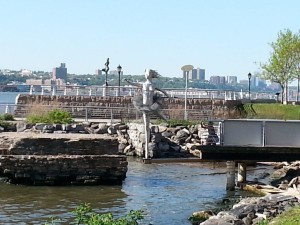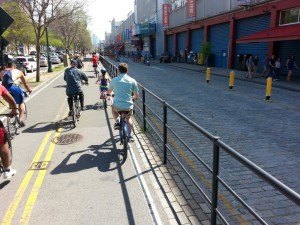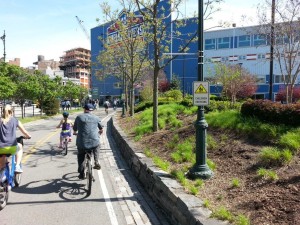 Stopping for ice cream after the 14th mile: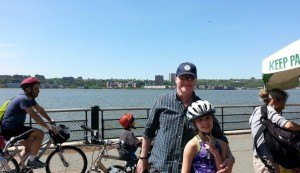 Mama Bird & her babies:
Okay, so this was Phillip's gift. A few days earlier, we saw this sign at Nordstrom's. WOW is exciting for us because it's our daughter's initials. Flipped upside down, it spells MOM.
Phillip carved this WOW~MOM sign for me from a block of wood. A handmade gift is the best gift of all to me and the meaning behind it was heartwarming & made with love and thought.                            
What an amazing husband, I love you, Darling. Thank you!!
Those magenta-orange-pastel-sherbet colors are some of my favorite hues & it will be painted those colors soon.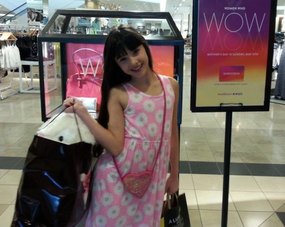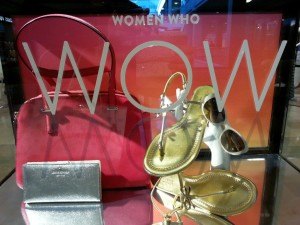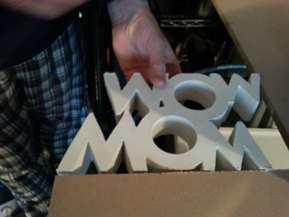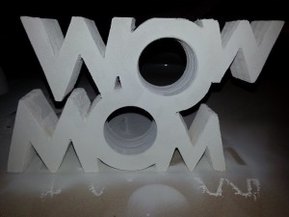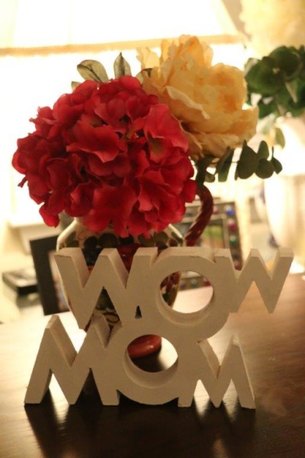 One of the best Mother's Days ever (2014)!!
Today's 2015 Mother's Day was just as delightful!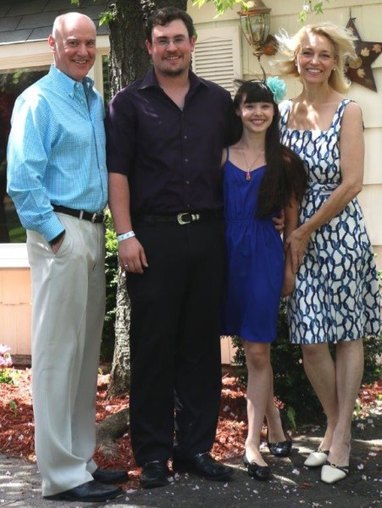 After breakfast & celebrations, we snapped pics under a very significant tree, then Phillip & the kids surprised me with an afternoon of painting together at Pinot Palette in New York, followed by dinner with my Mom.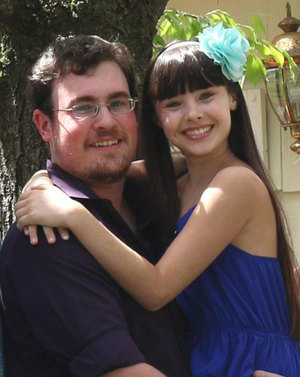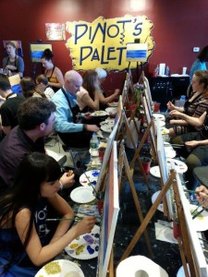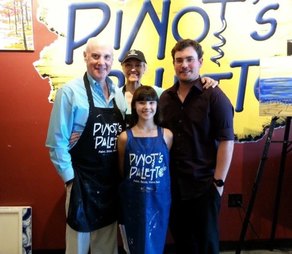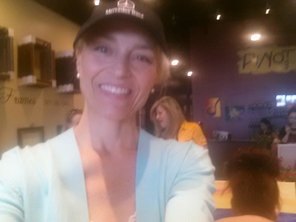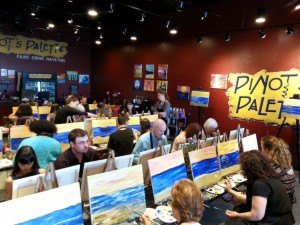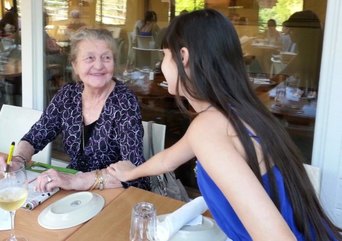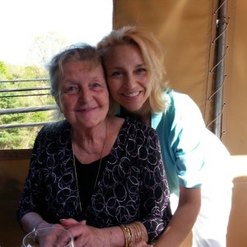 For more on my Mom, just click: Mom
For more on my Mother-in-Law, click: Grace
Thank you for sharing. And thank you to my family, I love you all!!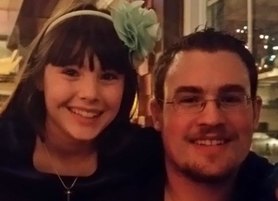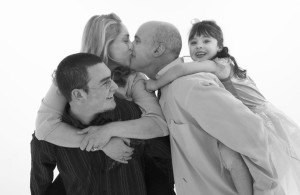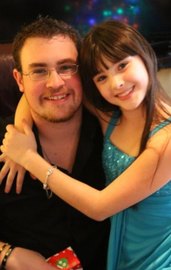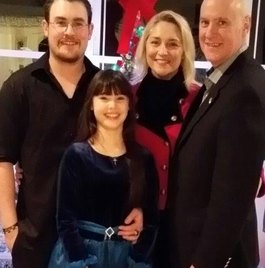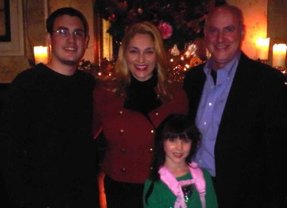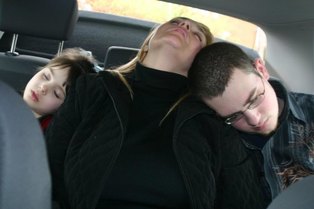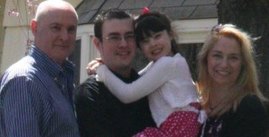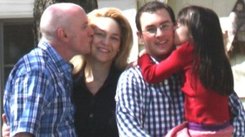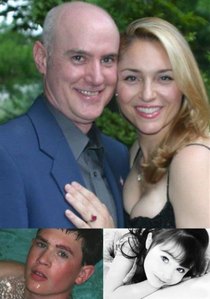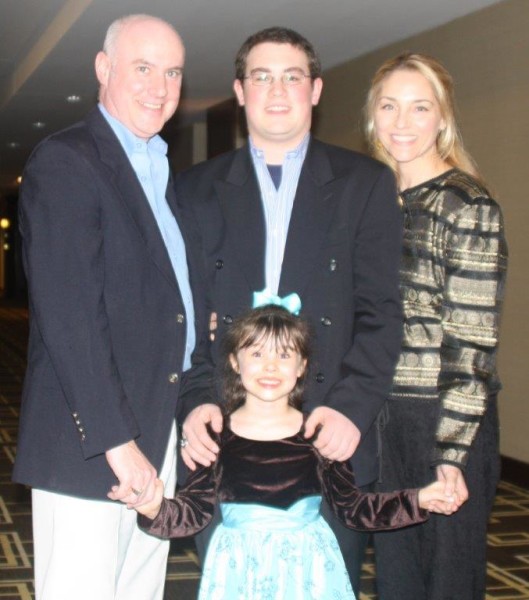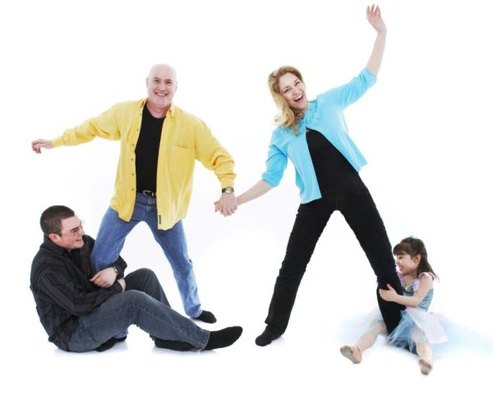 The Bright Spot – Celebrating Moms Everywhere – Happy Mother's Day!!!!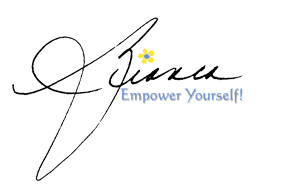 Sunday, February 1, 2015 by
Bianca
Everyone kept asking me what Phillip was planning for my 50th. He's arranged some pretty spectacular things for me over the years so I knew whatever it was I'd be thrilled. Our son captured the moment: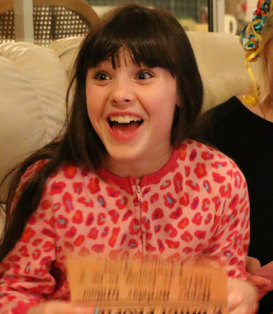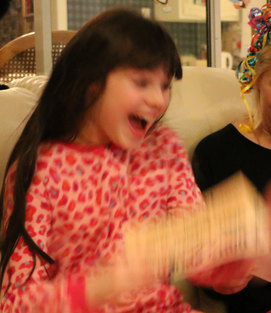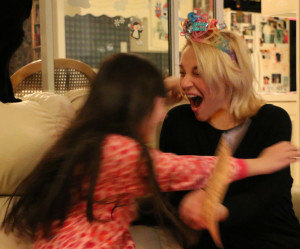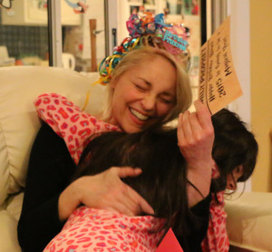 Good Lord! What could it be? Well, prior to opening this envelope, Phillip planned a weekend of delights including dinner at La Panetiere.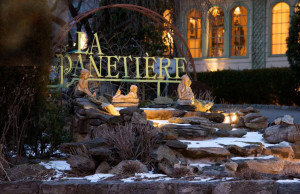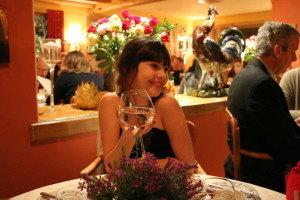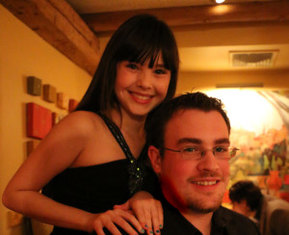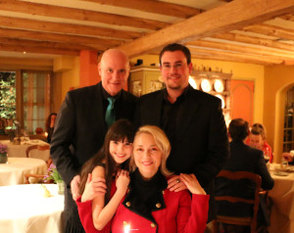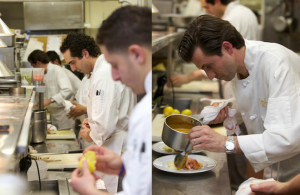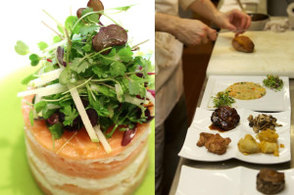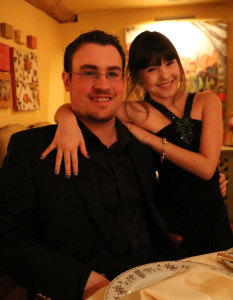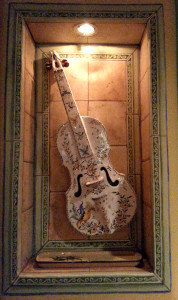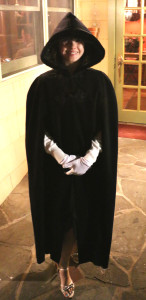 We visited the Cloisters on the northern tip of Manhattan overlooking the Hudson to enjoy the stunning array of more than 5,000 pieces of European Medieval works of art from the 12th – 15th centuries including the famous Unicorn Tapestries. The Cloister's Library contains over 15,000 volumes of books.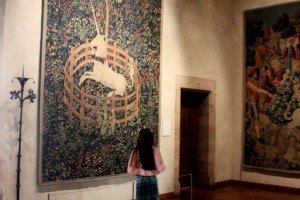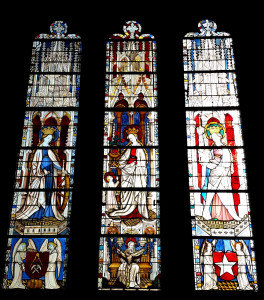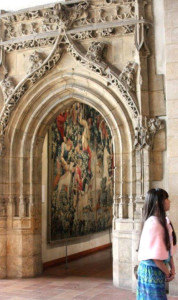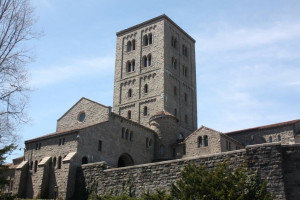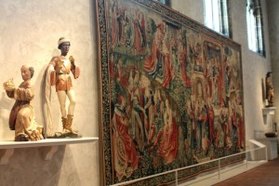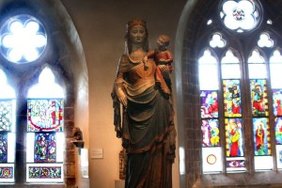 Later, we toured the World of Wings butterfly atrium where I had my 1st opportunity to take photos with my gorgeous new Canon from my son. For the amount of time I invest in my photography, this latest Canon with touchscreen, image sensor & built-in Wi-Fi was the p-e-r-f-e-c-t gift!! Thank you, darling!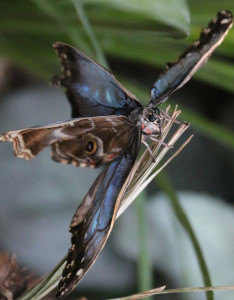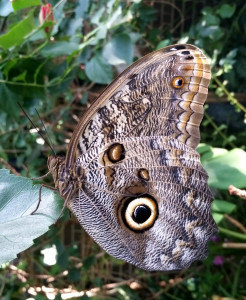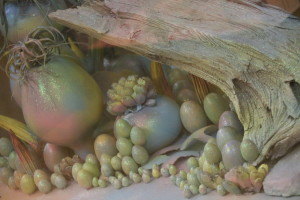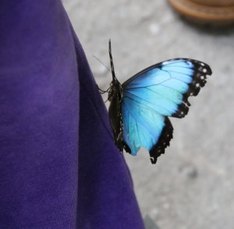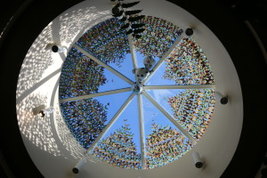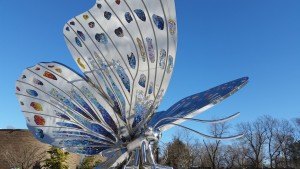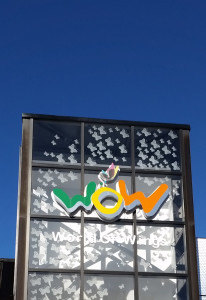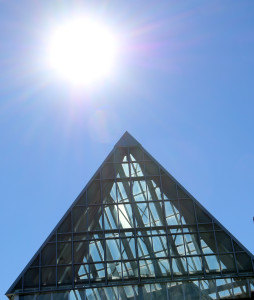 And if anyone knows our family well, you'll know why the logo above is so significant!! 🙂
As you can s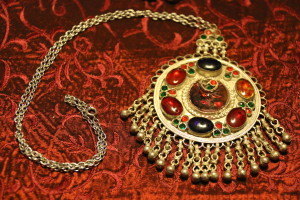 ee, this day was magnificent with brilliant sunshine & deep blue skies. But 50 years ago, there was a blizzard and my mother arrived at the hospital with a police escort. That's one way to make an entrance.
Mom recapped the story over dinner. Then she surprised me with a very special gift…a piece of jewelry I've admired for 45 years. It was given to mother by my father's mother when I was 5.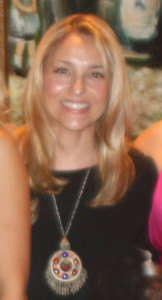 I've worn it in the past with great delight (photo on right), but on this special night, my mother said it was now mine. Overjoyed is an understatement. It means so much to me on many levels.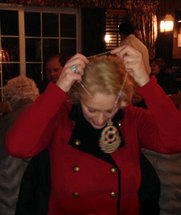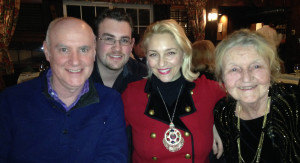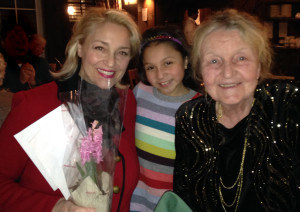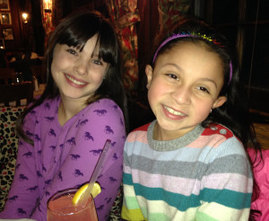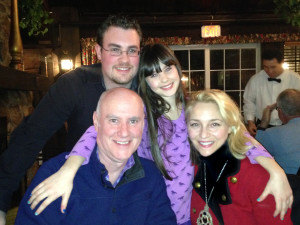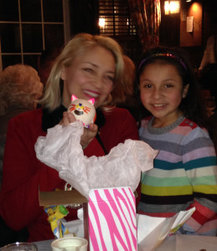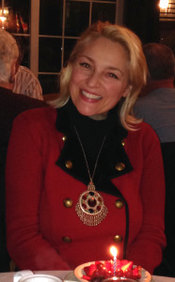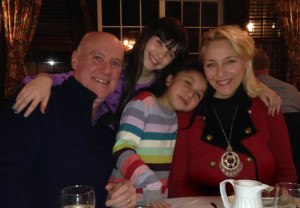 So what was in the envelope in the opening pics? Let me first explain that my greatest gift ~ now & always ~ is being loved by my family & friends. Flowers & cards, emails & posts. All is appreciated. The kindness, the thoughtfulness, the time spent to make my day special. Thank you all!!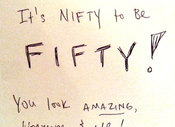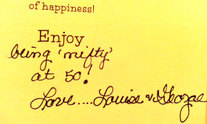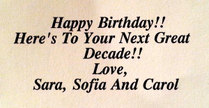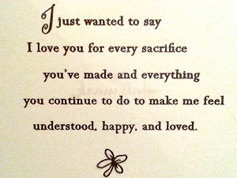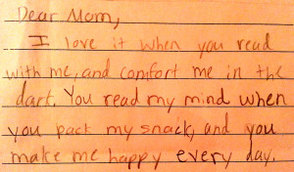 The above cards from my children touched my heart deeply. My son chose a card that says I make him feel understood, happy and loved. Wonderful, wonderful!! And our little one says I make her happy every day…down to even the school snack. What more could any mother want? Happy, thriving kids – this was, by far, the very best gift of all!!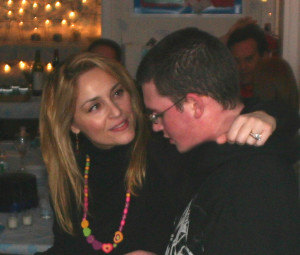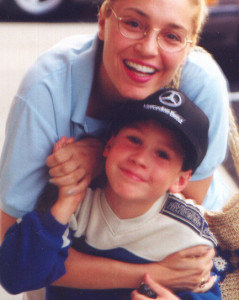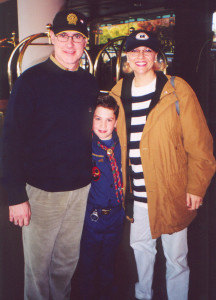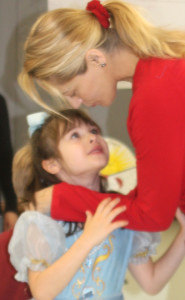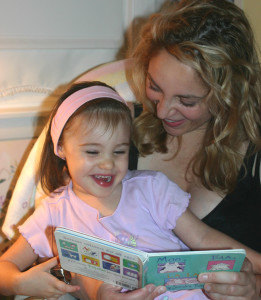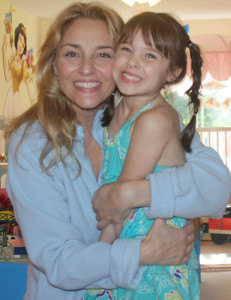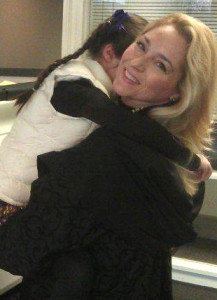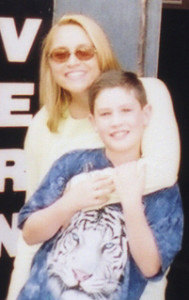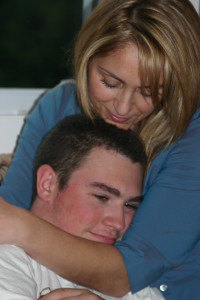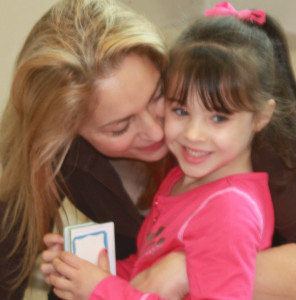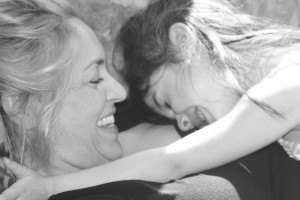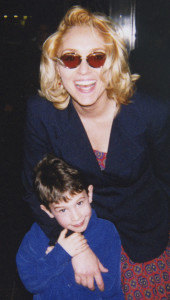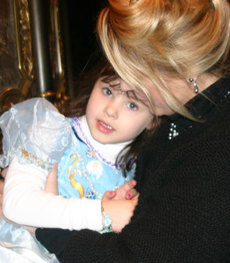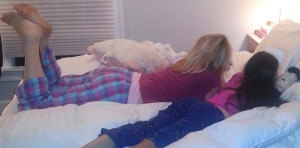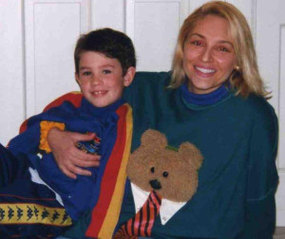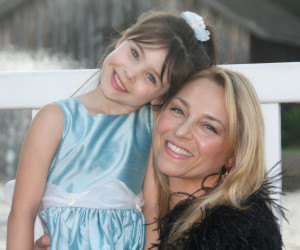 16 years ago, I started the Harry Potter series with our son…reading it in "real time," that is, waiting each year for another book to be published…standing in line at midnight openings with great anticipation for 1st edition hardcovers. We saw the movies, he had the posters, the comforter set, the throw pillows, the robe, Harry's wand, etc. He even had a Harry-esque look to him, especially when he got his glasses.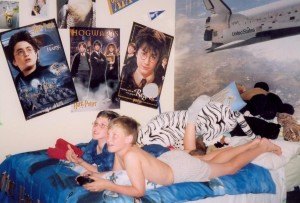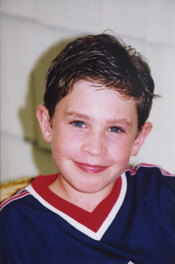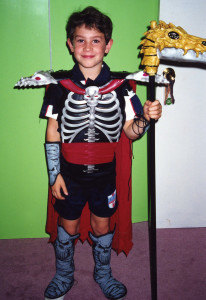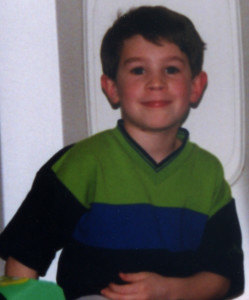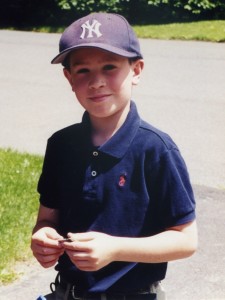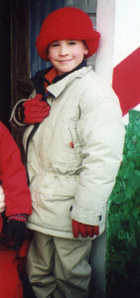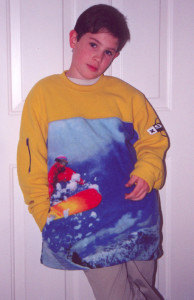 Fast-forward more than a decade and our little daughter & her friends are relishing in the adventures, quoting the spells, whipping up potions and donning the robe. The perfect hardcovers have moved from our son's room to our daughters's bookcase. Over the holiday break, we watched all 8 movies (Yes, 8. The last book was filmed in 2 parts).
My friend, Sara, took one of our daughter's best-est friends (since the girls were infants) to The Wizarding World of Harry Potter last month. The girls are now 9 & 10, the perfect age for the story. Sara posted this video of Platform 9 3/4 on her FB page & that was it!! What more fun could our family have than to venture through the fantastical world of wizards?
Sara said
Universal Studios
did a magnificent re-creation, a trip not to be missed! With the entire storyline under our belts just the previous month, I could not have dreamed of a more fanciful place to go for my birthday present!! In the envelope was a newspaper-like invitation from the
Daily Prophet
along with tickets to the mystical world of Harry Potter and a week's stay at the
CoCo Key
water resort hotel. Simply marvelous, my darling husband, I love love love it!! And so do the kids!! (Well, as you can clearly see from our little one's reaction in the 1st photos above as we opened the envelopes together.)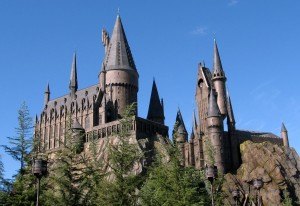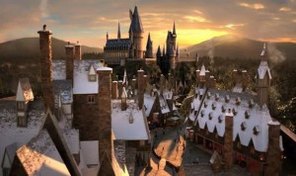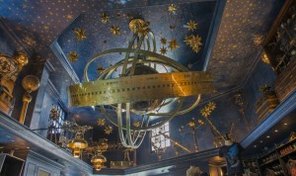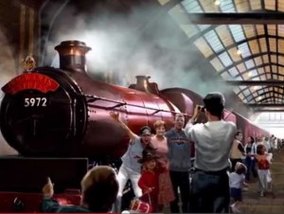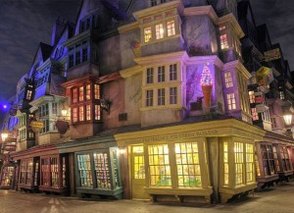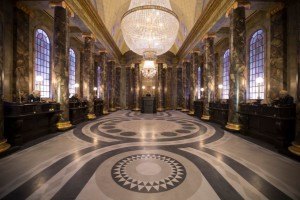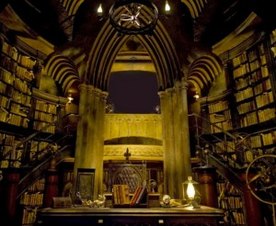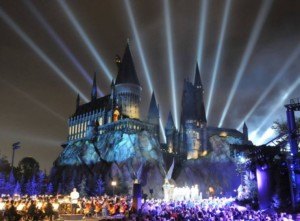 CoCo Key water resort & hotel: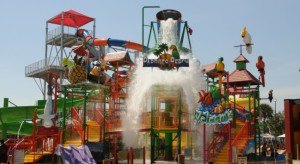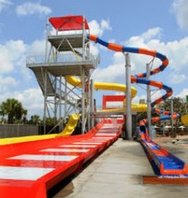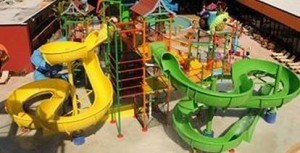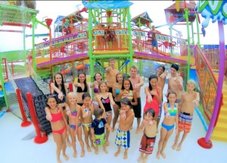 We finished up the weekend celebrations with my favorite movie, The Scarlet Pimpernel, with Jane Seymour & Anthony Andrews. Luscious ~ Dreamy ~ Yum!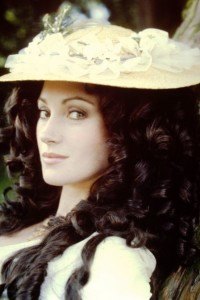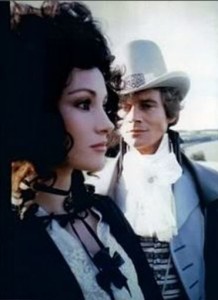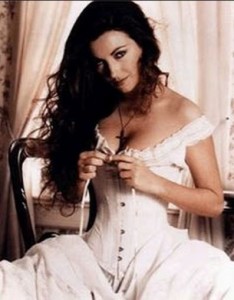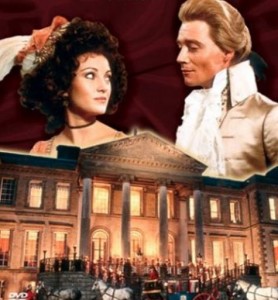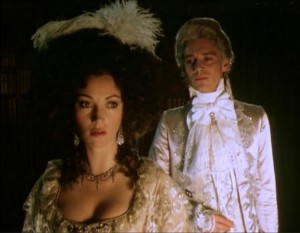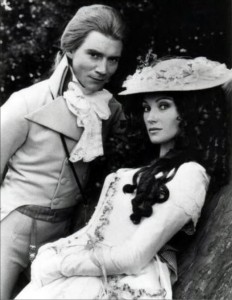 So many other details went into this weekend that I would just like to say thank you to my husband, my whole family and my friends for marking this milestone with great joy.

The Bright SpotTM  – Thankfulness that my mother is feeling better, it's on & off and for my birthday she was really "on!" Even sparkly! And thank you to all who sent wishes for a beautiful birthday weekend. So ready for this next great decade, bring it on!!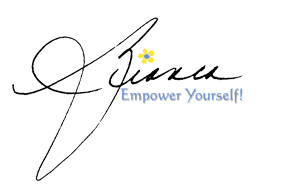 Friday, July 18, 2014 by
Bianca

Nothing says Caribbean like the freeing feeling of music & dance in the evening breezes of the islands!                                        From high in the sky…
                
to underwater exploration, our 8-year-old reveled in every adventure at the gorgeous Barcelo, an all-inclusive resort in the beautiful Dominican Republic.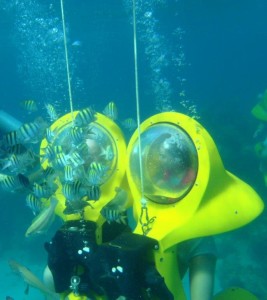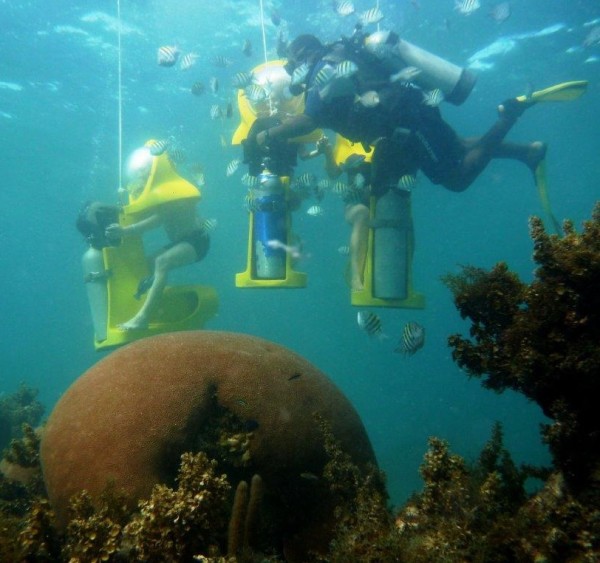 Tropical paradise & pristine waters,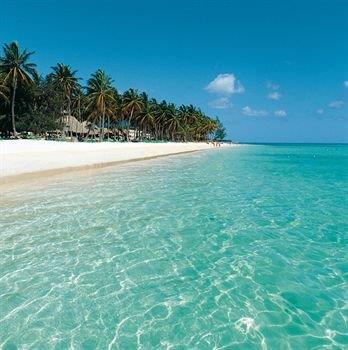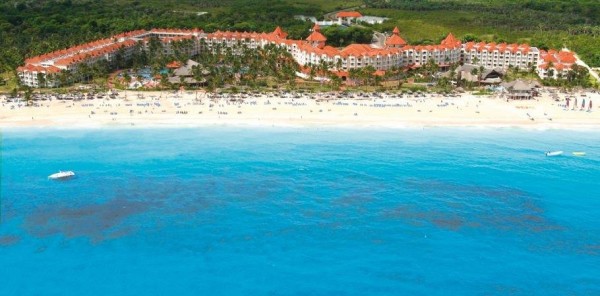 Phillip's favorite place…the swim-up bar,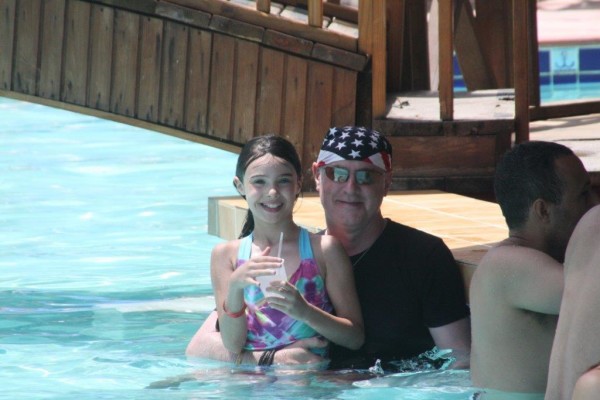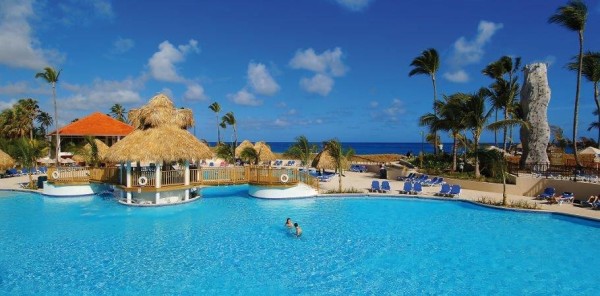 where our daughter bounced around in a giant beach ball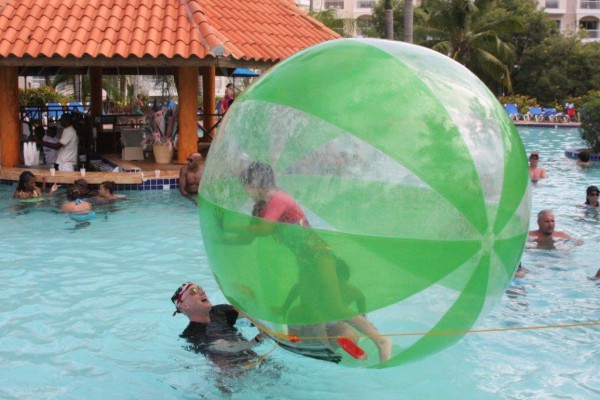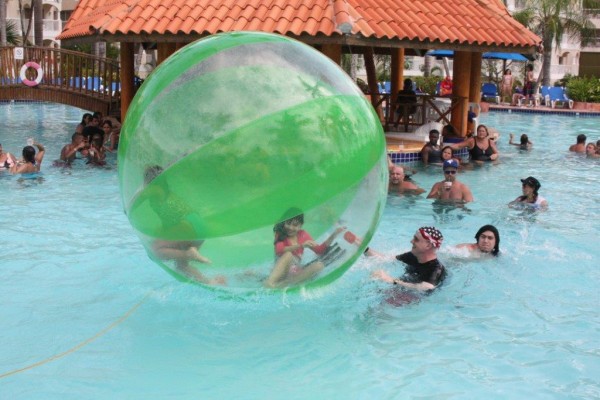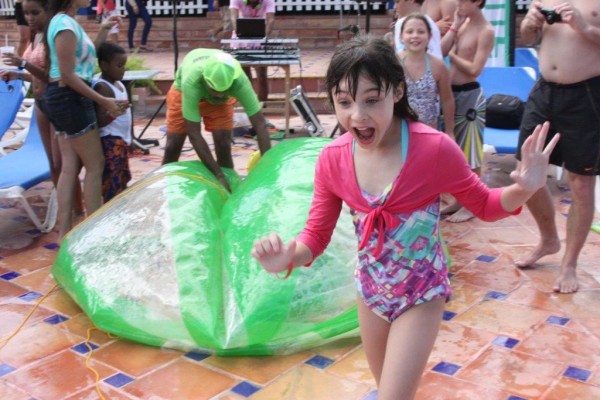 plus, elegant dining on the beach,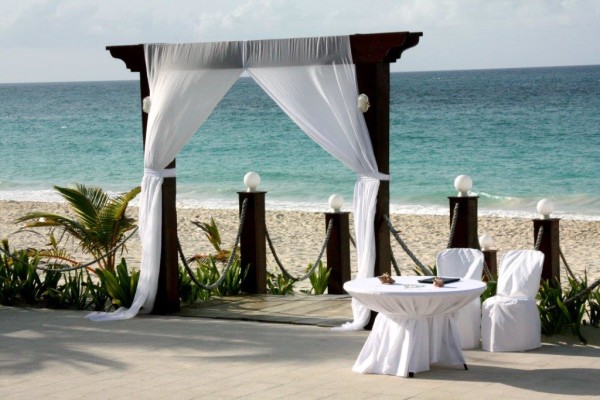 and, of course, Brenda, the monkey, who wondered why our little one had a tail just like hers 🙂 !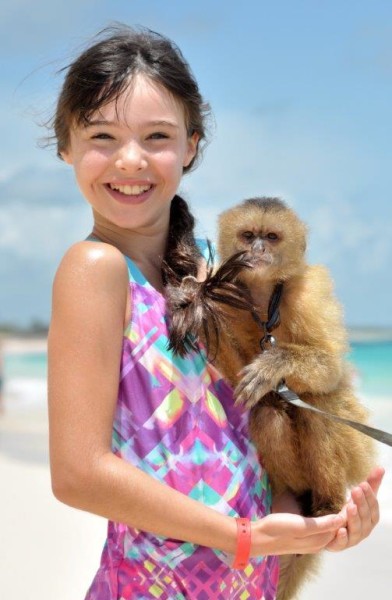 We booked the getaway the night before & left 26 hours later.
The trip started with smoked salmon & the latest edition of Sparkle World magazine…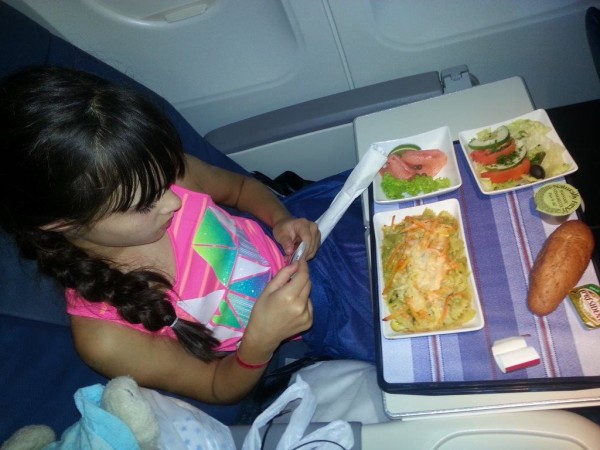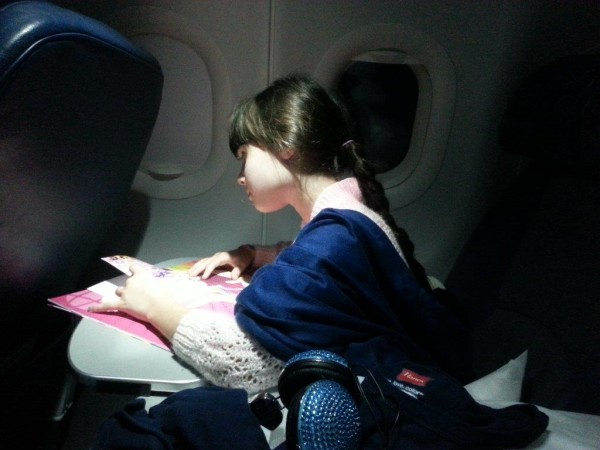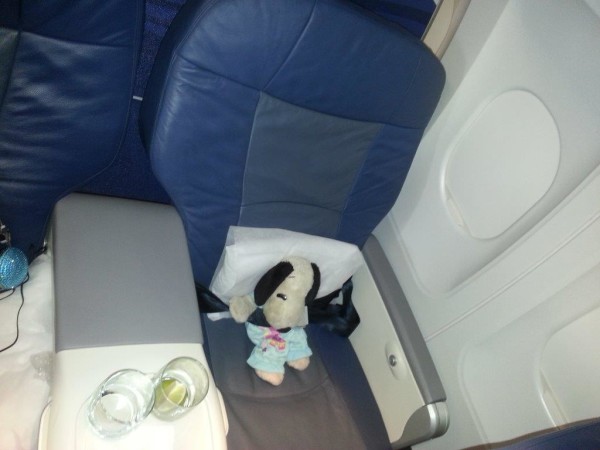 and went full swing into shopping when we realized we forgot hats & sunglasses.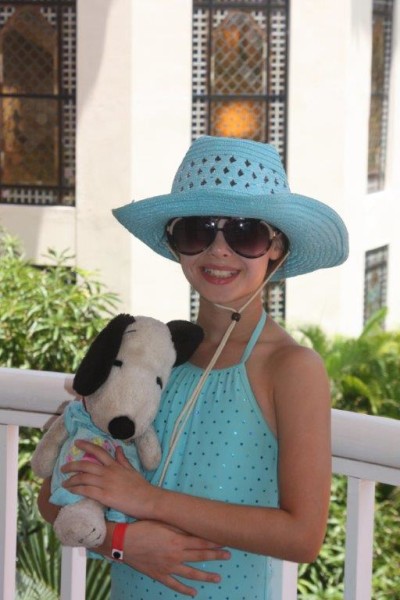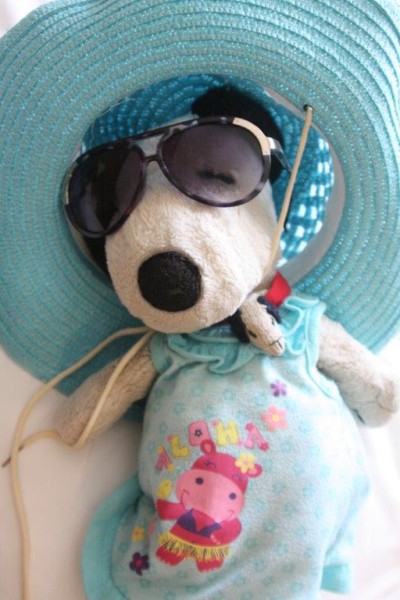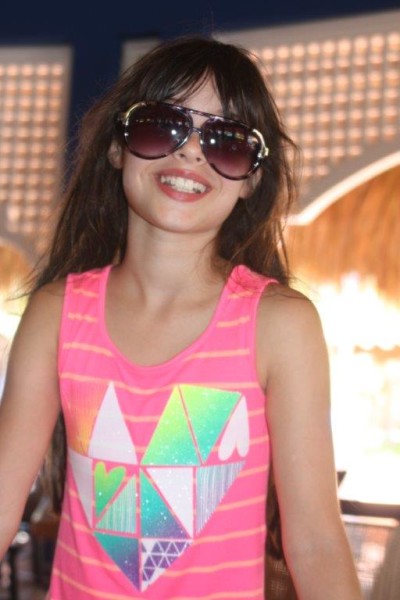 Snorkeling in the Caribbean,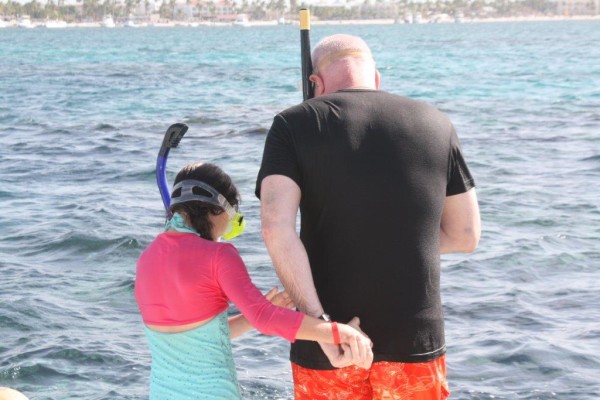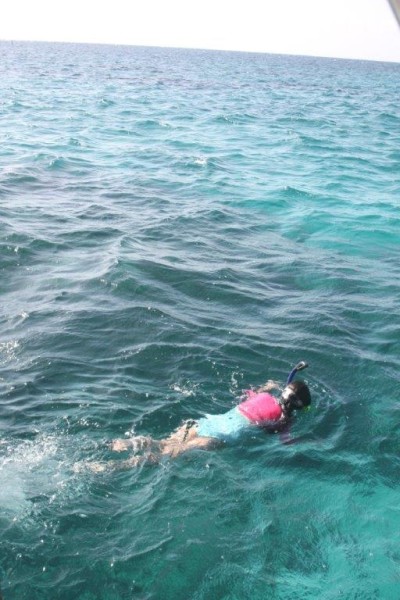 sunsets & full moons made for the perfect setting.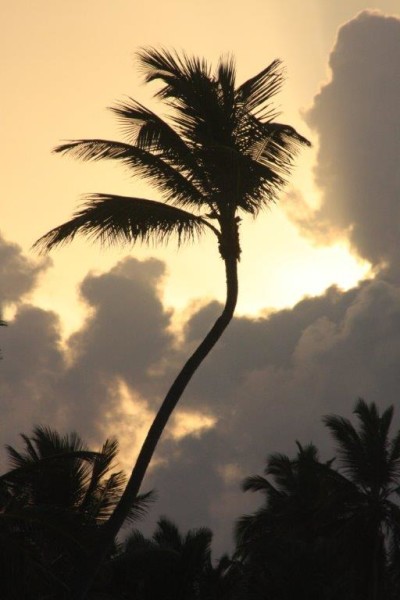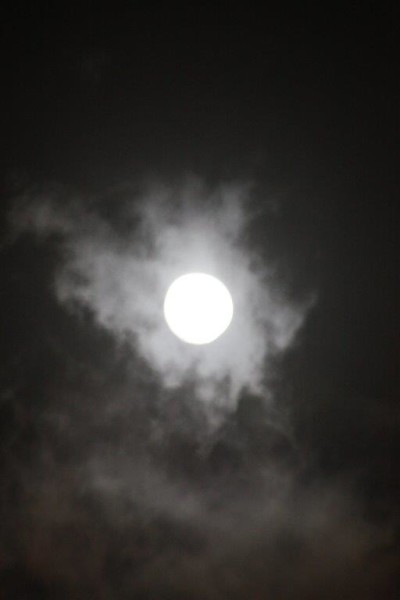 Barcelo's food was as beautiful as it was delicious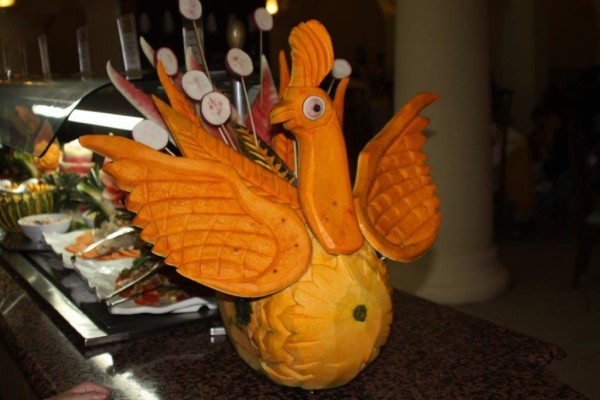 and chess was a must.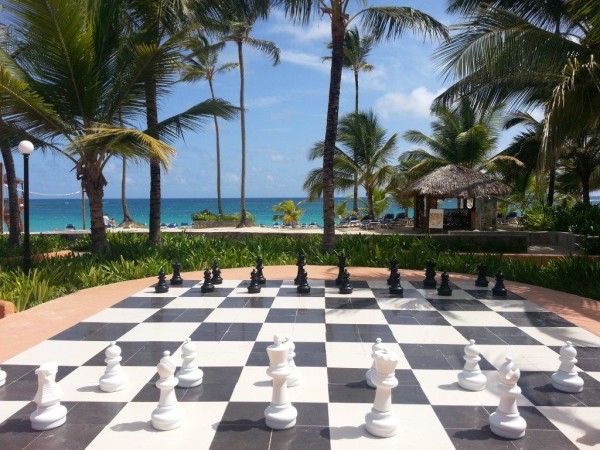 If you are looking for a place to flip over on your next vacation, Barcelo is it!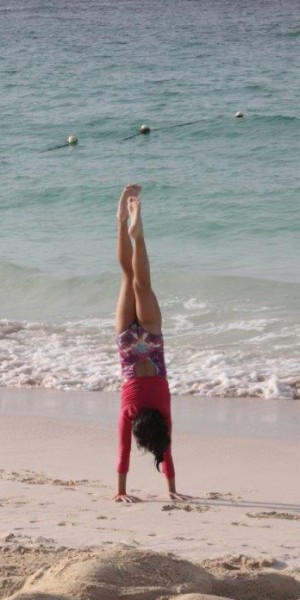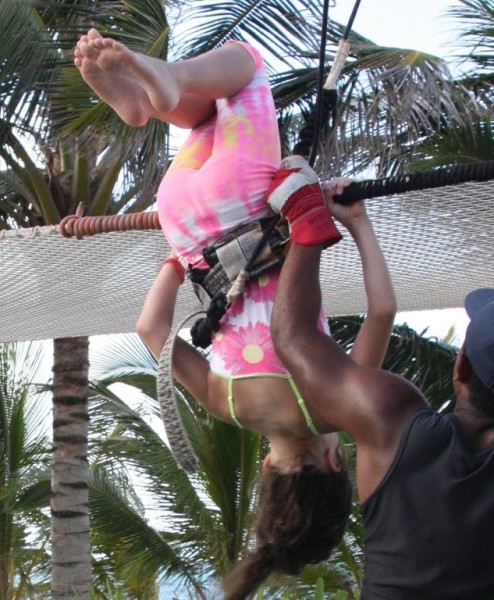 From the glass-bottomed boats to pool lounges, there's something for everyone.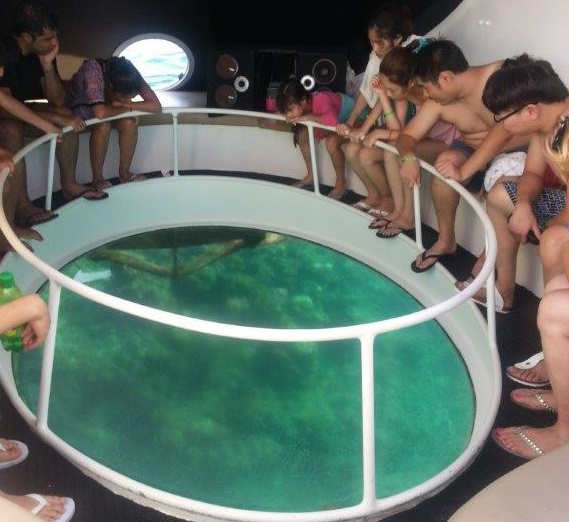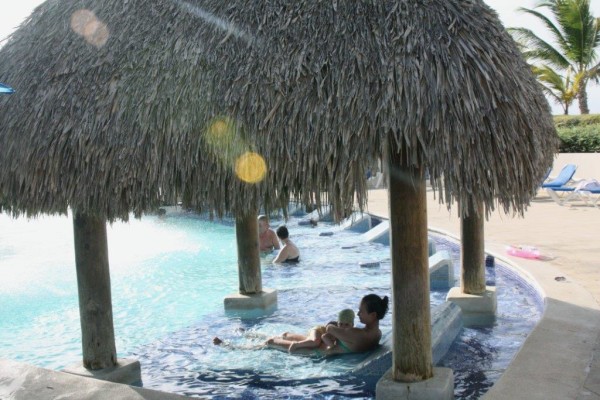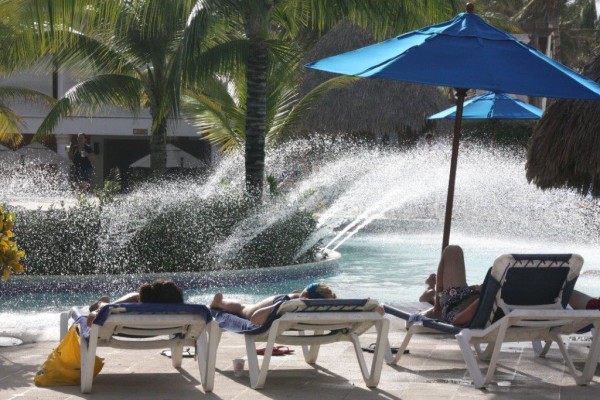 So come here and make your sand turtles a reality,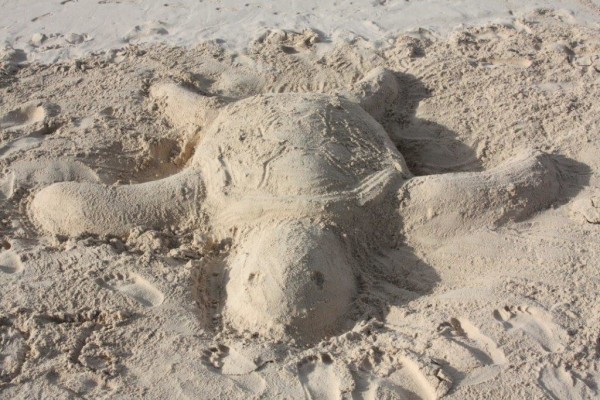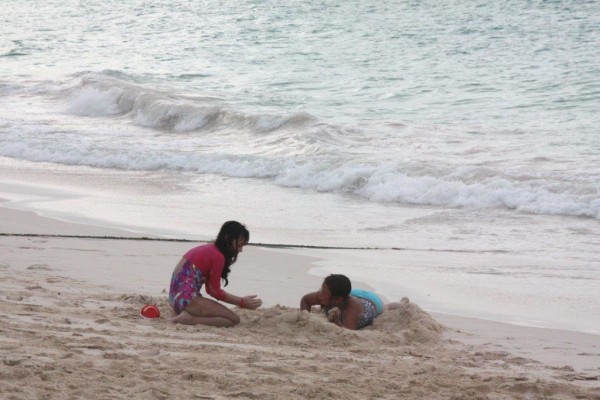 paradise awaits.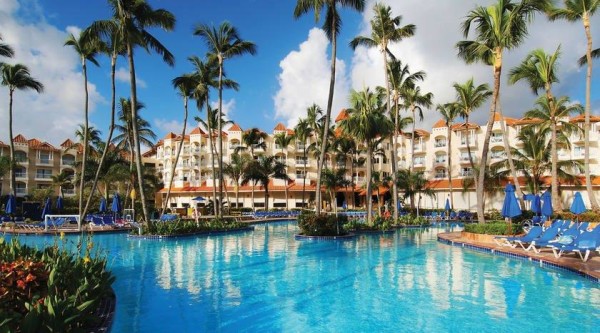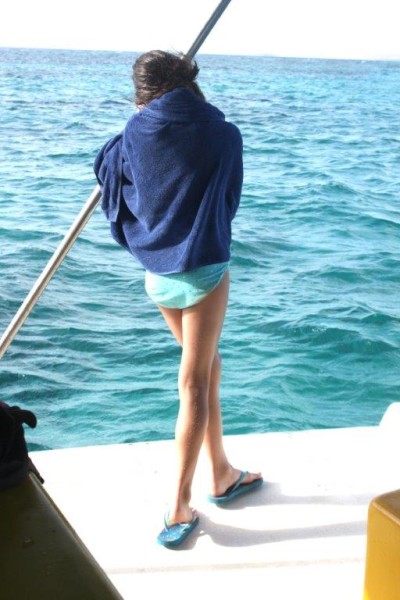 The Bright SpotTM

 – The Caribbean. Enough said. 😉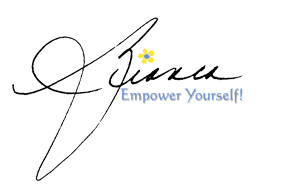 Sunday, June 15, 2014 by
Bianca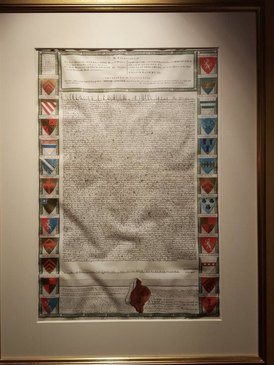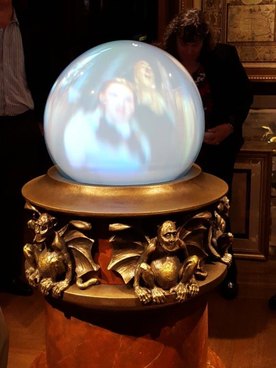 …………..The Magna Carta   1215AD                         Crystal Ball from The Wizard of Oz
Phillip was invited to the home of billionaire Jay Walker to view his private collection in The Walker Library of The History of Human Imagination.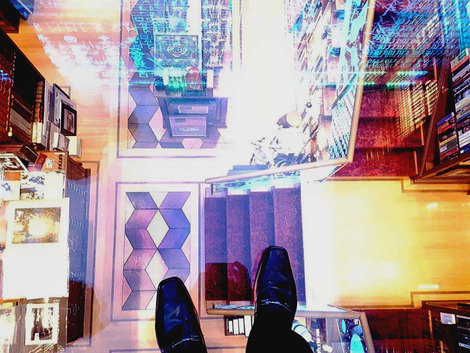 My husband standing on the glass floor leading to the underground museum.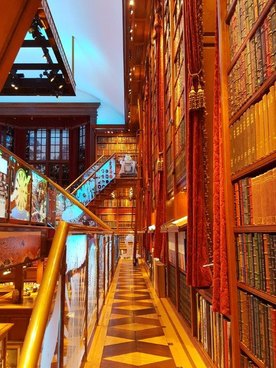 Here are some cool pictures he snapped that evening. This is the napkin during lunch Franklin D. Roosevelt outlined his plans to end WWII and, ultimately, defeat the Axis Powers.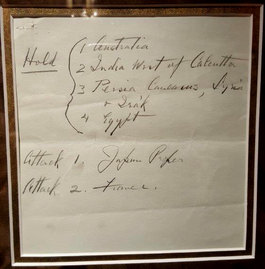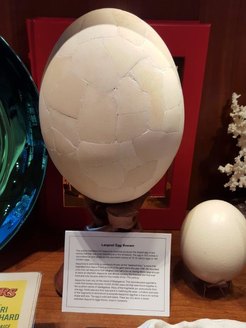 The largest egg of any animal (the Aepyornis) that has ever lived – it is 10,000-20,000 years old and contains the equivalent volume of 10-12 ostrich eggs (as seen beside it) or 160 chicken eggs!!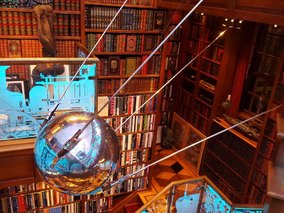 Russian Sputnik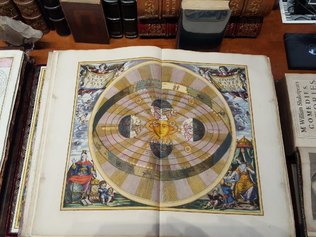 1699AD – The 1st map showing the Sun as the center of our universe.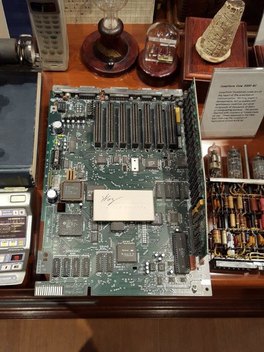 Circuit board from 1st Apple computer signed by Steve Wozniak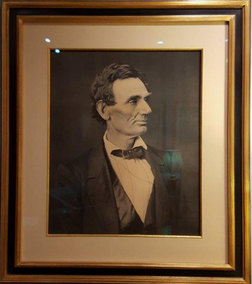 Abraham Lincoln's campaign photograph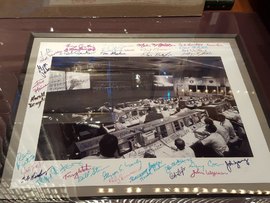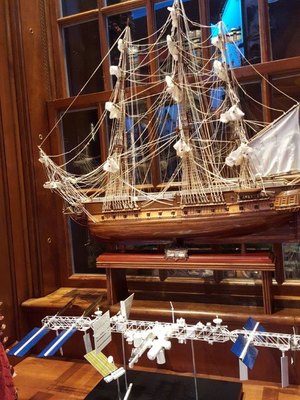 1st Moon Landing Control Room – signed by all
A 1400s ship next to a Space Station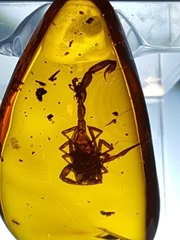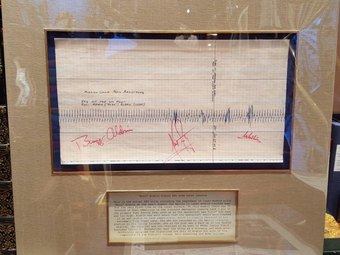 A 90-million-year-old piece of amber encasing the only full-body organism known in the world (scorpion). Jay Walker says the reality of Jurassic Park is not so far into the future…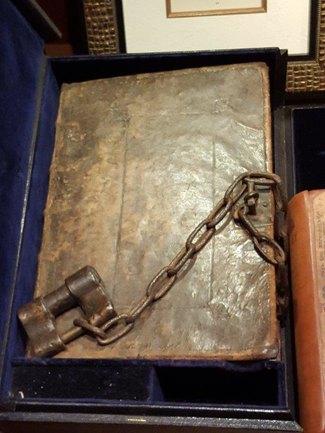 Buzz Aldrin's actual EKG results the exact moment the Apollo 11 lunar module touched the lunar surface for the very 1st time.
1539AD     King Henry VIII's new law of printing the New Testament from Greek into English & then chaining them to every church in the country.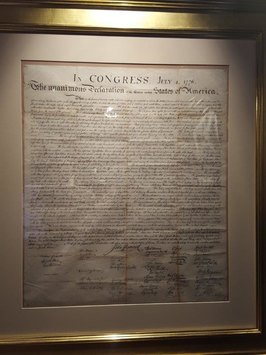 The Declaration of Independence – 1 of only 2 copies & actual signatures.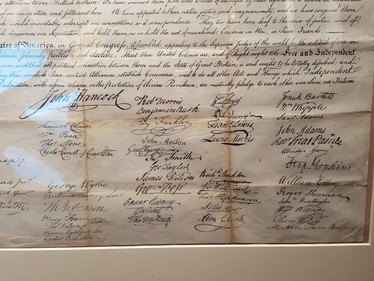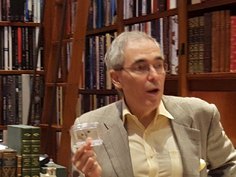 Mr. Walker holding meteorites from Mars.

The Bright Spot – Phillip truly had an experience out of this world! Thank you to Mr. Walker for offering his time and passion for an evening well spent amongst these amazing world treasures of more than 50,000 precious volumes & a myriad of artworks and artifacts.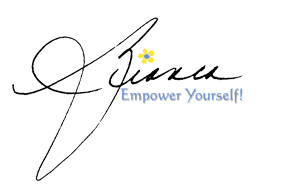 Monday, March 17, 2014 by
Bianca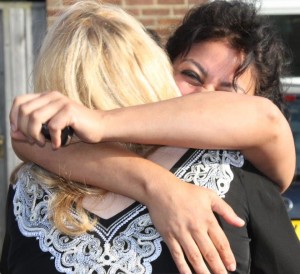 Long before Facebook, Twitter, email, Smartphones & Androids, there was the regular land line.
I made a phone call to my Uncle in London that I was in Lancashire for the summer. "You must come and visit, we'll pick you up." He and my Auntie drove 4 hours north to get me. They had 5 girls and the summer was one I'll never forget!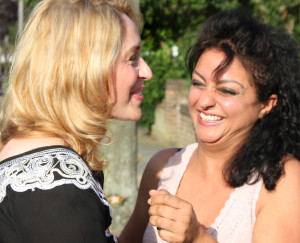 But, eventually, Autumn came and I headed back to the States and into my routine. Days turned into months and months into years.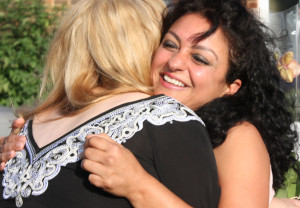 Before I knew it, 23 years had flown by.
In that time, my 5 cousins had married and everyone had moved, even their parents; some to other parts of London, others to California & Florida.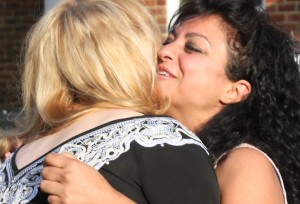 I was reminiscing one evening about that summer and my son asked why I didn't get in touch with them.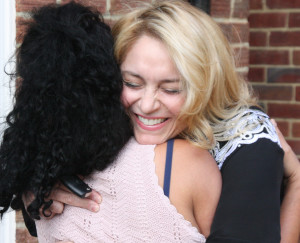 "How? We lost touch more than 20 years ago." He asked me their names and worked his Facebook magic. I didn't use Facebook at the time and was skeptical.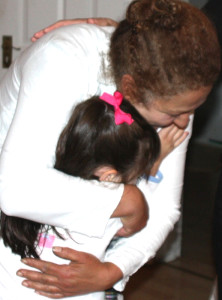 Within 24 hours, one of my cousins who had moved out West responded and we were on the phone for ages!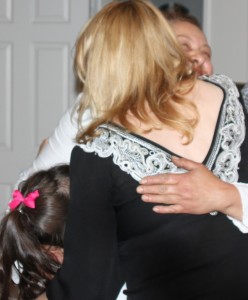 A short while later, our family was reunited in London with 2 of the sisters who had stayed in England. I was just bursting with joy! An event to remember forever!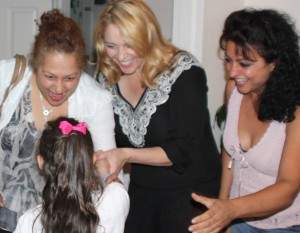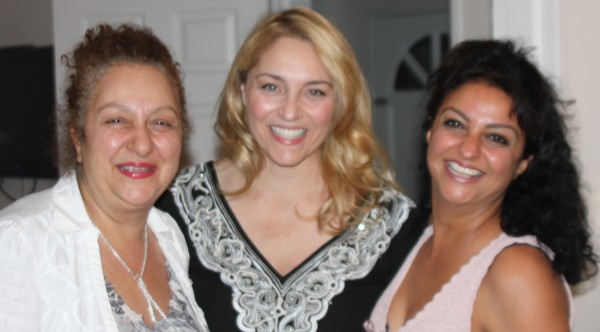 The Bright SpotTM

  –   I am so thankful to my Uncle & Auntie for making that visit one of the most treasured summers of my life. Interestingly, that summer would cause a chain of events that would lead me to my husband more than a decade later. Amazing how our lives are so intertwined then, now and always.
The girls now with their parents & one of my favorites of them when they were little. I love you all, my dear family!! xoxo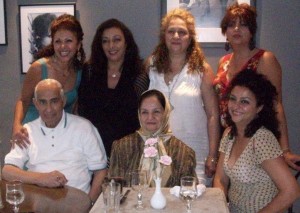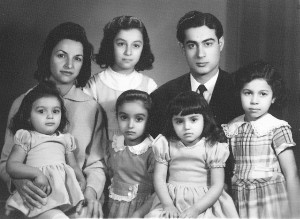 (Below) With my Uncle 23 years ago and Uncle's portrait over my Cousin's & my shoulder