Tuesday, May 16, 2017 by
Bianca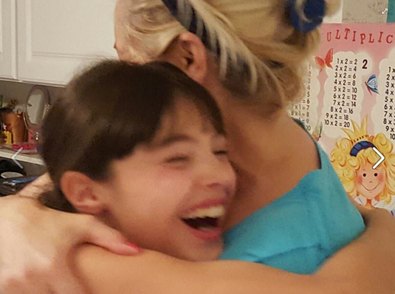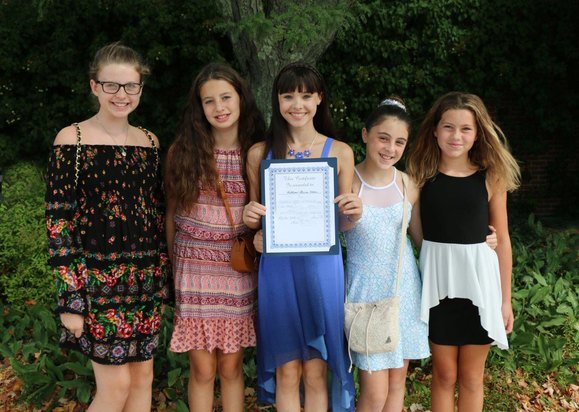 Our 11-year-old earned her 1st Literary Award in a competition she entered months ago. She submitted a mini version of her 1st novella. It's the 38th year of this competition & is open worldwide.
When Phillip read us the letter aloud, she jumped with pure delight feeling the fruits of her accomplishment after having spent months writing. We are so happy for her and very proud of her!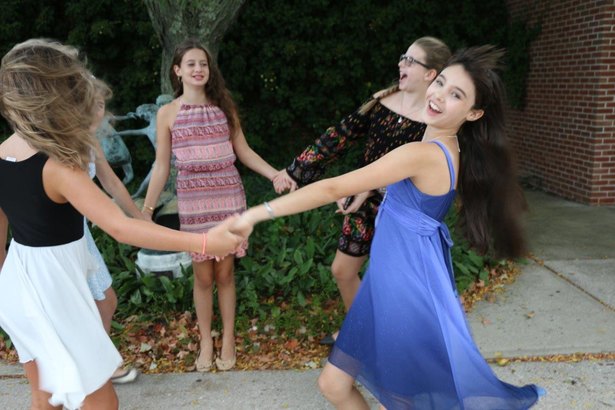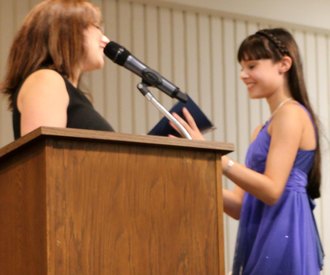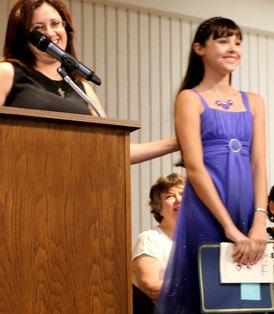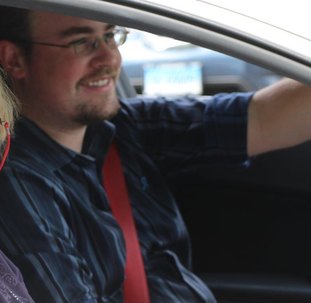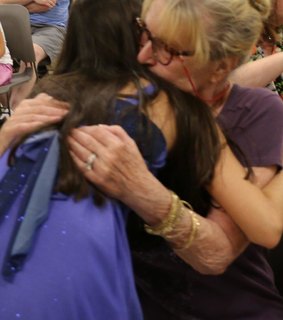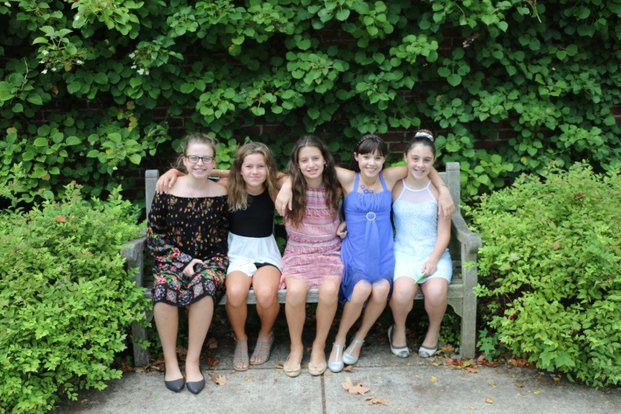 Reading & writing are so important to Darling, a passion we saw at a very young age and have continued to fuel. While in England this May, we visited Oxford as C.S. Lewis & Philip Pullman are two of our daughter's favorite authors,
click
:
Oxford
.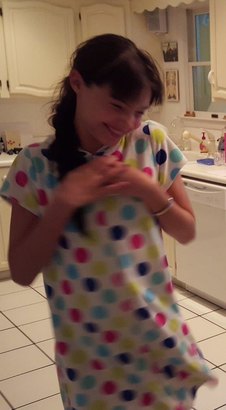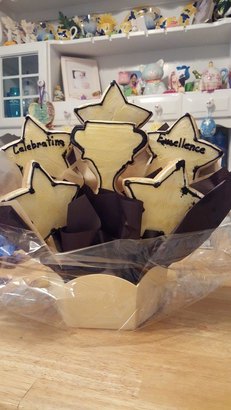 Three teachers, Mrs. DZ, Mrs. SZ & Mrs. C have had such a significant impact on furthering her creative juices and honing her technical skills. Marvelous, nurturing, kind teachers ~ we are so grateful to have had this
Dynamic Trio
educate our daughter! Thank you, Mrs. DZ, for the amazing surprise cookie bouquet!!! Loved it!!!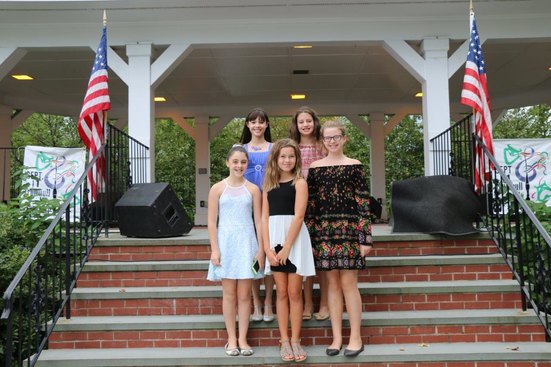 In her congratulatory card was a letter trimmed in gold with a very special message: Pack your bags & your wand, Hogwarts Castle awaits!!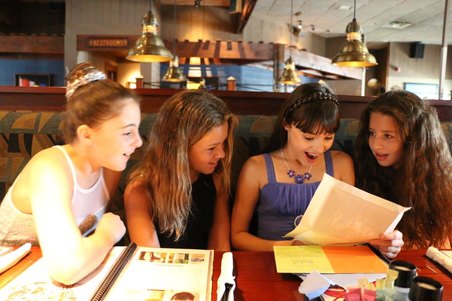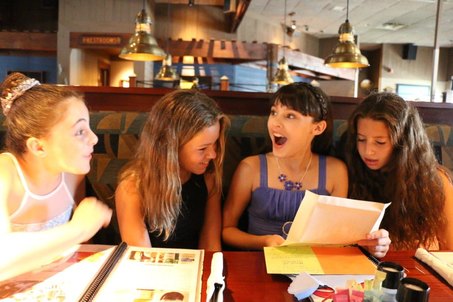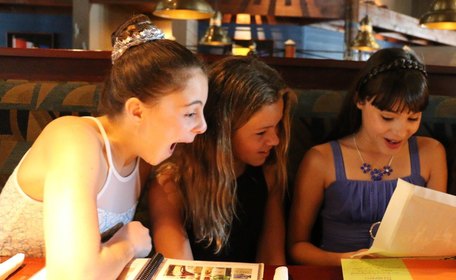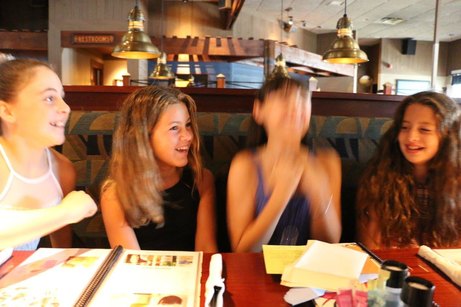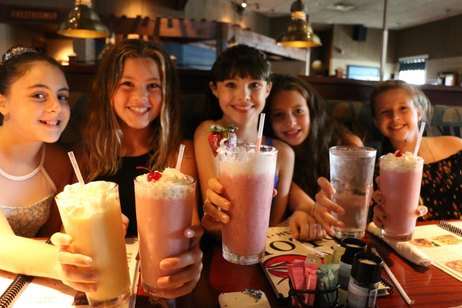 Cheers with smoothies & an afternoon of play, the day could not have ended any better!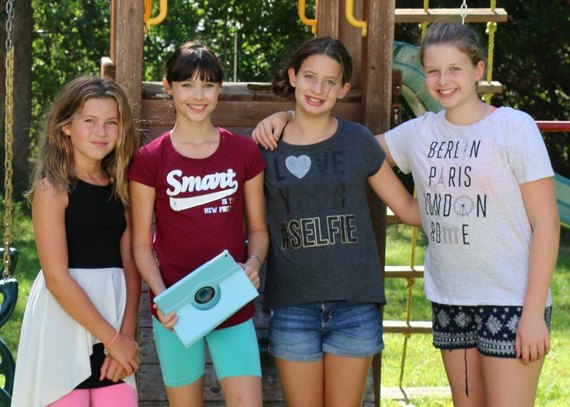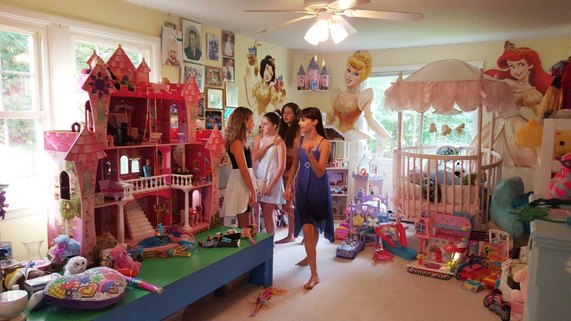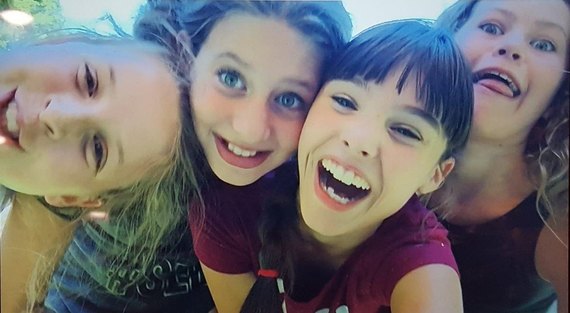 The Bright Spot
– Her award! Her friends! Her magical destination created by her favorite female author, J.K. Rowling,
click
:
Wizarding World
to see one of the most fun stories I've had the pleasure to write!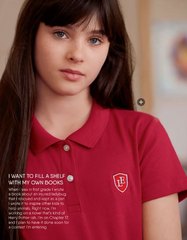 She was photographed for this Land's End ad in Spring for the Autumn 2016 polo collection. They interviewed her and used this quote on the ad: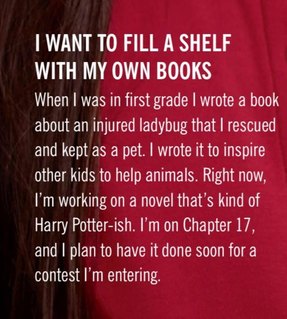 Darling, you are well on your way!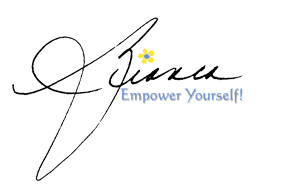 Wednesday, June 8, 2016 by
Bianca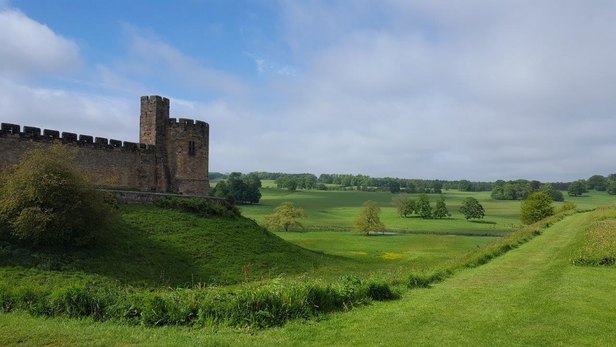 This gorgeous English countryside was captured on my cell phone! Breathtaking. Lush. So British.
During our 2-week trip to Europe to visit family, we went with some good friends to Northumberland.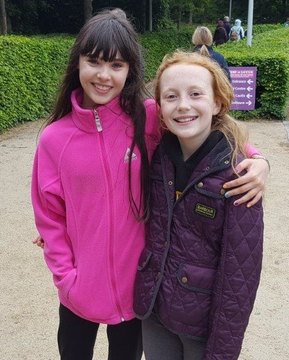 The girls loved that parts of Downton Abbey and Harry Potter were filmed here at Alnwick Castle.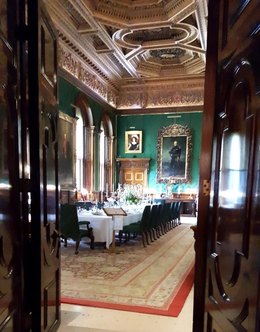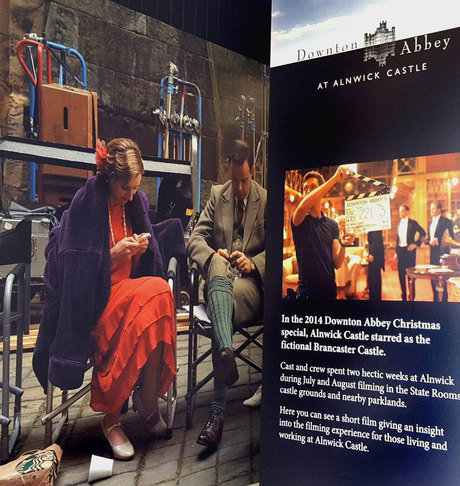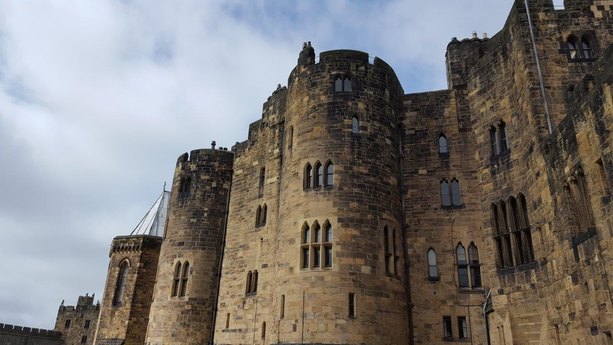 Lots to do here including bamboo mazes, ventures through the magic fairy gardens, the famous Poison Garden and, of course, flying broomstick classes!!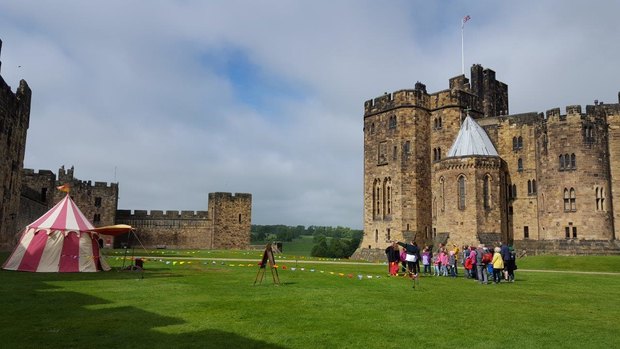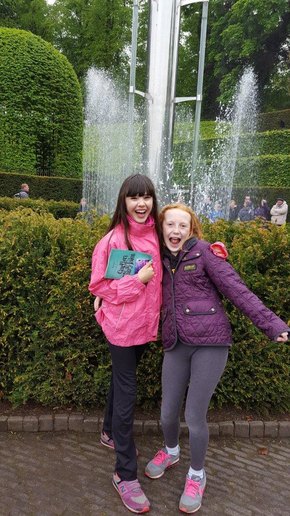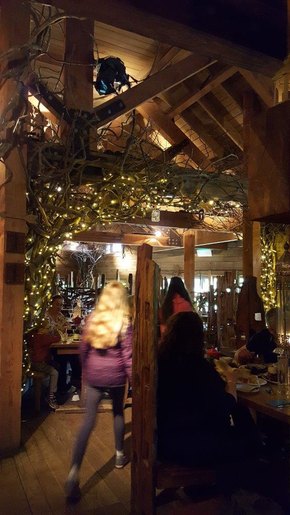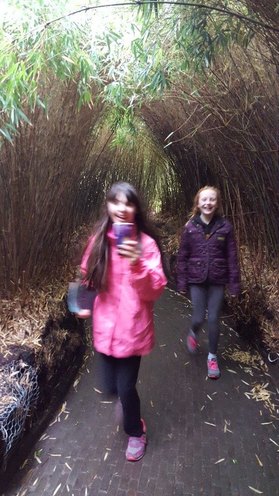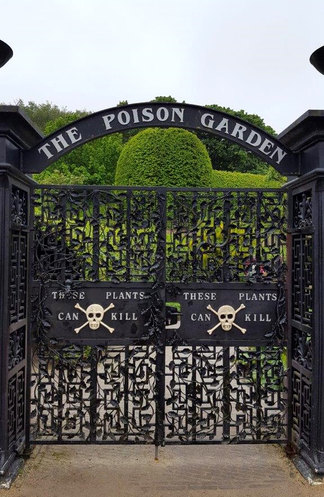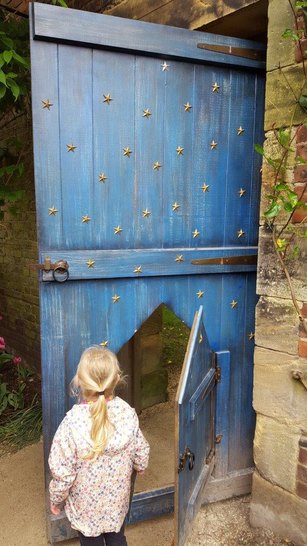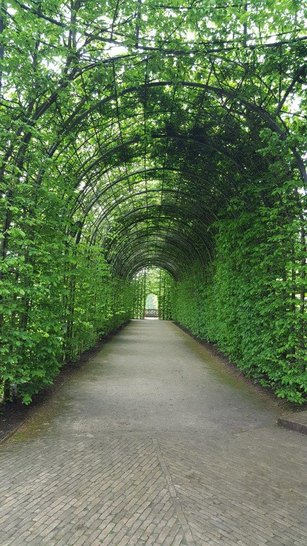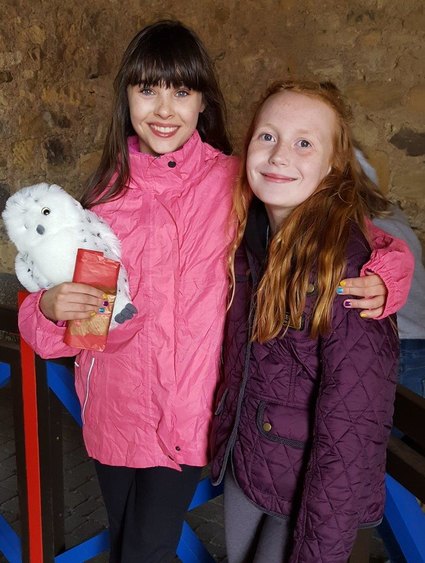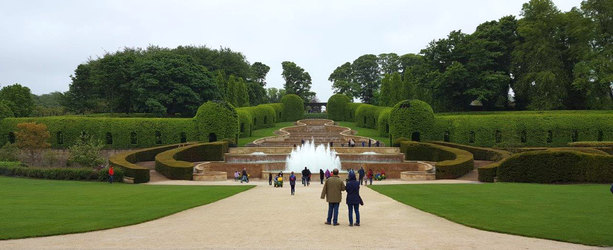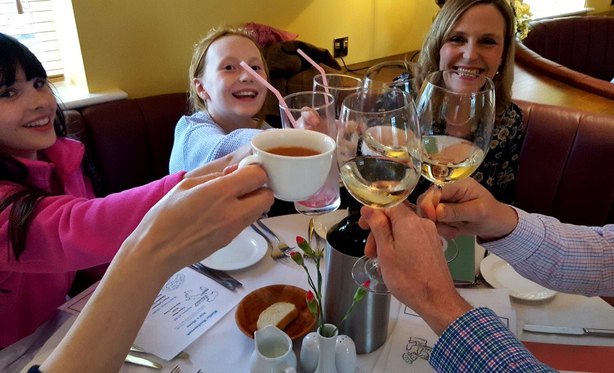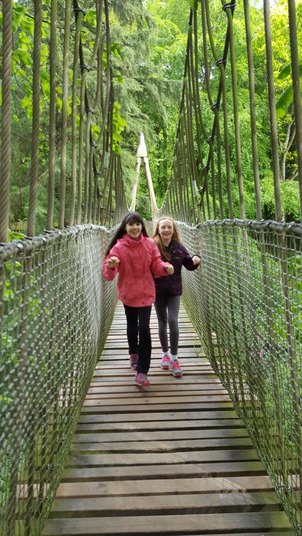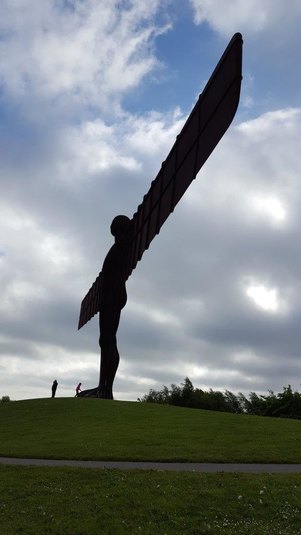 On our way back to Grandma's, we pulled off the highway to see the Angel of the North, a massive copper & steel statue in Newcastle Gateshead, believed to be the largest angel sculpture on the planet. The wingspan reaches wider than a jumbo jet and the angel stands 65 feet high, more than 4 double-decker buses! We've seen her on the hillside from the highway for over 15 years. This ride home, we actually pulled off the exit and made time to visit. Those are the life-changing things we have found we do facing this awful journey of cancer, click: Kicking Cancer!
Yes, actually seizing the day and doing what we wish at a moment's notice because no one knows how many moments we all have.  More than 150,000 people visit each year. This year, we're one of those people.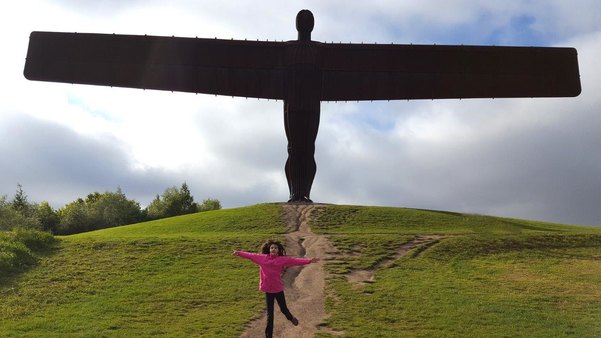 The Bright Spot – Visiting family & friends…and pulling off the highway to really seize the day!!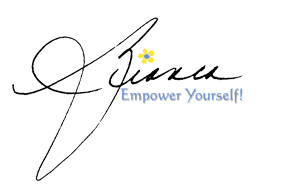 Saturday, April 18, 2015 by
Bianca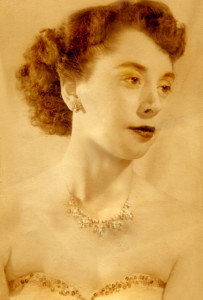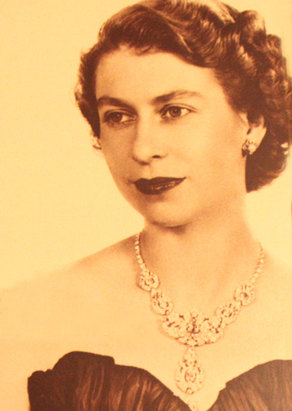 Blessed with lovely skin & timeless English beauty, my mother-in-law, Grace, and the Queen have always borne a striking resemblance. A woman ahead of her time, Grace, always gave new things a shot.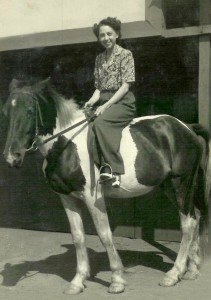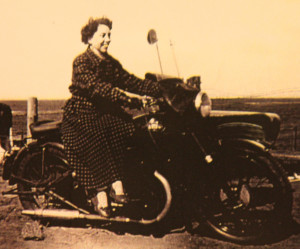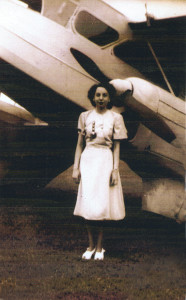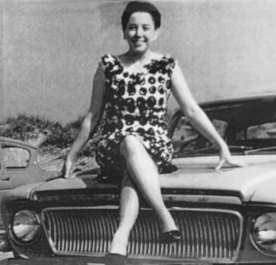 And nothing slows her down! Approaching 90, she has a personal trainer at the gym, Skypes us every Saturday without fail, uploads her digital images to her hard drive and e-mails family nearly every day.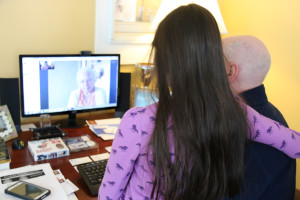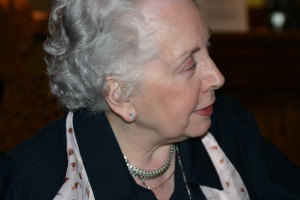 The epitome of Englishness, she is gracious, discreet and always polite. During tough or sad times, Grace keeps a stiff upper lip and her chin up.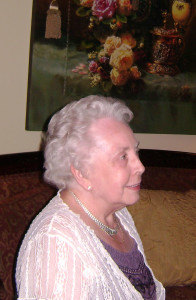 Her mainstay, of course, is proper English tea. It must steep in a         silver pot and the teacup must have a white interior.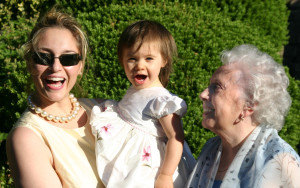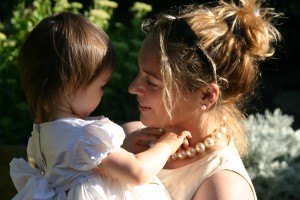 She keeps her gardener busy and has redecorated parts of her home four times in the past 10 years.
In Grandma's Gardens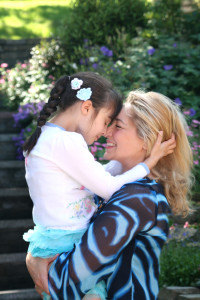 :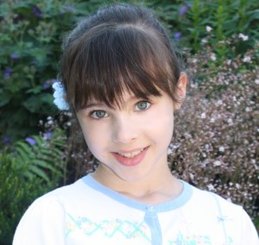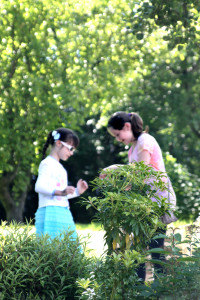 Young Grace: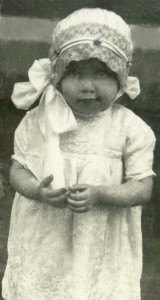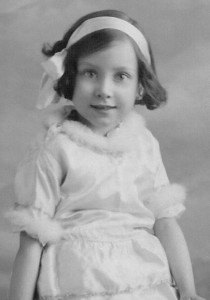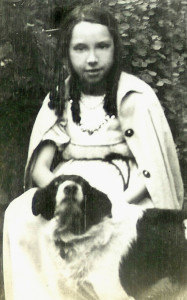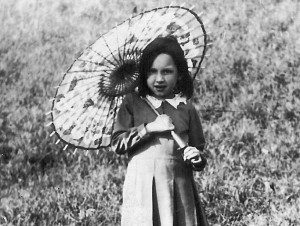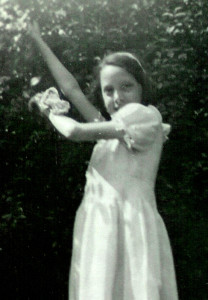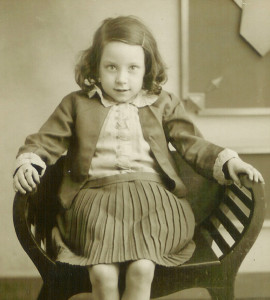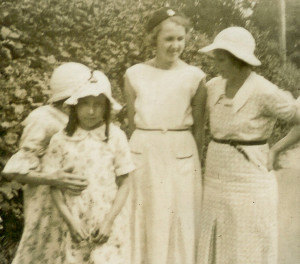 Grace is an avid reader & animal lover. She enjoyed many years dancing with her dashing husband, Geoff, whom she misses very much.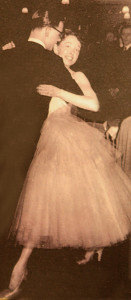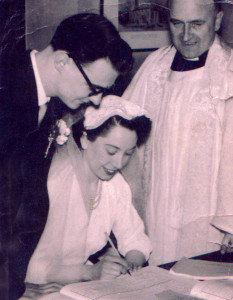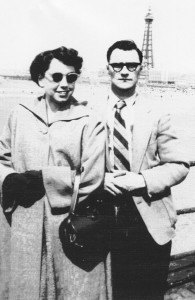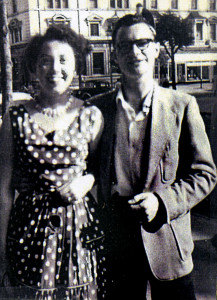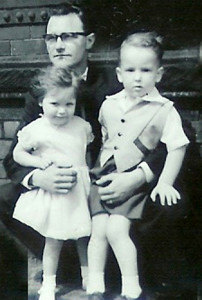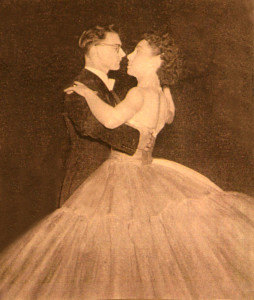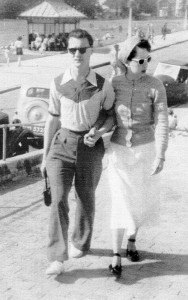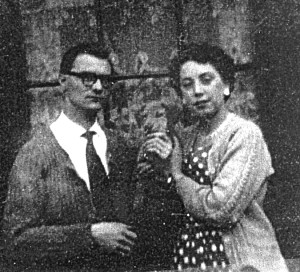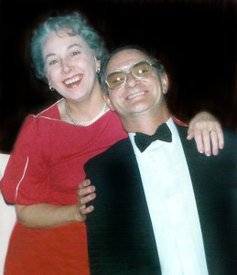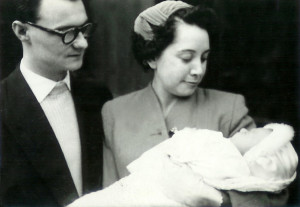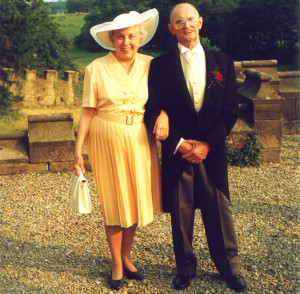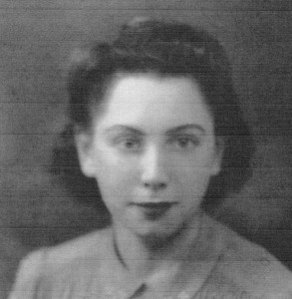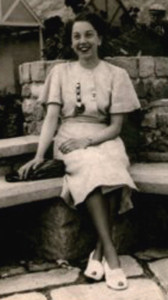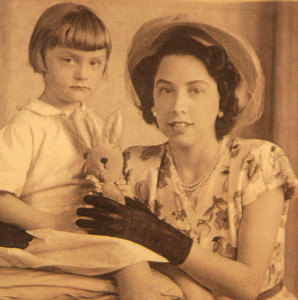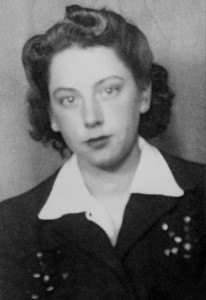 I've learned lots of things from my mother-in-law over the years, from baby tips and awesome authors to food advice, fabric care and beauty tips.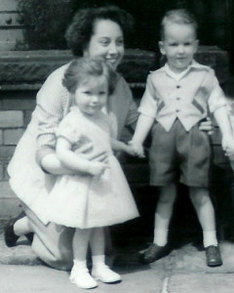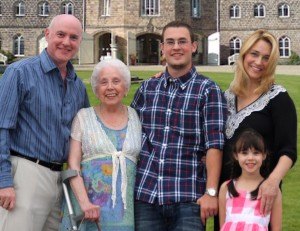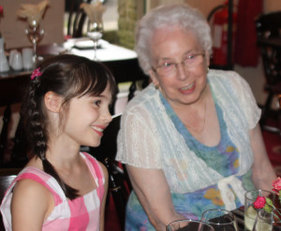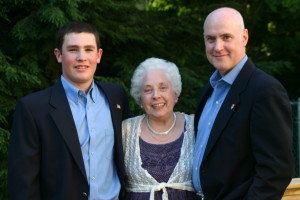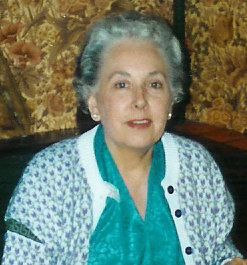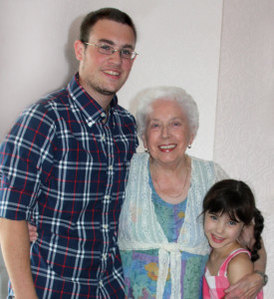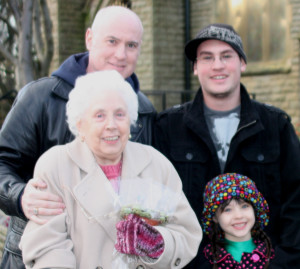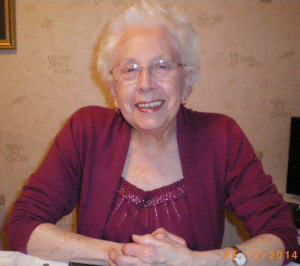 One of my favorite gifts from my mother-in-law was this beautiful statue sent from England shortly before I gave birth to our daughter.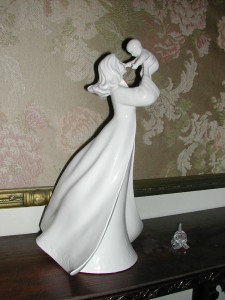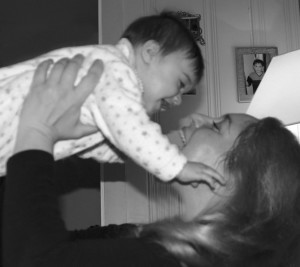 A few months old (above)            4 years old (below)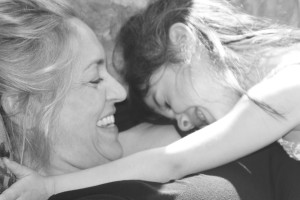 To avoid arthritis in her hands, Grace knits and knits and knits. Beautiful sweaters and hats and any request our little one desires.
I mean any! Like the day our 7-year-old said, "Grandma, can you please knit me a cuttlefish & grimpoteuthis?" And in short order, the beautiful cuddly sea creatures arrived in the gift package made with grandmother's loving hands. A whole array of knitted marine life: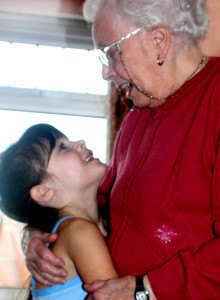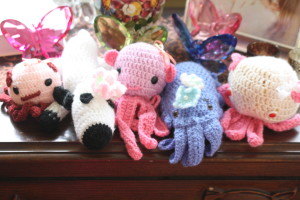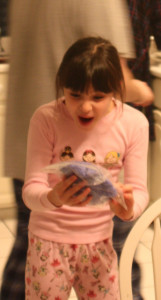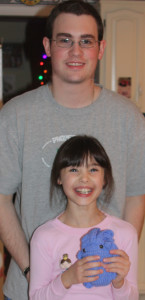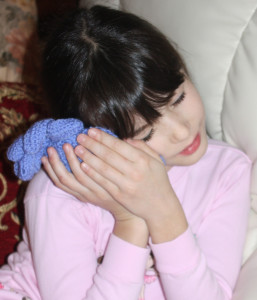 Knitted headbands & sweaters, ballerina shrugs and ponytail hats!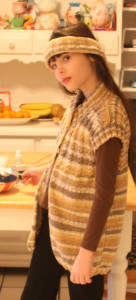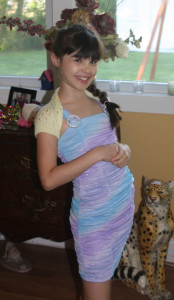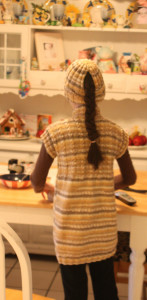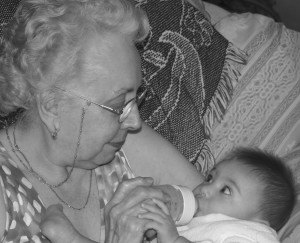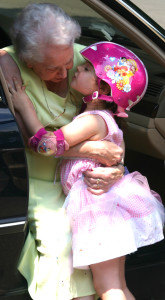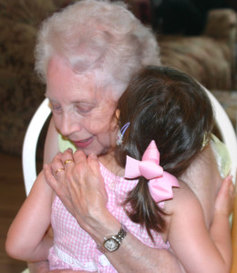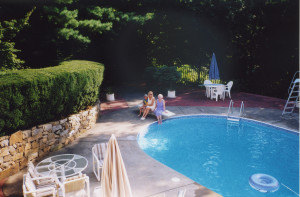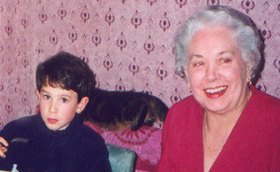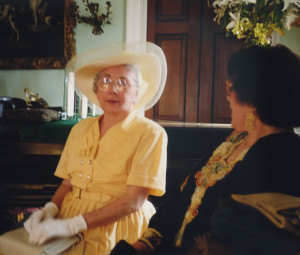 The loss of her beloved husband took a toll on her but did not stop Grace from living life. She hopped on a plane to surprise my husband for his birthday and stayed for Christmas that year.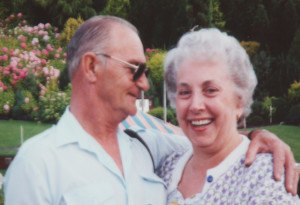 Grace flew over every summer to stay with us. In 2001, my Mom took Grace and me to Mohegan Sun, the big casino upstate for a grand shebang before my mother-in-law headed back to England. It was the 1st time she visited a casino. My husband warned, "My mother may weary, don't stay out late."
Honestly, nothing wearied her the past 8 decades… so when I arrived home at 4 AM with two happy grandmas, my husband was speechless. Not only did his mother have a marvelous time, she even won!
A few hours later, the towers came down and the world changed forever. Flights were canceled that week and Grace stayed with us longer that year. Phillip worked by the towers and felt the 2nd building crash to the ground. It took hours and hours and hours for him to get out of the City and back home. It was a mother's nightmare and
a wife's torment. Late that night, he finally made it home. We were grateful to be together as a family again, safe and sound.

The Bright SpotTM – A Grandma's love. Every visit with Grace has been memorable. The stories she tells, reminiscing the history of the family and her great love of Britain; she is a treasure in our lives and all who know her.
My mother-in-law and the Queen were born the same year…Grace is our very own queen xoxo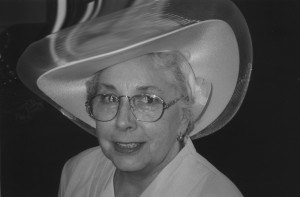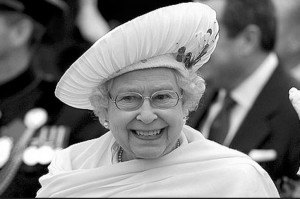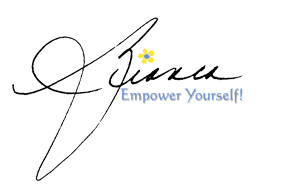 Sunday, February 1, 2015 by
Bianca
Everyone kept asking me what Phillip was planning for my 50th. He's arranged some pretty spectacular things for me over the years so I knew whatever it was I'd be thrilled. Our son captured the moment: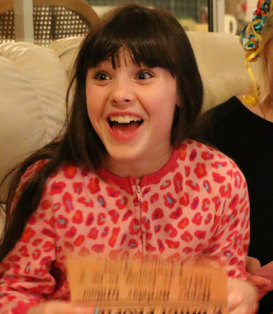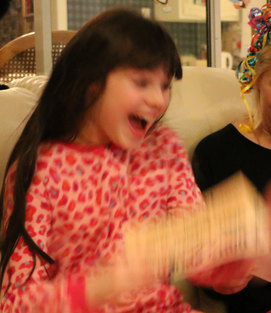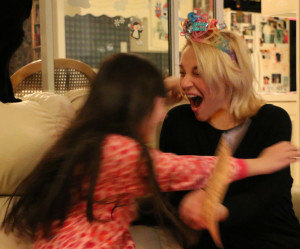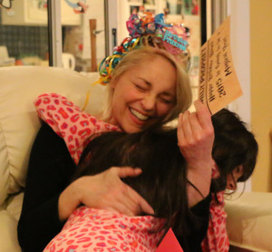 Good Lord! What could it be? Well, prior to opening this envelope, Phillip planned a weekend of delights including dinner at La Panetiere.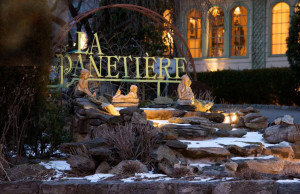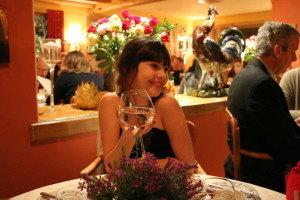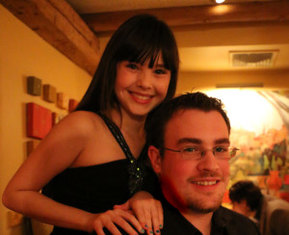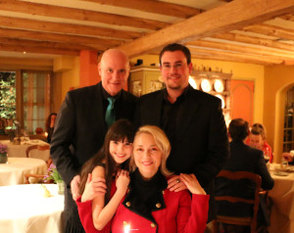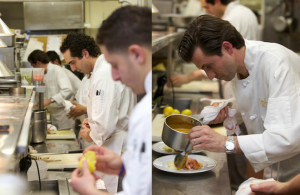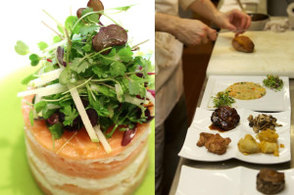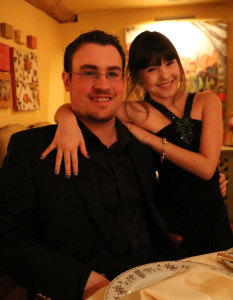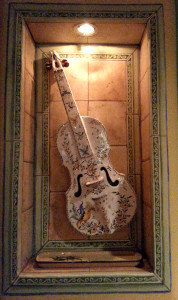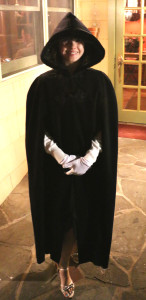 We visited the Cloisters on the northern tip of Manhattan overlooking the Hudson to enjoy the stunning array of more than 5,000 pieces of European Medieval works of art from the 12th – 15th centuries including the famous Unicorn Tapestries. The Cloister's Library contains over 15,000 volumes of books.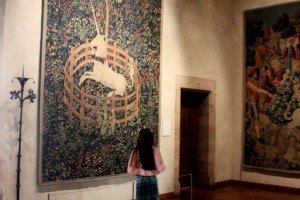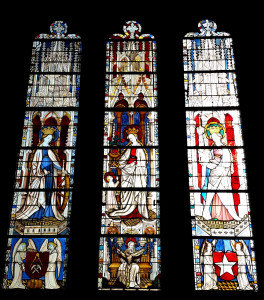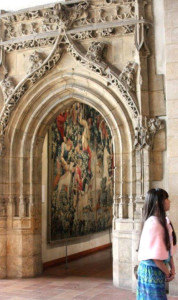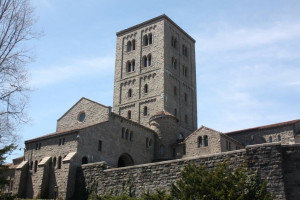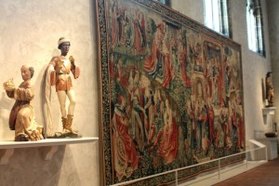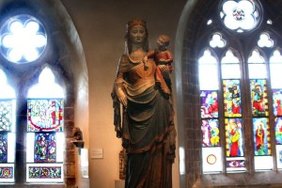 Later, we toured the World of Wings butterfly atrium where I had my 1st opportunity to take photos with my gorgeous new Canon from my son. For the amount of time I invest in my photography, this latest Canon with touchscreen, image sensor & built-in Wi-Fi was the p-e-r-f-e-c-t gift!! Thank you, darling!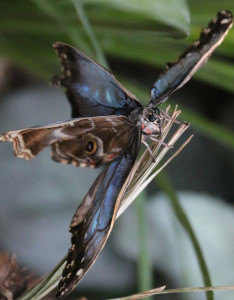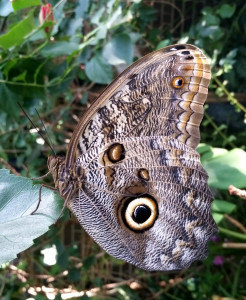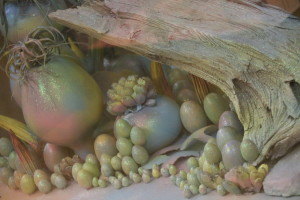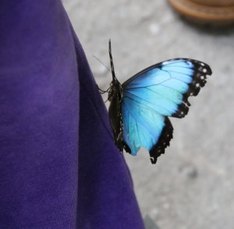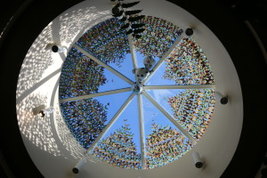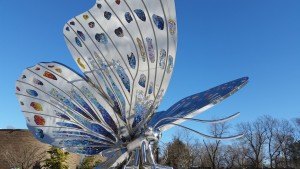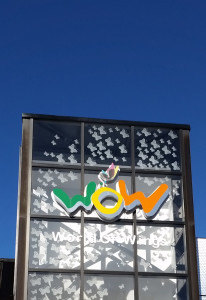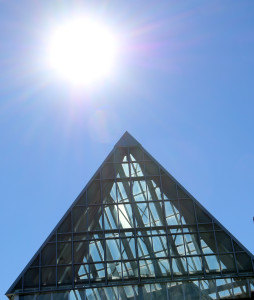 And if anyone knows our family well, you'll know why the logo above is so significant!! 🙂
As you can s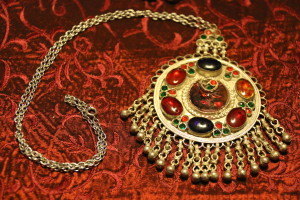 ee, this day was magnificent with brilliant sunshine & deep blue skies. But 50 years ago, there was a blizzard and my mother arrived at the hospital with a police escort. That's one way to make an entrance.
Mom recapped the story over dinner. Then she surprised me with a very special gift…a piece of jewelry I've admired for 45 years. It was given to mother by my father's mother when I was 5.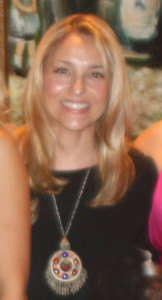 I've worn it in the past with great delight (photo on right), but on this special night, my mother said it was now mine. Overjoyed is an understatement. It means so much to me on many levels.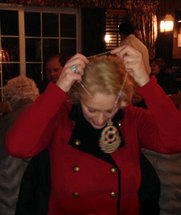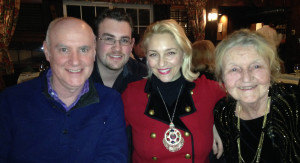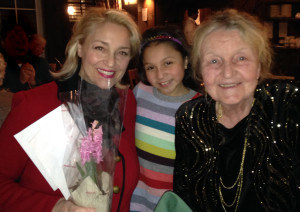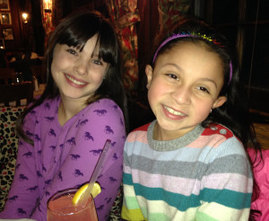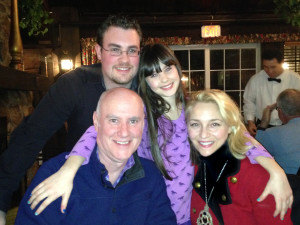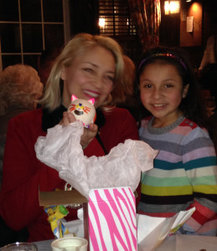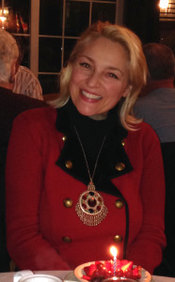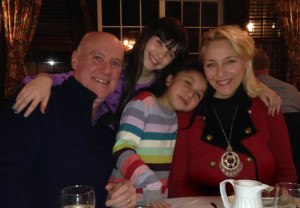 So what was in the envelope in the opening pics? Let me first explain that my greatest gift ~ now & always ~ is being loved by my family & friends. Flowers & cards, emails & posts. All is appreciated. The kindness, the thoughtfulness, the time spent to make my day special. Thank you all!!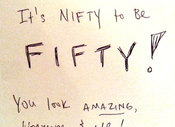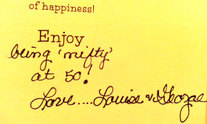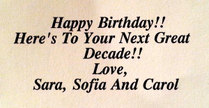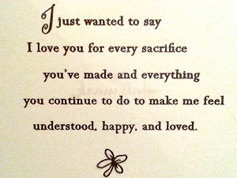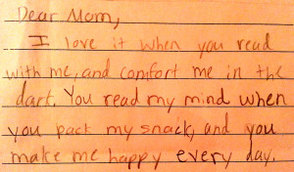 The above cards from my children touched my heart deeply. My son chose a card that says I make him feel understood, happy and loved. Wonderful, wonderful!! And our little one says I make her happy every day…down to even the school snack. What more could any mother want? Happy, thriving kids – this was, by far, the very best gift of all!!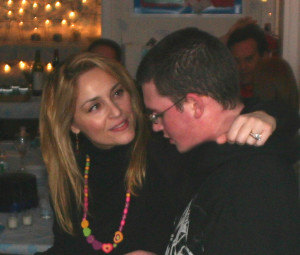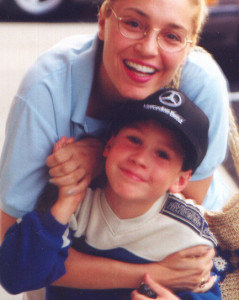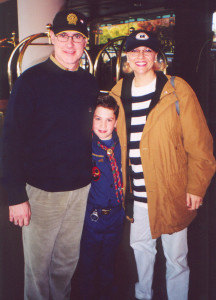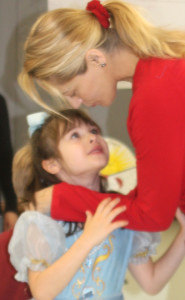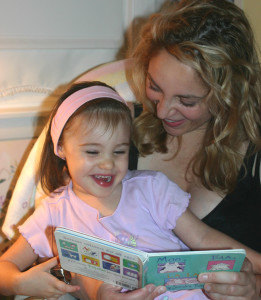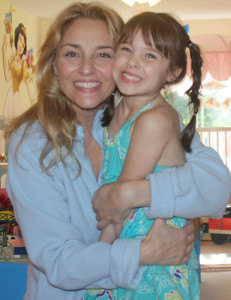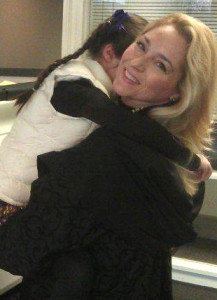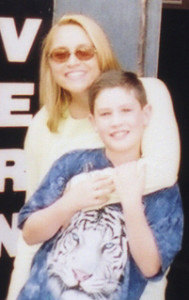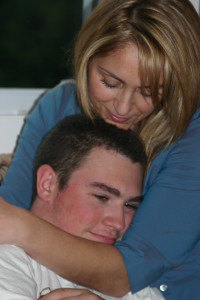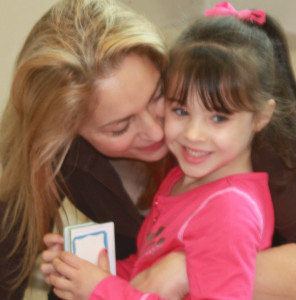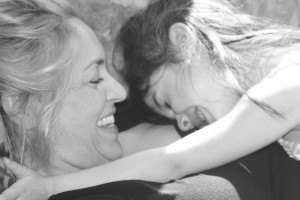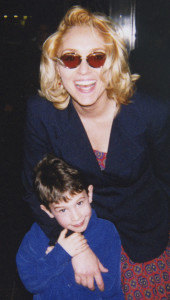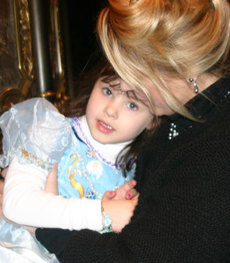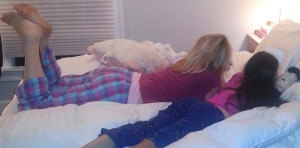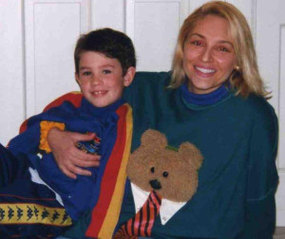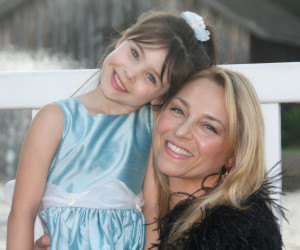 16 years ago, I started the Harry Potter series with our son…reading it in "real time," that is, waiting each year for another book to be published…standing in line at midnight openings with great anticipation for 1st edition hardcovers. We saw the movies, he had the posters, the comforter set, the throw pillows, the robe, Harry's wand, etc. He even had a Harry-esque look to him, especially when he got his glasses.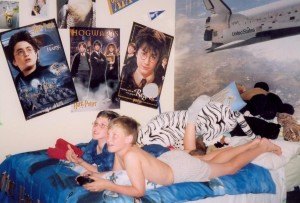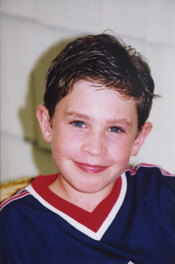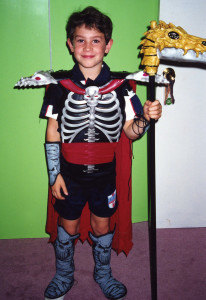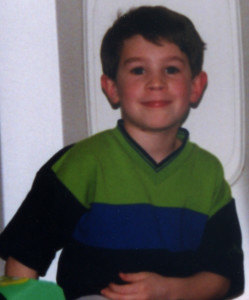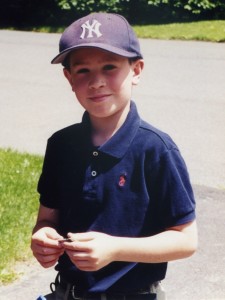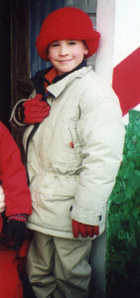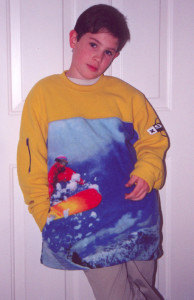 Fast-forward more than a decade and our little daughter & her friends are relishing in the adventures, quoting the spells, whipping up potions and donning the robe. The perfect hardcovers have moved from our son's room to our daughters's bookcase. Over the holiday break, we watched all 8 movies (Yes, 8. The last book was filmed in 2 parts).
My friend, Sara, took one of our daughter's best-est friends (since the girls were infants) to The Wizarding World of Harry Potter last month. The girls are now 9 & 10, the perfect age for the story. Sara posted this video of Platform 9 3/4 on her FB page & that was it!! What more fun could our family have than to venture through the fantastical world of wizards?
Sara said
Universal Studios
did a magnificent re-creation, a trip not to be missed! With the entire storyline under our belts just the previous month, I could not have dreamed of a more fanciful place to go for my birthday present!! In the envelope was a newspaper-like invitation from the
Daily Prophet
along with tickets to the mystical world of Harry Potter and a week's stay at the
CoCo Key
water resort hotel. Simply marvelous, my darling husband, I love love love it!! And so do the kids!! (Well, as you can clearly see from our little one's reaction in the 1st photos above as we opened the envelopes together.)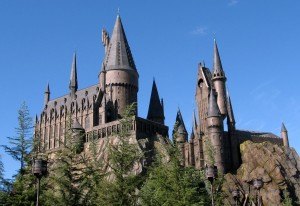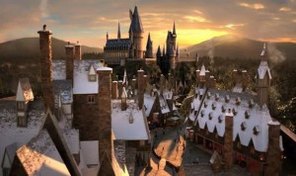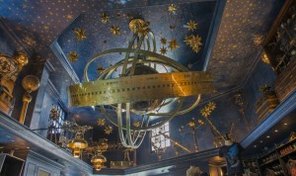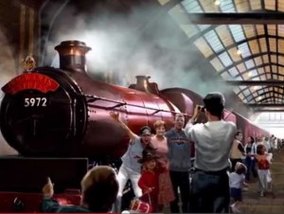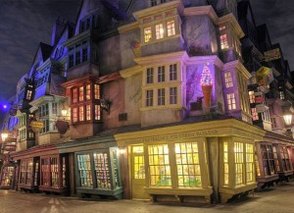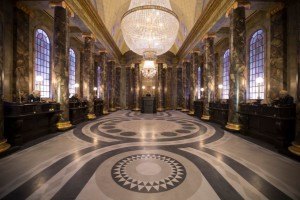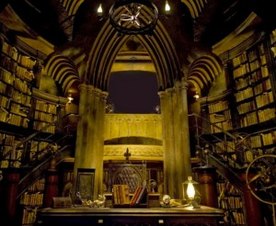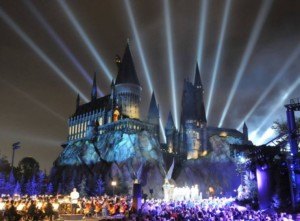 CoCo Key water resort & hotel: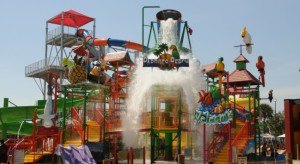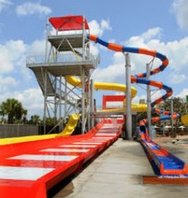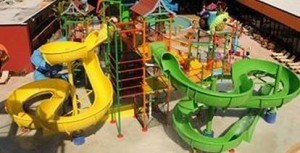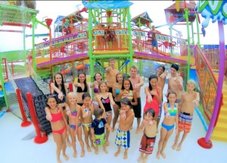 We finished up the weekend celebrations with my favorite movie, The Scarlet Pimpernel, with Jane Seymour & Anthony Andrews. Luscious ~ Dreamy ~ Yum!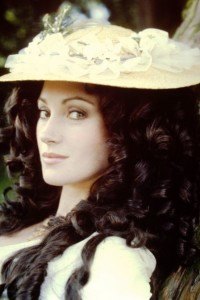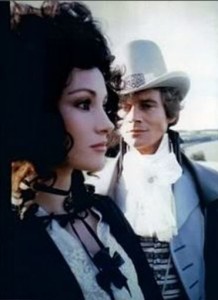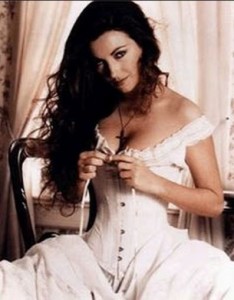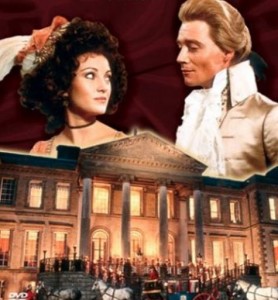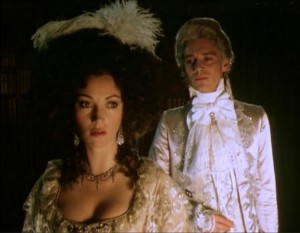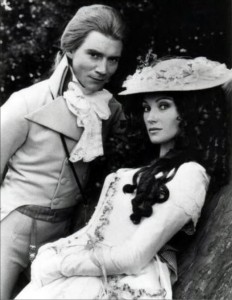 So many other details went into this weekend that I would just like to say thank you to my husband, my whole family and my friends for marking this milestone with great joy.

The Bright SpotTM  – Thankfulness that my mother is feeling better, it's on & off and for my birthday she was really "on!" Even sparkly! And thank you to all who sent wishes for a beautiful birthday weekend. So ready for this next great decade, bring it on!!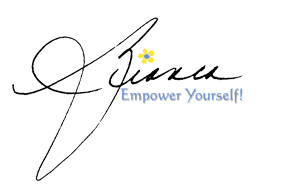 Sunday, December 21, 2014 by
Bianca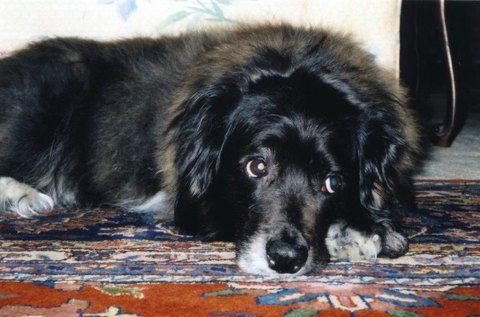 If you knew Moussie, you knew he was one of the most loved dogs in the history of forever.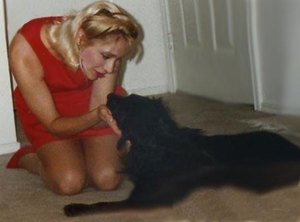 Saved from a brutal past and surviving on 2 1/2 working legs, we cherished every day together from the time I was 29 until 42.
Moussie was on air with me at the television stations,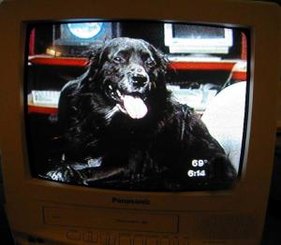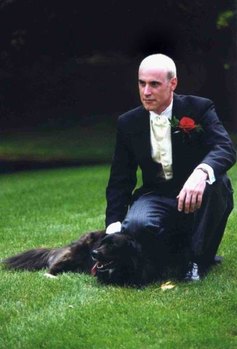 he walked me down the aisle at my wedding,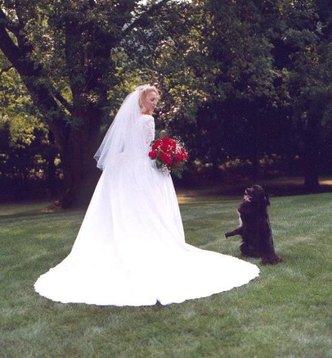 he soothed my aching heart when I lost my beloved father, he and our newborn came to work with me every day when we opened our own company, and Moussie adored our son and protected our daughter every single day.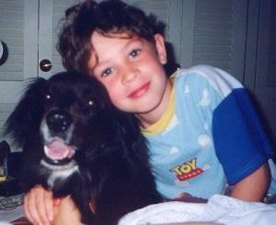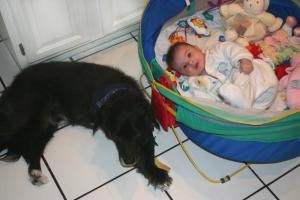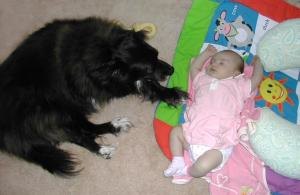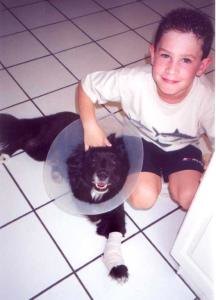 I spent the years ceaselessly protecting & caring for his broken leg & mangled paw, carried him over any asphalt or concrete, lifted him up staircases and into my car…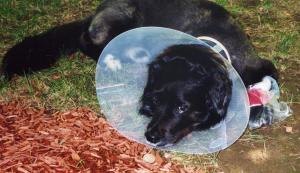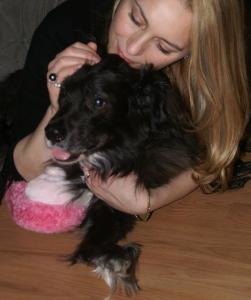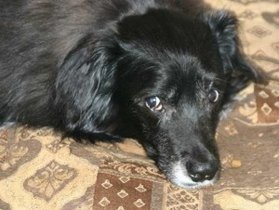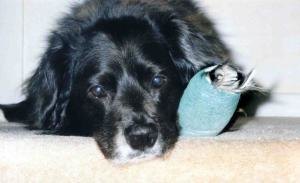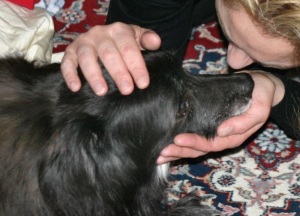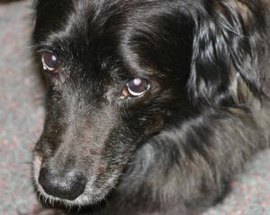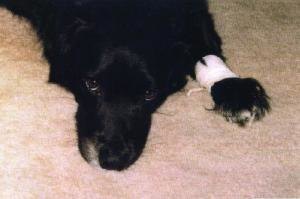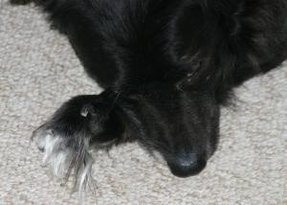 …met with prosthetic doctors in Texas, surgeons in Connecticut, boot fitters in New York, and pet massage specialists in Illinois in any effort to help ease the strain & pain on his permanently broken leg.    (Dr. Randie Shane with Moussie)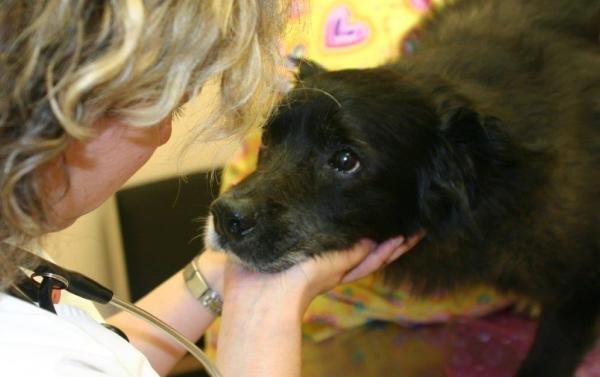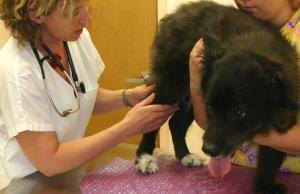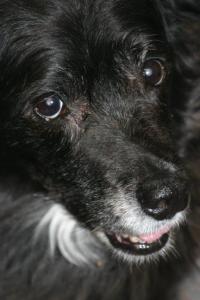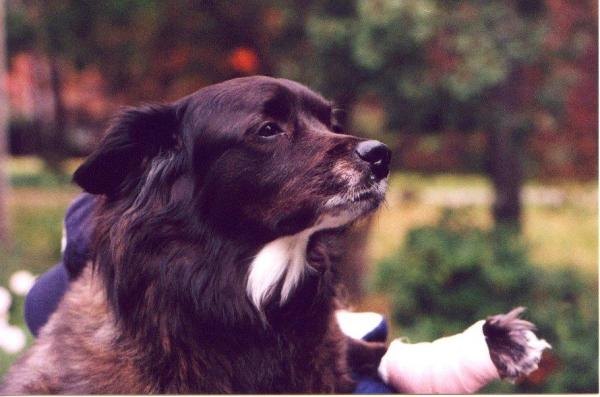 When an emergency procedure led to an overnight stay in the hospital – Moussie's 1st night away from me in an unfamiliar place – I immediately ripped off my shirt in the car and had my husband bring it to the ER vet so Moussie could feel comforted with my scent all night long.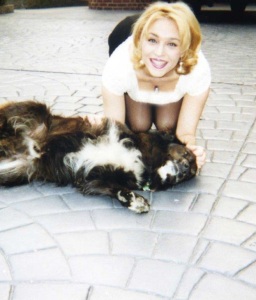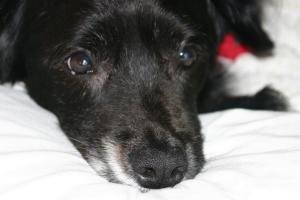 My husband & son administered an IV in his neck for weeks following.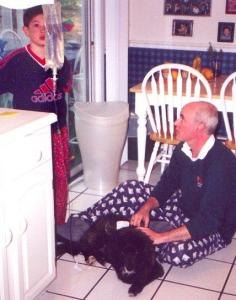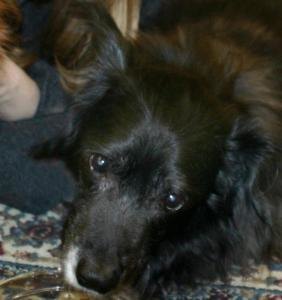 There is nothing we would not do for our animals. They are family. We are a tight family.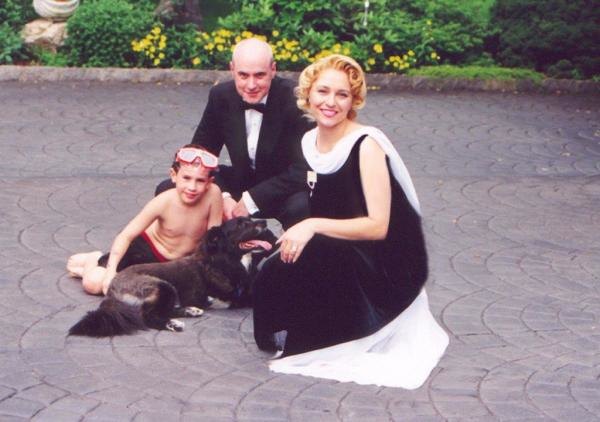 We used to jest with friends that if Moussie, Phillip and I were in a canoe and it was sinking and one of us had to get out, Phillip swims. 🙂 (Unbelievably, one person didn't get it…she said, "Oh, you have a canoe?"  *sigh*)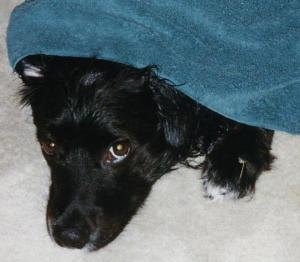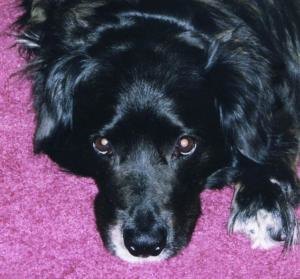 People have often quipped if they return from Heaven, they'd like to come back as one of our pets!           Here's a few reasons why: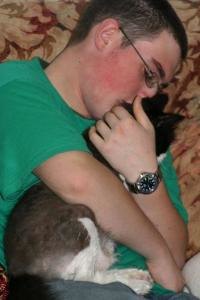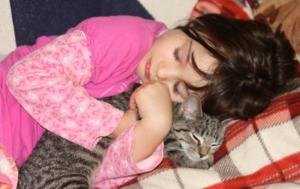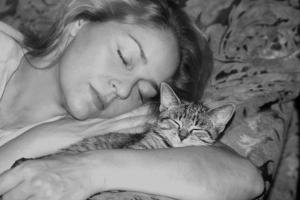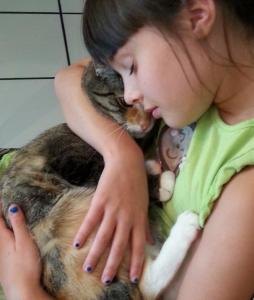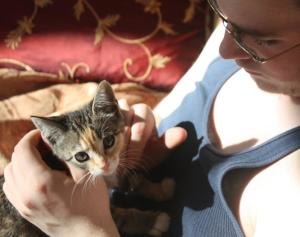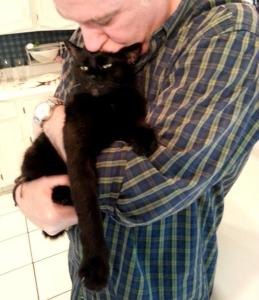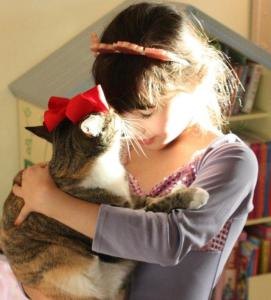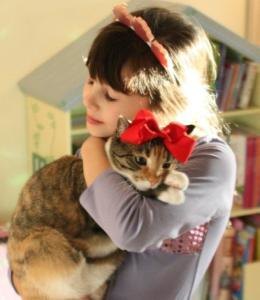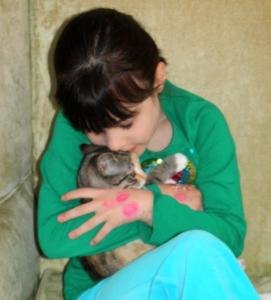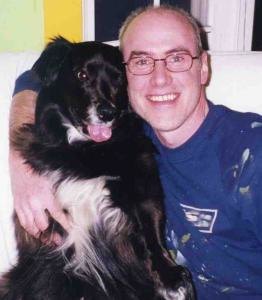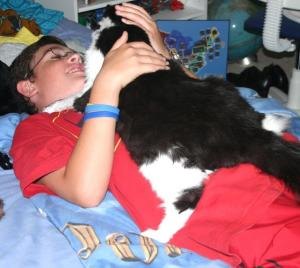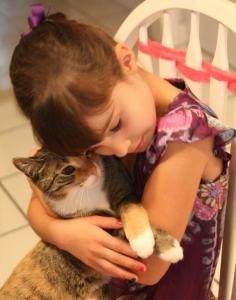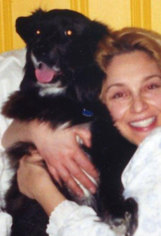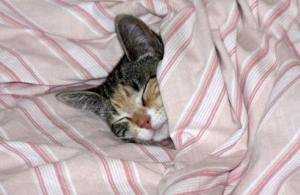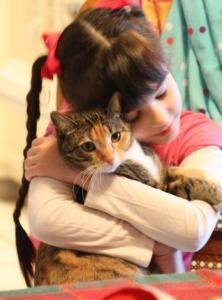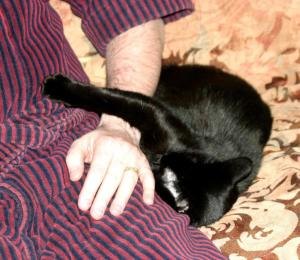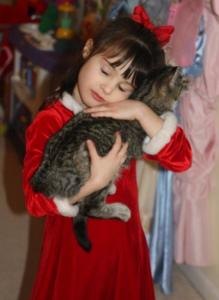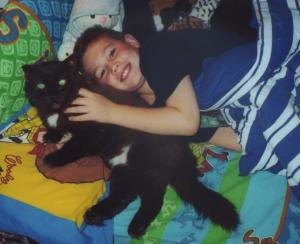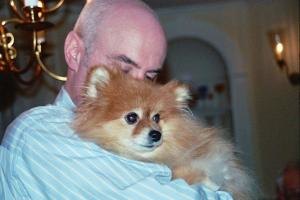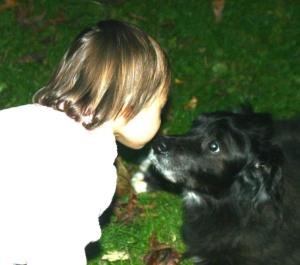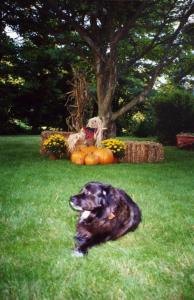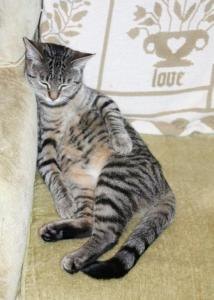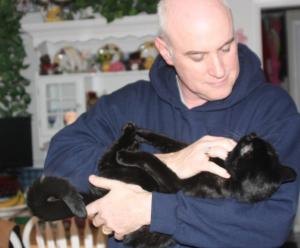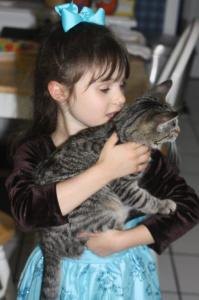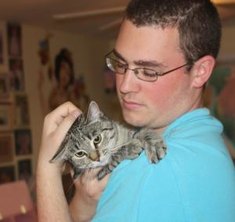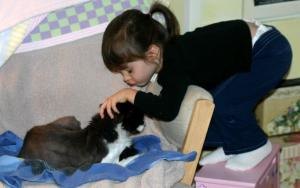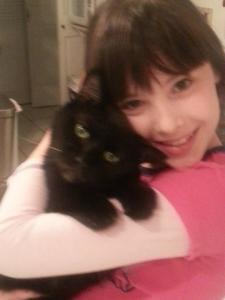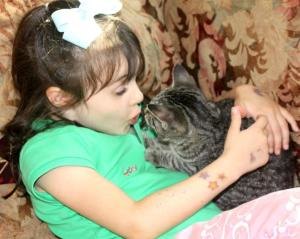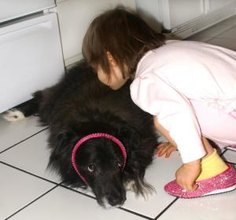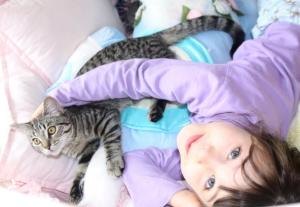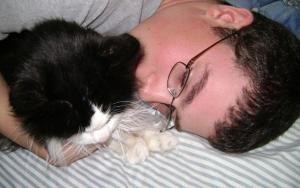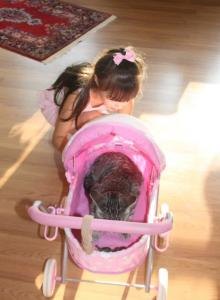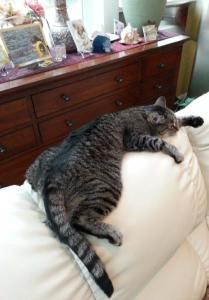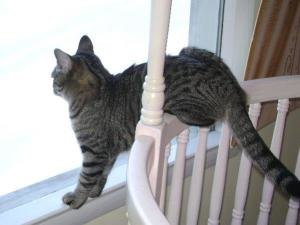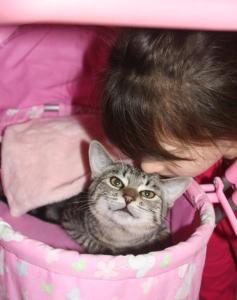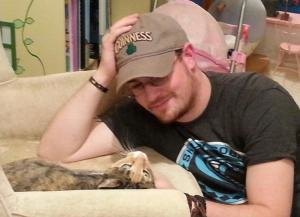 Moussie worked the morning shows with me. My neighbor, Kristi, babysat him till I was done with the noon news. She always had it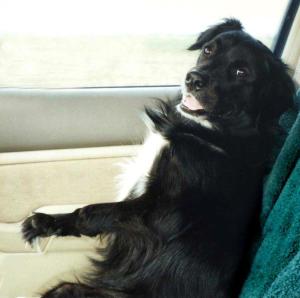 on the TV so he could hear & see me. He had many wonderful sitters: Stephenie, Adrienne, Mark, Dottie, Kep, John and Shanie, just to name a few.
Reminiscent of Steinbeck's Travels with Charley, we, too, crisscrossed the United States, enjoying adventures on the free roads, visiting many states and friends along the way.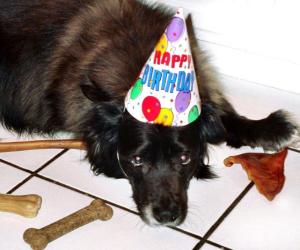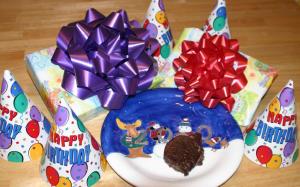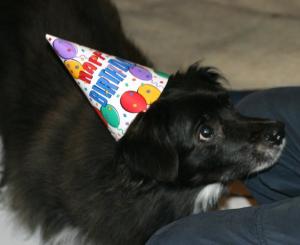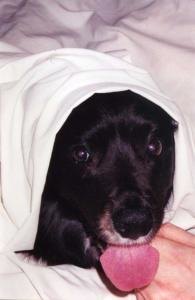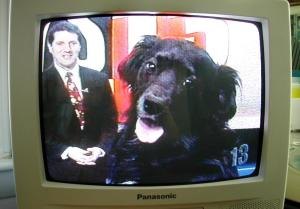 Birthday dinners of filet mignon, cuddles under the covers, drive-in trips to Sonic, and his fun job at the TV stations listing the school lunch menus on the morning show and assisting with the weather, and even the contest "Where's Moussie?" for viewers spotting him around town. Moussie was loved and cherished every minute of his life in our family.
Raised by grandmothers & mothers who were healers and lovers of animals, it was natural for Phillip and I to instill deep compassion, respect and love of all animals. All children should be taught kindness toward every creature, big & small.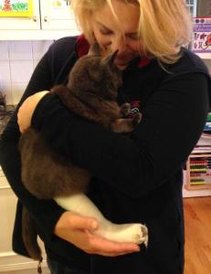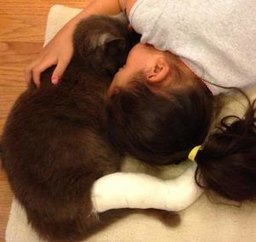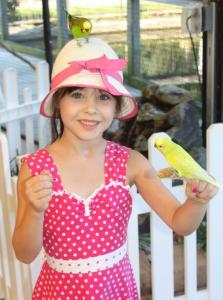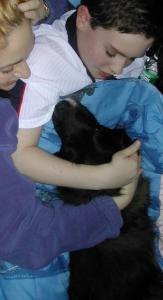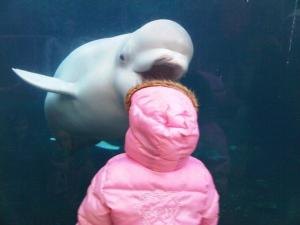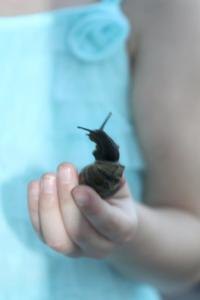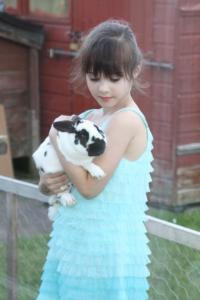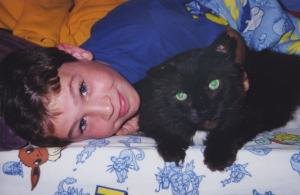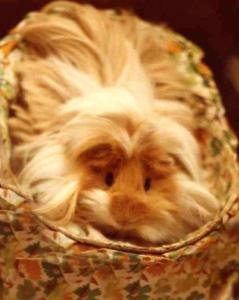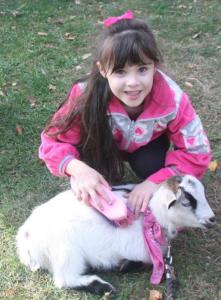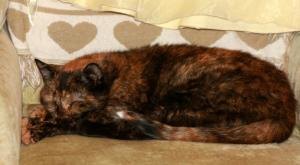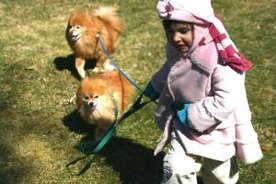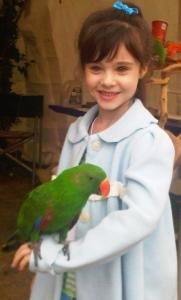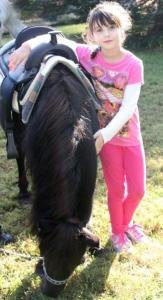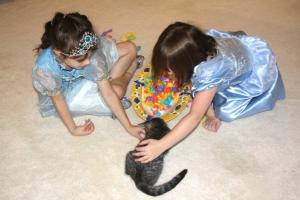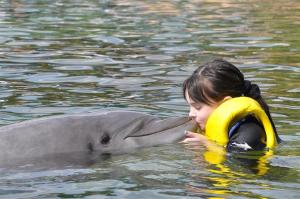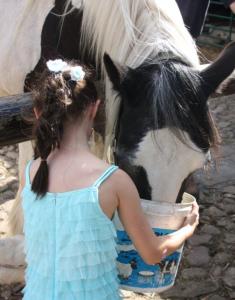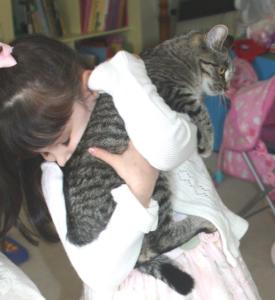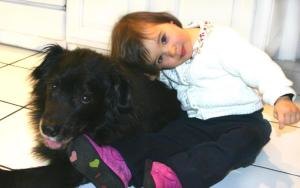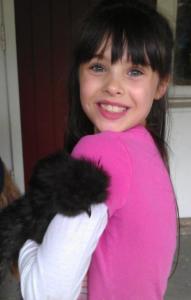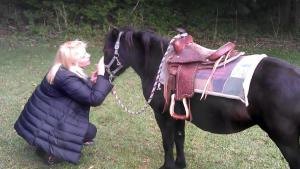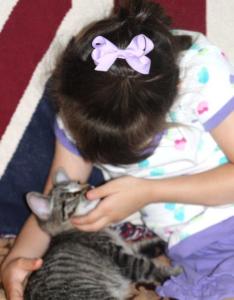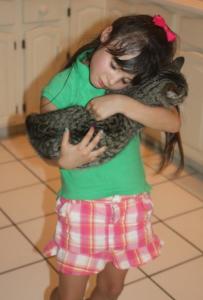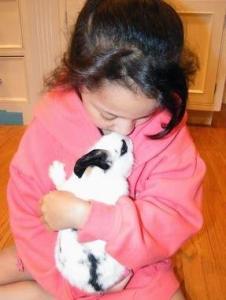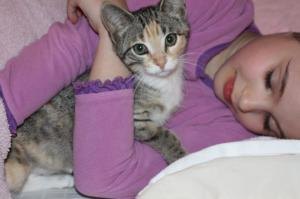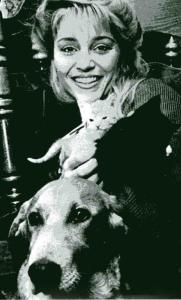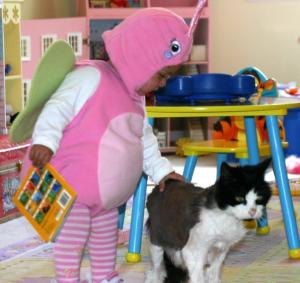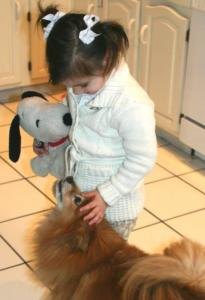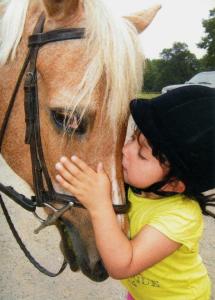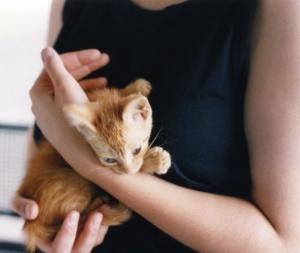 No words were better spoken than those of Don Vincenzo Giobbe, circa 1700: "…and I whispered to the horse: trust no man in whose eye you don't see yourself reflected as an equal."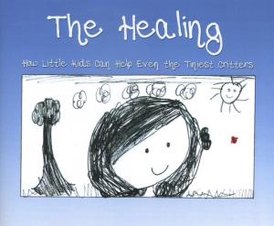 Such is our belief for all animals…so it is no wonder our 8-year-old daughter published her 1st book, The Healing, How Little Kids Can Help Even the Tiniest Critters, and she has been busy with author's visits/book signings and will sit on a panel of doctors & healers in a few weeks to discuss her book from a child's perspective. (Author's Visit with 77 children/10 adults)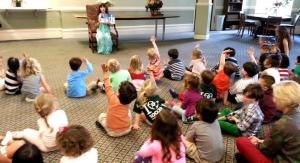 Teaching children to use gentle voices and soft hands is so important.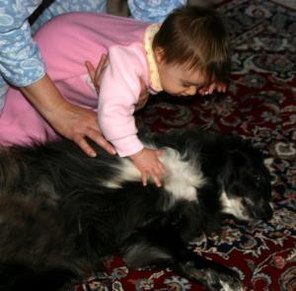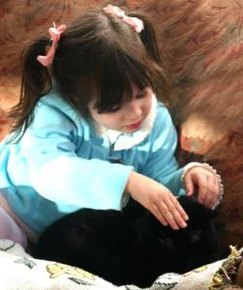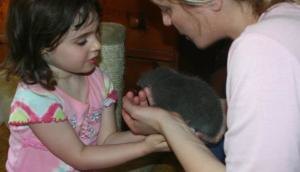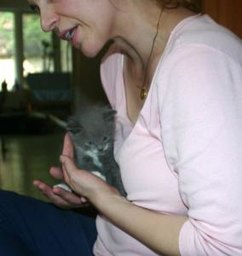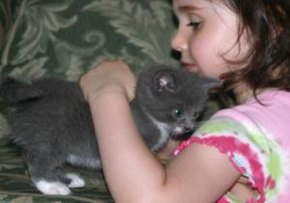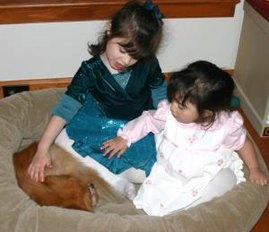 Teaching kindness, compassion, respect and tenderness is the premise for my children's book,        Moussie Tales, due out when I finally find the perfect illustrator who can actually capture Moussie's eyes, an ongoing search, indeed.
The understanding and care you show your children yields understanding and care to those in the world around them.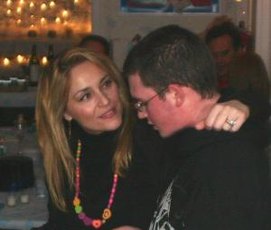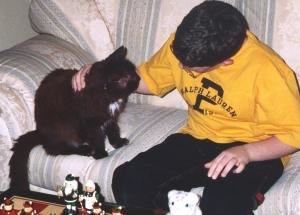 Over the years, Moussie thrived along with all of our family's animals and life was great.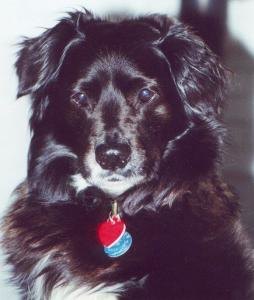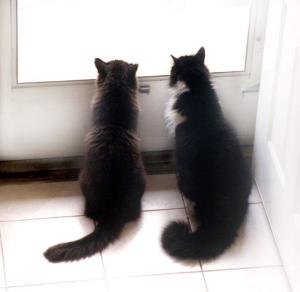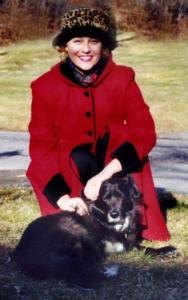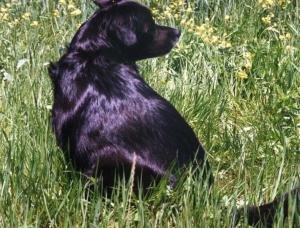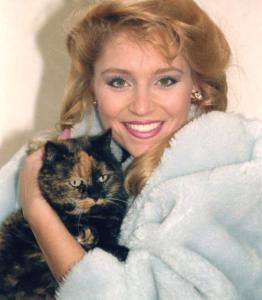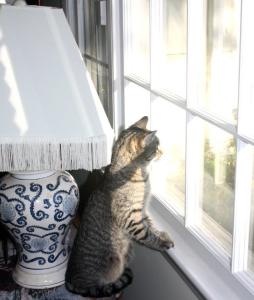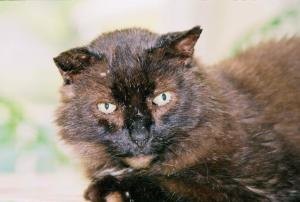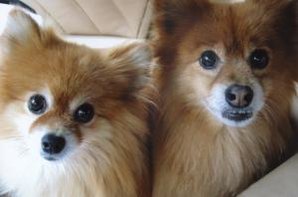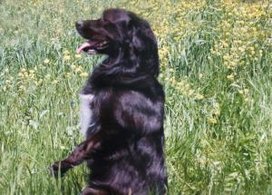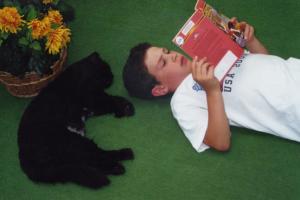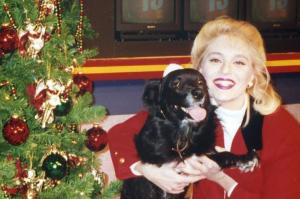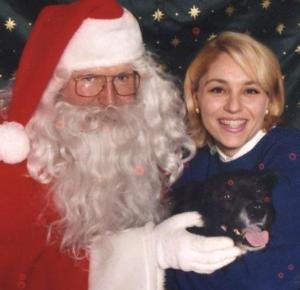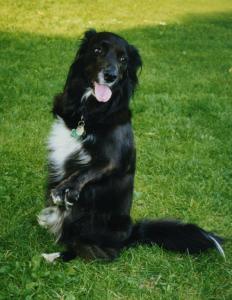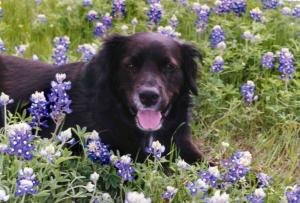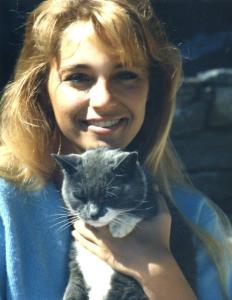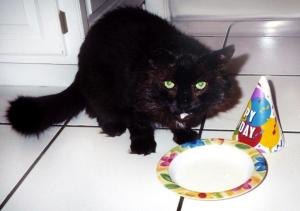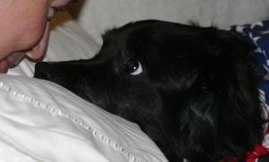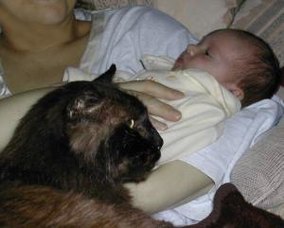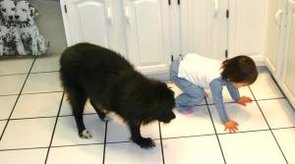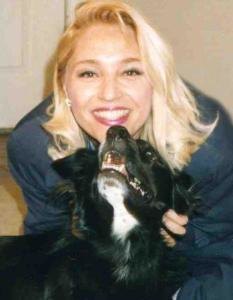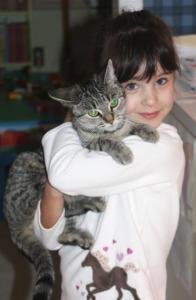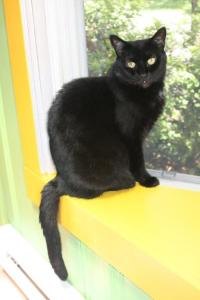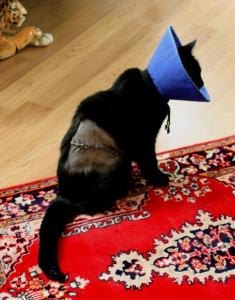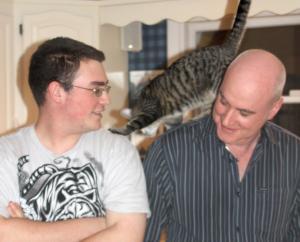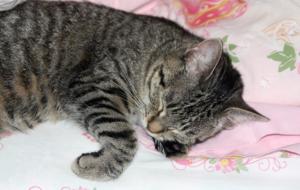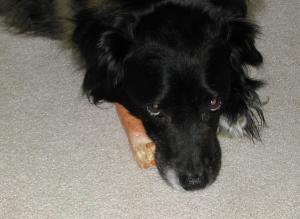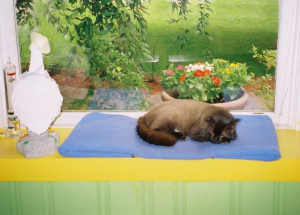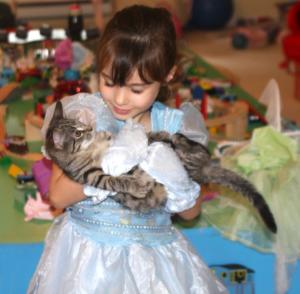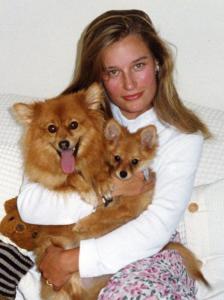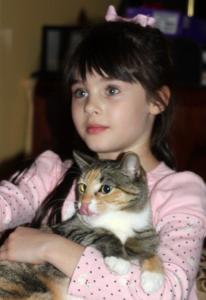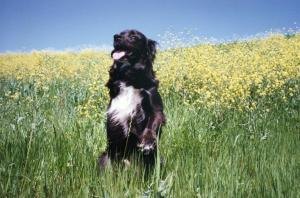 We spent many beautiful years with Moussie, and when he passed away, a huge part of my heart went with him. (Getting the worst news ever from the vet on my 42nd birthday)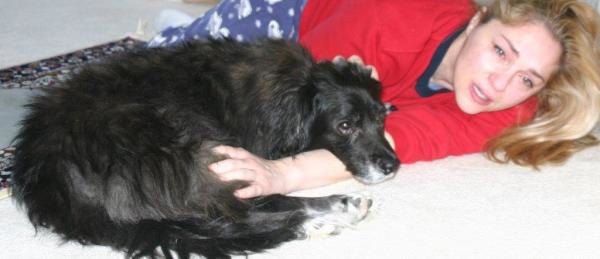 Saying our good-byes.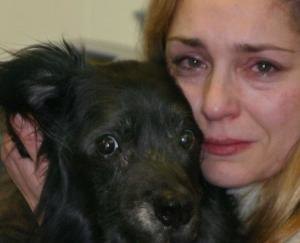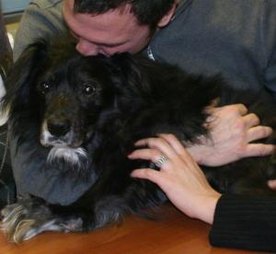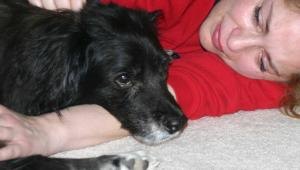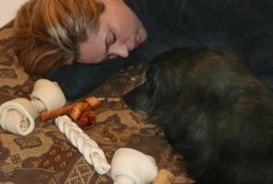 Days of yesteryear…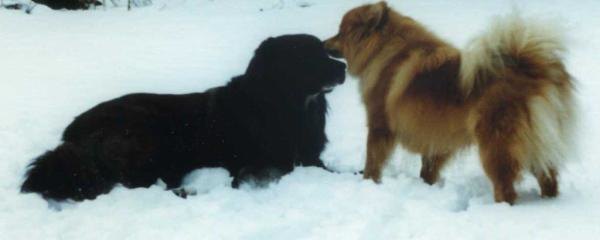 The final goodbye 🙁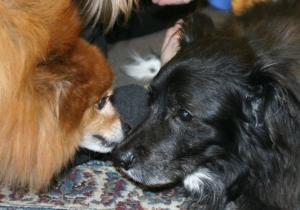 Shattered and lying in bed, I wrote Moussie a letter that raw and painful day he crossed over Rainbow Bridge waiting till I would once again embrace him in my arms. I didn't know my husband found the letter on my laptop and built an entire website dedicated to Moussie around it! Www.MoussieTales.com People wrote the loveliest comments on his Remembrance Page, thank you all!
The Bright SpotTM

– Our darling Moussebaby brought us years & years of joy. For that, we are forever grateful. When our neighbor brought us The Rainbow Bridge poem, it was the only thing that eventually comforted me. Picturing Moussie running freely without pain, the wind flapping about his beautiful soft ears, eased my pain. Until I hug you again, rest my sweet, precious Moussie. I love you!!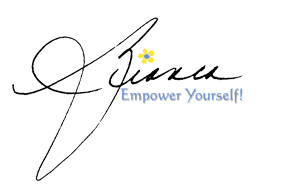 Tuesday, November 26, 2013 by
Bianca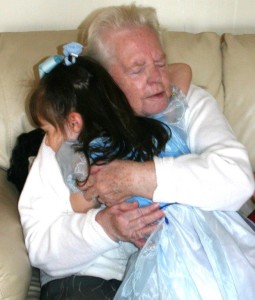 It was a long 2 years without Grandma but she came calling for Granddad in his dreams this week.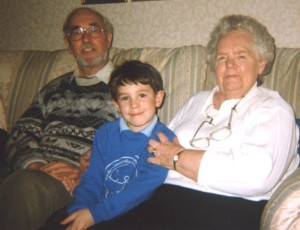 He      He became deaf, and she turned blind just a few years ago, but they always sat beside one another for 60 years, and when she was gone, he lived in silence beside an empty chair in the den. Click here: Is This The End?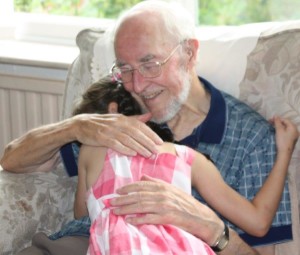 Granddad fell in love with Grandma instantly. She was engaged, but that didn't deter him. He knew she was his only one and promised to love her till the end of her life. They married and he fulfilled that promise day after day.
He was determined like that. He fibbed about his age to defend his country in World War II saying he was 18 when he was really 16.
He was stationed in France, and worked as a specialist sending morse code messages when his communication's truck was hit by a mortar and his arm was blown off.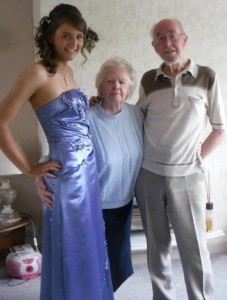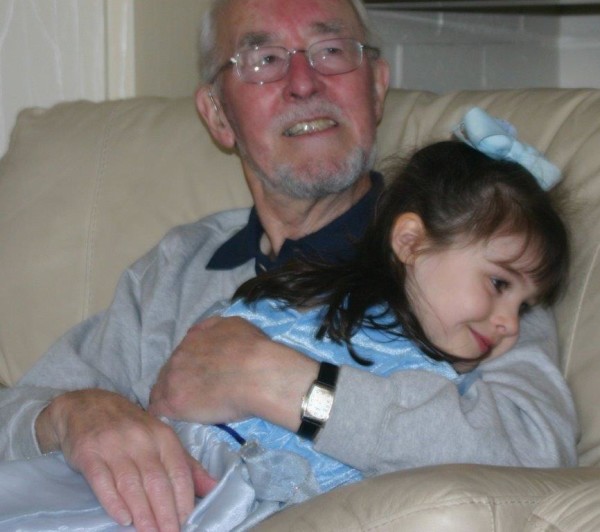 A female physician – rare to have a female doctor in the war zone in France at that time – sewed it back on…it functioned perfectly!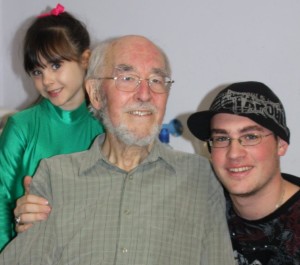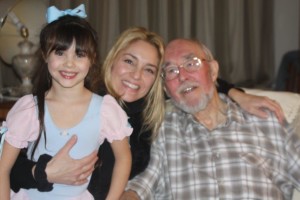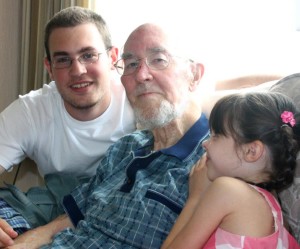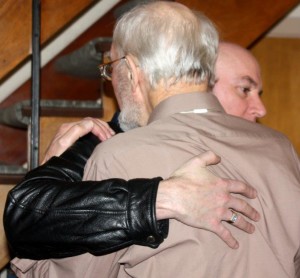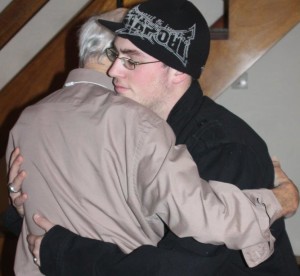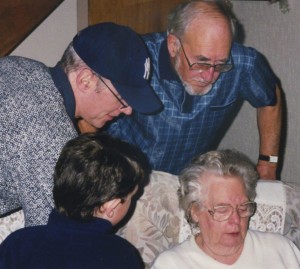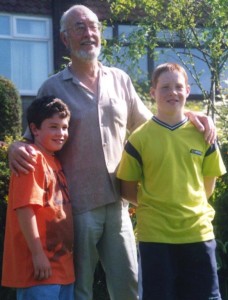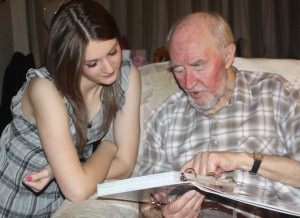 Granddad was sharp as a tack with very dry humor. Once, he was in the hospital for a respiratory illness that required a chest x-ray. The doctor came into his room looking shocked. "I don't know how to tell you this," he said, "but you only have 1 lung and it appears where your other lung should be is a black mark that could be a tumor." "Oh, that other lung shriveled up years ago," Granddad answered matter-of-factly, "forgot to tell you."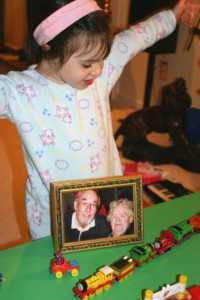 Grandma & Granddad gave our little one Tidmouth Sheds for her train table. I put a photograph of them next to it so she could link that the gift was from them. I do that with many special presents so the kids know from whom it came.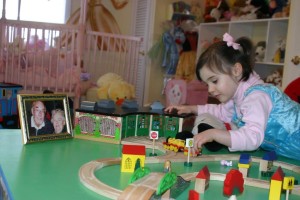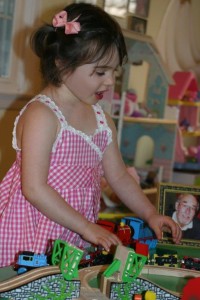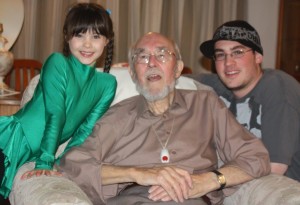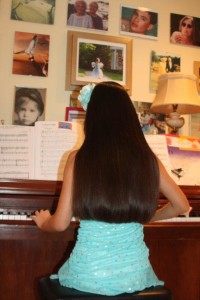 Our daughter said she will never give up her piano from Granddad even if she plans for a grand piano in her future. "It will go somewhere special in my house and I will keep it forever!"
Just as Granddads do, he was the explainer of all things.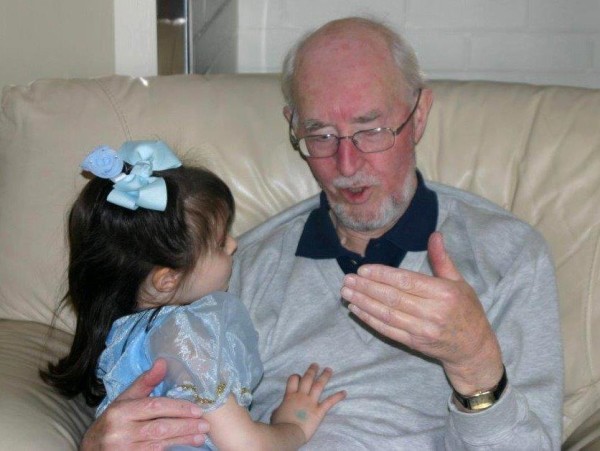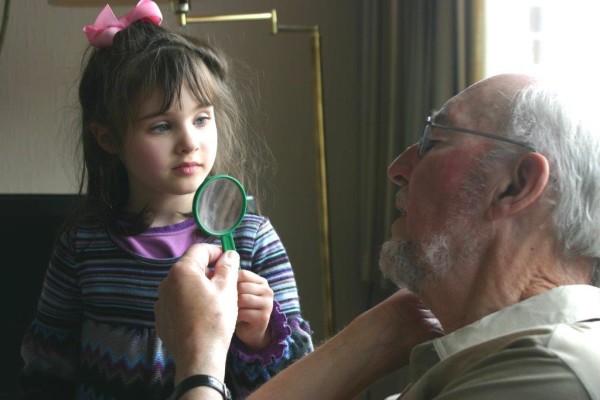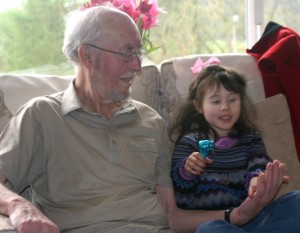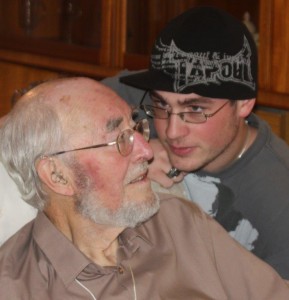 No place was better than on Granddad's knee…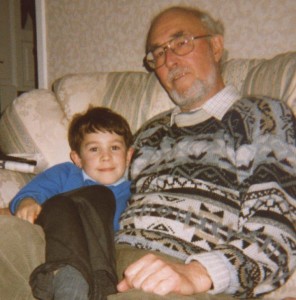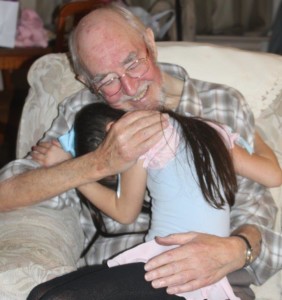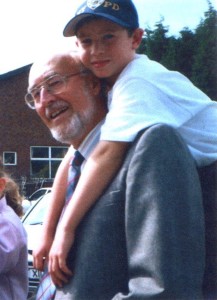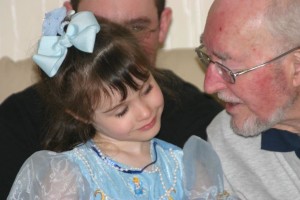 …& on his back!
Or hanging out grabbing a drink at the pub.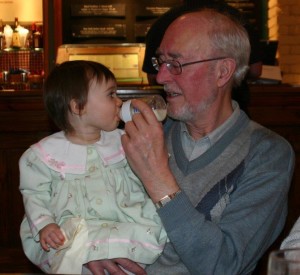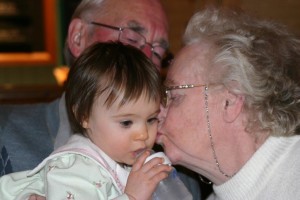 Granddad slowly went deaf in his late years. Soon he could only hear female voices. Later, on the phone, he could only hear mine – high-pitched & loud, I'm told. But then came the day when even my voice was inaudible.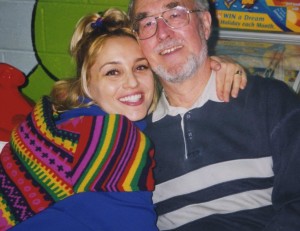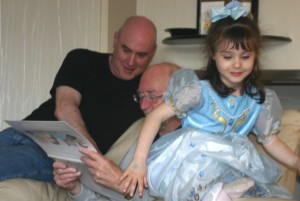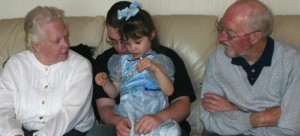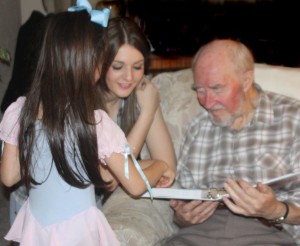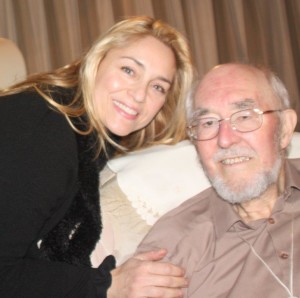 It was crushing for me because I like family to stay connected especially because we are so far away.
Granddad was 88 years old. He wasn't on a computer. I immediately printed out this website and Phillip had it bound and we sent these 300 pages of family stories and photos to Granddad in book form so he could read them over time at his leisure and keep up with family news he could no longer hear.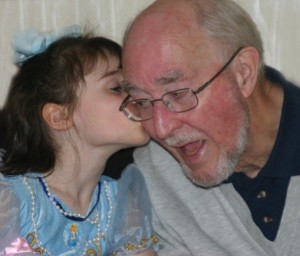 He was kind and sweet and dear and loving. He will be deeply missed by the family. But he's in his beloved's arms once again and that gives us great solace.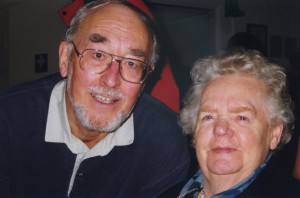 The Bright Spot TM –

 We did not lose Granddad, for someone is only lost if their memories aren't kept alive. We're a picture-snapping, video-taking, storytelling family, so Granddad lives on. Thank you for sharing his story.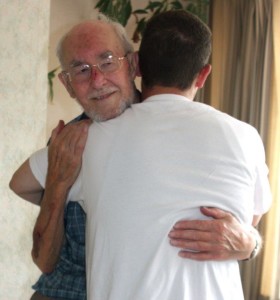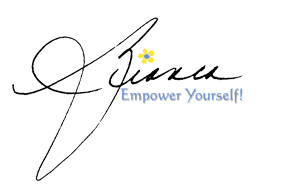 Sunday, July 28, 2013 by
Bianca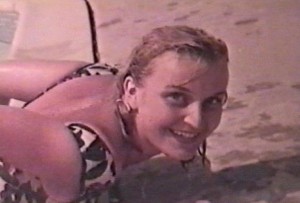 Thrown off a Connecticut beach for wearing a bikini, my Mom still rolls her eyes at that story & declares the beach keeper a crazy man.
Coming from a country where they play volleyball topless on the beach, they were lucky she even wore the bikini!
My parents met one evening at a beach club & married 2 1/2 months later.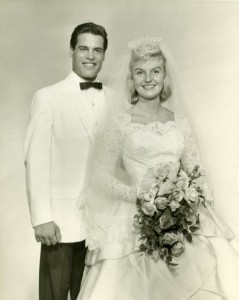 So it was no shock when I announced I was getting married after 4 days. "You know when you know," she said.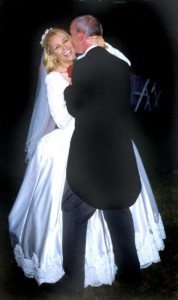 Phillip & I married after only spending 46 days in each other's company and she was right.
Mom loves to garden, paint,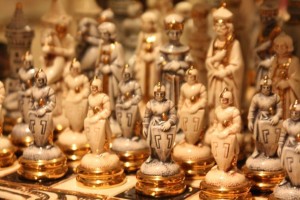 decorate & read, read, read! She's like a walking encyclopedia.
She's an incredible photographer, interior designer, writer & artist. I love her drawings, portrait paintings, and my favorite, this ceramic chess set she painted nearly 40 years ago.
Mom's a fantastic cook and prepared wonderful, healthy meals for me the entire 9 months I was pregnant!! She made sure I had the best foods when I was a baby and did the same for my kids.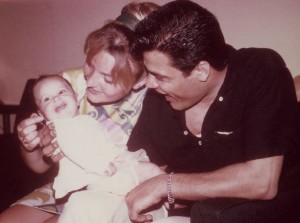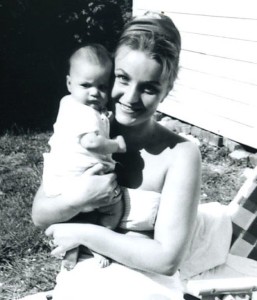 Mom & me 1960s                         Little Petal & me 40 years later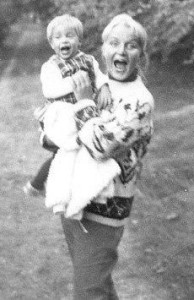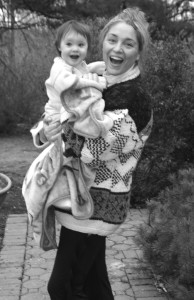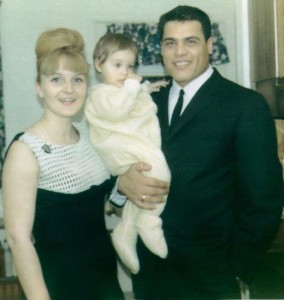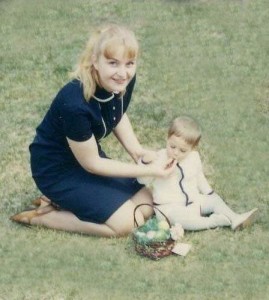 and, of course, she gave me my 1st chocolates & Easter goodies…yum!
**********************************************************************************************************************
Folks who've met my Mom totally love her. She's funny, talks straight and is the life of the party. She smokes, drinks, swears and gambles. She doesn't apologize for any of it. She lives life to the fullest beating to her own drum.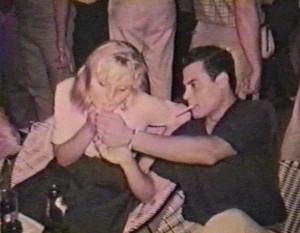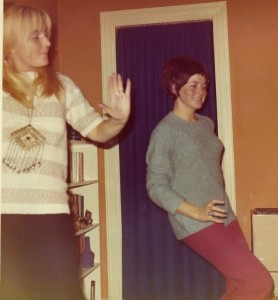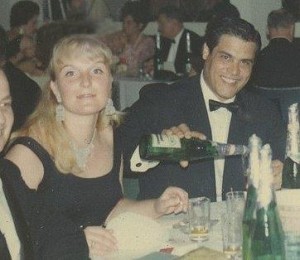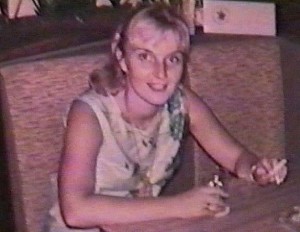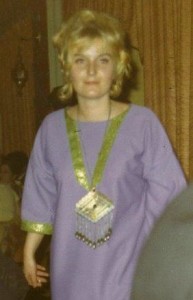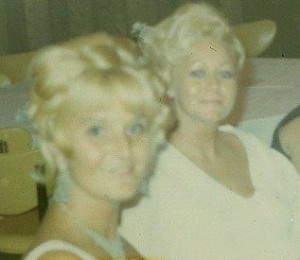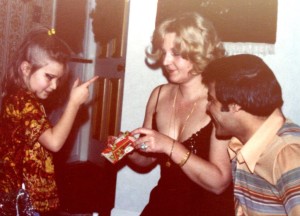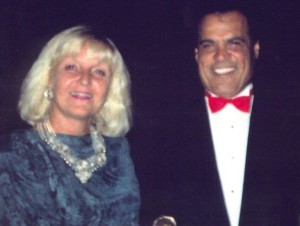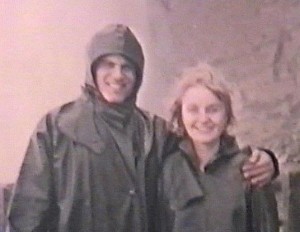 When she lost my father 15 years ago, it devastated her. Their love and building a life together for their children was unsurpassed. They were a team in everything they did.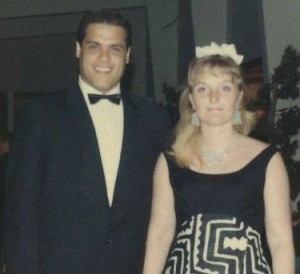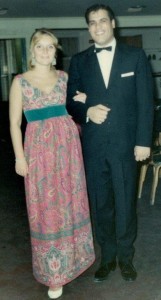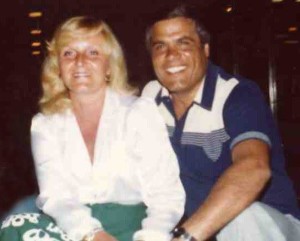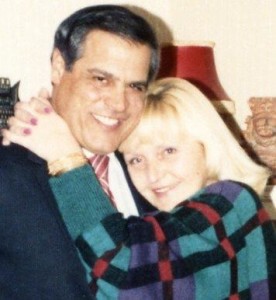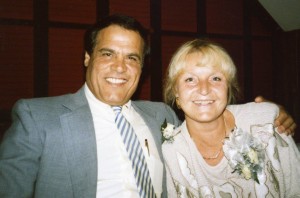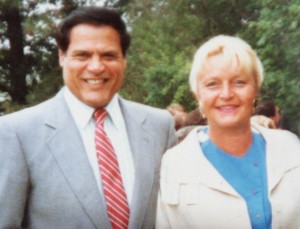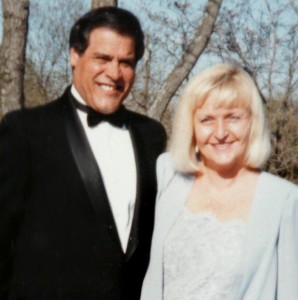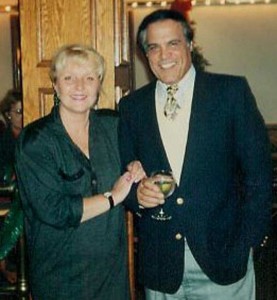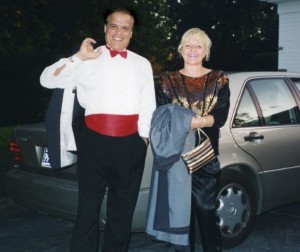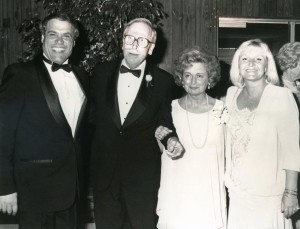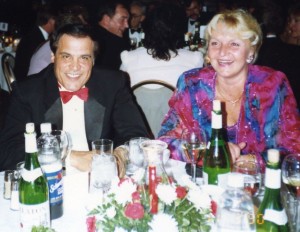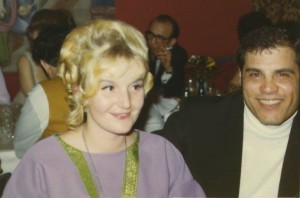 My Mom's parents absolutely adored her.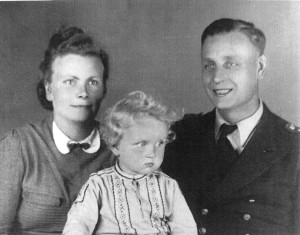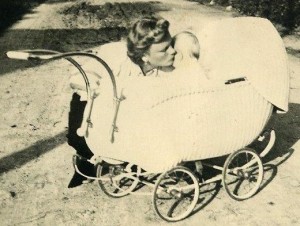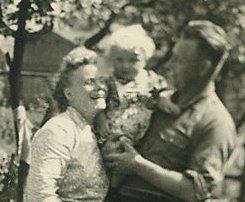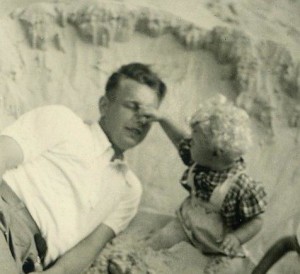 Those were some smoochable cheeks!!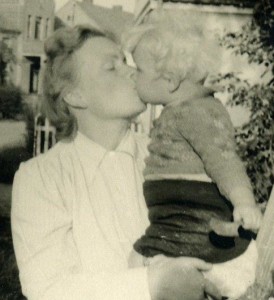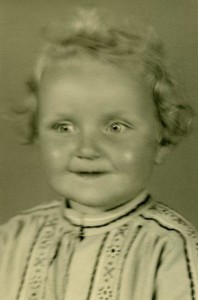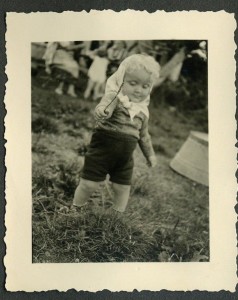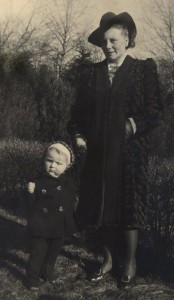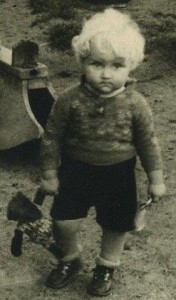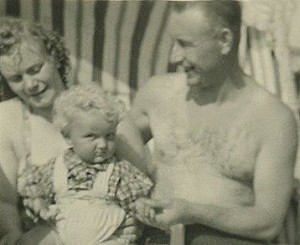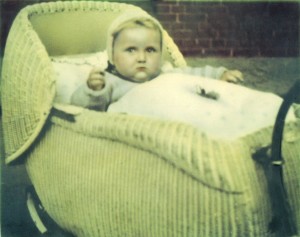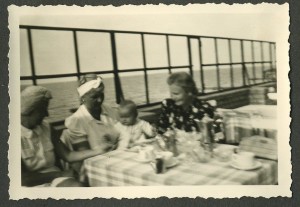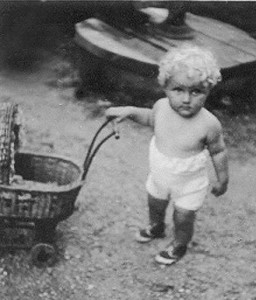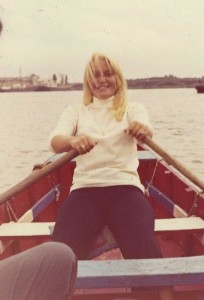 My mother grew up on the water (the Baltic Sea and with Aunties & her Mom above at their beach guest house in Pommern) and could out row anyone. When she was young, she liked to ice skate, bike, dance and travel.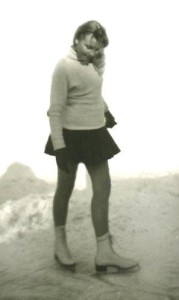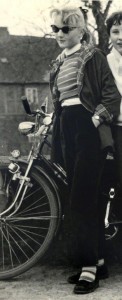 And she always loved animals!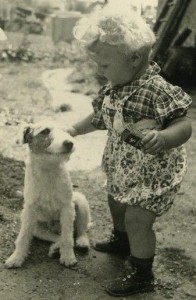 Mom was always very close with her parents, as were we all.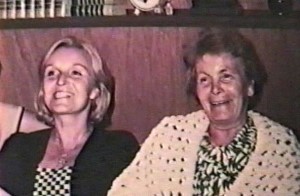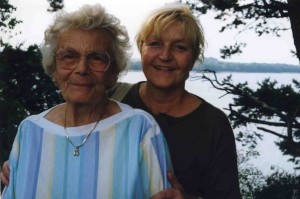 My mother & father taught me I could be anything I wanted to be. They supported my achievements in school, my activities,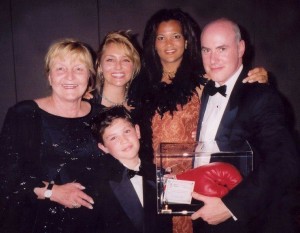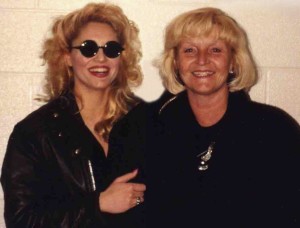 my music, my whims & fancies, my travels, my moves around the country for my career, and my exciting year as Miss Connecticut & all the wonderful memories of representing my native state at the Miss America…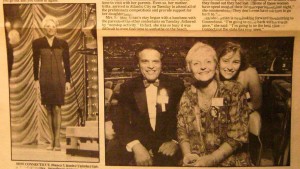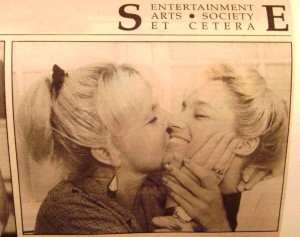 …including helping me pack trunks & boxes & shoes and shoes and shoes for the 2 weeks in Atlantic City for Miss America.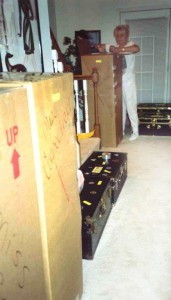 My Mom traveled with me to Vancouver to put me on a ship that circumnavigated the globe for 4 months.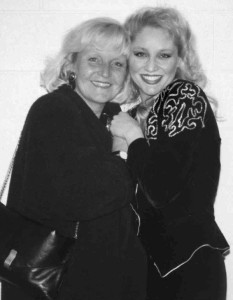 Mom – who saves everything – threw away my clothes after a week's caving trip…they were really dirty for her to have thrown them out!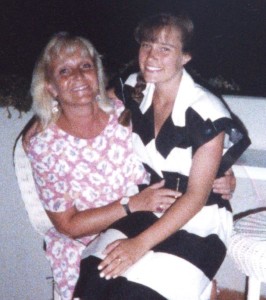 We traveled around Spain, Gibraltar, Barbados & Germany together & tons of other places.                   (left with my sister)
Years later, Mom drove with my dog & me across the country & decorated a house I found for cheap…really cheap…only to find out it was a former drug depot…so I left the house a short while later along with all the painting, bordering, curtain-hanging and decorating she had done day & night the week she dropped me off for my new job.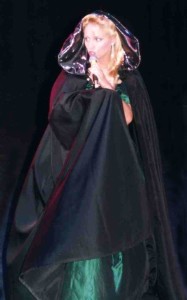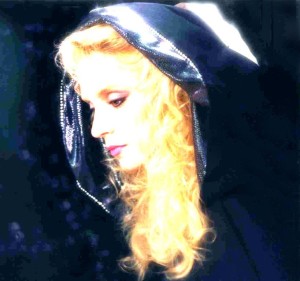 Mom sewed countless costumes (above) for me and for my sister & my sister's students.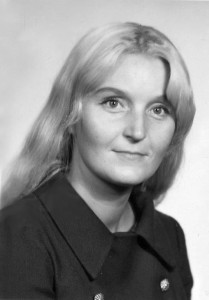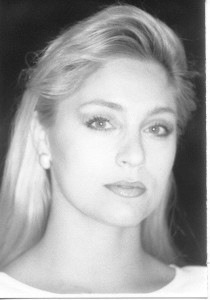 Mom (her passport pic)                            me (headshot taken by Mom)
She took photographs of my wedding in England when the photographer there slacked off and almost ruined the day.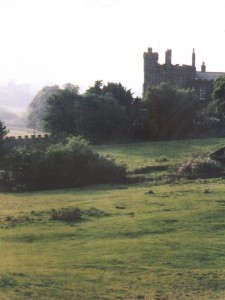 Phillip gave him an earful and my mother took the photographs and she and my sister created a surprise wedding album for me when I returned from England.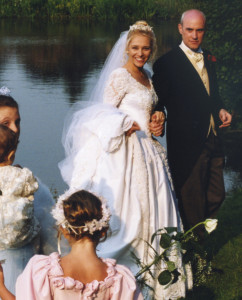 My mother also saved hundreds of newspaper clippings, magazine articles and memorabilia from my Miss Connecticut year and painstakingly glued them into several beautiful scrapbooks to cherish always. She did it for a year and I never even knew it. Another wonderful surprise. You can view some of the clippings here: Miss CT in the News.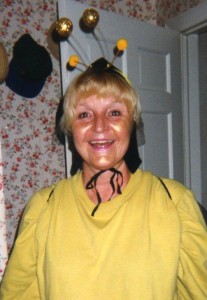 She's always there to goof around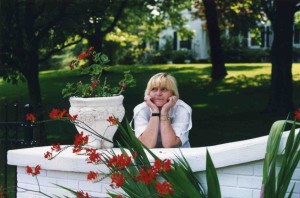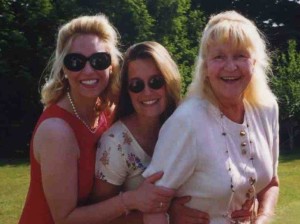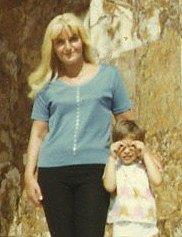 and she's there for all the tears like when we just lost my Uncle recently. He is with Daddy now.  🙁  🙁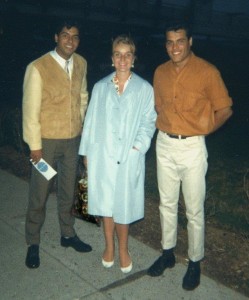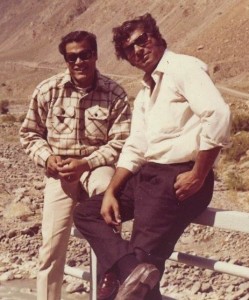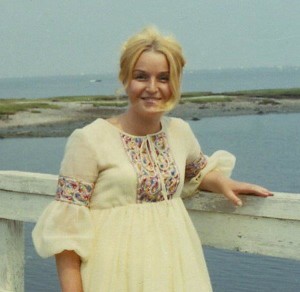 (pregnant with my sister)
Mom has always been great at photography and even gave me her precious long-lens Canon in the 80s on the ship trip. A treasured item, so I was, indeed, very grateful.
She's developed her own photography and taken headshots for actors & personalities over the years. Definitely helped save a bundle on my own headshots for TV over the years! Here are some snaps from Mom: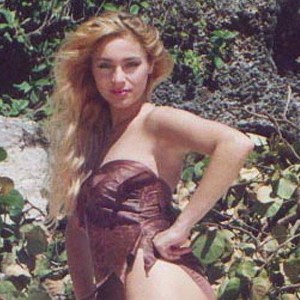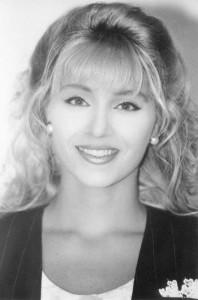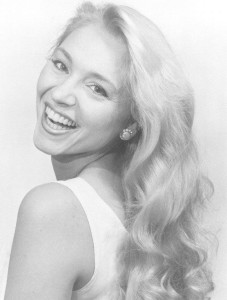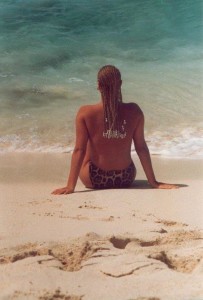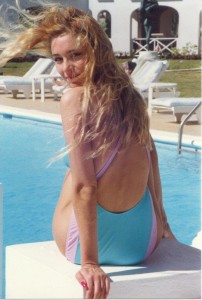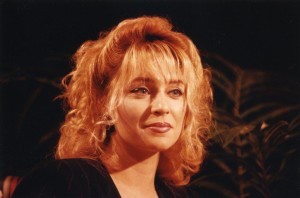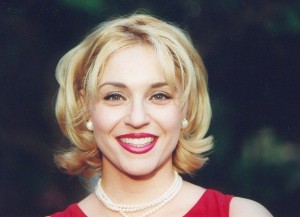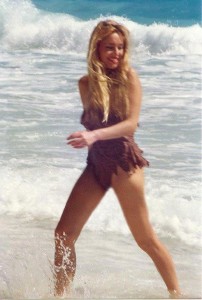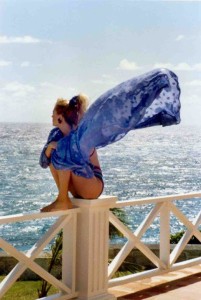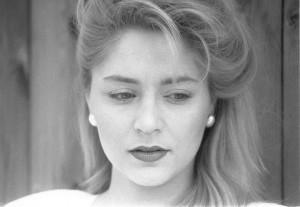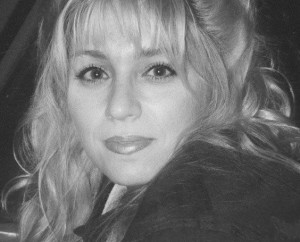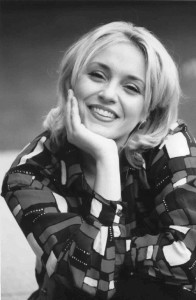 Thanks, Mom, for making my life great growing up. Thanks for all you have done for me. I love you!
In tribute to her, I hope I captured my mother's life in this pictorial. Please say a prayer for her. She had heart fibrillations recently and was rushed to the hospital. It's been constant testing every day.
Seeing her weak & tired is unnerving. Fragile is not a word I would ever use to describe my mother. Sweet but tough, robust & resilient, soft-hearted but strong-willed.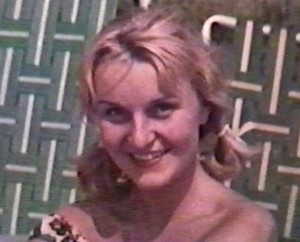 My mother prides herself on honesty and has never lied a day in her life. She is someone you can trust. She loves her daughters, grandchildren and animals. And we all love her.
The Bright SpotTM

 – I believe in the power of prayer. Please pray.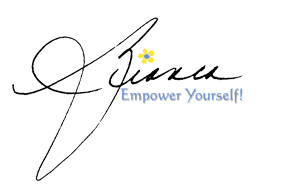 Friday, April 26, 2013 by
Bianca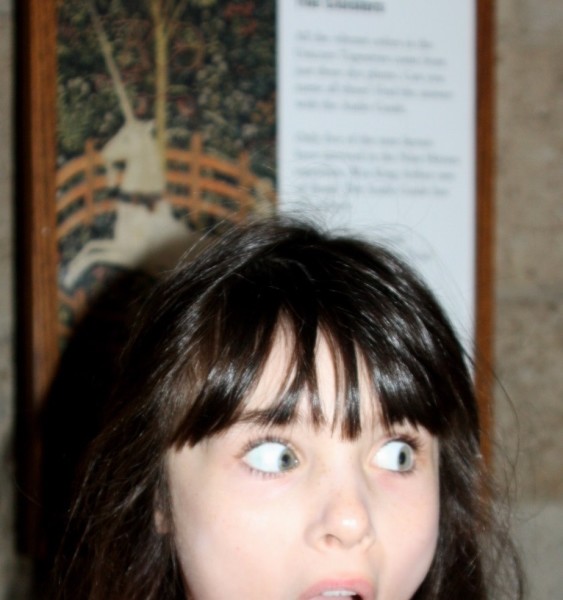 Dianthus!!  The magical unicorn trapped in the tapestry came to life – not only in the Magic Tree House book, Blizzard of the Blue Moon – but for our young reader on a visit to the Cloisters in New York City where the circa 1495AD woven masterpiece graces the hall today.
Our daughter's expression cannot deny the power of words coming to life. And no children's author makes history come more alive than Mary Pope Osborne. She is a literary hero in our home, a master wordsmith, prolific and creative, funny and warm.
Anyone who knows me knows Children & Literacy are paramount:  http://www.biancatyler.com/childrenliteracy.htm
Our little one started reading the Magic Tree House books in 1st grade.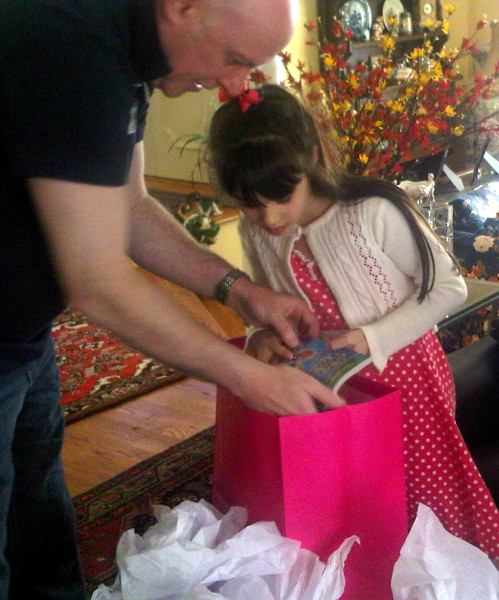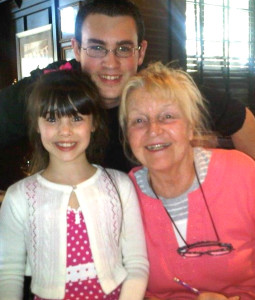 For her 7th birthday, my mother gave her the entire set. She was thrilled!
Dad & the Birthday Girl are checking out each book.
Book stands & baskets throughout the house, this series commands a special shelf on her favorite bookcase in her room.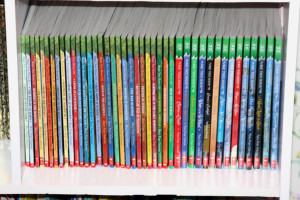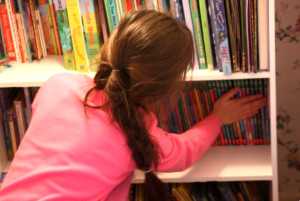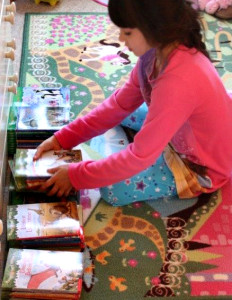 It helped, too, that our daughter was 7 when Jack's little sister, Annie, was 7 in the series. And when our little one turned 8, Annie was just turning 8!
Annie's brave and smart, kind and loves animals. She's a delightful role model for any little girl. Jack is bright and funny, loves to research and jots handy notes in his journal. I have found boys are entertained by the series as much as girls are…and that's a great first step in fostering a lifelong love of reading.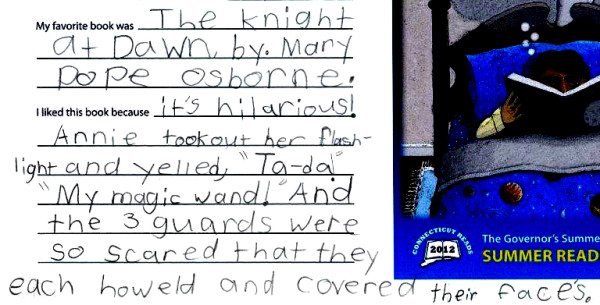 Every book has been a joy to read. For 1st & 2nd grade, our daughter participated in the Governor's Challenge reading over 2,000 pages each summer. Much of it, of course, the exciting Magic Tree House stories. And when she had to tell the Governor what her favorite book was it came as no surprise that it was a Magic Tree House story!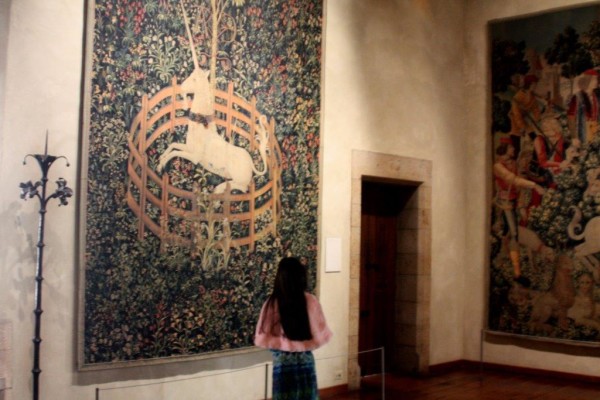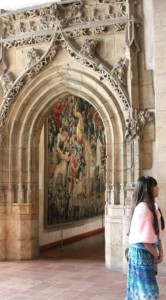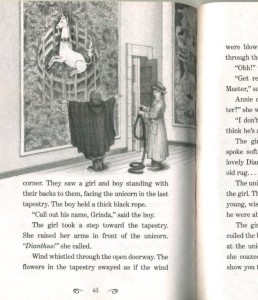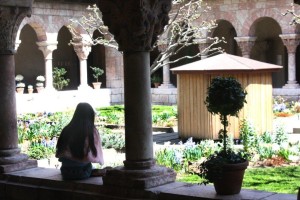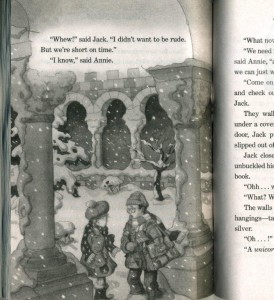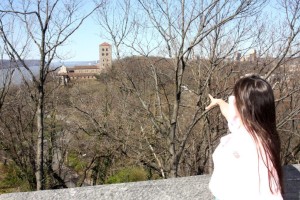 It's been fun taking her to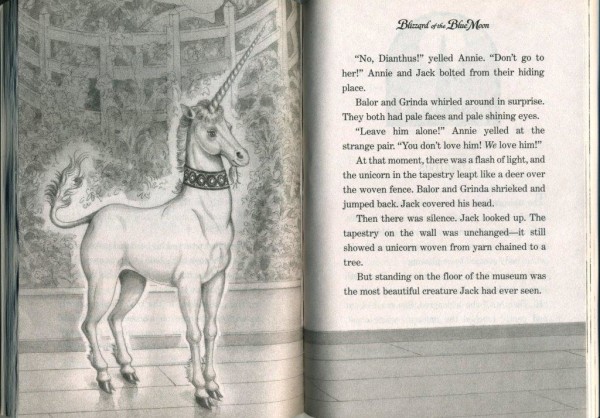 places she's read about – the Cloisters to see the unicorn tapestry. The 1930s structure resembles medieval abbeys and is situated on the northern tip of Manhattan island. It's breathtaking views overlooking the Hudson River and the gardens surrounding it make the trip simply wonderful.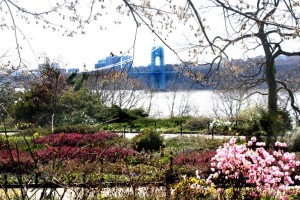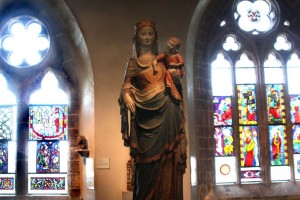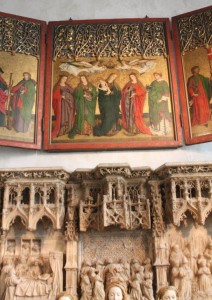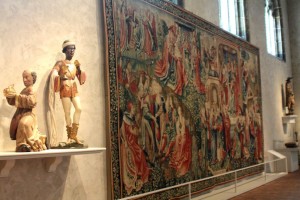 The Cloisters house over 5,000 European medieval works of art from the 12th – 15th centuries. It is under the care of the Metropolitan Museum of Art. The Cloister's Library contains over 15,000 volumes of books.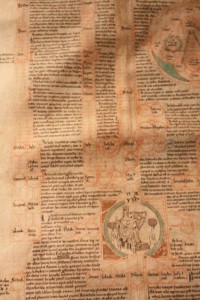 Our next trip was to Plymouth Rock in Massachusetts after reading Magic Tree House #27, Thanksgiving on Thursday. The stories of Squanto, Priscilla, Governor Bradford, the pilgrims & the Native Americans came to life through words only Mary Pope Osborne can weave. As we sailed into the harbor, we tried hard to imagine what the pilgrims were thinking in 1620 as they approached land.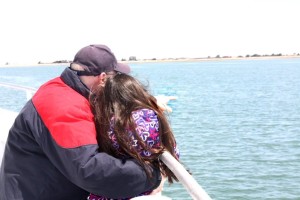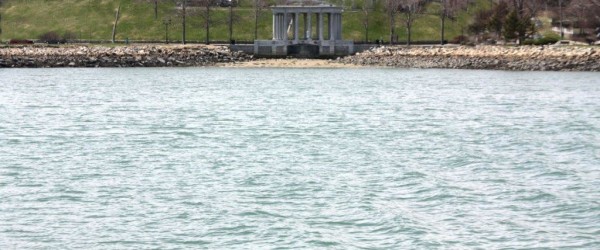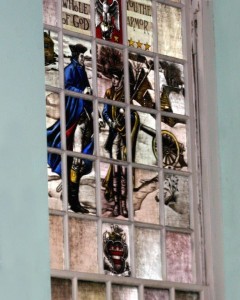 Next roadtrip…Valley Forge – Jack & Annie's story with General George Washington, Revolutionary War on Wednesday, book #22.
And from there, any family trip we can drive to…Gettysburg, Sturbridge, the Titanic exhibit at Mystic.
The Bright SpotTM 

 – If you are looking for a wonderful series for your young reader, I highly recommend the Magic Tree House series. The wind started to blow. The tree house started to spin…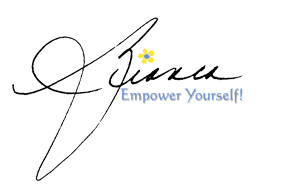 Tuesday, April 2, 2013 by
Bianca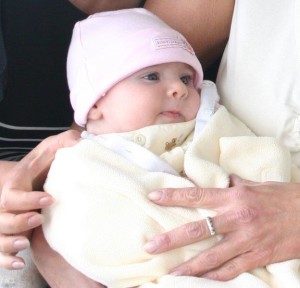 Easter is my favorite holiday.
I love that our daughter was born the day after Easter.
I sometimes call her my Little BunnyChickie.
I love that Spring just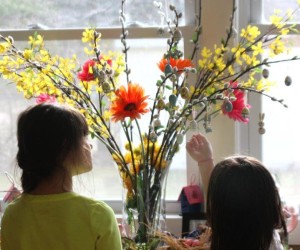 started. Everything awakens from Winter's long freeze & is born anew. The air smells fresh & green baby leaves are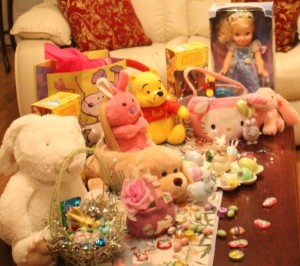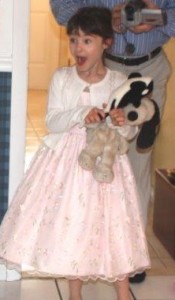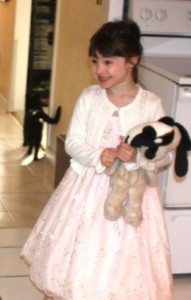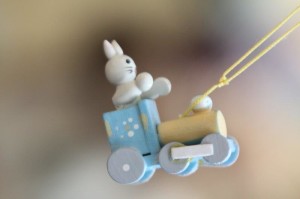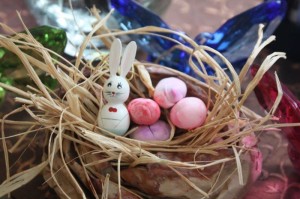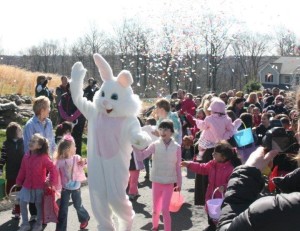 slowly unfurling. I love pussy willows and forsythia, big blossoms and tiny crocuses.
I love the Easter story of Jesus' Resurrection & I love the trumpets at church that glorious, Holy morning when we all celebrate together in song & praise. I love & appreciate the religious traditions of other folks as I am a member of a very large, close-knit, multicultural, multi-religious, multi-international, multi-lingual family.
I love coloring eggs & decorating them with the kids. I love the little 50-year-old, wooden, hand-painted European Easter decorations from my grandparents. I love to mix those decorations with our little one's pretty, handmade decorations from preschool. Old & new crafts together.
I love the Easter Bunny, the delicate, ceramic decorations, fragile Easter eggs, egg-citing hunts & yummy candies.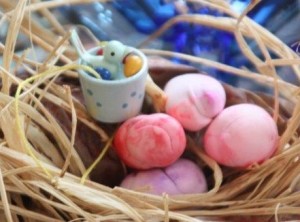 I particularly love pastel M&Ms!! I like all chocolate, but those tiny, pale- colored little chocolate dots of joy always seem to find my lips, hummm… I admit, I will steal bites here & there from my children's baskets in passing. I'll pass a lot – cover those baskets!!
I love the Easter egg hunts at farms, in fields, at church & at friends.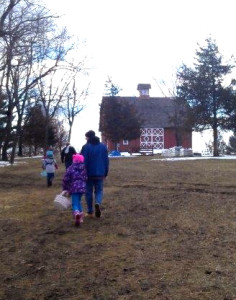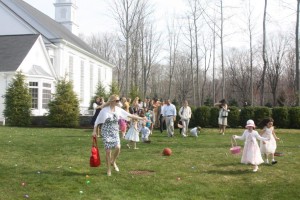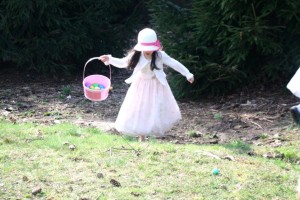 Parties, celebrations, the Easter Bunny arriving on the fire truck!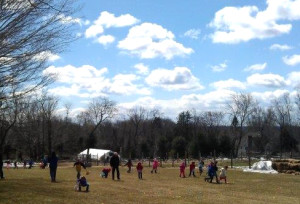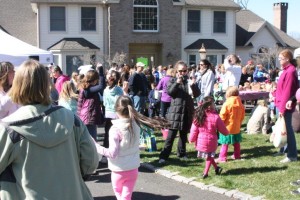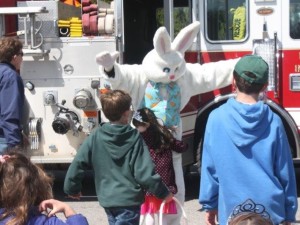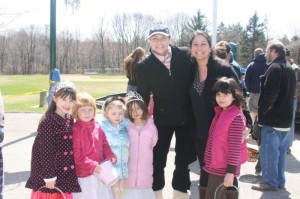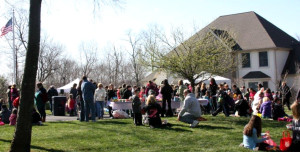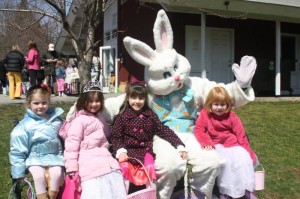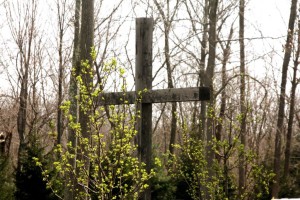 I love Biblical epics on TV at this time of year and was particularly pleased with Mark Burnett's The Bible miniseries ~ simply outstanding!!
The Bright SpotTM 

 – I love Spring & all the cheeriness of the season!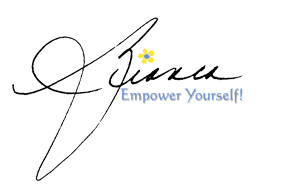 Friday, January 18, 2013 by
Bianca
I was finishing up a really great day trip with my daughter & one of her closest friends. The girls met more than 6 years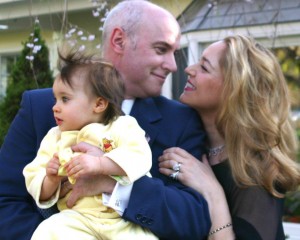 ago in a baby lapsit music program. The little friend's grandmother was with us on this particular day and my husband called to see when we would be home.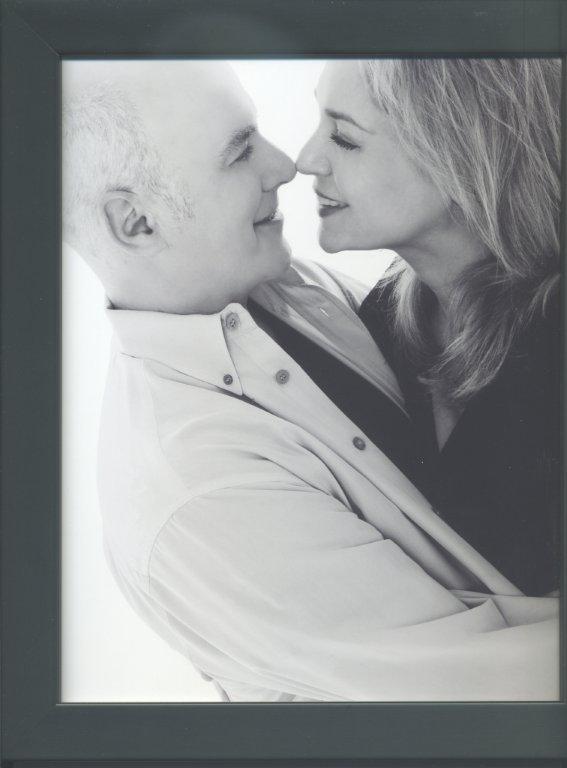 "It shouldn't be more than an hour now," I said and we each finished with "I love you very much, too."
The grandmother turned to me when I hung up. "I didn't mean to listen in but it was really nice to hear you talk like that with your husband."
To me, it's just normal. My husband and I are tender & loving in our daily routine. It's good for us & it's good for the children. Affection is part of their daily life, and I hope that their partners one day in the far future are just as loving & warm.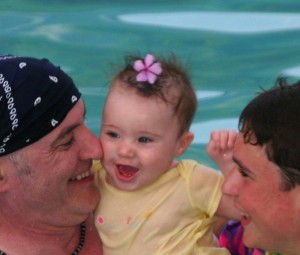 I remember advice from some folks when I first married: "Don't call your husband at work, just let him just do his job." "Don't tell your husband you love him all the time, he'll bore of you." "And don't be overly mushy, guys don't like it."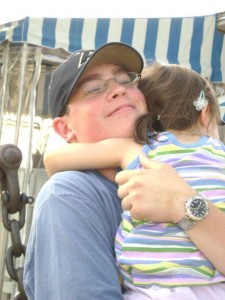 But I grew up in a loving home with smoochy parents & grandparents and I went with my gut. To me, men are just as deep as women are and most people, I believe, desire attention, recognition & hugs.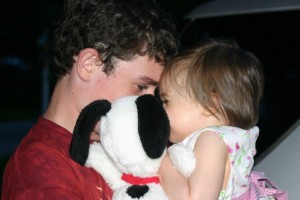 And what I find is that many people wish they had a more loving relationship. Or that they connected more with their spouse.
It's really not hard. It's the little things that add up to the wonderful bond between you & your significant other.
A brush past your partner with a soft touch across the shoulders. A little kiss as you pass in the kitchen or while your husband is working late into the evening. I leave him notes in his briefcase, he's left me notes in the pantry, across my computer screen, in my coat pocket or the bottom of a soup pot!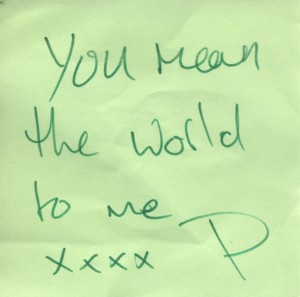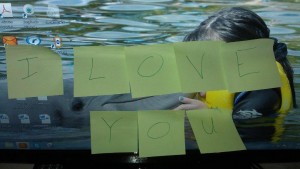 Arm in arm when you walk, hand holding when you talk, a little text here & a little Google Chat there. It all adds up.  Communication – touch, voice, writing – text or by hand. It all matters.
And nothing beats the kiss!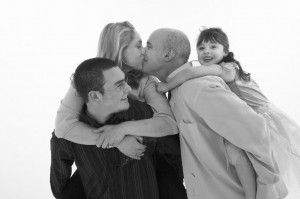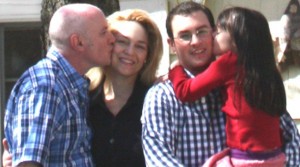 Don't think your kids don't notice. They want that comfort of a loving environment.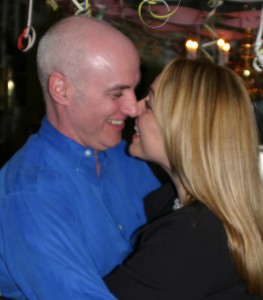 Of course, when they're preteens, a kiss might evoke a look of disgust or even a groan, but in reality, it gives your children quiet inner peace to know their parents are close & loving and, with a divorce rate of nearly half of all marriages nowadays, don't underestimate the great security it gives them.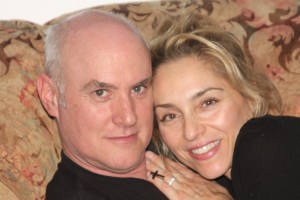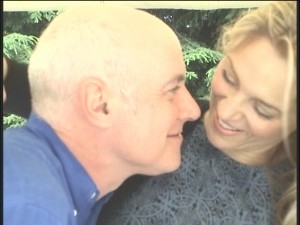 So reach out to your partner. Physically & emotionally. And have fun!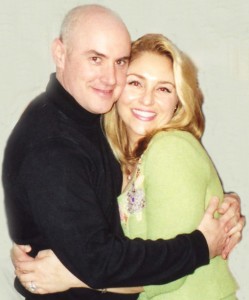 It will not only be super for your relationship, but it will teach your children what a loving family is and what a great partnership looks like.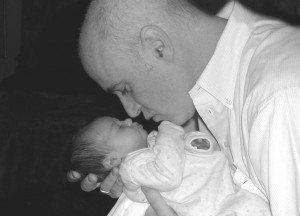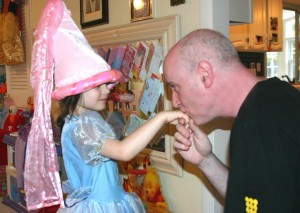 And the kindness your children experience they will share because they know it as their norm.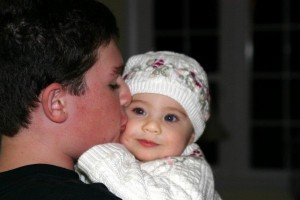 The Bright Spot™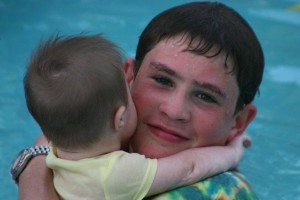 – You already know your children model your behavior.
You have the power to mold their framework for a loving marriage and a connected family structure in their future.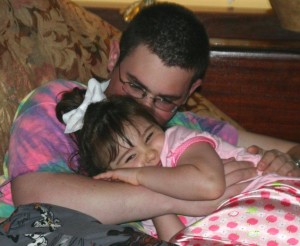 So go on now…smooch the daylights out of your kids and your spouse!  Happy Parenting!™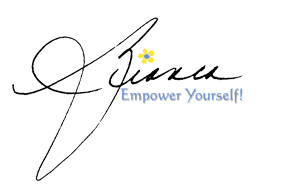 Monday, December 24, 2012 by
Bianca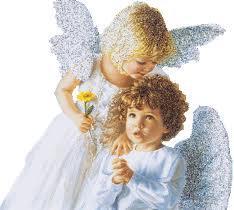 Born & raised in picturesque Connecticut just 30 minutes from Newtown, I was devastated to hear the news on December 14th. I sat in church longing for words from our clergy to help make sense of the tragedy. My heart was so heavy, my eyes and cheeks burned with tears for the parents, siblings, grandparents and friends who lost 20 of America's babies and 6 heroic adults that fateful morning.
Christmas was about a week away and the kindly folks of that small, beautiful town felt grief beyond measure. Understandably, the holiday lights remained unlit.
Our church held several prayer vigils for the victims & surviors that horrific night, the very next morning and throughout the week. A Christmas concert had been planned for later that week and the question came up, "Should it be cancelled?" I and the rest of the congregation were so heavy-hearted. I expected the pastor to say it was cancelled.
But instead he said, "If we do not sing, evil wins. If we do not help our community move forward, we lose. If we do not light our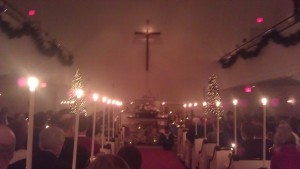 trees and our candles, evil wins. If we do not help others to start healing, we lose." "Arise, shine; for your light has come, and the glory of the Lord is risen upon you!" (Isaiah 60:1)
The Litany: "I live, at times…grieving the loss of loved ones…" "Oh Lord, You are my Light! Come, dispel my darkness!"
Closing Litany: "If we walk in the Light, as He is in the Light, we have fellowship with one another…"
A fellowship from around the globe! Calls poured in from our grandparents, aunts, uncles, cousins and friends shocked by the news. The world community mourned the little children & brave adults all together and everyone's wishes for strength, love, healing and comfort are flooding the families in Newtown.
456 children attended the school. There was only 1 homicide in that charming, rural town in the last 10 years. The parents will need help. The siblings will need help. Not talking about it to trusted friends or professionals could repress feelings and cause future problems. Many may feel "Survivor's Guilt." This tragedy has hit many adults and children in many parts of the world. We had a friend whose 8-year-old son didn't want to go to school. Children need to feel safe. Parents need to address this in age-appropriate terms and only you, as a parent, know what your child can & cannot handle informationwise.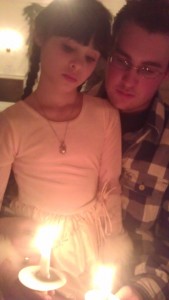 Phillip & I wanted to do what we could to help promote healing. We asked family therapist & trauma expert, Melissa Cook, to speak on our Live call-in radio program, "Let's Talk!" on 1490am to give specific advice on steps families & individuals – directly & indirectly – could use to start to heal and repiece their lives. All shows are archived on this site, just click here: