Tuesday, May 16, 2017 by
Bianca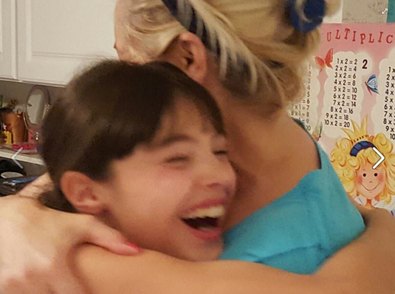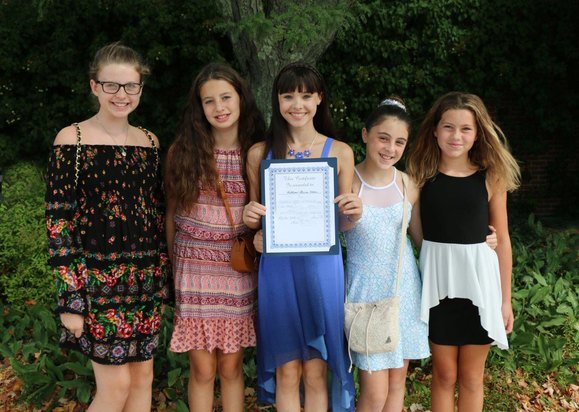 Our 11-year-old earned her 1st Literary Award in a competition she entered months ago. She submitted a mini version of her 1st novella. It's the 38th year of this competition & is open worldwide.
When Phillip read us the letter aloud, she jumped with pure delight feeling the fruits of her accomplishment after having spent months writing. We are so happy for her and very proud of her!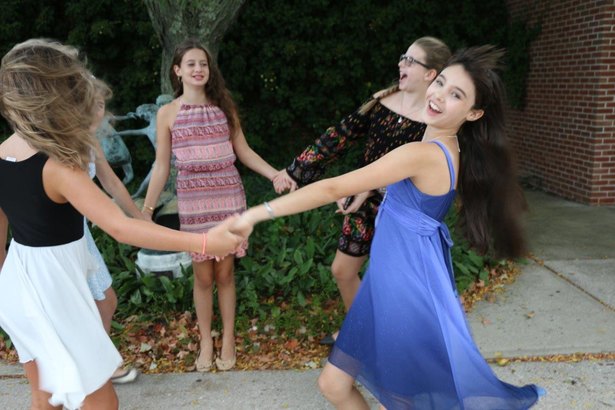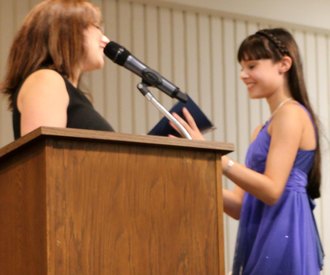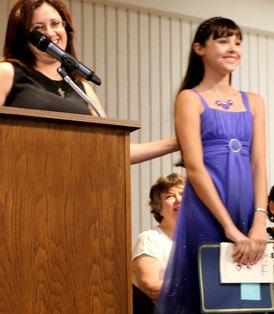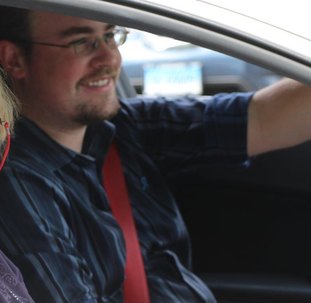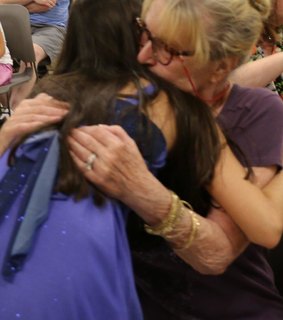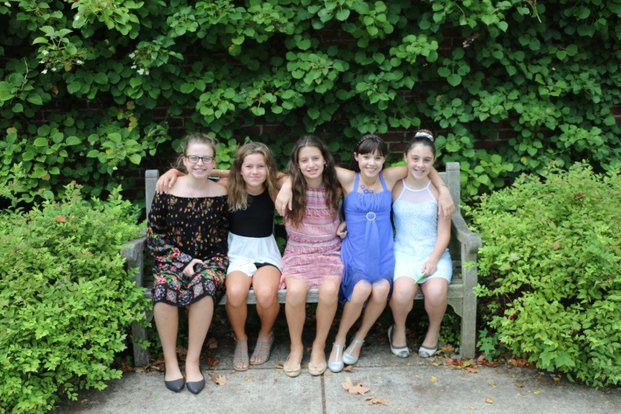 Reading & writing are so important to Darling, a passion we saw at a very young age and have continued to fuel. While in England this May, we visited Oxford as C.S. Lewis & Philip Pullman are two of our daughter's favorite authors,
click
:
Oxford
.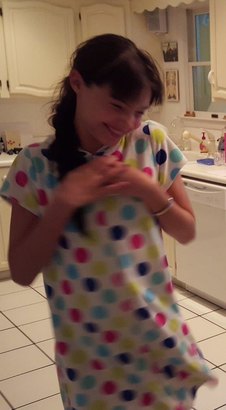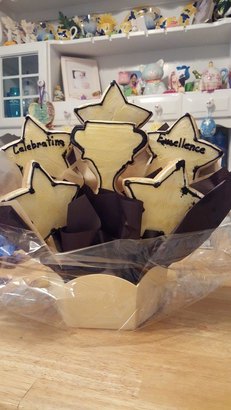 Three teachers, Mrs. DZ, Mrs. SZ & Mrs. C have had such a significant impact on furthering her creative juices and honing her technical skills. Marvelous, nurturing, kind teachers ~ we are so grateful to have had this
Dynamic Trio
educate our daughter! Thank you, Mrs. DZ, for the amazing surprise cookie bouquet!!! Loved it!!!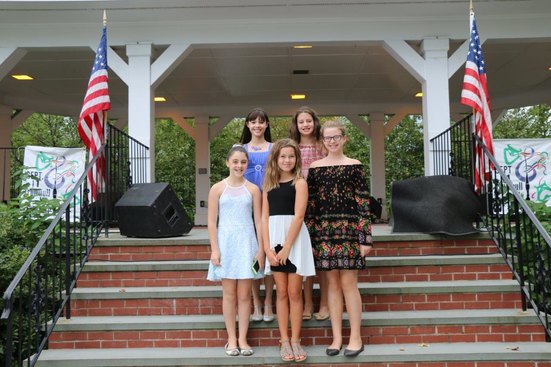 In her congratulatory card was a letter trimmed in gold with a very special message: Pack your bags & your wand, Hogwarts Castle awaits!!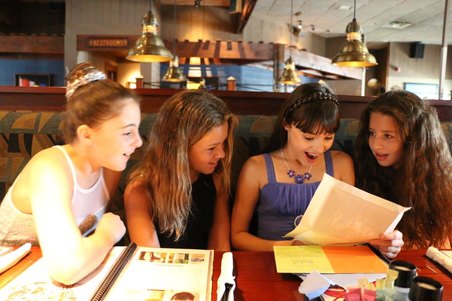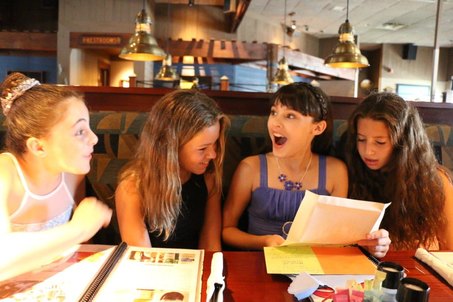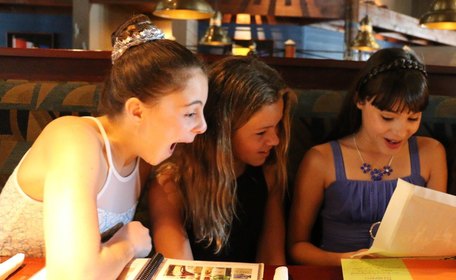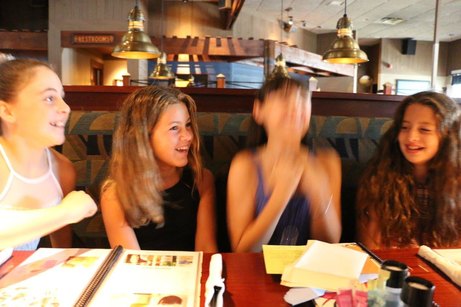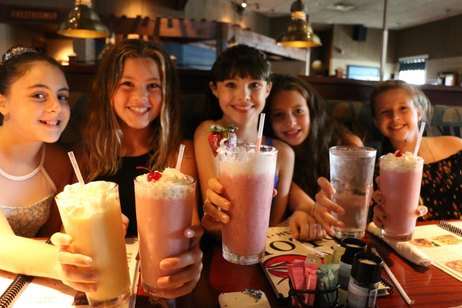 Cheers with smoothies & an afternoon of play, the day could not have ended any better!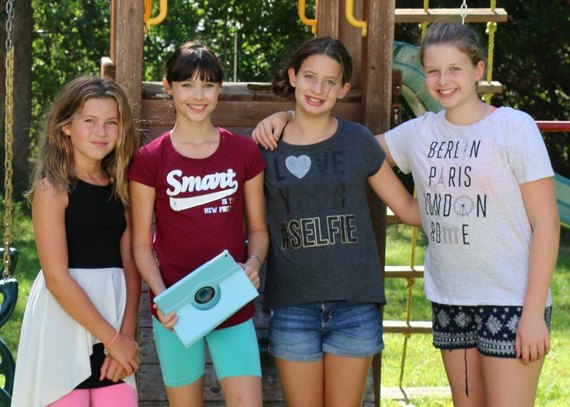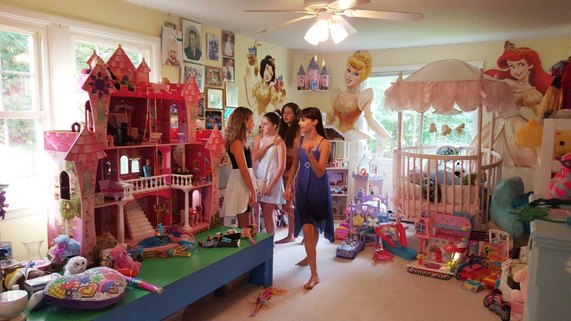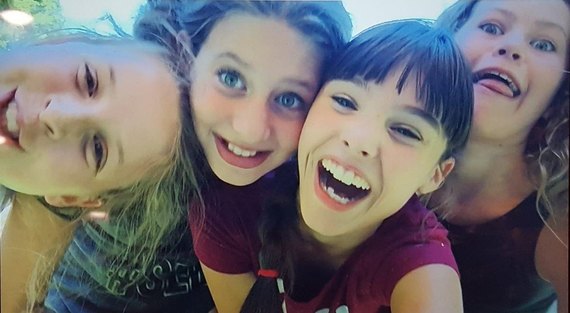 The Bright Spot
– Her award! Her friends! Her magical destination created by her favorite female author, J.K. Rowling,
click
:
Wizarding World
to see one of the most fun stories I've had the pleasure to write!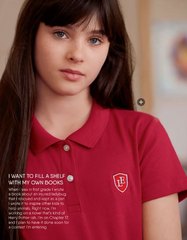 She was photographed for this Land's End ad in Spring for the Autumn 2016 polo collection. They interviewed her and used this quote on the ad: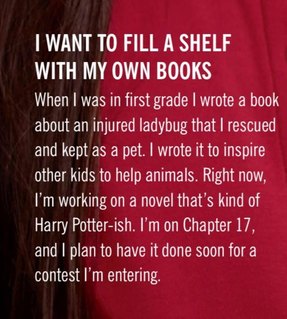 Darling, you are well on your way!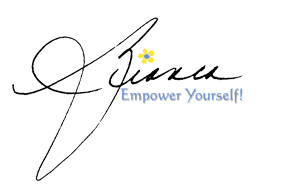 Wednesday, June 8, 2016 by
Bianca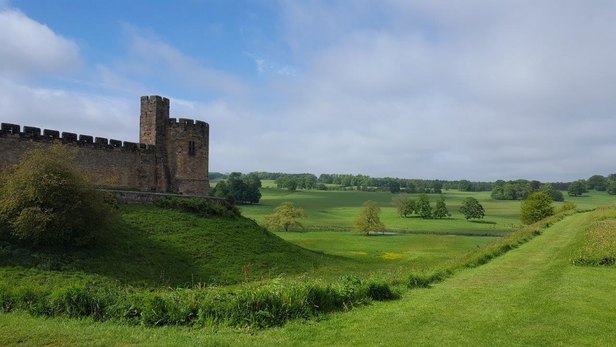 This gorgeous English countryside was captured on my cell phone! Breathtaking. Lush. So British.
During our 2-week trip to Europe to visit family, we went with some good friends to Northumberland.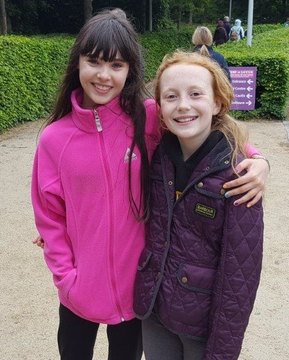 The girls loved that parts of Downton Abbey and Harry Potter were filmed here at Alnwick Castle.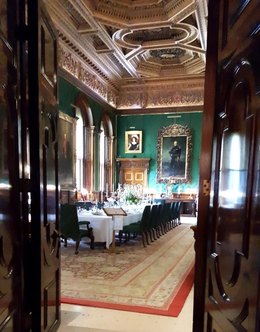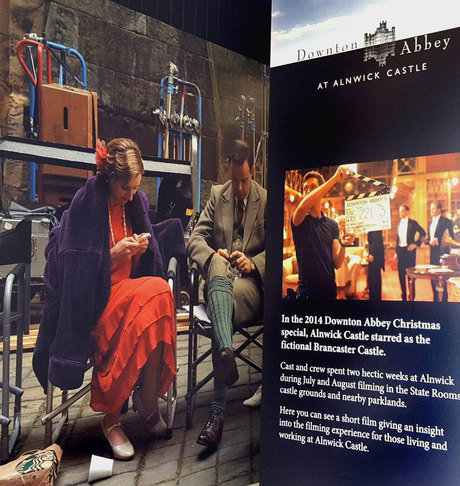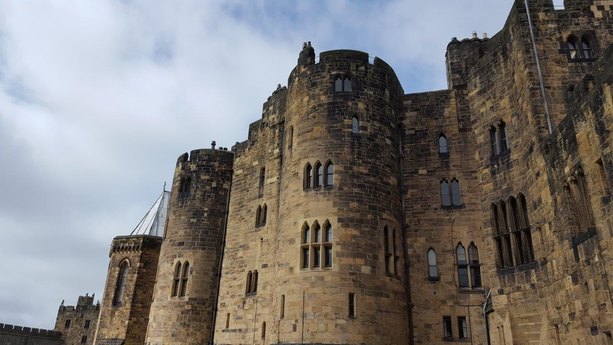 Lots to do here including bamboo mazes, ventures through the magic fairy gardens, the famous Poison Garden and, of course, flying broomstick classes!!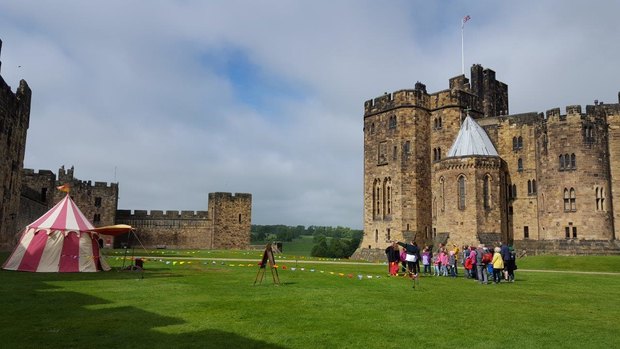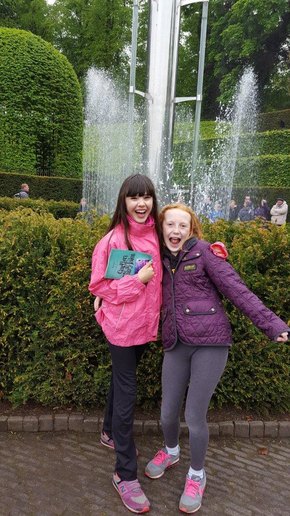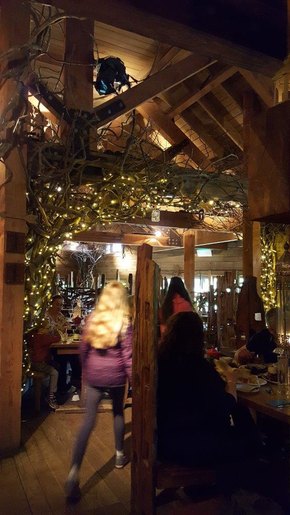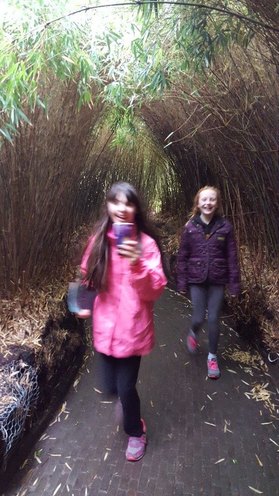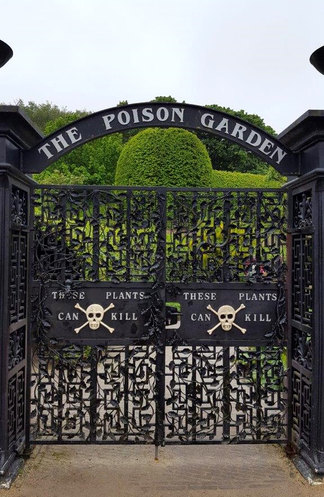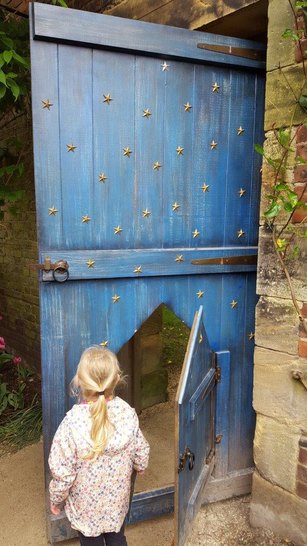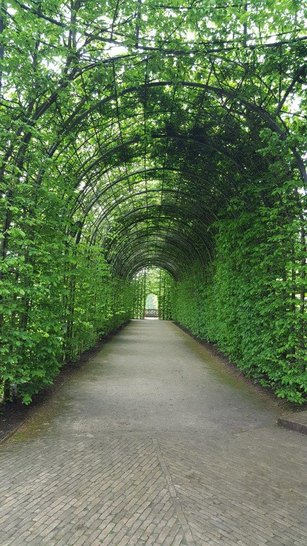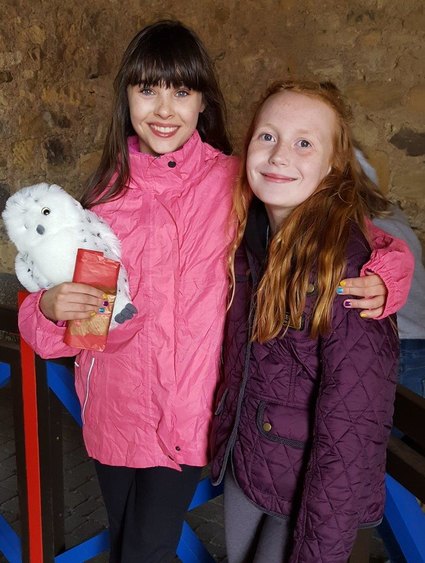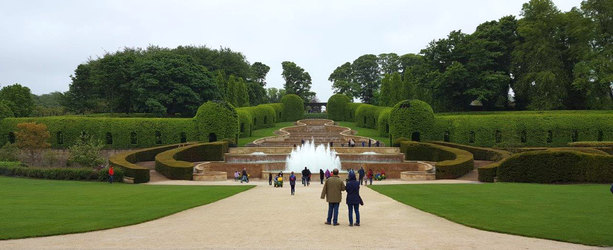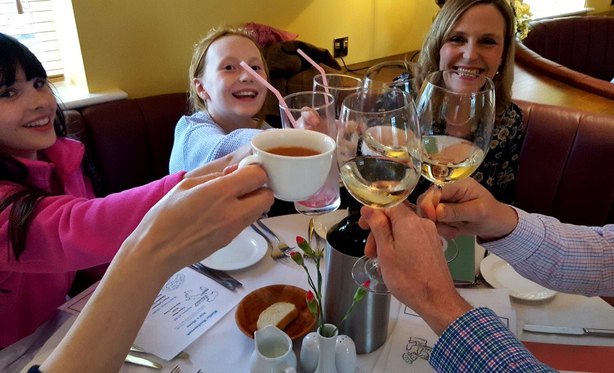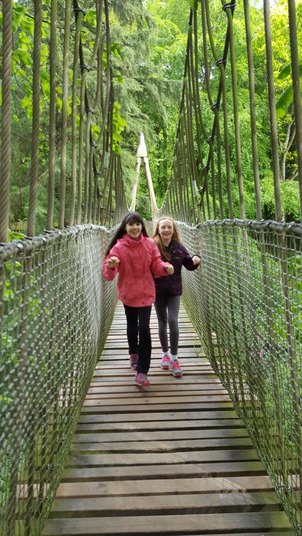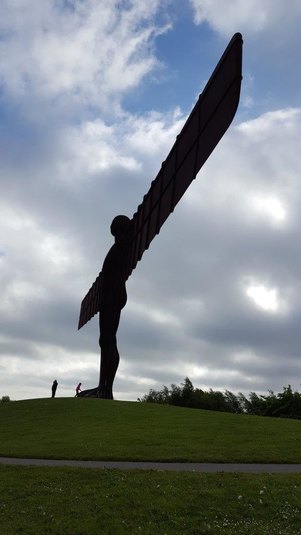 On our way back to Grandma's, we pulled off the highway to see the Angel of the North, a massive copper & steel statue in Newcastle Gateshead, believed to be the largest angel sculpture on the planet. The wingspan reaches wider than a jumbo jet and the angel stands 65 feet high, more than 4 double-decker buses! We've seen her on the hillside from the highway for over 15 years. This ride home, we actually pulled off the exit and made time to visit. Those are the life-changing things we have found we do facing this awful journey of cancer, click: Kicking Cancer!
Yes, actually seizing the day and doing what we wish at a moment's notice because no one knows how many moments we all have.  More than 150,000 people visit each year. This year, we're one of those people.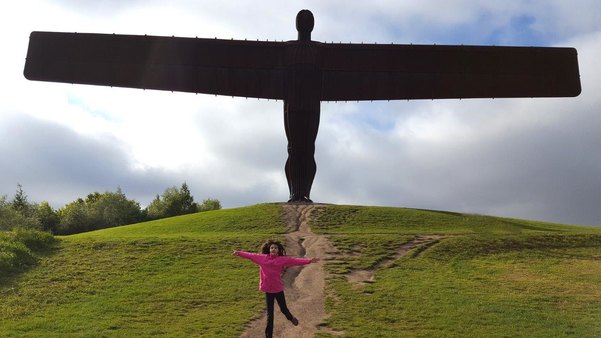 The Bright Spot – Visiting family & friends…and pulling off the highway to really seize the day!!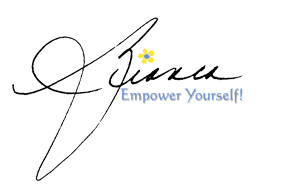 Monday, June 6, 2016 by
Bianca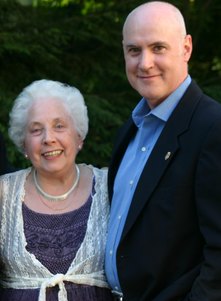 We had a 2-week window between Phillip's last chemical injection and the start of his radiation. It will be 40 rounds of daily radiation from June through August. He wanted to see his Mum. Click: Amazing Grace. Everyone needs their Mum at a time like this!
So we took our little one out of school late May/early June for this family emergency and visited relatives in Europe. Aunts, uncles, cousins, nieces, nephews, Godchildren, close friends, everyone we could see within 2 weeks.
Phillip's mother was overjoyed! Her 89th birthday was in June and she said seeing her son was the best gift ever!
Naturally, everyone we saw wanted to know how treatments were going. We could not rehash the details over and over. Not only is it draining for us but we didn't want these conversations to overwhelm or frighten our youngest. Most of the time, we can shield her from it but when you're traveling from home to home – or pub to pub, as is the case in England – folks want to catch up and we're very sensitive to little ears in range.
Plus, we have striven to reclaim normalcy in the household & beyond for our family. Playing with friends & doing cool things was a mainstay.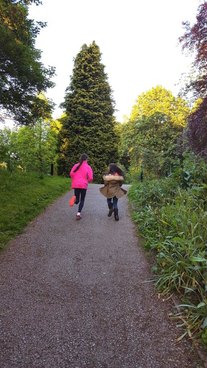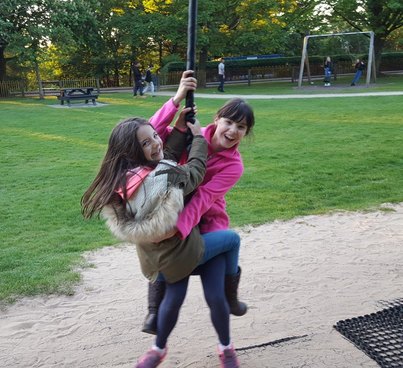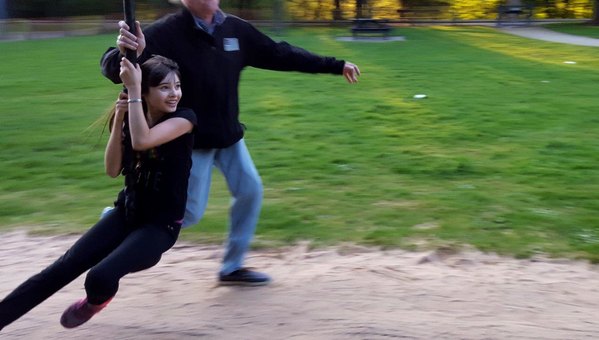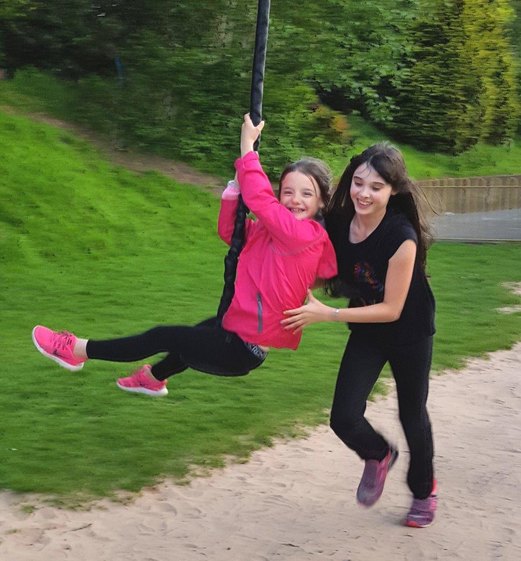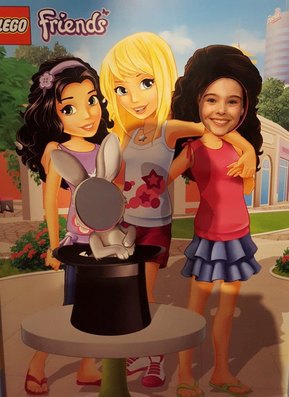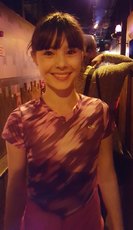 And Legoland was awesome but laying on the grass topped all!! Why? Because there are no ticks or pesticides for ticks at all where Grandma lives and Darling was so happy!! It's the little things, isn't it?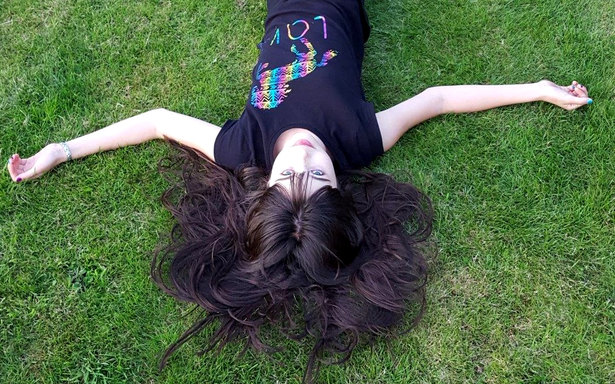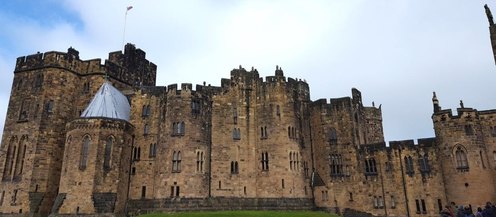 While staying for an overnight with dear friends about a hundred miles south of Scotland, we ventured with the girls to a nearby castle where parts of Harry Potter & Downton Abbey were filmed, click: Castles & Angels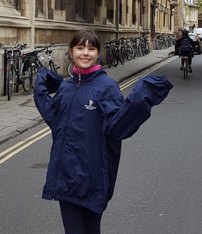 Later, we drove nearly 300 miles south to Oxford to visit the university and delve into the history of this beautiful medieval city, click: Oxford 
And because our budding marine biologist, during these 2 weeks, would unfortunately be missing a highly-anticipated field trip to the beach to explore the biodiversity of the water's ecosystem, we wanted to do something special for her and booked her for Seatrek at what's known as Europe's 1st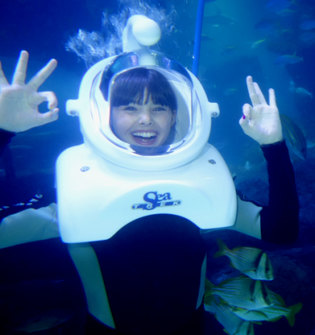 Seabed Walk: SeaTrek
Her 5th grade teacher kindly allowed our daughter to give a full presentation to her class on the 3 adventures above & what made each so special.
And speaking of 5th grade, the Friday we left for the airport was the same day her class was split into just girls/just boys earlier that morning for "The Talk." You know the one. Menstruation, growing bodies…
But unlike the lecture we had in school when I was that age – along with a cartoon movie with dancing flowers depicting our blossoming into young ladies – this talk was not only about girl stuff…but boy stuff, too! Would be shocking, but the school explained that with the advent of the Internet, kids see much more than we did at this age and need to know more material to educate and protect themselves.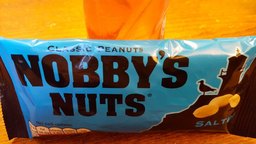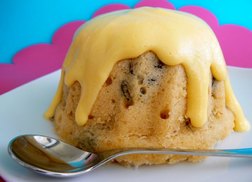 Humm… Still found it shocking. But it certainly made for fits of laughter – of which we need much of these days – and especially with a silly 5th grader! as we passed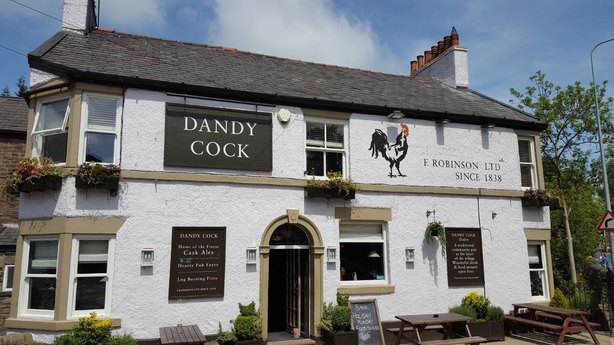 by unassuming pubs like the Dandy Cock, or were served Nobby Nuts (salted peanuts) or when we read Spotted Dick on the menu – a British sponge pudding made with raisins & served with custard – but I mean, seriously, come on!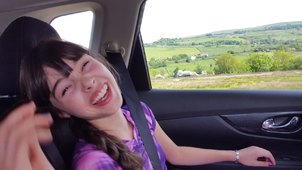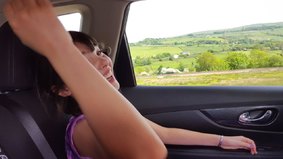 When we all revived in the car from laughing so hard, we arrived at one of Phillip's oldest friend's for a lovely meal. No, not at the Dandy Cock. We walked over buttercup-covered hills and along lakes & clifftops.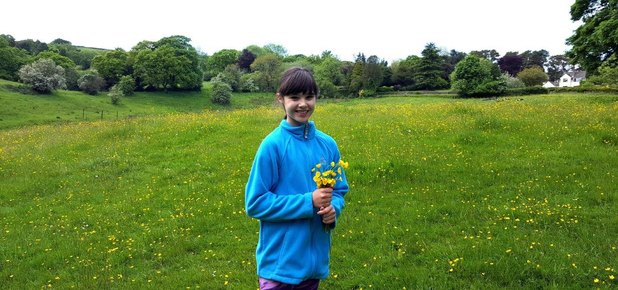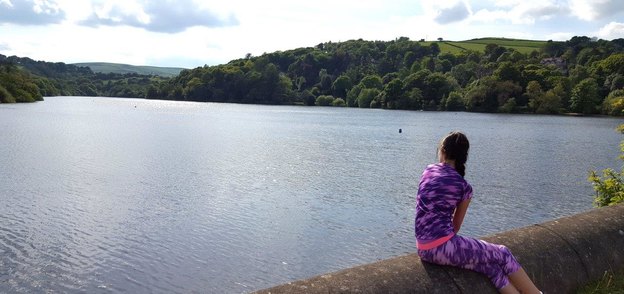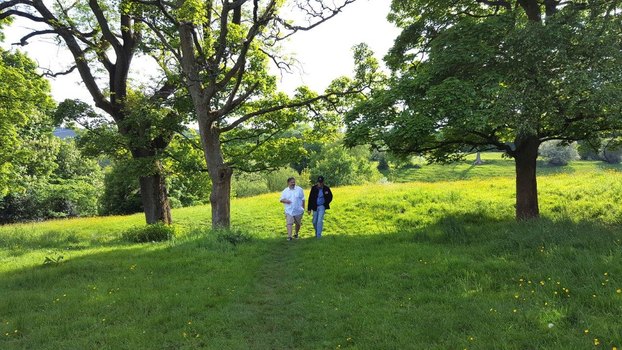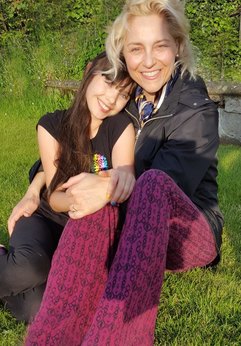 The Bright Spot – finding the hilarious things in life out of the simplest moments! And appreciating the glorious countryside with our loved ones.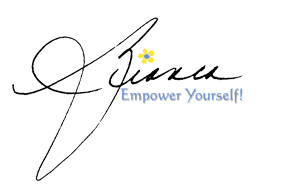 Wednesday, May 4, 2016 by
Bianca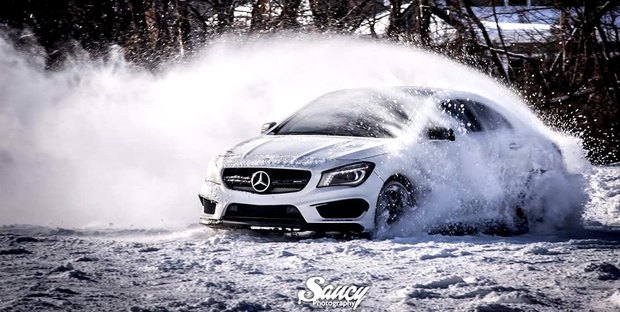 Our son loves his car! L-o-v-e-s! Yup, that's him playing in the snow.
He worked hard for it and earned it completely on his own. It used to be black.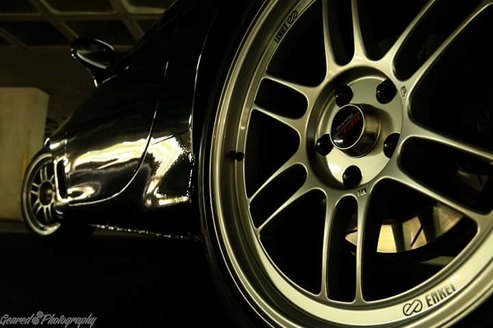 Last year, this high performance baby came home white ~ satin pearl matte wrap. That all sounds lovely but what I think is really neat is his appreciation for the fine craftsmanship of this Mercedes-Benz AMG.
AMGs are hand built by one specialty engineer. It's known as the "One Man – One Engine" philosophy. When our son saw his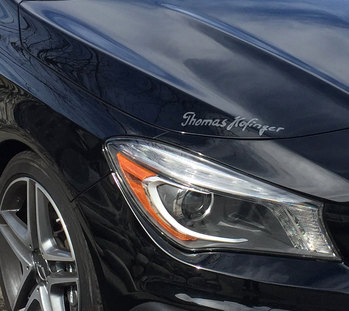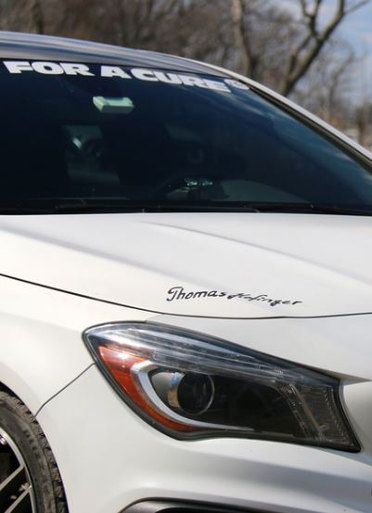 engine was signed by Thomas Hofinger, he had the signature made into a slate grey adhesive that proudly – yet subtly – adorned the corner of his black hood. He had the signature remade when he changed the car to white.
One day, a father who was at an event we attended started a conversation with my husband who was wearing a baseball cap with the Mercedes logo on it. They started talking about cars when the man told him he worked for Mercedes. My husband said our family has enjoyed the brand for decades and showed him a photo our son took of his car with the signature. "Oh, nice to see how much he loves his car, why don't you give me your address, I'll send him something." We thought a cool Merc key chain or pen would be a nice surprise for our son especially after all his hard work.
Time passed and life continued its routine. Then about a month later, a large cardboard envelope arrived in the mailbox. We all nearly fell over! A letter & photo of Thomas Hofinger saying he was "honored and stoked" to see his name on the hood of our son's beautiful AMG!! It was just so cool!! And so unexpected!! It made the car come to life even more. "Let her roar and soar!"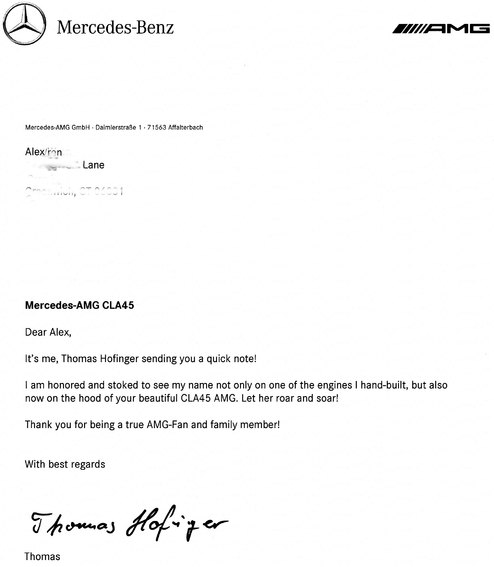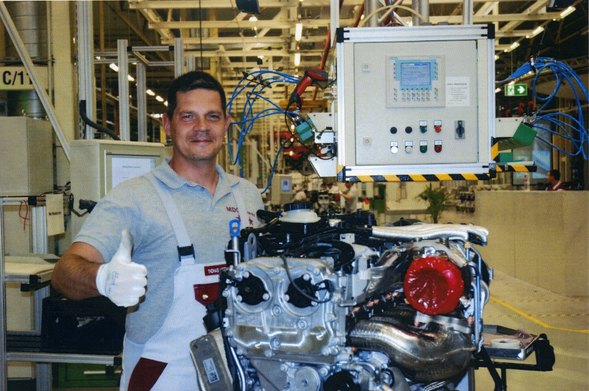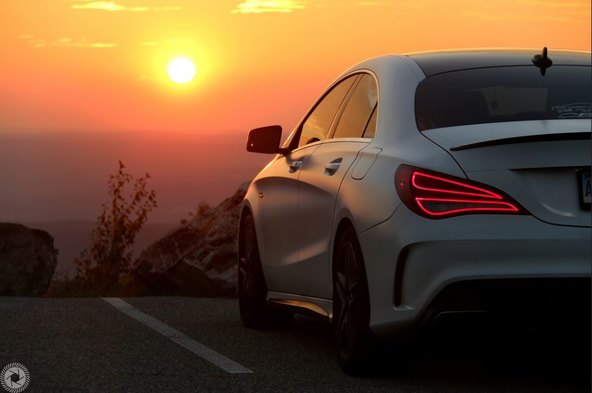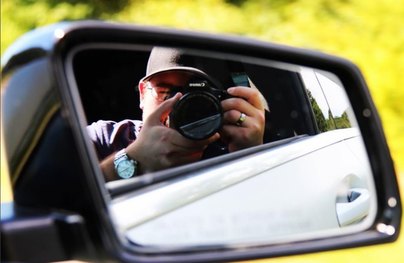 In my story, "Encourage & They Will Excel" (click: Excel), I explain my husband's & my belief in not "pushing" our children, but rather encouraging them with an array of opportunities & unconditional support. When our son, an Operations Director at a national company headquartered in NY, said he wanted to start a photography business, we were excited for him. He invested in a great camera, lenses, Flickr, and we supplied accessories, tripod, URL, etc.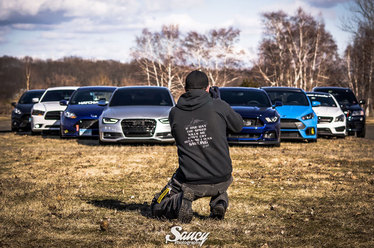 He has a passion for cars and wanted to center his photo art on that industry traveling weekends to car shows and enjoying time with his car buddies. Our son named his company Geared Photography – decidedly apropos.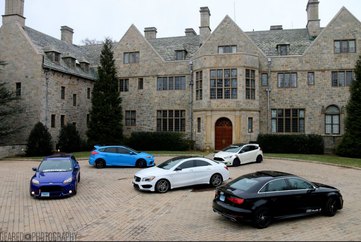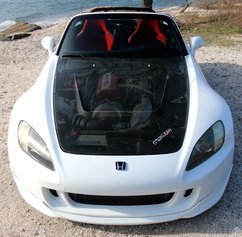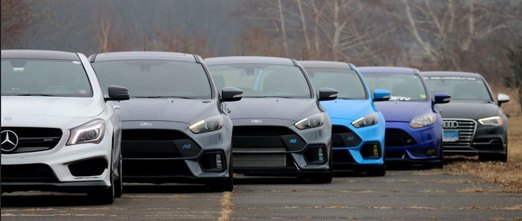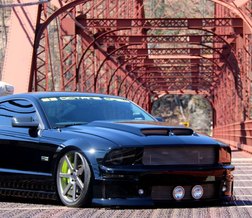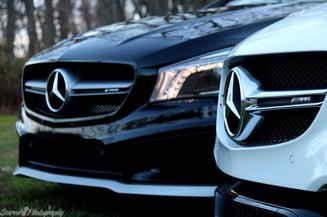 Fast forward a few years of hard work and his pics have been seen in lots of cool places including DriveTribe, the new website for The Grand Tour.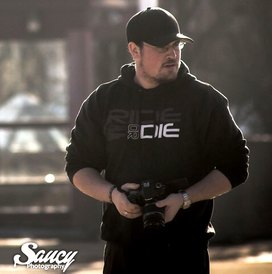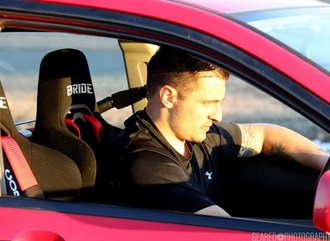 To see some more photos, click: Geared Photography. (Please note: A friend of our son's is nicknamed Saucy – he's a fellow photographer & car buff, too, and the 3 photos he took of our son are watermarked accordingly.)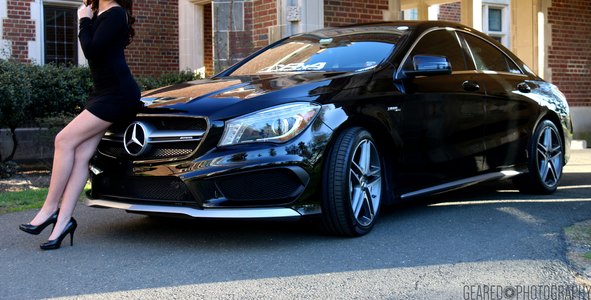 The Bright Spot – Watching your kids grow up doing what they love!
Our love for Mercedes runs deep ~ my father in his cherished Adenauer long ago. He'd be very proud of our son's diligence. Miss you, Daddy.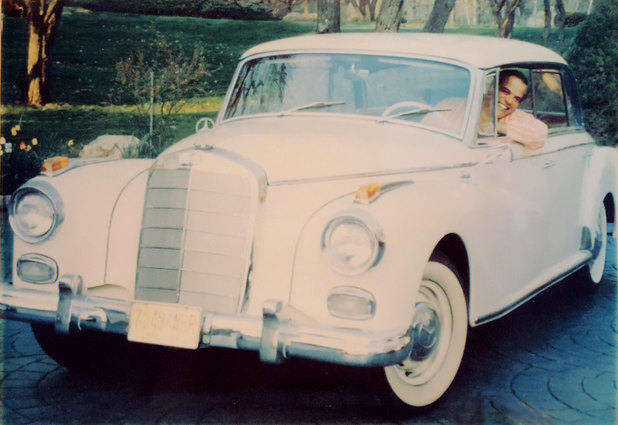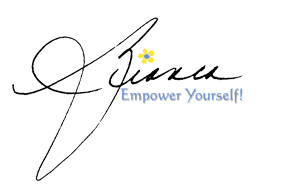 Tuesday, April 12, 2016 by
Bianca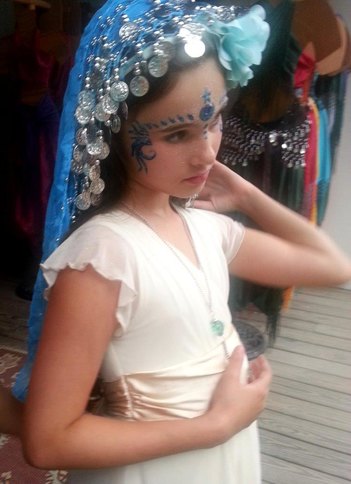 Our darling last year at the renowned     New York Renaissance Faire (left).
For this year's faire, she knew exactly what she was looking for in a gown…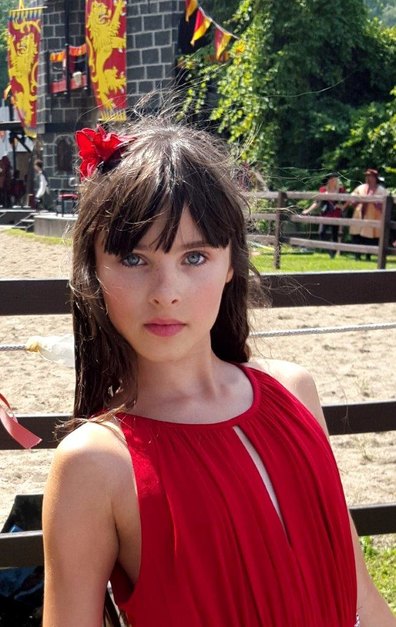 For over 38 years, fairies & fellows, princesses & knights alike have gathered throughout 65 acres of Sterling Forest, Tuxedo, NY to celebrate the Elizabethan era at the Renaissance Faire!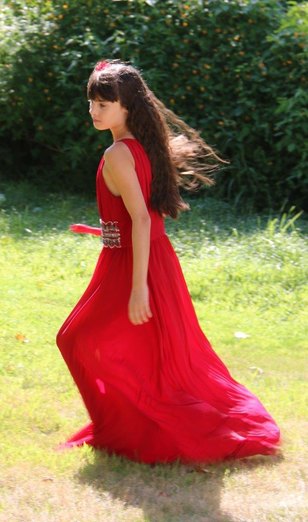 We
We went again this year with family & friends. Our 10-year-old told us this is her favorite summer tradition, now several years running.
From dragon rides…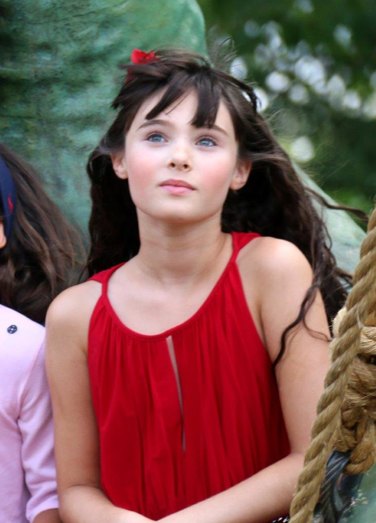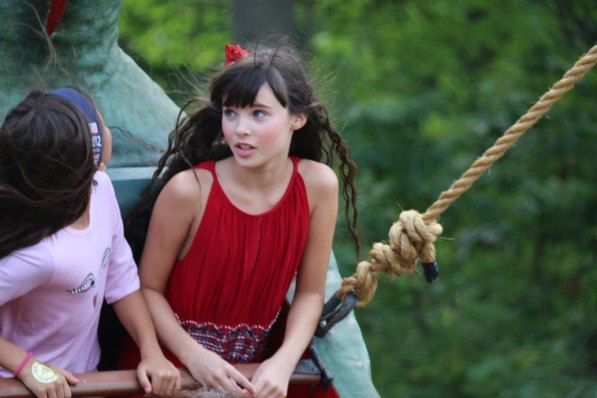 …to cuddling baby dragons, there's an adventure around every corner.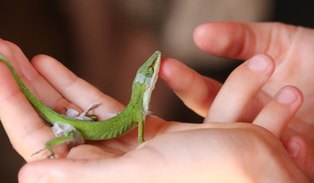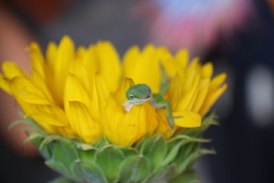 If you love acrobats & magic, sword fights & jousting, this is definitely the place for you.
With 20 stages and over 100 shops, there is something for everyone, young or seasoned.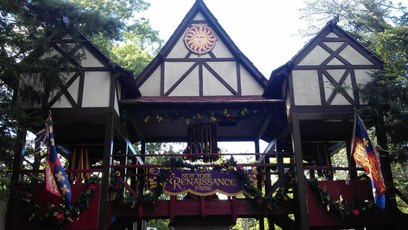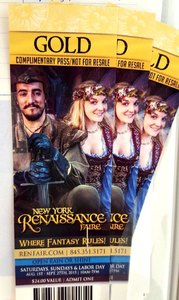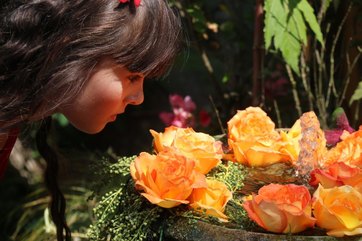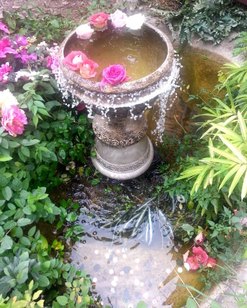 Our Darling played the flute for the Woodland Fairy, the Acorn Fairy, the harpist and the Queen.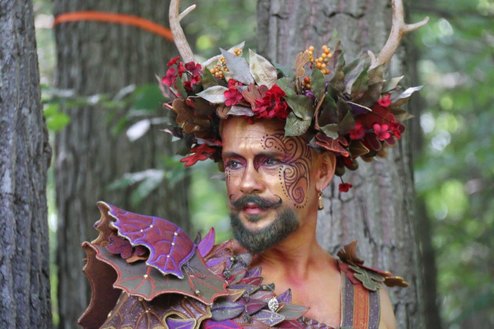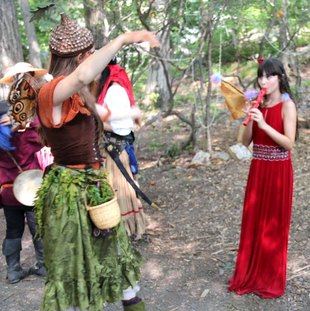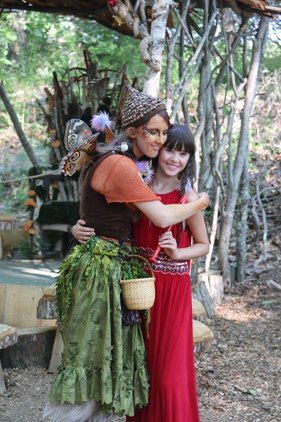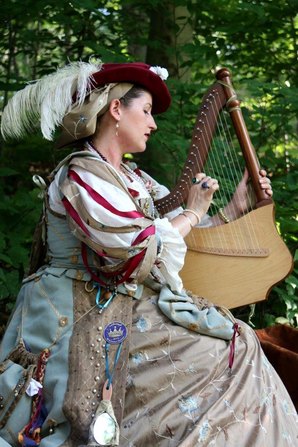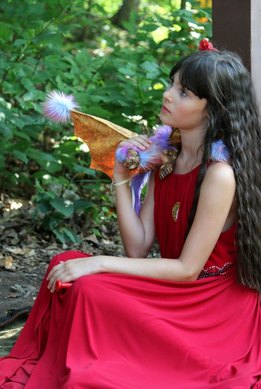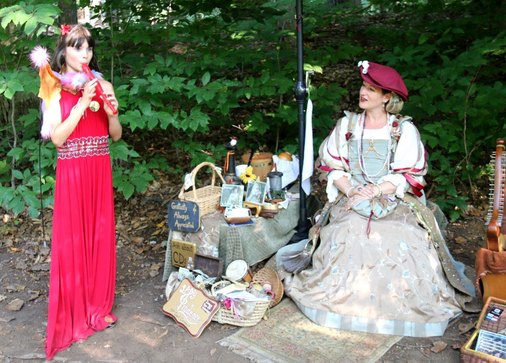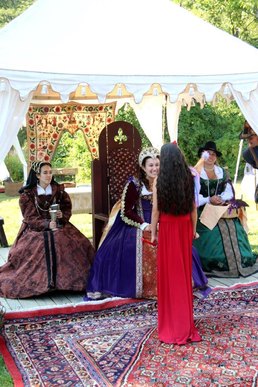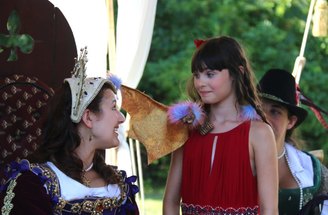 Armor and headdress for every age…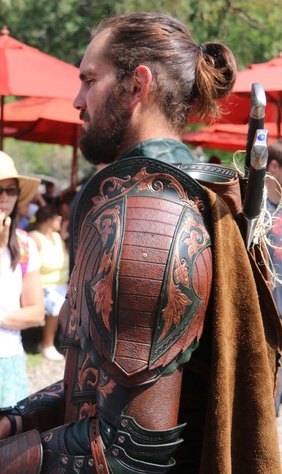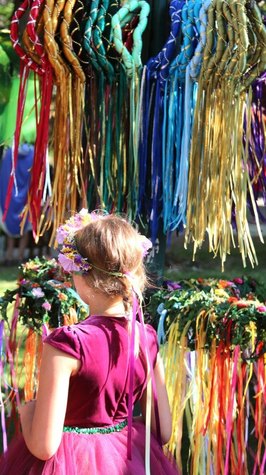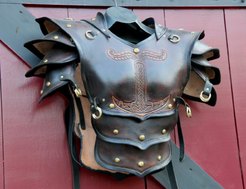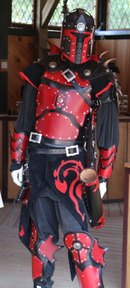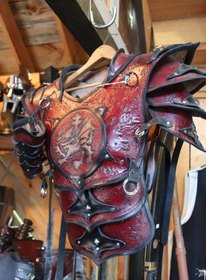 …thundering horses and overflowing … overflowing…well, simply overflowing…!!!…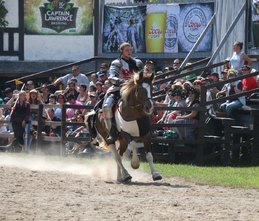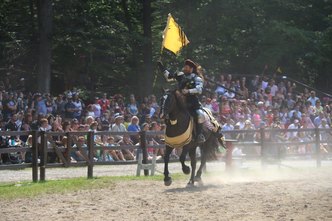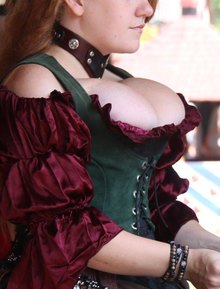 …overflowing attractions from wenches serving mead!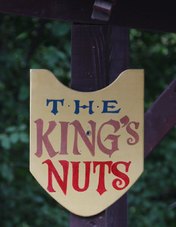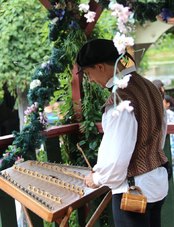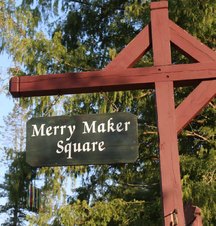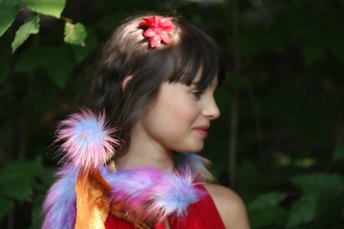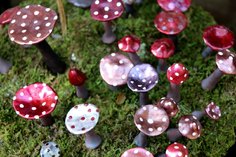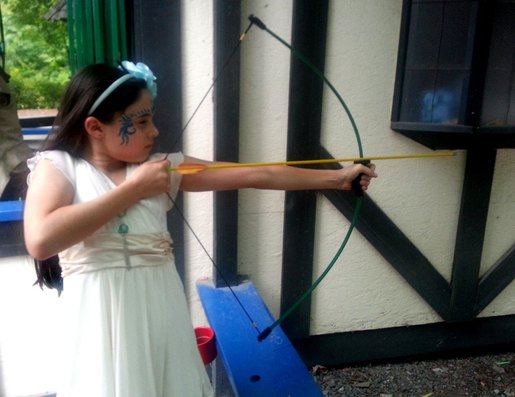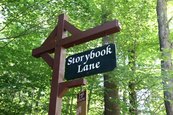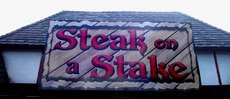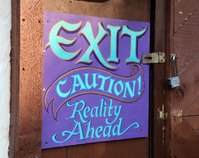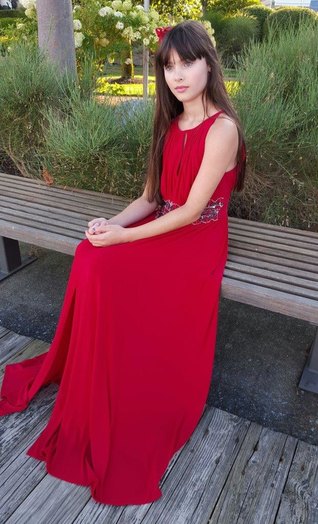 The Bright Spot – For swashbuckling pirates, jousting, boating on the lake or dancing around the Maypole, be sure to visit a Renaissance Faire near you, so magical, indeed!
I'm looking forward to seeing what our Darling picks out for her dress next year.
Sweet Acorn Fairy kisses farewell till then…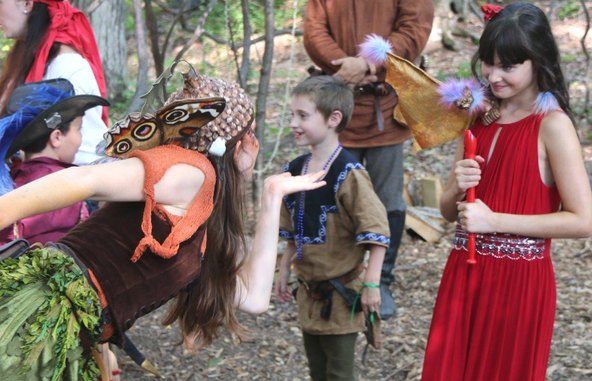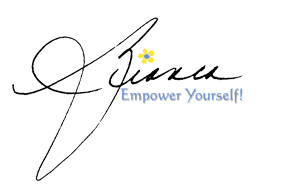 Monday, October 5, 2015 by
Bianca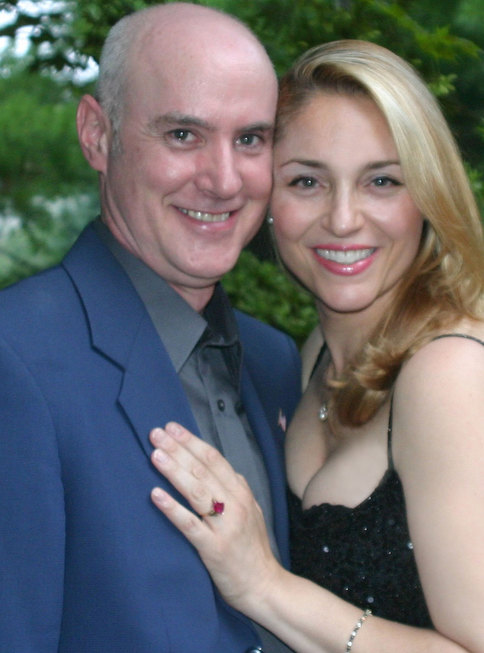 Thank you to everyone who listens to our Life, Love & Parenting show, "Let's Talk with Bianca & Phillip!"
After nearly 500 interviews &             19 Seasons, my husband & I are excited to announce we have been signed for national syndication!
For those who are new to this program, here are snippets of our bios & an overview of our show.
Bianca's Bio:
Bianca Tyler is a 3-time award-winning TV journalist, nationally-syndicated radio show host, popular blogger, Mompreneur, former Miss Connecticut, TV & radio producer, founder of WH Publishing, and "The Momversationalist®," the title of her new book coming out in 2016.
She's also been a news anchor, news reporter, parenting contributing editor, entertainment reporter, weathercaster, one-man band, linear & NLVE editor, singer, model, lecturer, teacher, animal-lover, adoring wife, active mom of 2 kids and her pets, and an all-around, bona fide multi-tasking guru ~ a BFMTG!
In addition to her TV awards, Bianca has also been honored with 8 other awards including the Women's Leadership Award and a Citation of Excellence from the Connecticut State Senate.
Her website, www.TheLetsTalkMom.com, currently celebrates over 10.26 million page hits & counting! Her focus is about family life and empowering oneself by "Finding Your Bright Spot™."
She has spent over 30 years promoting her charitable causes ~ during her reign as Miss Connecticut, statewide charities raised over a million dollars of fundraising revenue.
Bianca has appeared as a special guest on over 35 television & radio programs and in more than 60 newspaper, journal and magazine publications in over 135 articles, photos and covers worldwide, including USA Today, NY Post, NY Daily News and The New York Times.
Bianca has explored over 120 times more than 50 countries on 5 continents.
Phillip's Bio: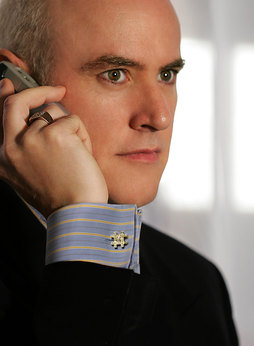 Phillip is a multi-award-winning entrepreneur who founded his 1st company and grew revenue by 268% in the first 3 years. His 2nd venture – a tech company, www.IDCardGuard-us.com, launched last year and specializes in patented RFID-shielding for credit/debit cards & identity theft, SmartTag & WalletTag tracking devices, selfie remotes, RFID-blocking wallets, passport shields and so much more.
An accomplished publishing & media executive, he demonstrates extremely strong strategic and analytical skills with a proven track record in business start-ups & turnarounds. Most recently, the division under his leadership ranked in the Inc.500 list as one of the fastest-growing companies in America showing a 3-year, 937% increase in revenue ranking them as the #9 media company in the USA.
Exceptional P&L and cost control expertise, Phillip is a leader in identifying strategic alliances to build and convert market opportunity into new business revenue streams. He has raised hundreds of thousands of dollars worldwide for charity.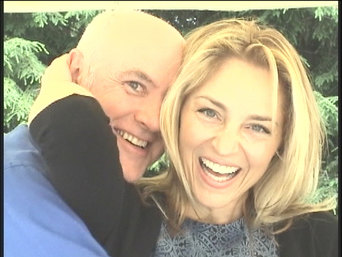 "Let's Talk!" Show Overview:
"Let's Talk with Bianca & Phillip" is a Life, Love & Parenting program. It's a forum to discuss parenting, relationships, single parenting, infertility, marriage commitment, intimacy, loss of a spouse, communication, raising phenomenally close & thoughtful children, romance, matchmaking, healthy living, information and well-being, great tips to make your life easier, getting through any tough situation and, most of all, getting & staying motivated whether you are married, single, male or female.
We'll help you empower yourself and keep your sanity while keeping your marriage and family strong!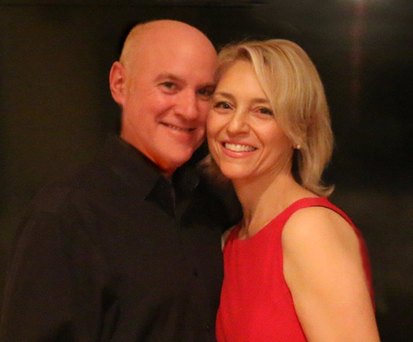 We have incredible, experienced & dynamic guests from all over the nation, many of whom have been quoted from People magazine to Parenting magazine and have appeared on shows like Today & Good Morning America, experts, authors, parents, and doctors as well as little folks on our "ChitChat with Children™" portion, and teenagers for our "Teen Talk!™" segment, connecting parents and youths through understanding and communication.
All programs are archived on this site. You can listen to the shows on your computer or cell phone at home or in the car for your listening convenience.

The Bright Spot – "Let's Talk with Bianca & Phillip" ~ Empowering parents/listeners through information, advice, guidance & tips.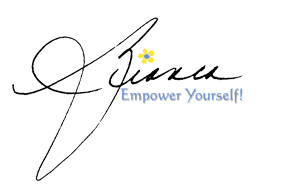 Sunday, August 2, 2015 by
Bianca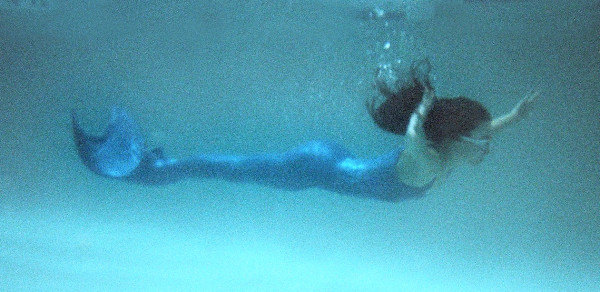 When our daughter turned 9, The Pearl Princess movie launched that week. "Wouldn't it be great if I could be a mermaid, too," our little future marine biologist dreamed.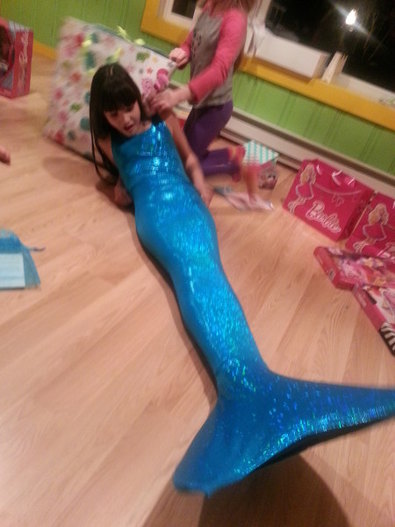 Her party revolved around The Pearl Princess, aquariums & water events but her greatest joy was the sparkly blue fintail that awaited her!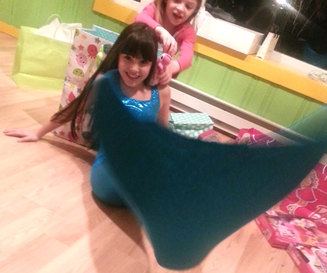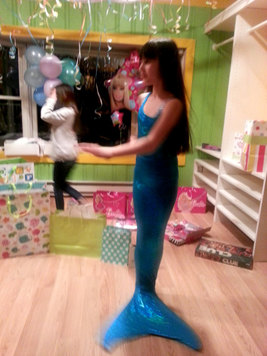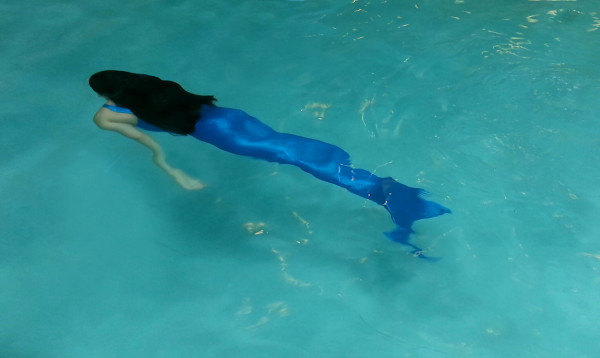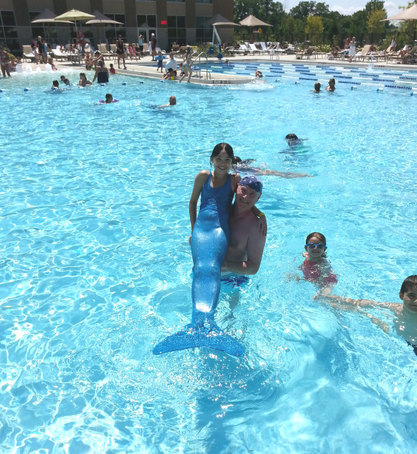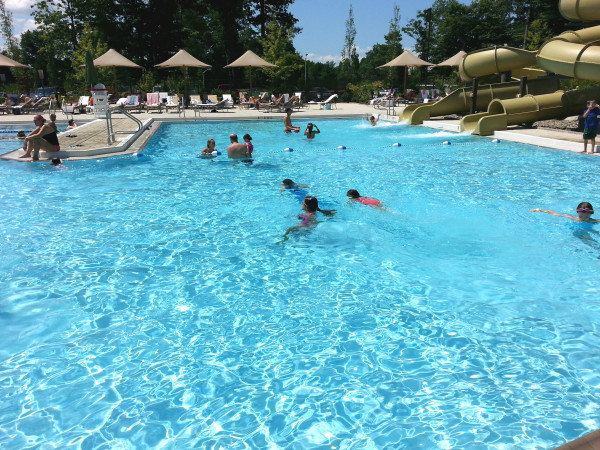 The Bright Spot – Everything about birthdays & mermaids!! 😉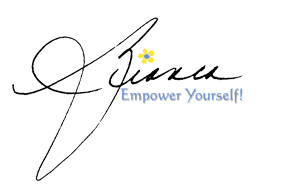 Friday, July 10, 2015 by
Bianca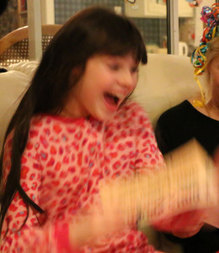 Birthdays are a big deal in our household. Turning double digits?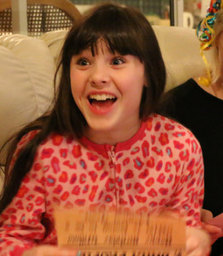 Well, that's just momentous.
These photos are the tickets to an adventure of a lifetime: We took Little One on a Tweendom Extravaganza to The Wizarding World of Harry Potter, Universal Orlando, Disney's Magic Kingdom, Animal Kingdom, Titanic Artifact Exhibit, Disney's Epcot Center, and the Clearwater Marine Aquarium to visit Winter & Hope of Dolphin Tale 1 & 2, CoCo Key Water Resort & Mystic Aquarium.
We walked over 120,000 steps – thank you, pedometer – which translates to 52 miles!
In blue are links to Parts 2 & 3 of this story – yes – so remarkable, they deserve their own posts!
To explore the magical world of wizards & wands, chocolate frogs, Butterbeer & Platform 9 3/4, click Part 2: Harry Potter World
To see Winter, the sweet dolphin who lost her tail when she was only 2 months old, click Part 3: Winter & Hope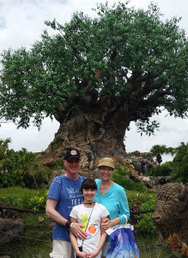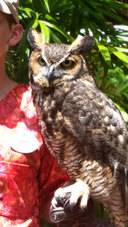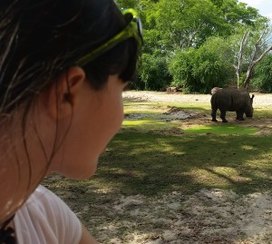 Animal Kingdom, Tree of Life, Rainforest lunch, up close with Little One's favorite bird, Safari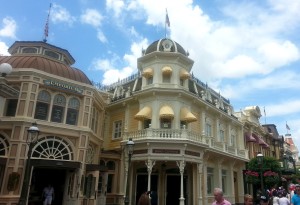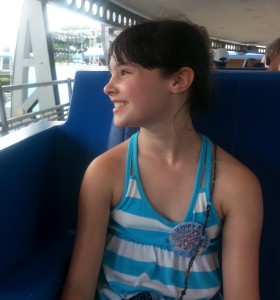 Disney World's beautiful Main Street and big smiles!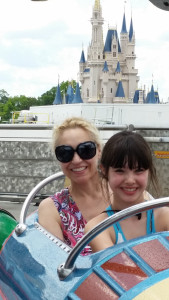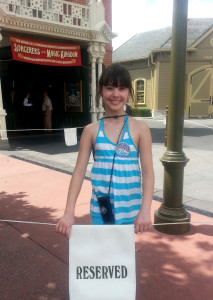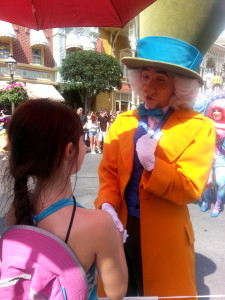 Cinderella's castle, reserved birthday spot to see Disney's Fantasy Parade & meet the characters,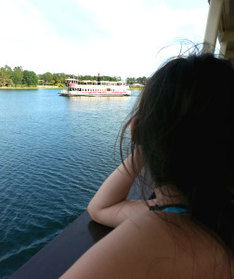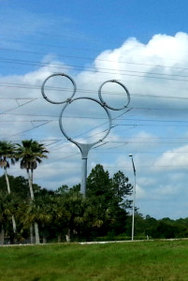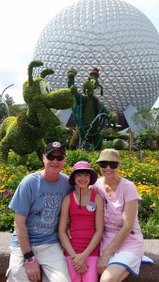 Enjoying Disney's Ferry Boat ride, power lines on the I-4 – cool!! and Epcot Center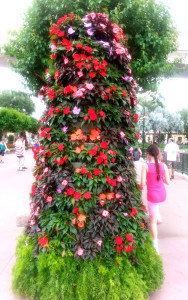 Gorgeous Annual Flower Festival at Epcot, Space Center, coral reef cuddles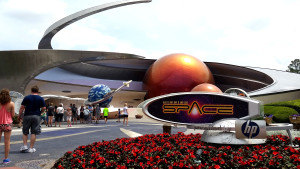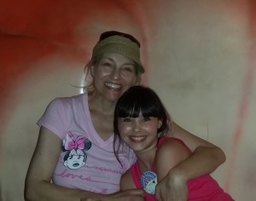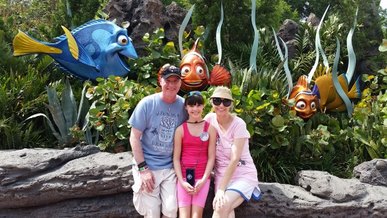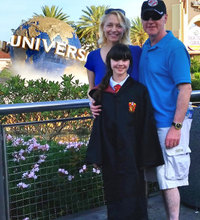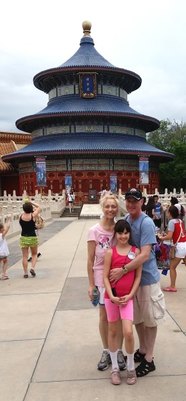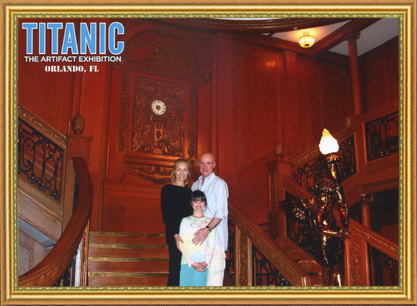 Dad & Little One enjoying the water resort where we stayed. That slide was insane!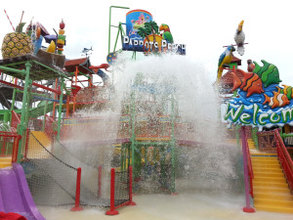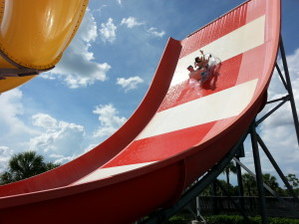 ♥♥♥ And best of all was celebrating at Mystic Aquarium & CoCo Key Water Resort with family & friends. ♥♥♥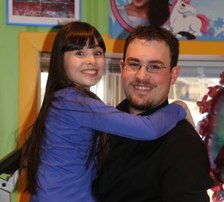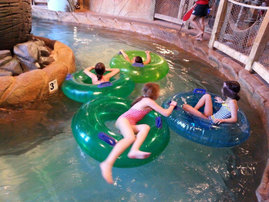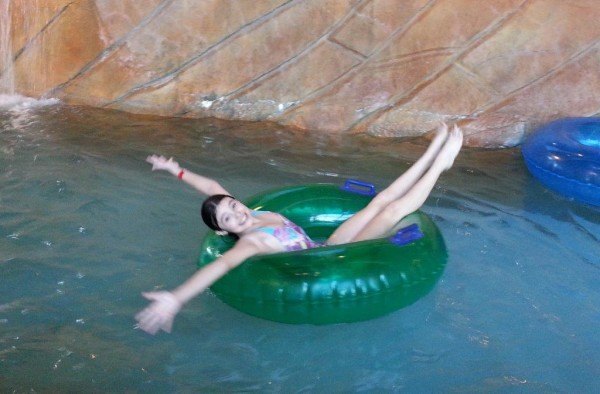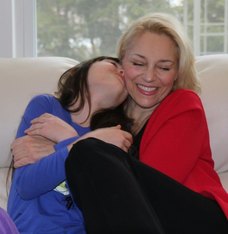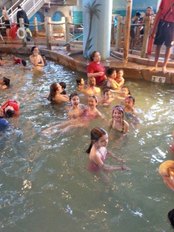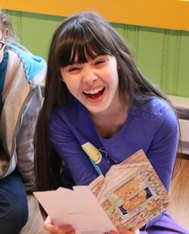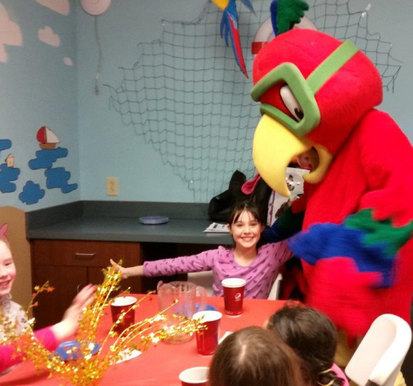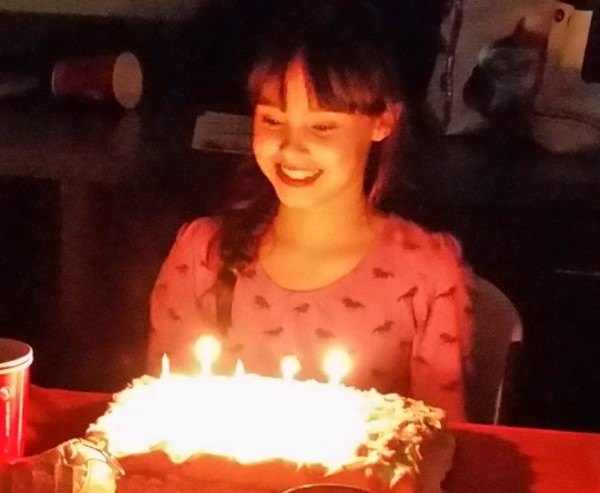 The Bright Spot – Enjoy the stories of Harry Potter World and Winter & Hope by clicking these blue links…or just keep scrolling, they're next. We highly recommend both vacation sites!!  🙂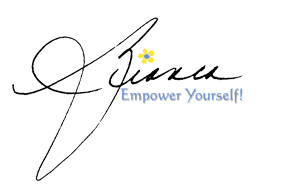 Sunday, June 14, 2015 by
Bianca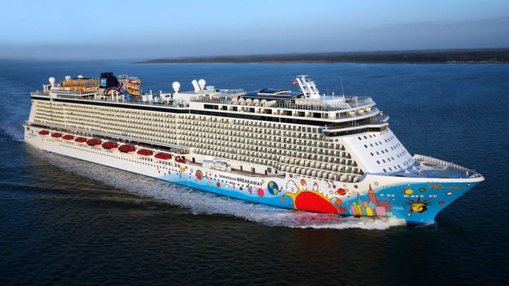 How we kept it a surprise I have no idea! After weeks of planning and several days cruising across the Atlantic on the gorgeous Norwegian Breakaway, we landed at King's Wharf and headed barely after daybreak onshore with our Little One.
"Why are we leaving so early? Where are we going?" Still mum, Phillip & I guided our inquisitive daughter to a huge, weathered wooden door battered by storms but fixed firmly in place by its centuries-old surrounding stonework.
Her eyes grew wide as we knocked loudly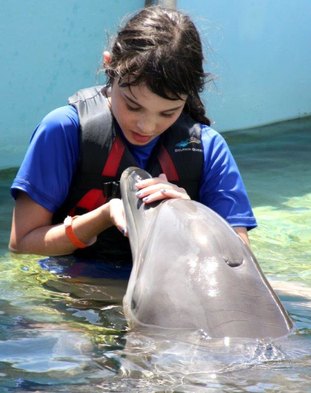 on the door. No one was around but us. A short while later, the door creaked open and we were led into a large courtyard – the National Museum of Bermuda at the Royal Naval Dockyard. It was clear it would not open to the public until later that morning.
We walked through the dockyard until we came to a building where a young woman greeted us. She knew the day had been a surprise for our daughter. When she explained to our Little One that she would be joining her team for a day of dolphin training, the excitement in the room was electric! Then she was handed a Dolphin Quest swim top and felt very official. "Wow!" she whispered under her breathe.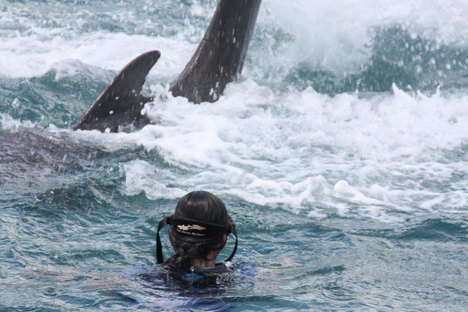 Our daughter's dream of loving, studying, and safeguarding marine life just took another leap forward. Years prior, our family had only swum with the dolphins. Jamaica. Bahamas. Florida. But this was different. It wouldn't be just a 45-minute encounter with a group. When we saw that Dolphin Quest in Bermuda offered a Dolphin Trainer for a Day program, we booked it for our daughter straightaway.
She spent the day with 8 dolphins including 2 baby dolphins just 3 months old ~ talk about over the moon!
Our Little One gained experience in fish preparation, dolphin feeding, gating, hand signaling, dolphin relationship building, swimming, measuring and dolphin training.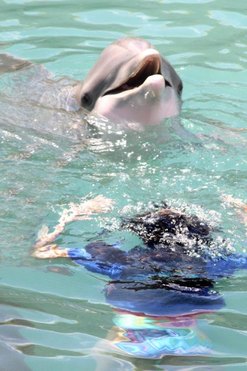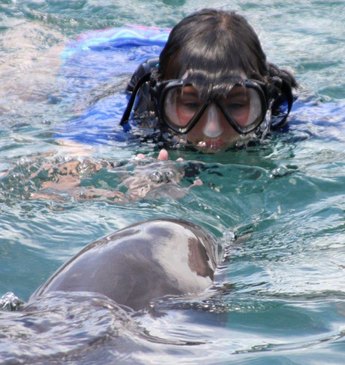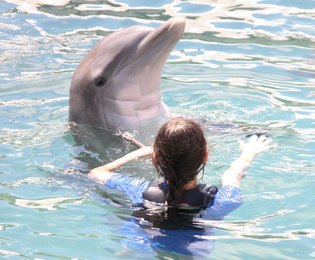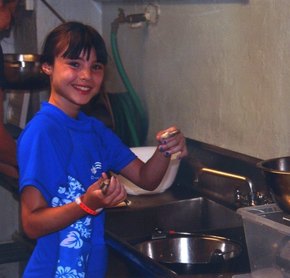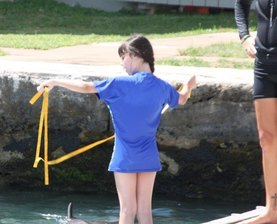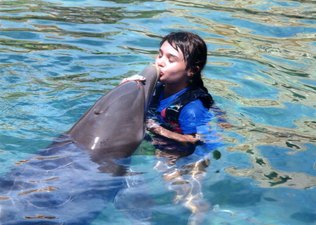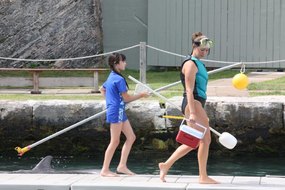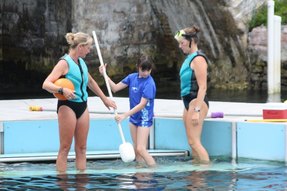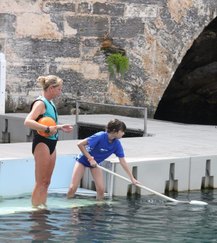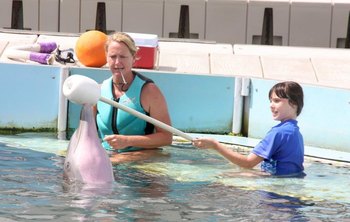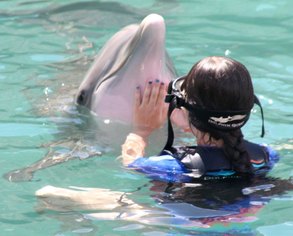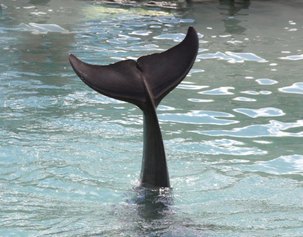 I'm not sure who had more fun, the dolphins or our darling!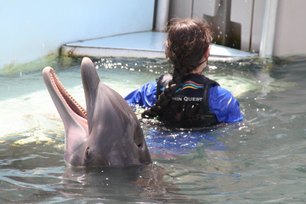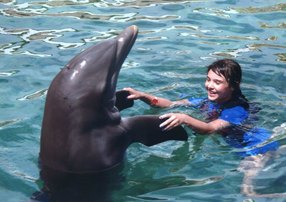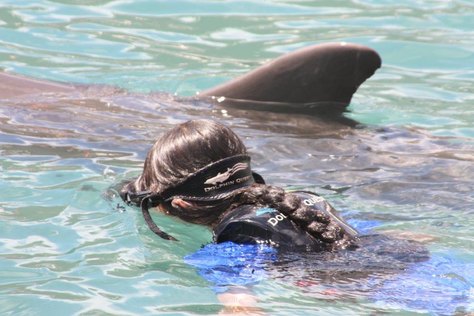 Later that day, she enjoyed lunch with her mentors and when we picked her up at the end of her session, the dolphin trainers said they had never had a person know so much about marine life before and that she was the most excited participant they had ever had in all their years and that she would be a welcome participant for their 5-day training program there or in….Hawaii!! Yeah, looks like that may be the next dolphin destination! I'm ready to pack…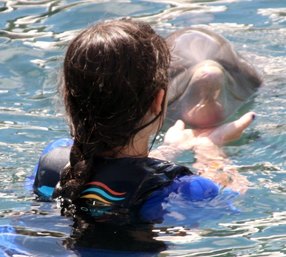 The Bright Spot  – Our daughter has been waiting 5 years to swim with her beloved Beluga, Juno.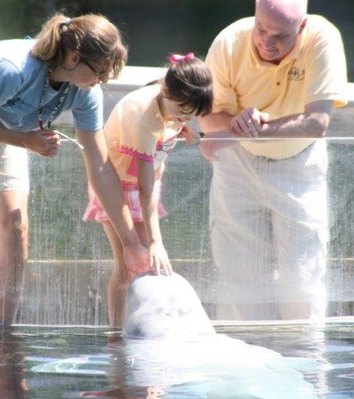 She learned about the program when she was 5 years old but the rules require people to be a minimum of 60 inches to get in the tank with the whale.
So guess who's 59 & 3/4 inches?!?
Yes, I think we are heading to Juno before summer's done! (photo of Little One with Juno left). It's truly a pleasure to empower children's interests.
Click here for the story about Juno at 5: Harmony & Magic
Click here for the Florida dolphin swim at 6: Pixie Dust & Dolphin Kisses
Click here for Dolphins in Jamaica at 7: Paradise for Families
Click here for Winter & Hope at 10: A Dolphin's Tale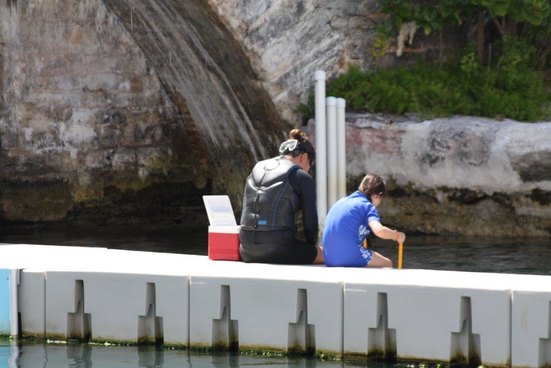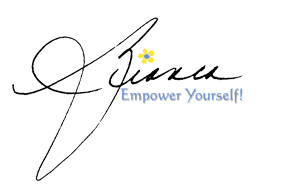 Sunday, May 10, 2015 by
Bianca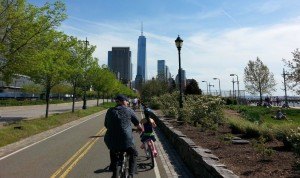 Our 9-year-old led us on a 14-mile bike ride to the Freedom Tower on Mother's Day.
7 miles down Manhattan Island & 7 back along the Henry Hudson River South Waterfront Bike Path in sunny 75 degree weather.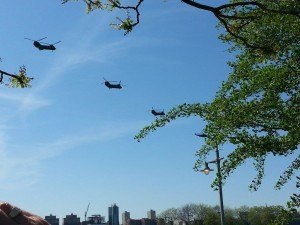 As we rode along New York City's beautiful path, we enjoyed an air display, basketball games, families picnicing at the many parks on the water, the famous ballerina statue, the Intrepid, Concorde & space shuttle, views of the George Washington Bridge & distant Tappan Zee, and best of all…discovering a mama bird feeding her newborns on Mother's Day in a blossoming tree!! Breathtaking!! (precious video below)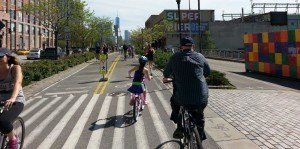 After stopping for ice cream, we enjoyed a lovely dinner and then Phillip gave me one of the most wonderful, thoughtful gifts ever!! Ever!!
To put into perspective how special this Mother's Day gift was to me, may I just say that one year, he surprised me with a beautiful Mercedes convertible in the driveway; another year, matching silver Mercedes' with huge green bows. Yes, those were exciting.
But the gift he gave me this evening made my eyes tear & my heart swell! I'll explain at the end of this story.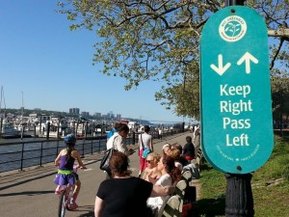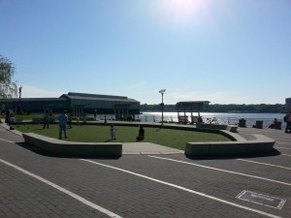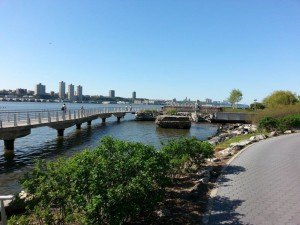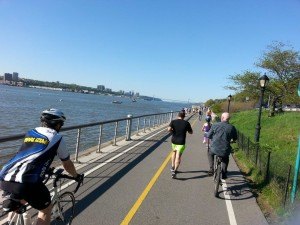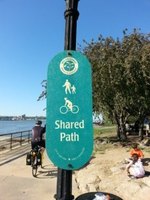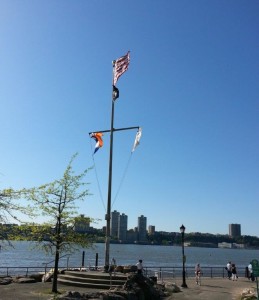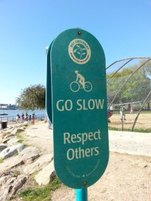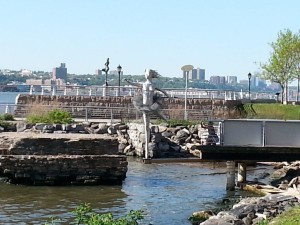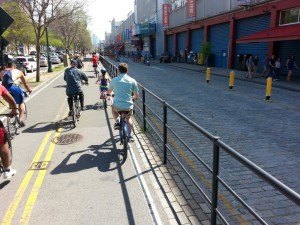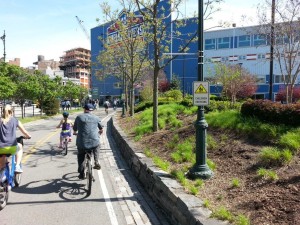 Stopping for ice cream after the 14th mile: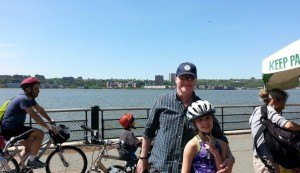 Mama Bird & her babies:
Okay, so this was Phillip's gift. A few days earlier, we saw this sign at Nordstrom's. WOW is exciting for us because it's our daughter's initials. Flipped upside down, it spells MOM.
Phillip carved this WOW~MOM sign for me from a block of wood. A handmade gift is the best gift of all to me and the meaning behind it was heartwarming & made with love and thought.                            
What an amazing husband, I love you, Darling. Thank you!!
Those magenta-orange-pastel-sherbet colors are some of my favorite hues & it will be painted those colors soon.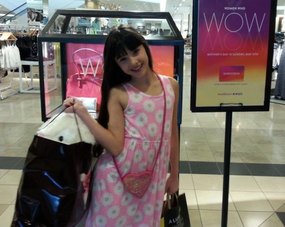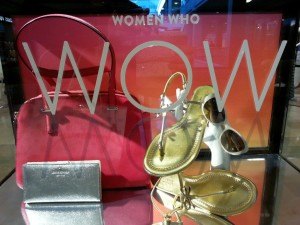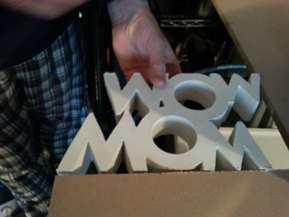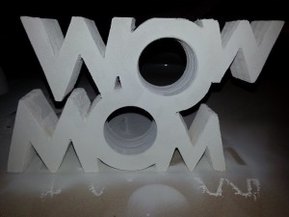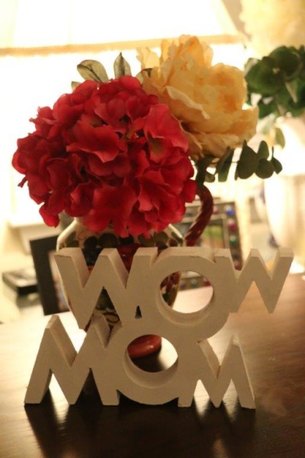 One of the best Mother's Days ever (2014)!!
Today's 2015 Mother's Day was just as delightful!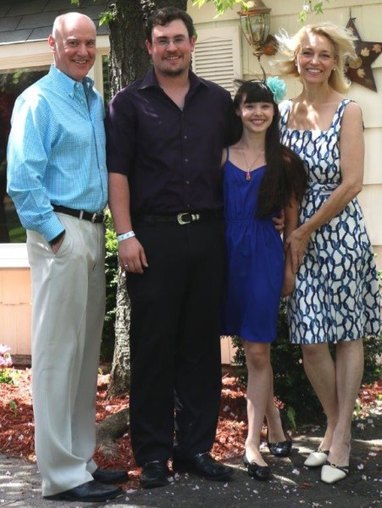 After breakfast & celebrations, we snapped pics under a very significant tree, then Phillip & the kids surprised me with an afternoon of painting together at Pinot Palette in New York, followed by dinner with my Mom.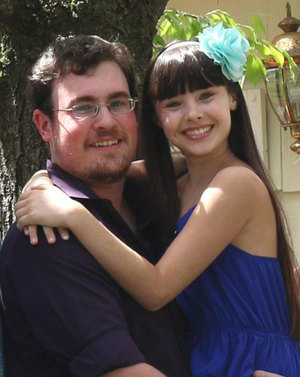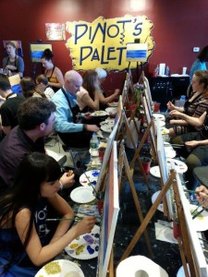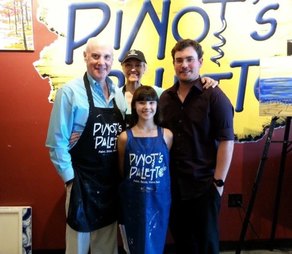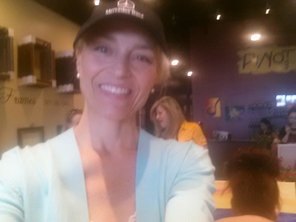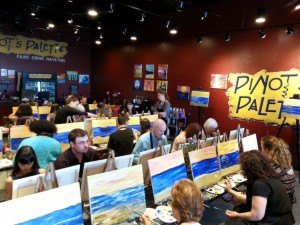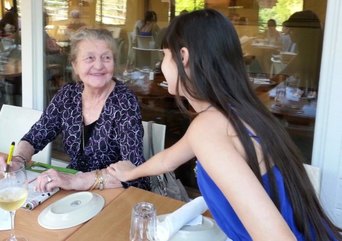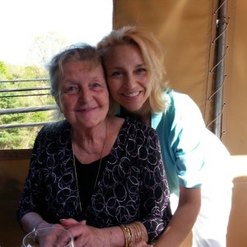 For more on my Mom, just click: Mom
For more on my Mother-in-Law, click: Grace
Thank you for sharing. And thank you to my family, I love you all!!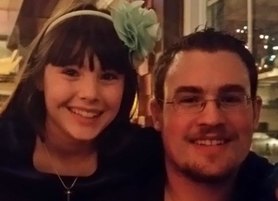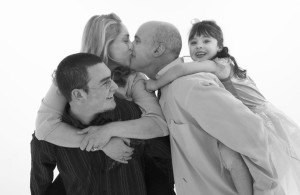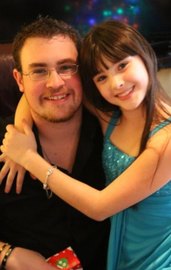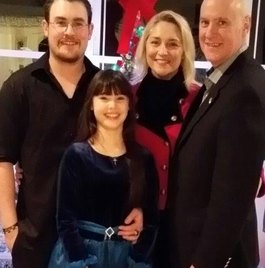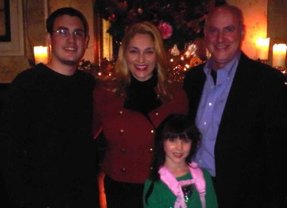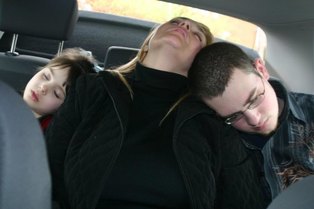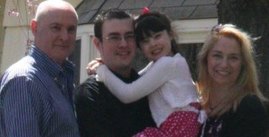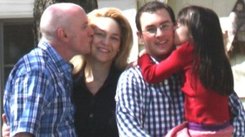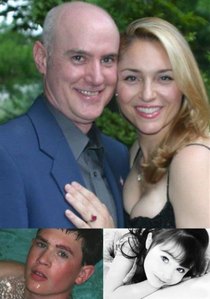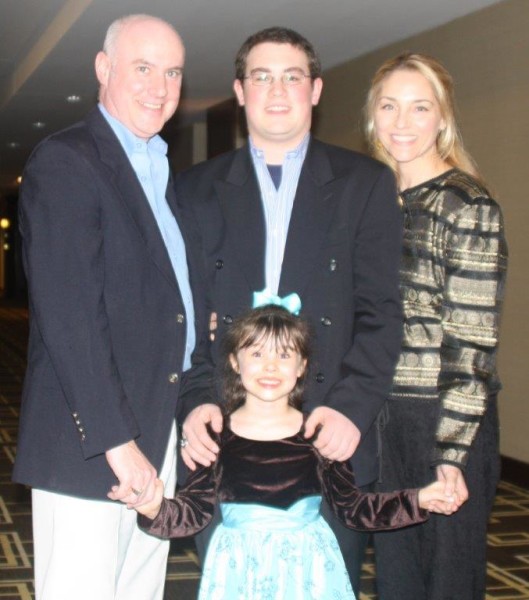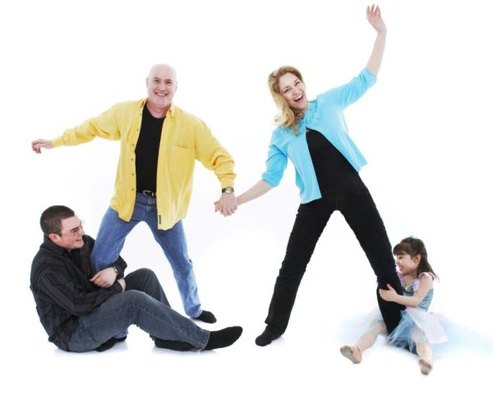 The Bright Spot – Celebrating Moms Everywhere – Happy Mother's Day!!!!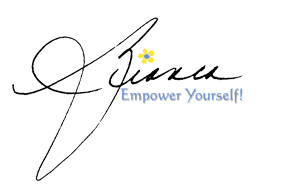 Wednesday, May 6, 2015 by
Bianca
My husband met Harry Bell by happenstance.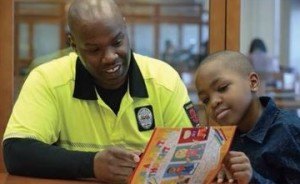 If anyone understands the value of early intervention, positive thinking, and the reinforcement of basic values, it is Harry Bell.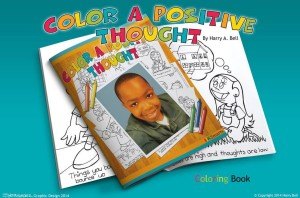 He was born in Bridgeport to a troubled young mother, and raised by his aunt, who realized he needed a male role model.
His aunt connected him with a local family who had a son that ended up being Harry's 3rd grade teacher.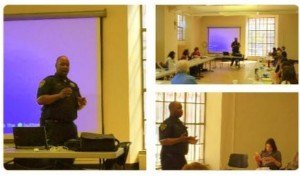 Their efforts paid off. Today Harry Bell is employed by both the Bridgeport Board of Education and the University of Bridgeport as a Security Officer.
Seeing so many children going through some of the same problems, Harry was determined to do something about it. He developed a very special coloring book, Color a Positive Thought! He explains how it's an anti-bullying, self-empowering, positive thinking tool in our May 12th broadcast on WGCH radio (archived links below.)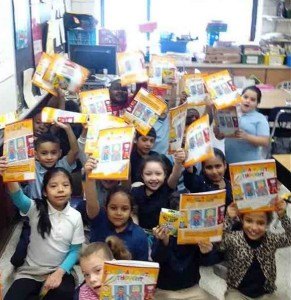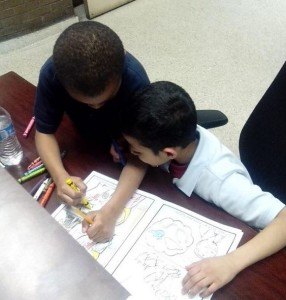 The book has had such a positive impact on children & the community. It can be found in schools, pediatrician offices, everywhere!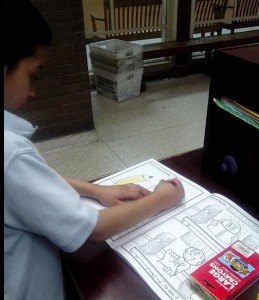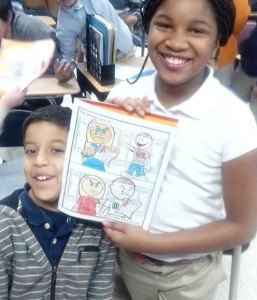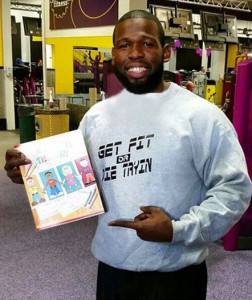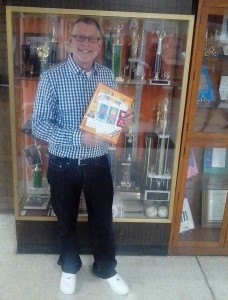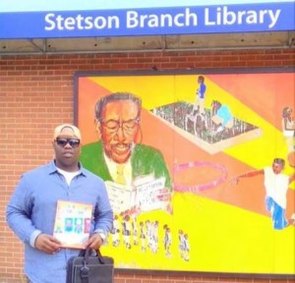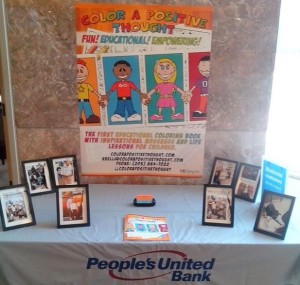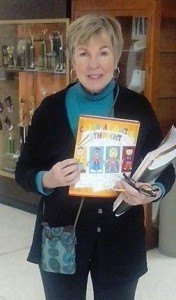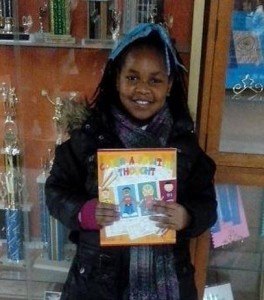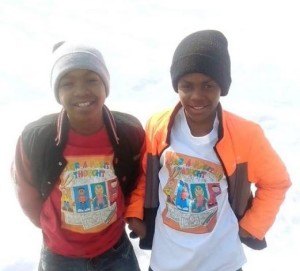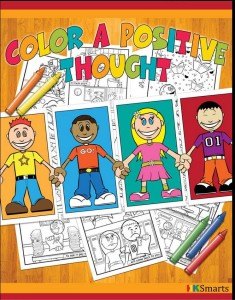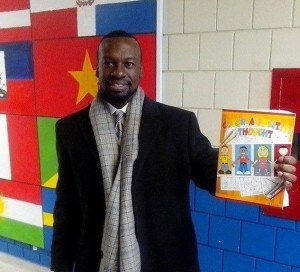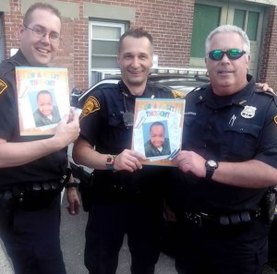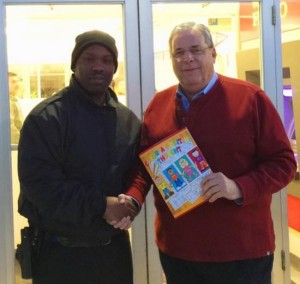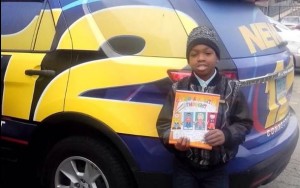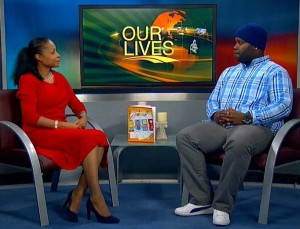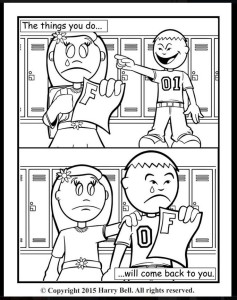 Our 10-year-old loves Color a Positive Thought and gives us her perspective on it as a child. Here are some snippets of the second half of the interview, just click image below:

May 12, 2015 ChitChat with Children – a 10-year-old's perspective
Our daughter's principal & teachers enjoyed the interview and her 4th grade teacher even played it in the classroom.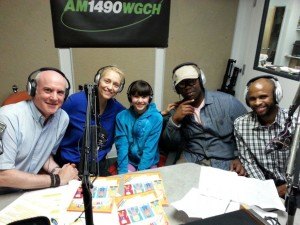 We were thrilled to give voice to a man who's had such a difficult upbringing, was able to pull himself up, surpass expectations and fulfill his dream. To hear the full hour, click: Full Interview.

The Bright Spot – This was his 1st radio interview and Mr. Bell & his liaison, William King, were amazed at how much this 10-year-old gleaned from Mr. Bell's book. Very inspiring!
Click here to order the book: Color a Positive Thought