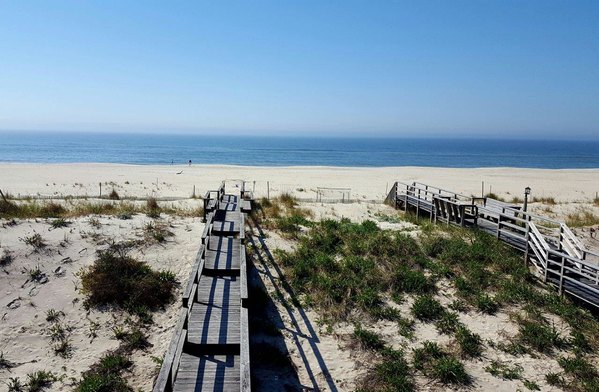 In the 16 weeks since Phillip's surgery, we've been back to the hospital 24 times including a 3rd full-body MRI and chemical injections. (To see the full story, click here: Kicking Cancer) By the end of March, Phillip's PSA level was tested 4 times, and on each occasion the reading went up!! Having had the prostate removed, the PSA level should be undetectable. When the 4th result came in showing an increase of 77% from the first post-surgery reading, we were really unnerved.
So Phillip surprised me with a weekend house in the Hamptons. The Atlantic was our backyard! If you squint, you can see the kids looking for shells by the water's edge in the photo above       .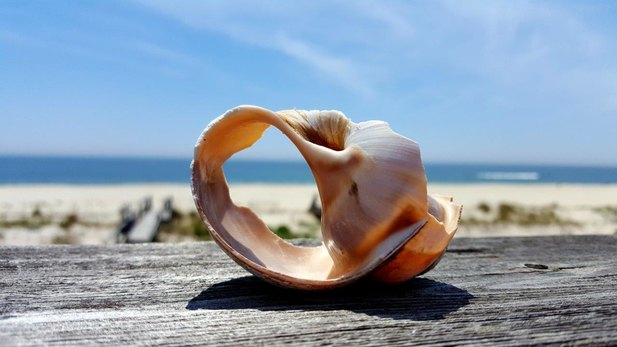 He wrote on his blog (Phillip's Journey), "I wanted my wife to have some down time, as she has been carrying the burden greatly.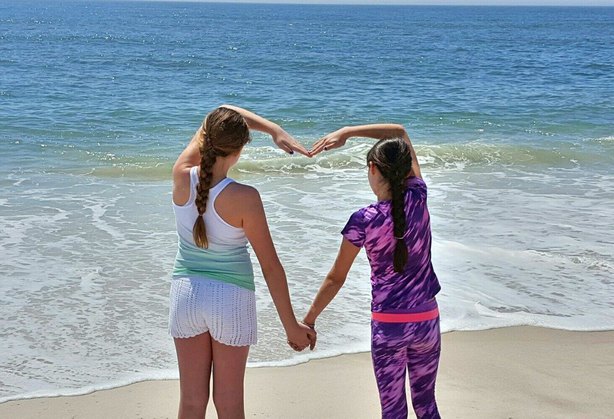 For those of you who know her, you know she loves deeply and has deep emotions. This journey has been tough on her, and I wanted her to unwind more than anything. I
didn't realize how much I needed this, too. We spent the weekend in an idyllic beach home with glorious weather. We chilled, played board games, grilled fresh salmon & steak, we talked, we walked, we flew kites, we gazed at the ocean & listened to the breaking surf, we delighted in the laughter of our daughter & her friends playing in the sand, running down the beach, rescuing overturned horseshoe crabs, and we reveled in the pure joy of beach life.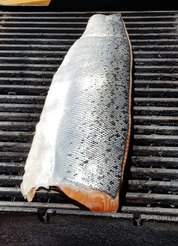 And the really good news… my latest blood test last week shows that my PSA is now undetectable. So, 40 rounds of daily radiation begins in June, then another round of chemical injections, and my plan is to have kicked it to the curb by then….Cancer out!"
To think Phillip was again worried about me when it is he going through all this agony! How incredibly loving, how completely appreciated!! This weekend was the respite we all needed.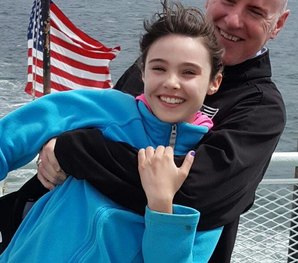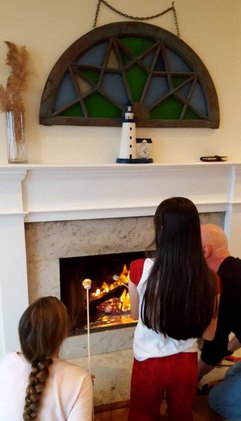 The children made s'mores before watching family movies and Darling played her latest instrument, a Seagull Merlin she just stenciled.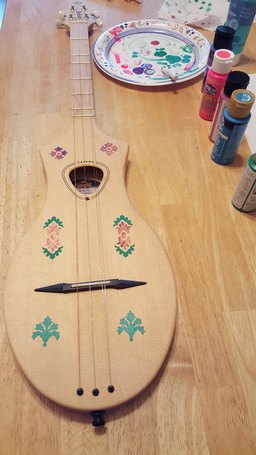 Smoked salmon for breakfast & chocolate-dipped strawberries at lunch.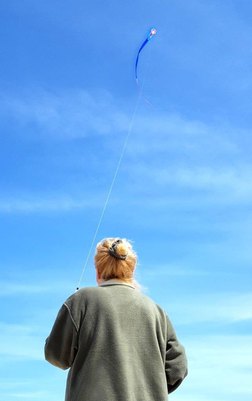 More kite-flying, even by my Mom, exploring the Bay,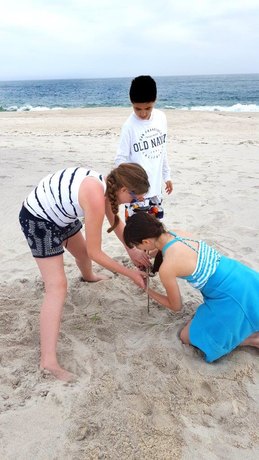 and proper burials & prayers for horseshoe crabs that were found washed ashore. The children crafted their own crosses from beach wood and sea grass.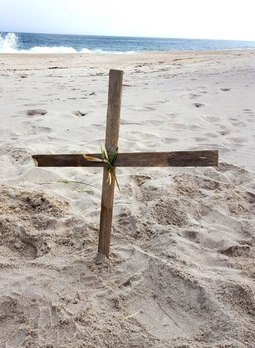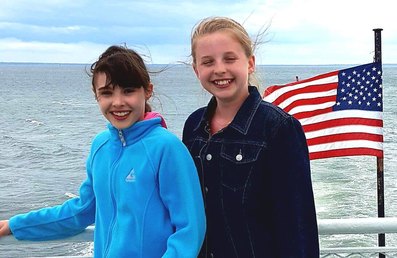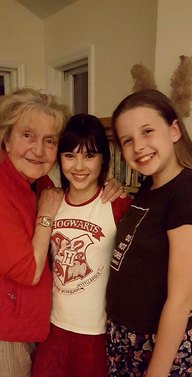 A little bit of shopping and a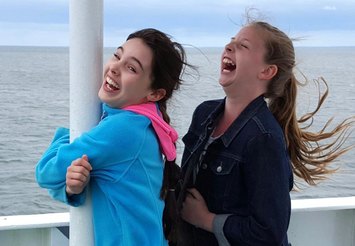 REALLY windy ride back on the ferry completed the long weekend.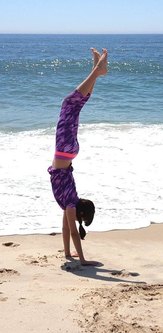 The Bright Spot – We all feel rejuvenated!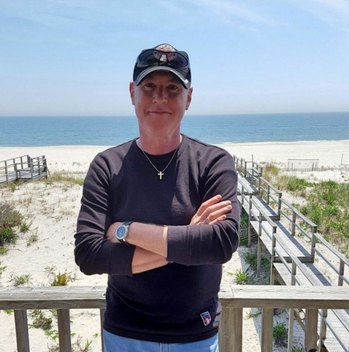 Especially Phillip, he looks fantastic!!!!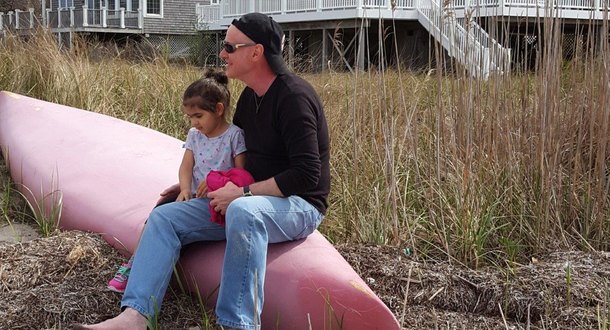 Thank you, my Love!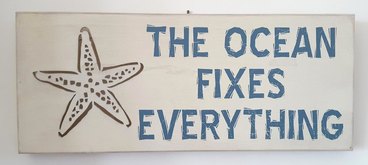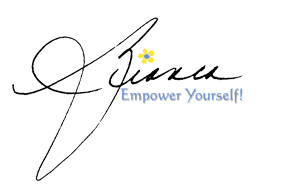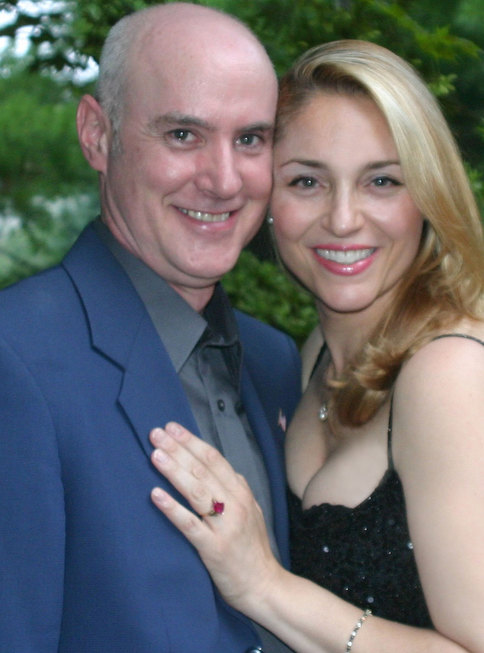 Thank you to everyone who listens to our Life, Love & Parenting show, "Let's Talk with Bianca & Phillip!"
After nearly 500 interviews &             19 Seasons, my husband & I are excited to announce we have been signed for national syndication!
For those who are new to this program, here are snippets of our bios & an overview of our show.
Bianca's Bio:
Bianca Tyler is a 3-time award-winning TV journalist, nationally-syndicated radio show host, popular blogger, Mompreneur, former Miss Connecticut, TV & radio producer, founder of WH Publishing, and "The Momversationalist®," the title of her new book coming out in 2016.
She's also been a news anchor, news reporter, parenting contributing editor, entertainment reporter, weathercaster, one-man band, linear & NLVE editor, singer, model, lecturer, teacher, animal-lover, adoring wife, active mom of 2 kids and her pets, and an all-around, bona fide multi-tasking guru ~ a BFMTG!
In addition to her TV awards, Bianca has also been honored with 8 other awards including the Women's Leadership Award and a Citation of Excellence from the Connecticut State Senate.
Her website, www.TheLetsTalkMom.com, currently celebrates over 10.26 million page hits & counting! Her focus is about family life and empowering oneself by "Finding Your Bright Spot™."
She has spent over 30 years promoting her charitable causes ~ during her reign as Miss Connecticut, statewide charities raised over a million dollars of fundraising revenue.
Bianca has appeared as a special guest on over 35 television & radio programs and in more than 60 newspaper, journal and magazine publications in over 135 articles, photos and covers worldwide, including USA Today, NY Post, NY Daily News and The New York Times.
Bianca has explored over 120 times more than 50 countries on 5 continents.
Phillip's Bio: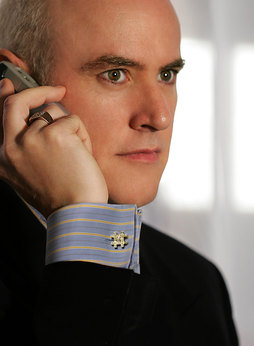 Phillip is a multi-award-winning entrepreneur who founded his 1st company and grew revenue by 268% in the first 3 years. His 2nd venture – a tech company, www.IDCardGuard-us.com, launched last year and specializes in patented RFID-shielding for credit/debit cards & identity theft, SmartTag & WalletTag tracking devices, selfie remotes, RFID-blocking wallets, passport shields and so much more.
An accomplished publishing & media executive, he demonstrates extremely strong strategic and analytical skills with a proven track record in business start-ups & turnarounds. Most recently, the division under his leadership ranked in the Inc.500 list as one of the fastest-growing companies in America showing a 3-year, 937% increase in revenue ranking them as the #9 media company in the USA.
Exceptional P&L and cost control expertise, Phillip is a leader in identifying strategic alliances to build and convert market opportunity into new business revenue streams. He has raised hundreds of thousands of dollars worldwide for charity.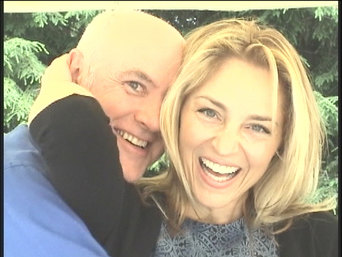 "Let's Talk!" Show Overview:
"Let's Talk with Bianca & Phillip" is a Life, Love & Parenting program. It's a forum to discuss parenting, relationships, single parenting, infertility, marriage commitment, intimacy, loss of a spouse, communication, raising phenomenally close & thoughtful children, romance, matchmaking, healthy living, information and well-being, great tips to make your life easier, getting through any tough situation and, most of all, getting & staying motivated whether you are married, single, male or female.
We'll help you empower yourself and keep your sanity while keeping your marriage and family strong!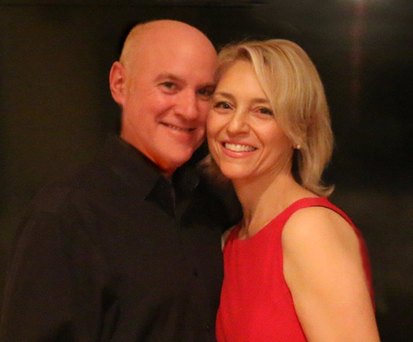 We have incredible, experienced & dynamic guests from all over the nation, many of whom have been quoted from People magazine to Parenting magazine and have appeared on shows like Today & Good Morning America, experts, authors, parents, and doctors as well as little folks on our "ChitChat with Children™" portion, and teenagers for our "Teen Talk!™" segment, connecting parents and youths through understanding and communication.
All programs are archived on this site. You can listen to the shows on your computer or cell phone at home or in the car for your listening convenience.

The Bright Spot – "Let's Talk with Bianca & Phillip" ~ Empowering parents/listeners through information, advice, guidance & tips.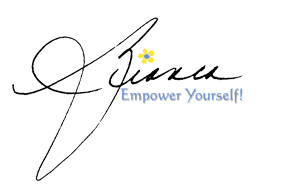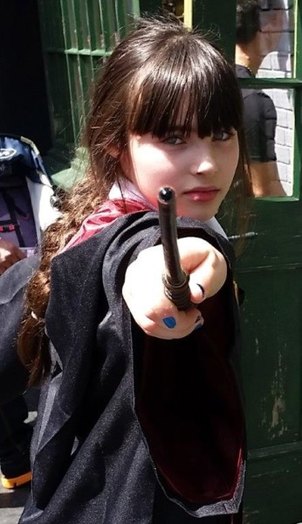 Incantations, frothy Butterbeer, chocolate frogs & interactive wands. Hogsmeade & Diagon Alley, Hogwarts Express & Flight of the Hippogriff…all wizarding wonders our young Harry Potter aficionado enthusiastically embraced.
Humidity & sunny 90 degree weather in a full-length black satin & polylined cloak ~ with a touch of heat exhaustion on the 2nd day ~ could not stop this 10-year-old from soaking in the sights & sounds of Universal's magical adventure.
The conductor at Hogsmeade, spotting her special birthday pin, suddenly stopped the crowd of hundreds in the station to heartily announce the arrival of our birthday darling to which the crowd spontaneously erupted into thunderous applause.
It was a movie moment. A memory to last a lifetime.
Enjoy this 30-second video of Little One going through Platform 9 3/4, the fire-breathing dragon atop the amazing Escape from Gringotts 3-D ride & more.

Harry Potter World Snippets
1st stop –
Ollivanders – Makers of Fine Wands since 382 BC
– to pick up her interactive wand which works throughout the park to make water fly, needles knit, feather pens write, and lots of hands-on spellcasting. It was there that she chose
Dumbledore's Army
scroll case & wand collection as a fine memento – heavy, well-crafted, great quality.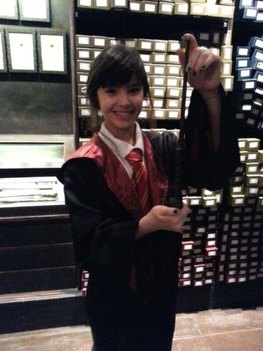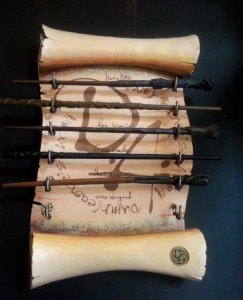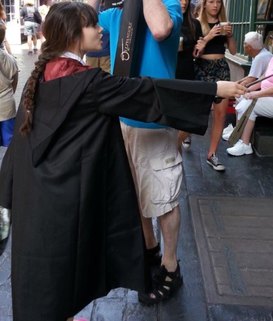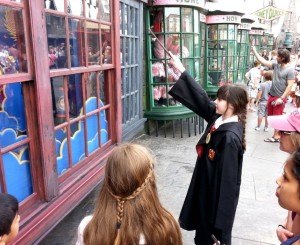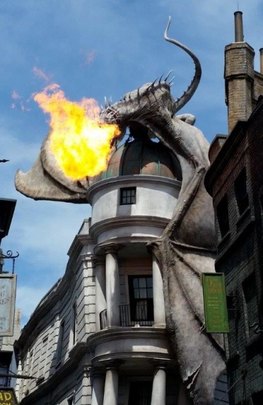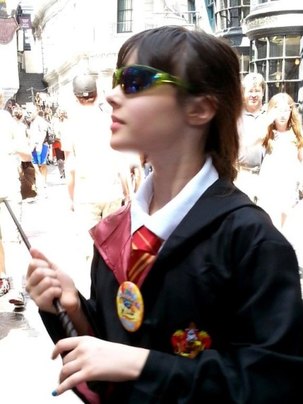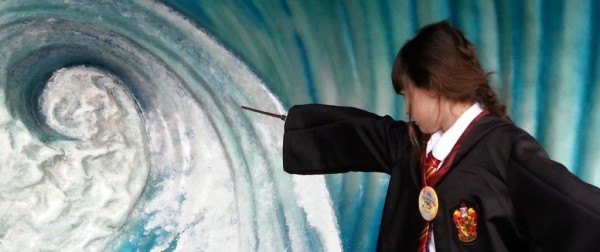 Hogwarts Castle is simultaneously breathtaking & ominous.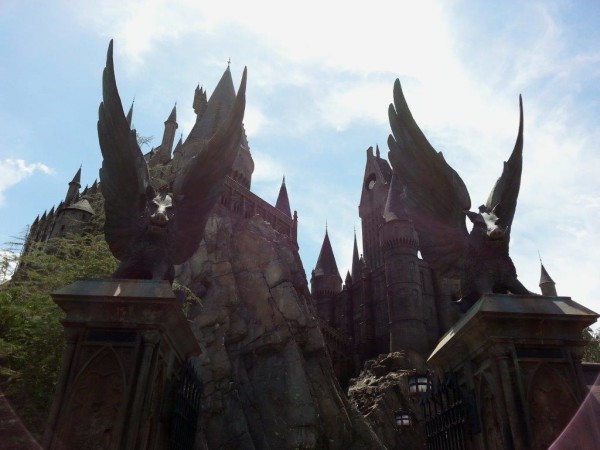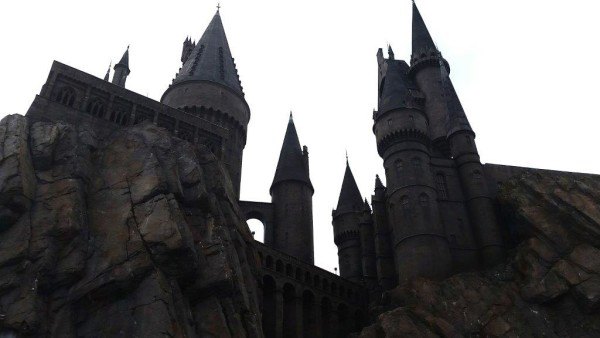 The paintings move & talk just as they do in the movies.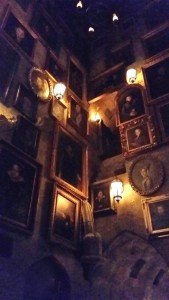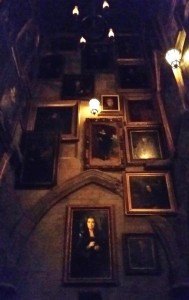 The Birthday Girl enjoyed a special breakfast in the Leaky Cauldron & a Butterbeer toast followed by…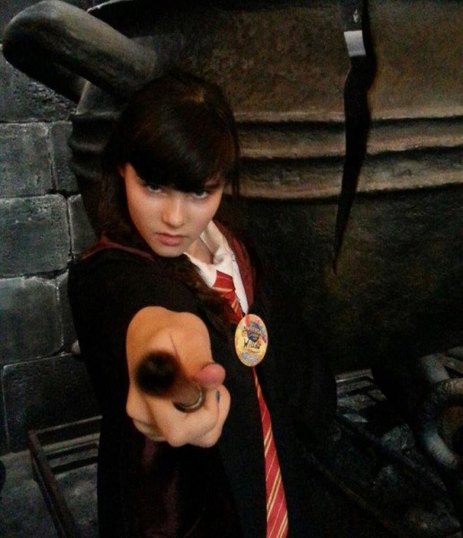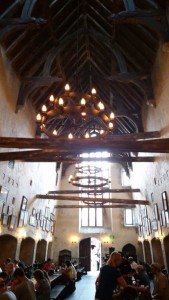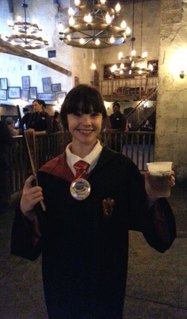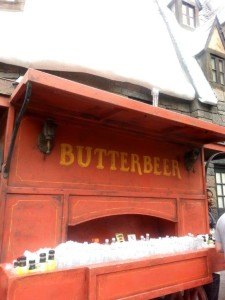 …an adventurous visit to Gringotts.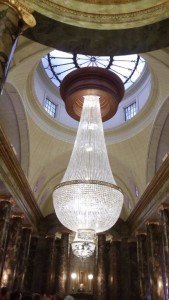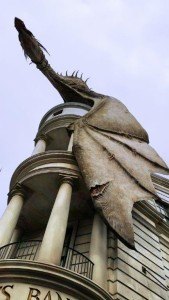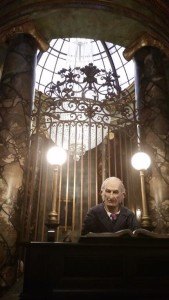 The Hogwarts Express took us on a fascinating journey to Hogsmeade…with Harry, Ron & Hermione!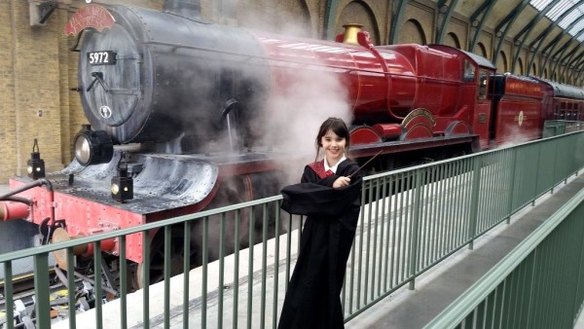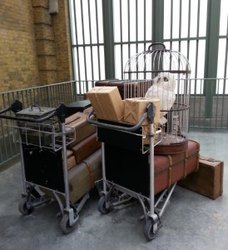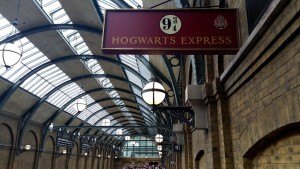 Then lunch at the Three Broomsticks & more spellcasting lessons from a passerby witch.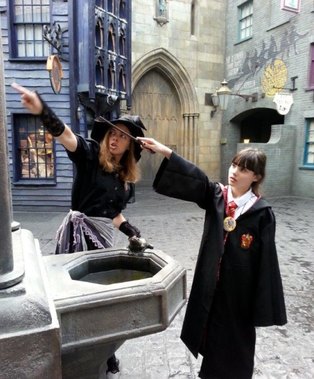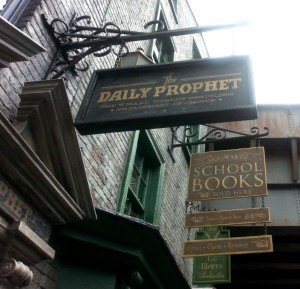 And what would a trip to The Wizarding World of Harry Potter be without a stop in Honeydukes sweet shop or Weasleys' Wizard Wheezes store with Wildfire Whiz-bangs or Every Flavour Beans…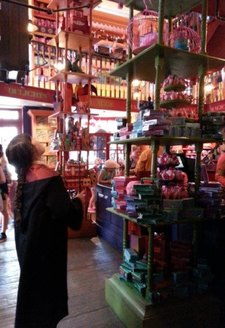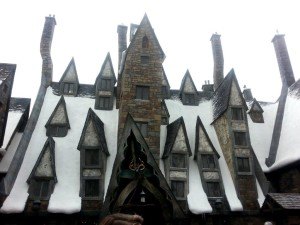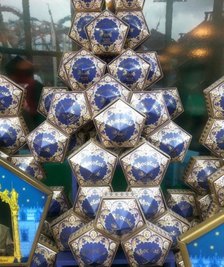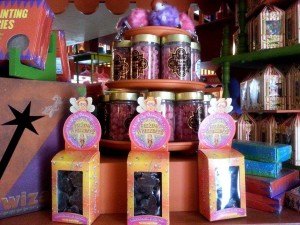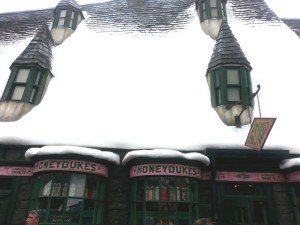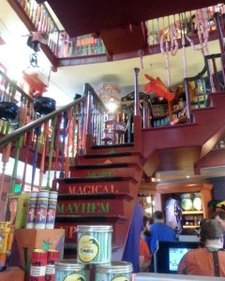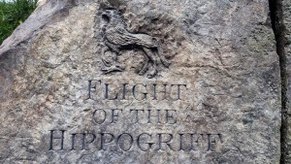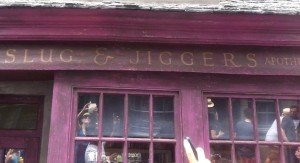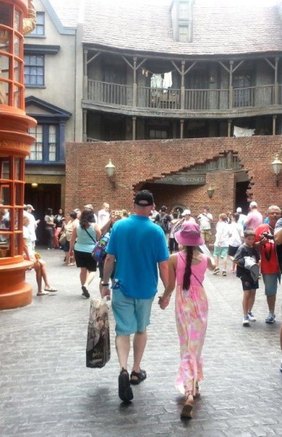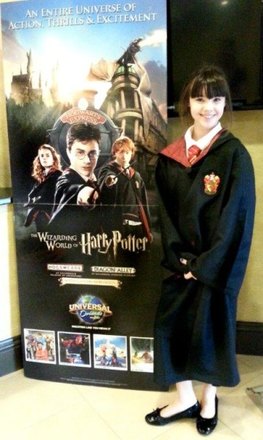 Okay, seriously, how excited is this reader ~ broomstick in hand, all her Potter books have come to life!!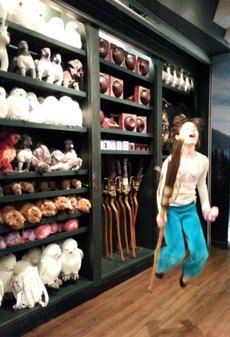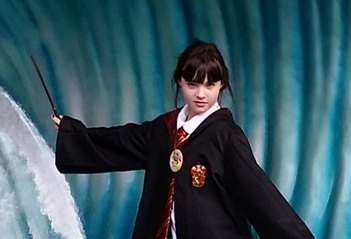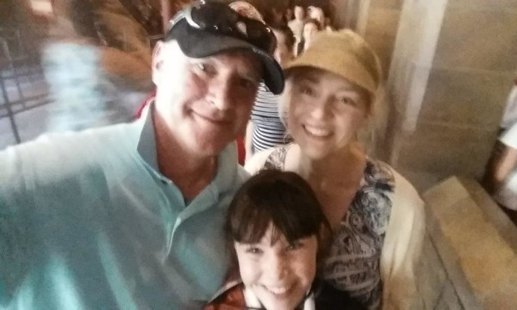 From the Muggles' perspective, Phillip & I were thrilled for our Little One and her magical week!!

The Bright Spot – A wonderful adventure for Harry Potter fans. Highly recommend it!!
To see part 1 & 3 of this story, click Part 1: Double-Digit Extravaganza for Magic Kingdom, Epcot, Titanic & Animal Kingdom.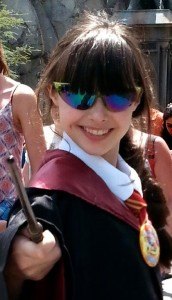 For Part 3, click: Dolphin Tale-Winter & Hope for the Clearwater adventure or just keep scrolling, it's next. 🙂
Thank you for sharing and we hope you enjoy a trip to these family-fun places in the near future.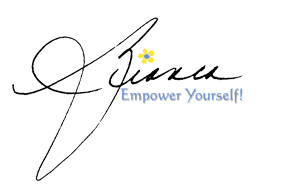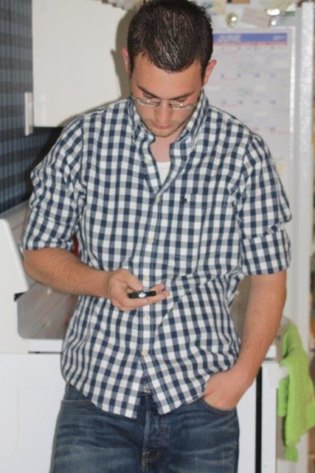 A few years ago, my husband, Phillip, held out his hand resolutely and said to our son, "Please give me your phone." Our then 19-year-old's eyes darted to his buddy and then back to my husband. "You, too," he said to the friend, holding out his other hand.
They both stiffened but did as they were asked, my husband's calm but firm voice indicated determination so they weren't about to question it.
Phillip took the phones and dropped them into a basket on the table. Then he added his Android, the I-pad, I-pods, remotes and a Blackberry.
"We are reclaiming dinnertime," I announced. "No more texting under the table, watching TV or the old 'Let me just look that up' on the I-pad. We're going to have dinner with family and friends and we're going to t-a-l-k…you know, like in the olden days…"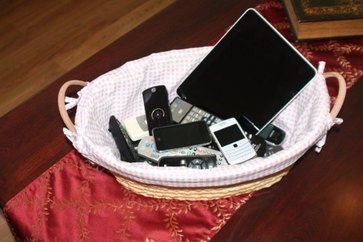 It was like sucking the life out of these boys. They sat fidgeting in their chairs, eyes shooting to their phones every time they vibrated in the basket. They were jittery, practically sweating, like withdrawal symptoms of plugged-in addicts. These teens were plugged out of the world right now and had to actually communicate for a FULL 30 minutes with real human beings in front of them.
Phillip and I are not against technology in the least. Quite to the contrary, we are social media networkers ourselves connected via Twitter, Facebook, LinkedIn, YouTube, IM, blogging, texting, and even building a number of websites for several successful businesses throughout our region. Our company,                     ID CardGuard, purely revolves around technology.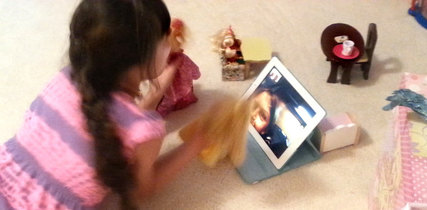 We enjoy the latest gadgets and encourage our children to learn & use technology to stay abreast of cutting-edge innovation and advancements in the modern world. We Skype with family across the ocean and Facetime with friends across the miles.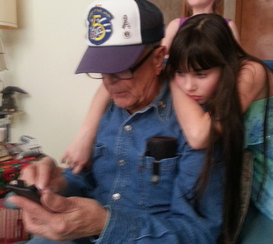 One of our greatest teachers of the latest technology is our Uncle Danny! 80 years old, he can out-teach and     out-talk any techie!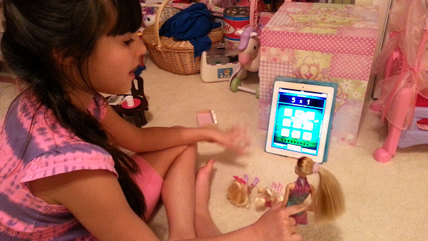 Technology can be very good if used for learning, information and fun with friends far away like playing Barbies or using the screen like the Smart Board at school for math lessons for Skipper and her sisters.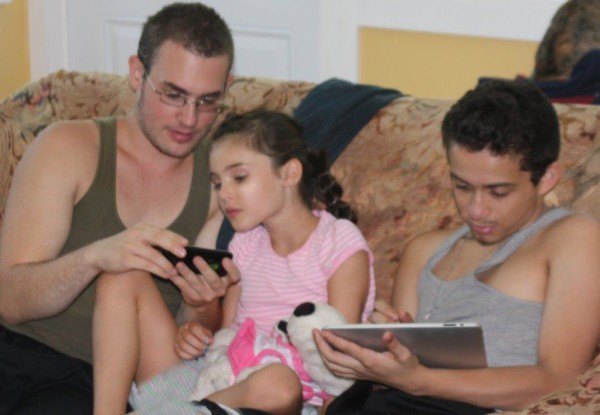 With the increased use and need for technology in our everyday lives, new limits had to be set. Call it Common Sense or pure frustration with overuse, boundaries had to be set!
When it comes to family time, enough was enough! With kids off to school early in the morning, sports and other extracurriculars taking up afternoon time, and little ones going to bed at a decent hour, dinner may be the only chance to spend quality time – so reclaim it!!
Even if it's only 2, 3 or 4 times a week together, make it count.
Get a basket & sound the call in your family. It's been years now since we've implemented "The Basket" and everyone – the family, teens and friends – all agree dinnertime is a lot more fun. We talk, we laugh, we joke, we communicate and we do it UNINTERUPTED!
One year, I was out with family & friends for my birthday dinner and someone at the table was sending out an e-mail on a small hand-held device. "I'll only be a minute," he said hastily when I gave him the eye. I asked him why he was doing it in the first place. "I send out e-mails here and there and it helps me save some time."
"Save time for what?" I queried. "You're trying to save up a minute here and a minute there for what? To create a pocket of imaginary "saved time" for something really special…like perhaps a birthday dinner with a loved one?" I don't even think he hit Send. He pocketed the device, I pocketed my pissed-mist, and the evening was lovely.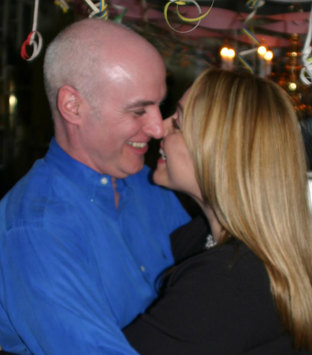 There are so many people who are texting, tweeting and Facebook-ing people they aren't with, can't see and sometimes don't really know while they are out with people they DO know who are sitting in front of them waiting for them to stop texting!
The Bright SpotTM

  – Be present with your kids, your parents and your real friends, they're waiting for you to "see" them. Put down your techno-paraphernalia, hug your kids, look in your spouse's eyes and communicate with the people in your real space.
Phew! Yes, I feel better now. Happy Parenting!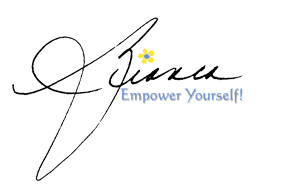 Soaked, but not forgotten, each foot was paid "Wet Pay" for standing in snow for hours.
The thought fondly came to me as I looked out the window now and saw snow on our roof, flurries blowing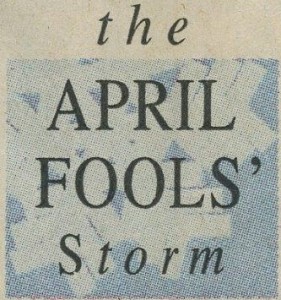 in the wind. I remembered the April Fool's Blizzard of '97 when a Nor'easter blasted through New England dumping nearly 3 feet of heavy snow. 

  Not many took it seriously because of the April 1st date, but if you lived through it, that storm became definitely one to remember!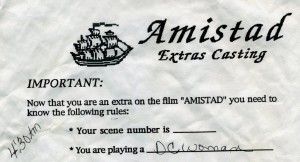 Especially for me. I had been cast as an extra in Steven Spielberg's upcoming film Amistad (DreamWorks SKG), a true story of mutiny and justice in 1839. Filming had just moved from nearby New Haven, Connecticut to Newport, Rhode Island and I was excited to be a part of an epic film starring Djimon Hounsou, Anthony Hopkins, Morgan Freeman & Matthew McConaughey.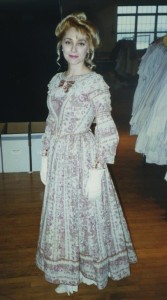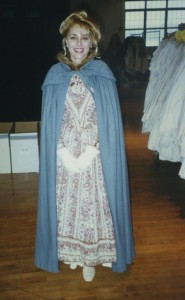 As I packed my car to leave, the snow just started to move in. My Dad said, "What on Earth would make you drive in this blizzard? I cannot understand this entertainment industry pull." In the words of Ethel Merman, "There's no people like show people," honestly, there's just no explaining us. My father knew I was a determined free spirit, just like him, and when I had a desire, nothing was going to stop me from doing it.
My parents never stopped us from pursuing anything. My travels around the globe on a ship, climbing the Great Wall of China or the pyramids of Egypt, soaking in the romantic history of the Taj Mahal, flying off to Europe a week after graduation for my 1st job, or saying "yes" to my beloved after 4 days in his presence. So really, how's a blizzard going to stop me??
It didn't. I hopped in my car and set off for Rhode Island. The 2.5 hour trip took nearly 7 hours.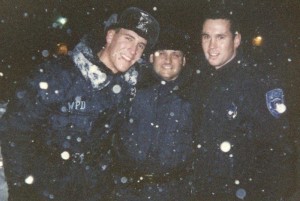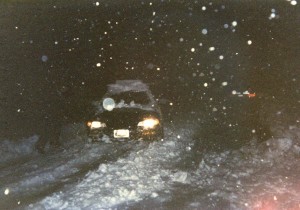 A little slide off the interstate didn't deter me; 3 cute officers pushed me back on the highway, later requesting an autographed Miss Connecticut photo each (it was on my licence plate).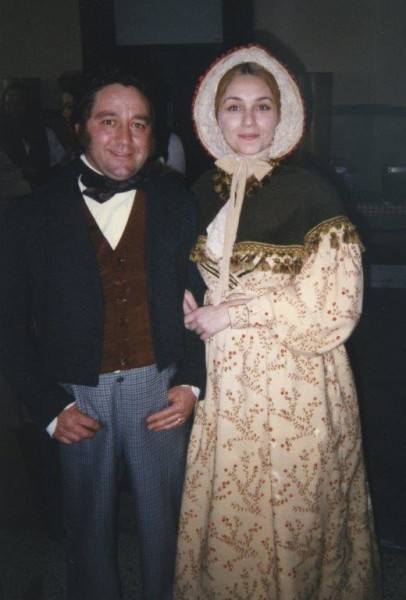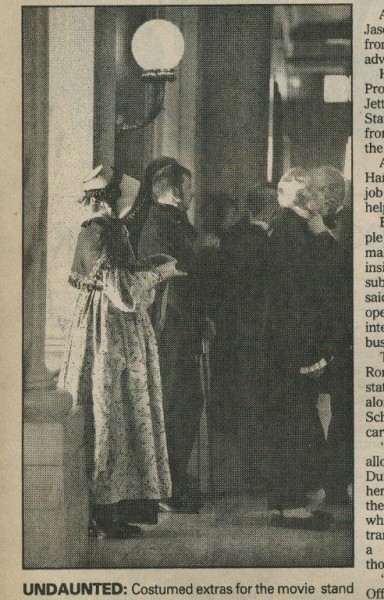 I had 5 hours sleep and reported for wardrobe at 4:30am. Excited and ready to go, after hair & makeup, I found myself standing in snow for hours…with joy! Even the newspaper photo caption under my picture says, "Undaunted." Yup.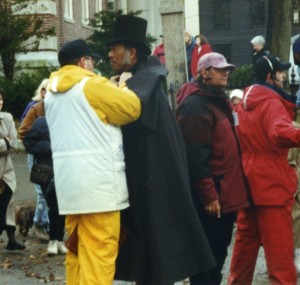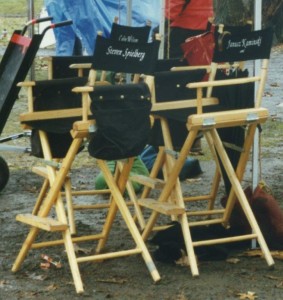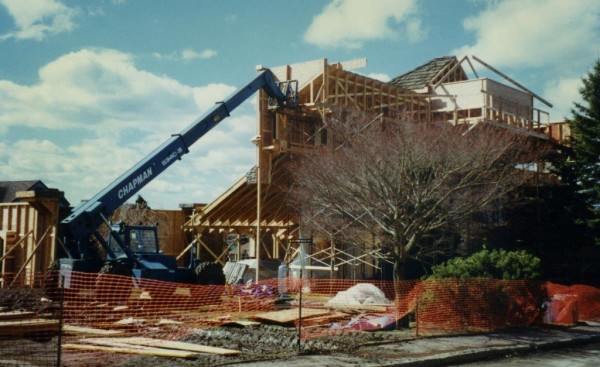 Changing the face of Newport (above)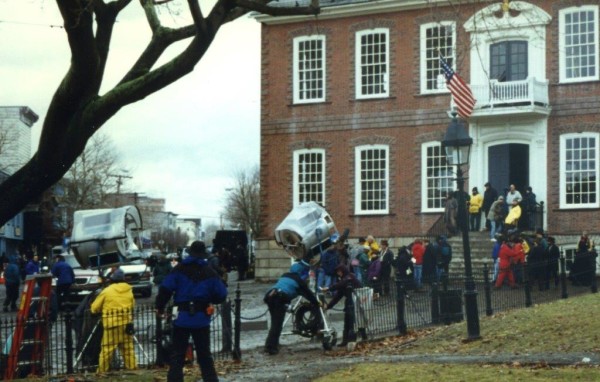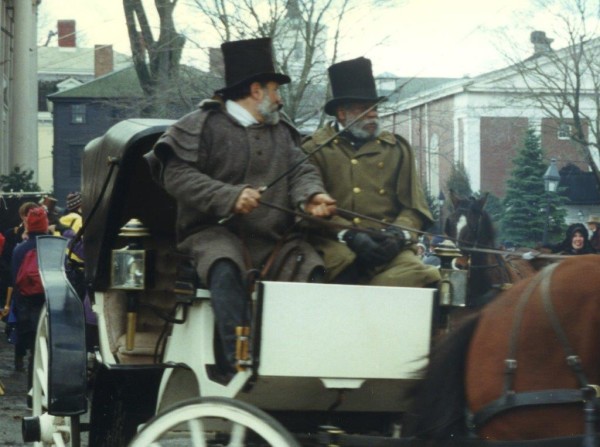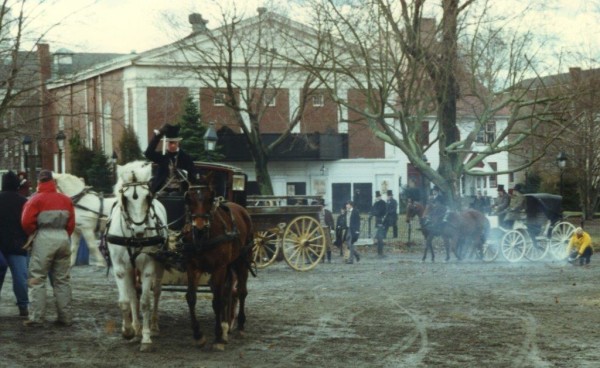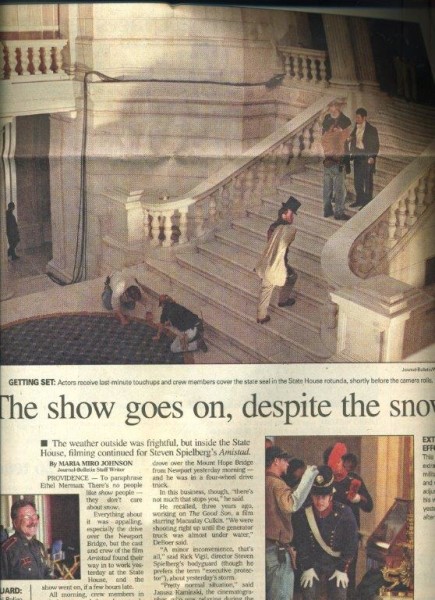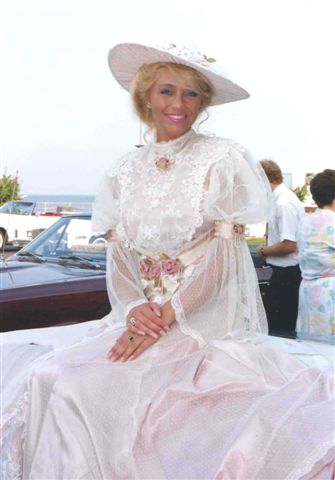 (above right)  The photo from the Miss America parade that got me the job with Amistad

Interestingly, the entire earlier part of the movie's outdoor scenes that had been filmed in previous weeks did so with NO snow. So the outdoor snowy scene that took days to film had to be edited out. But the memories are incredible as are the people I met throughout the experience.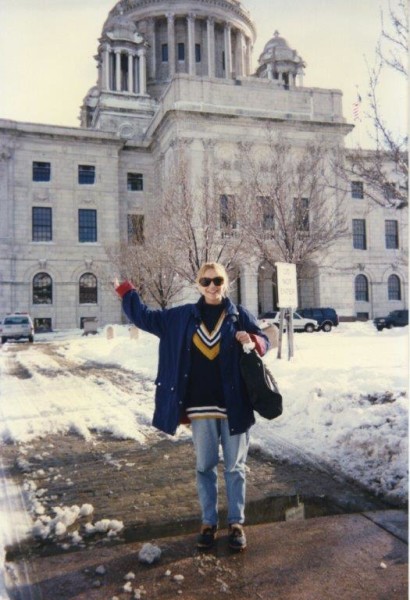 The Bright SpotTM 

– Remember, if there's something you really want to do, nothing can stop you. And just imagine the amazing people you'll meet!