Friday, September 3, 2010 by
Bianca
Today was a bittersweet day for me. Our Baby Button ~ Little Petal ~ got on the school bus heading to Kindergarten.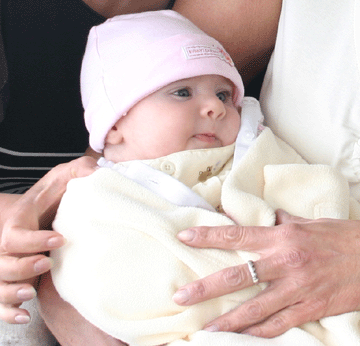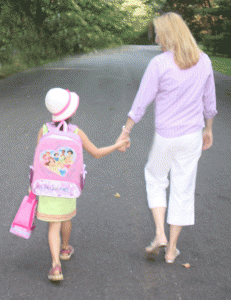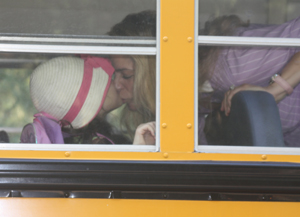 Of course, she was beaming and waving. But I didn't know I would burst into tears when I watched the tail end of the bus drive down the road.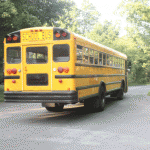 Phillip gave me a great big squeeze even though we both knew they were tears of joy and the bittersweet reality that our youngest was growing up.
Dad and I put her on the bus. Superhero Big Brother and I greeted her upon return.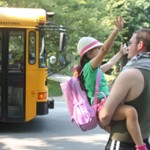 If you've ever had to do this, you know exactly what I mean.
The Bright Spot? 

Having a network of incredible friends who lift you up in good times, bad times, sorrowful times, joyous times and the transitional times. 
 I'm attaching some lovely e-mails that I received from Moms and Dads today:
Oh, how I remember the first days of many new beginnings for my daughter. They are so precious. Of course, you know she will be fine. How great it will be when she returns from her day to share her stories about new friends and experiences. My little one turned 30 on July 17th, and can I just tell you there is still never a dull moment. I love it! Rosemarie
I just shared this with Cheryl and she was crying…Robert starts 1st grade on Tuesday…
Miss you!  Enjoy the last days of Summer! Robert
B – I remember those days as if they were yesterday. Your tears are tears of joy, you're raising a bright child who will always make you proud. Victoria started her 3rd year in college, I still take the first school day picture. Enjoy these little pleasures of life! Karen
I know exactly how you felt. When I dropped my kids off at school, they ran inside all excited, leaving me crying at the door. You'll be fine, my friend. Janet
Mazel Tov!  Your little girl is becoming quite a young lady. I know that these are tears of joy!  I am so happy for her and for you. Smile…these are the happy milestones we can enjoy and treasure. Nancy
Oh B… she was so adorable on the bus (and in the class, I just know it)! Enjoy every minute…. and tears are ok  Shelli

What a wonderful essay for a wonderful life – you & Phillip have given her the strength to excel in her exciting life ahead. Be proud and enjoy the ride. Love, Jim and Linda 
Hey girl….I understand you, it was definitely bittersweet with my daughter, too, because now she needs me even less. In a way, I've been caring for her the longest…but now the needs are new and different…hang in there…these were some of my best memories.  😉   hugs to you all! c and lz
No tears….the best is yet to come! A new chapter in both your lives. It is going to be amazing, I promise. Love u all, Lilly
For me the hardest thing was when I dropped Katrina, my baby to Kindergarten. I cried so much. It is normal. It is so hard to start losing control and let our kids start getting pushed around from the world!!!! Very hard. Anitta
Ahhhh… Where did the time go!! She seemed very excited for the first day of school. She was ready MOM…. It is always harder for us moms. L
Life is full of precious moments. You just have to know that they can't pass you by.