Saturday, September 4, 2010 by
Bianca
It may seem so obvious. Turn the lights on when your teen is out.
But to me it's more than just a safety issue.
It's a beacon from home when he rounds the corner on his way back from the firehouse or walking with his buddies. It's a glow from the porch lights that says "Welcome, you're back!" It's a light that shines from our home that embraces him upon return.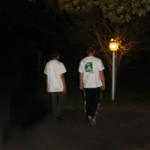 To him, it's probably just a light thing and he switches it off without thinking when he enters the house.
But ages from now, I hope it will be a warm memory of the early years in his life when coming home was a comforting feeling; I hope it gives him a content sentiment in his heart…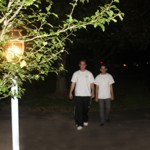 …that when he turns on the lights for his teens many years from now, may he remember his Mom and Dad waiting for his safe return to our cozy home so many years before.
I love you, Honey. You are one of my most Brightest Spots

 in my life. 
I'm going now to turn the light on. Love, Mom