Sunday, April 29, 2012 by
Bianca

 God created them. My parents fashioned them. Dr. Kornstein perfected them!
After Lasik, the first thing I could see the next morning was the time on the cable box across our bedroom. Prior to that, all I could see was a neon green fuzz-blob hovering over a 56″ TV. I couldn't even see the big cable box!
I headed to the bathroom and saw my eyes for the 1st time without contacts. Naked. Pure. Not covered by tiny plastic discs or lenses & frames. Just big, green, clear eyes. I was free. I was amazed. It was like looking at myself for the 1st time and really seeing myself. 20/15 vision for years now, all thanks to Dr. Howard S. Kornstein.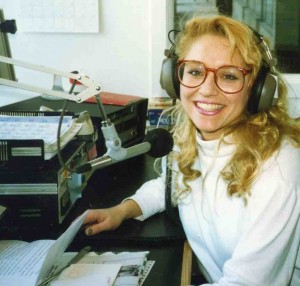 (radio in the 80s)
For 30 years I wore glasses. Big, small, dark, light, wire frames, colors, patterned, corner decals, you name it, I tried it.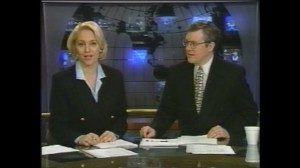 By 8th grade, I tried contacts but from Day 1,             I always had a problem with them. Didn't matter the brand, they were dry and irritating and with a career in television, I'd slip in my contacts for   on-air and rip them out between newcasts.
When I was on the TV show, The Morning Mix, Jeff Lamb often raved about his laser surgery.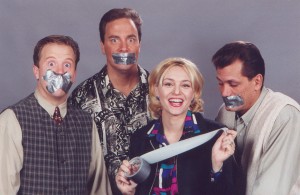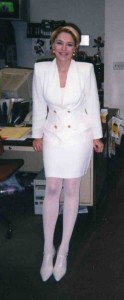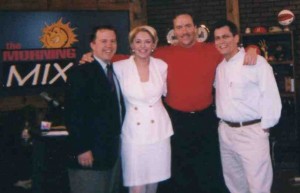 Morning Mix memories:
No way could I go through an eye surgery, I thought. Surgery
awake
– no way! Cutting an eyeball,
eeewwww! 
Doctors even offered to do the surgery for free if I talked about the results on the air, but I just didn't have the courage.
Then, years later, I heard about bladeless surgery with Lasik and thought I can do this! Bladeless? I'm in!
So my husband & I met with Dr. Kornstein. Calm, gentle and very self-assured, he guided us through the initial consultation. He made me feel very comfortable so he and his team proceded to tell us about the procedure. "And then the flap…" The what!  Flap started to come in & out of the conversation describing the cornea at certain stages. Wait a minute – I thought he was just going to beam some red light in my eye.
That's when I started to feel queasy & woozy. "Please don't use the F word again," I warned as I started to feel myself wimping out. "I trust everything you're going to do, please don't tell me any more." But they had to inform me about the procedure so I pointed to my husband, "He's my other half, tell him," and plugged my ears.
Sure, call me a baby, but that's where I was at with my eyeballs and so be it! There were several visits to the doctor's office for check ups before the surgery and each time we went I'd warn the staff & remind the doctor – no dreaded F word.
The day of the procedure I was very nervous and needed to talk to Dr. Kornstein but he was already in surgery. Pacing a while, I finally walked up to the receptionist and asked if anyone had ever walked out of the waiting room at this point. "No. You'd be the first."
I headed to the elevator and pushed the button. My husband hugged me tightly and convinced me to get out of the elevator and go back into the waiting room. "I'll see if I can get the doctor." Dr. Kornstein came out to talk to me, "You've come this far, at any point you want me to stop before the procedure, I will." You know, that's all I needed to hear. I knew I was in good hands and started to relax.
There are several more check points before surgery and at each stage I told the staff, "Please don't use the F word." Everyone would chuckle and it lightened the mood.
When I was finally on the table, Dr. Kornstein gave me the option to leave. He was kind & confident and I said I would stay. A wonderful nurse stroked my arm through the whole procedure; she never stopped till it was over! I quietly hummed some odd tone the entire time, like a yoga ohm that wouldn't stop. I spent so much time wondering if it bothered the doctor that it took my mind off what he was doing. I just couldn't stop "ohming," weird! And then before I knew it, it was done.
Dr. Kornstein was a miracle worker. I couldn't go anywhere without my glasses or contacts for 30 years and for the last 8 years, I have this beautiful vision I never take for granted. And when our darling Grandma went blind, it hit home even more: Why I Love You & Is This The End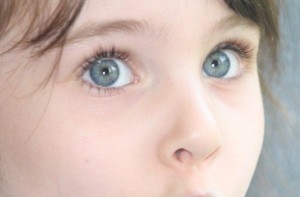 Our 7 year old had an emergency this week and he saw her straight away. He's a Dad 1st and made our little one feel at ease in that oversized chair with the big googly-eyed equipment and stinging drops. All's well, thank God, and thank you, Dr. Kornstein.
The Bright SpotTM

 – The EYES have it!
Dr. Howard S. Kornstein, New York City or Westchester: 914 – 948 – 5157                                 Look at the left-hand column of this site for a link to Dr. Kornstein