Thursday, September 22, 2011 by
Bianca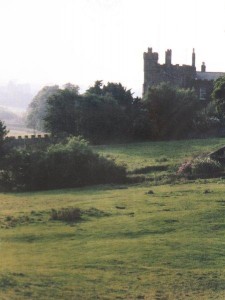 On our anniversary we renewed our vows at the 14th century castle where we wed years ago (below). The weather was glorious, the English gardens in full bloom, our hearts were full.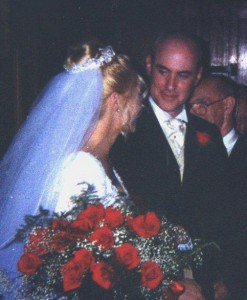 This summer, we enjoyed more than 1,300 miles of pristine landscape in the United Kingdom from Edinburgh, Scotland to Lancashire, North Yorkshire, The Penines, Northumberland, and Kingston-upon-Thames, Surrey, England.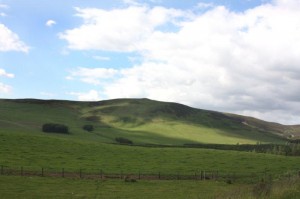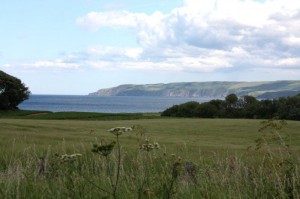 It brought back wonderful memories from years ago…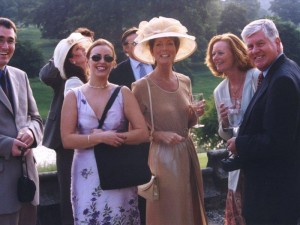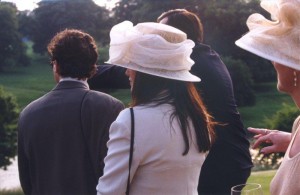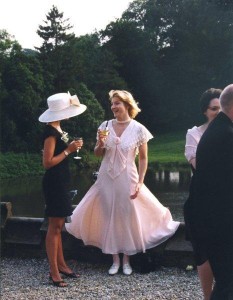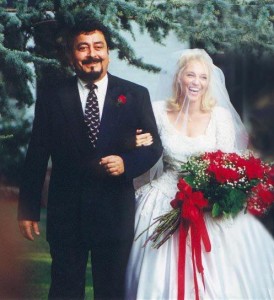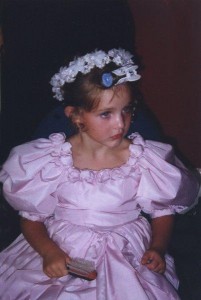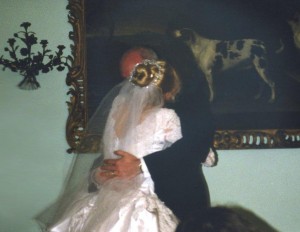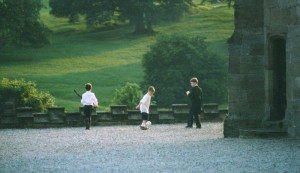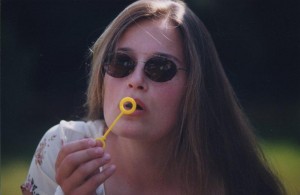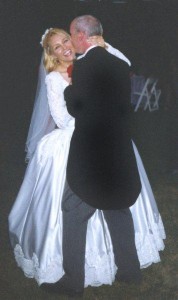 We were so pleased to celebrate our union with our family and friends
We married in the United Kingdom and again a month later in the United States. Our maid of honor, best man & bridesmaids flew back and forth for the weddings, both of which took place near sunset on the eves of full moons – that was just a pretty bonus from the Heavens!
I am also very grateful to my wonderful seamstress – who made sure every gown, dress, suit/outfit I wore at the Miss America years earlier was fitted to perfection. In England, she made sure the bustle was perfect! After all, she created it. And she made my gown glisten in candlelight and against the setting sun.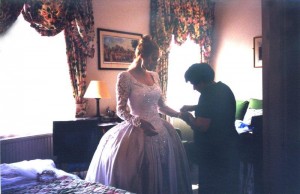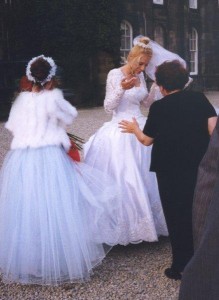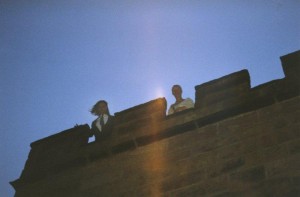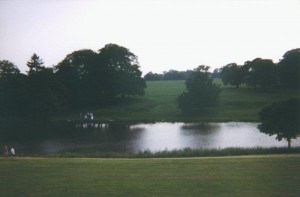 On our anniversary this trip back, we really enjoyed seeing our daughter & Goddaughter running playfully along the centuries-old wall we walked up together as newlyweds.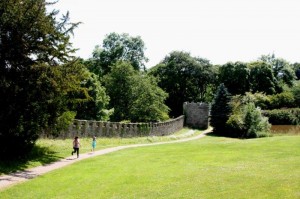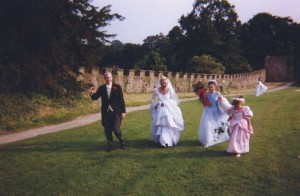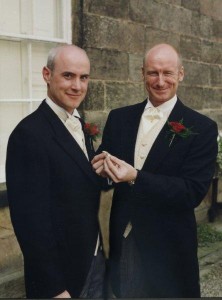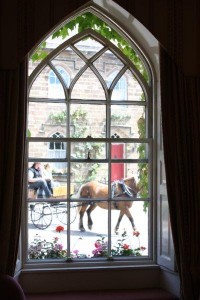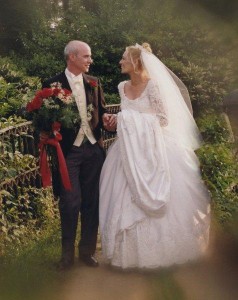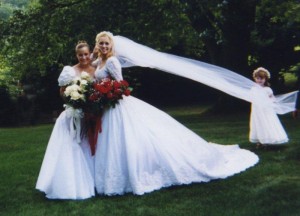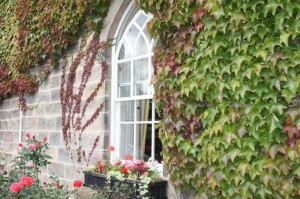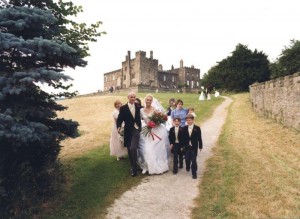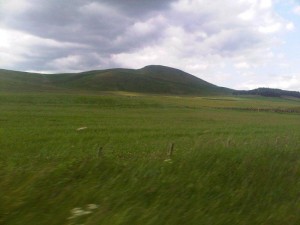 And although we enjoyed journeying throughout the Kingdom… (2000 years! Read the sign below:)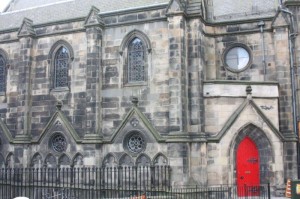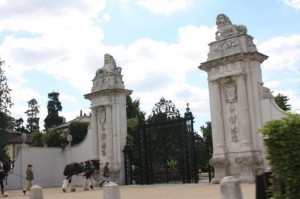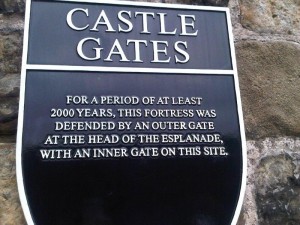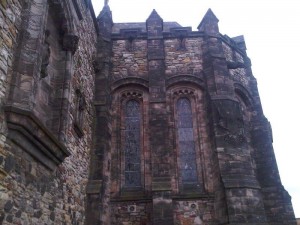 …taking carriage rides & visiting local farms where our kids could grind wheat & hand-feed horses and little lambs…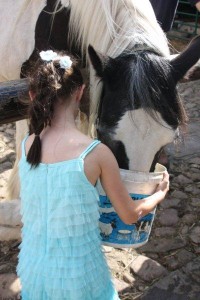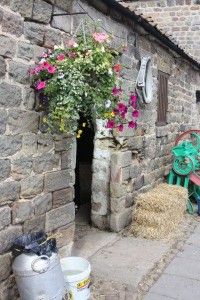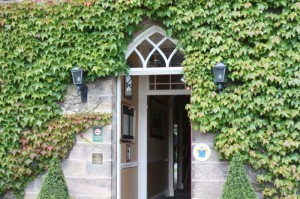 …and enjoying quaint pubs, 500-year-old canons, Scottish castle ruins,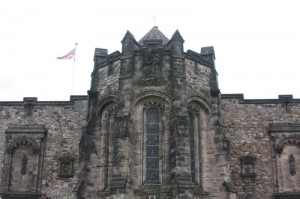 family, friends & a romantic summer to remember…
…I must say my favorite part of this year's anniversary was not the trip to Europe, but rather what we did on the "next wedding anniversary" a month later when we returned (yes, we celebrate both).
We took our little one and her friend to see the Winnie-the-Pooh animated classic in the movie theater. As we sat with the girls between us, Phillip reached over their seats to touch my arm. I smiled at him in the dark and whispered, "There's no where else I'd rather be than celebrating today with our family and Winnie-the-Pooh."
Later that evening, my mother watched Little Petal as we went out to dinner.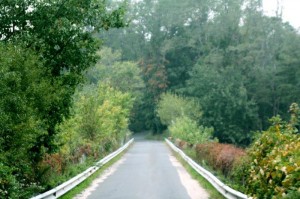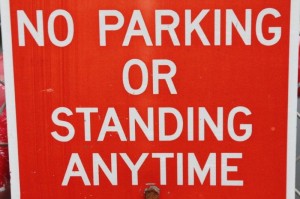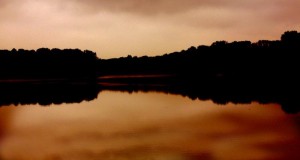 (These are photos by day/sunset are so you can see the roadway. It was pitch black when we were there. I'm sure we would have given our teen an earfull if he did this…)
On the ride home, Phillip turned onto a long single-lane road over a large lake. He turned off the engine and jumped out of the car, motioning me to follow him.
He put his arms around me and looked up, pulling me close. Stars pierced the pitch black sky; the only sound ~ the chirping of the summer crickets. The water was still, the air was warm. He kissed me and took my breath away. I felt like a teenager, blithe and carefree. With every beat of my heart, he kissed me more passionately.
Suddenly, car lights in the distance were heading our way. Our car blocked the entire single lane, and the oncoming driver would never suspect someone stopped on this quiet, dark roadway.
We scrambled as fast as we could to get into the car as the lights drew closer and closer. I grabbed my skirt around me and ran as quickly as I could to the passenger side of the car, heart pounding with excitement, fear, naughtiness.
We took off just in time and laughed giddily – I think from the nerves and the rush.
The Bright SpotTM – my husband, the love of my life! Go grab your Honey and smooch him/her! Take out some time and write down your special thoughts about why you love your wonderful someone. Renew your vows and commitment to one another. Castles and moats are great backdrops, but it's the authenticity in your words and heart that make your relationship deep. Enjoy the little things like an afternoon movie with your kids or a romantic kiss by the lake. If you are single with kids, tell your kids how special they are to you and celebrate your commitment to each other. If you are an adult, tell your parents or grandparents how much they mean to you. A vow is a pledge or promise to the one(s) you love. Life's so short, do it today.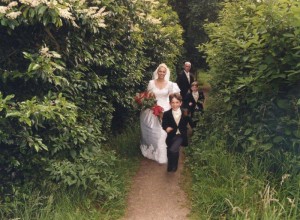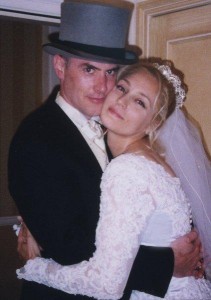 xo, b
And a double Bright SpotTM just for YOU!! Thank you to all of you who read this site. 2 million page views & counting in one year because of your support & interest in these stories, our albums, links, and the weekly interviews from our Live, call-in radio show "Let's Talk!" archived on this site for your convenience. And thank you to everyone who commented/sent e-mails on the story that follows – about how the tragedy of 9-11 affected our family and how our young son unknowingly inspired many in this nation and abroad. Thank you all!!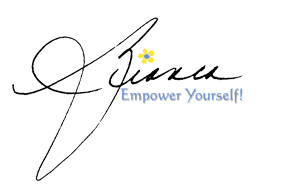 Friday, September 2, 2011 by
Bianca
Hurricane Irene ripped through metro New York and coastal towns in our area destroying homes and businesses.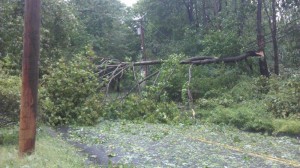 Our schools are closed for an extra week because of all the downed trees and power lines on the bus routes. Many people were left without power for a week; all I kept thinking about were the elderly, the disabled and all the Moms who have babies and toddlers to care for in the dark with no water. It also made me think very deeply of the 6-year-old little girl and her family we sponsor in Africa and how limited their resources are with power and water. It makes their plight and struggle for survival really hit home.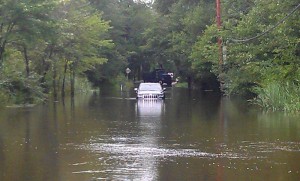 We were one of the families who were flooded; we had no power, no communication services, no running water. We're on well water and when the power goes, so does the pump. Toilets don't flush, oh, joy! Throw in a period the night of the hurricane and it can pretty much go downhill from there.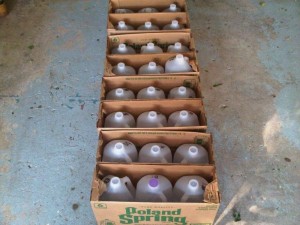 But Phillip was my hero, as usual, driving back & forth downtown filling gallon after gallon of water jugs. Sure, we prepared – we filled the tub – but at 2.5 gallons of water to flush, it doesn't last that many days! He bought a load of Poland Spring and at first I felt so guilty flushing it down the toilet – literally! We used the "refilled" jugs for that and the remaining bottled spring water for drinking & brushing.
But before we could get downtown, we 1st we had to get out of our road – again Phillip & our son were my heros! A tree blocked our road. Neighbors were stuck. We're far in the back country, near the horse farms and golf courses.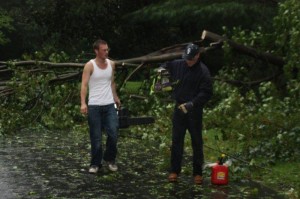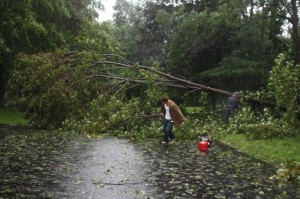 We are not a priority area, so I knew workers would not be clearing the end of our road for a while.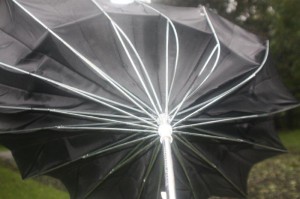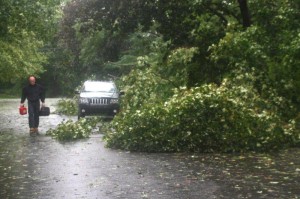 So in rain and heavy winds, my men cleared the way. I snapped pics, Little Petal supervised. A grand team effort in a time of family & neighborly need.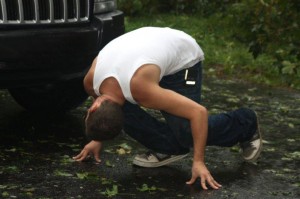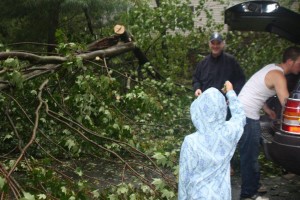 We had our battery-operated radio and listened to the radio station we air from weekly – WSTC & WNLK – it was the only outside communication we had. And we had dark chocolate-covered graham crackers – a must-have during this dodgy week!
With no electricity, time seems to pass more slowly. My stomach was still achy, brushing teeth was a misery trying to not waste the bottled water while cleaning the toothbrush, night came way too quickly and I just wanted to wash my hands!
My buttons were being pushed and I had to push back – I had to find my Bright SpotTM and make it a grand adventure! (See Mission: Bright Spot – 3rd flower tab in the nav bar above).
Finding your Bright SpotTM is not an easy task. The effort comes in times of adversity. But I decided to turn my situation into something great and memorable. We became pioneers and turned the hurricane recovery time into family fun time.
So what exactly was the Bright SpotTM in all this?? We all drove to my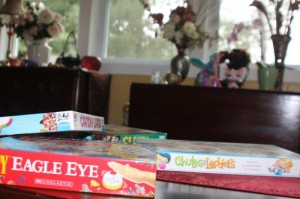 Mom's house (my sister's family had no power either) for hot showers, home-cooked dinner and good times all together. Then we bought dozens of battery-operated tea light candles and used them for the den, bedrooms, hallways, staircase, etc. It was very pretty. We had our 6-year-old pick out her favorite brand new flashlight and she played with the cats – chasing the little spot light here, there and everywhere. Our little one stayed in our room and we made shadow puppets on the ceiling with her new flashlight. We had friends over and in daylight hours played family games like Chutes & Ladders, Candy Land and I Spy.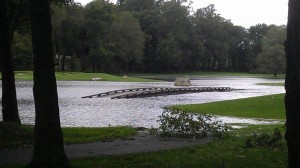 We watched crazy men with bike helmets play golf on a flooded course – hello???
And because we had to eat out every day, I didn't have to cook! And that means NO dishes…which in itself is its own Bright SpotTM!!